Hi friends. Last week Linda made the decision to cancel Week 5 posts to stand in solidarity with the Black Lives Matter protests. I was in complete support because I too spent the week educating myself further on racism and ways to be a better ally. While painting, cleaning and working on my room, instead of my usual podcasts or escapist reads, I listened to How to Be Anti-Racist. Its very educational and I highly recommend it for a thorough understanding of what racism really means.
Through this week of discomfort we were quiet on Instagram, but actually made quite a bit of progress on the rooms. And then we hit some snags and we have to undo some of that progress. It all feels very #2020 and a good metaphor for life so I'm trying to not let it get me down. When unexpected problems arise I try to focus on a solution and learn from them, hopefully not to be repeated!
If you're new here, I'm Rebecca designer and founder of Studio Plumb. In January 2017 we became the second owners of the #plumbmidmod, a one-of-a-kind 1960 midcentury ranch on .8 of an acre outside of Sacramento, California. It has cool original architectural details, a creek running through the yard, and a perfect floorplan. It also needs a sh!#t ton of work. Bit by bit with the help of my dear old dad we're bringing it back to its former glory with a modern spin. 
For more updates follow along on Instagram and all you design entrepreneurs check out our new podcast the Hot Young Designers Club.
Snag 1
We finally went to install our beautiful vanity from Build.com by Signature Hardware and when we unwrapped the marble countertop we realized it was damaged. The backsplash and top were cracked in the same spot so we think it happened during freight.  Argh! The folks at Signature Hardware have another on the way and should be here in time for our photoshoot.  The cararra marble is on backorder so they were able to switch it with white quartz which I'm actually going to like better I think. The marble was gorgeous, but adding a new pattern and gray that maybe the room doesn't need.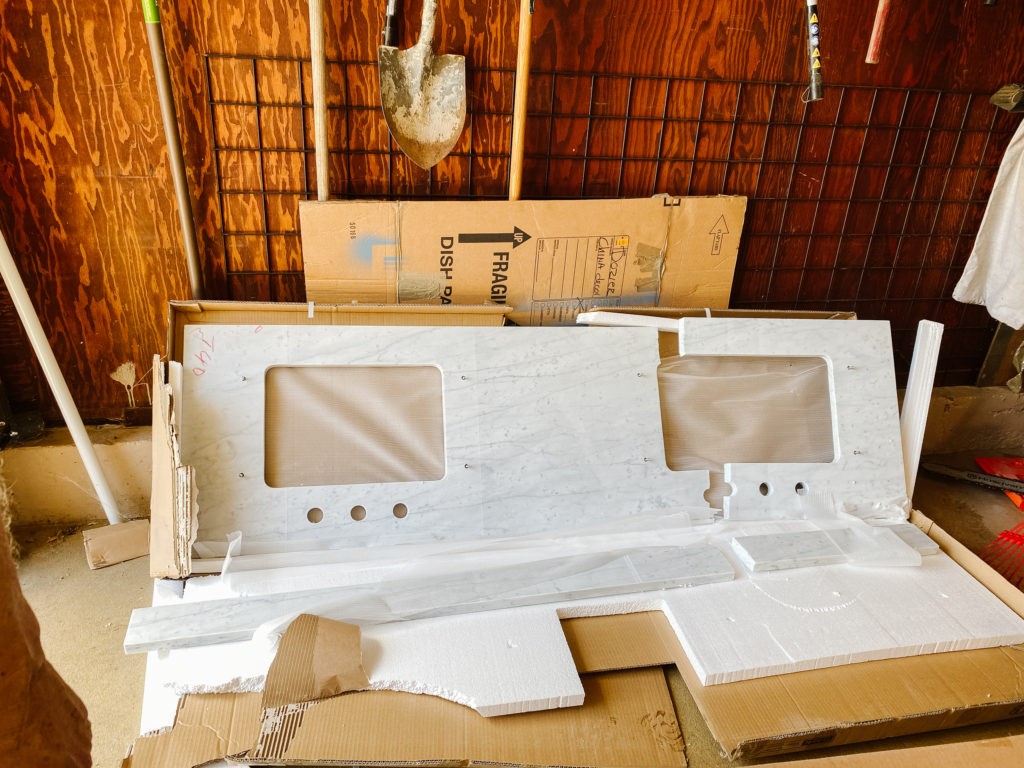 SNAG 2
We also realized when we set the broken counter top on the vanity that the wrong spec sheet template was on the website. We used it to rough in the electrical so the sconces were centered over each sink, but they were a few inches off of center. Double argh! Again not the end of the world, but annoying to redo work. We had to peel off 2 strips of wallpaper and reposition the junction boxes and should be back on track in a day or so. 
The good news is we got the wallpaper up in the bathroom! My mom did me a solid and did an incredible job once again. She's probably never speaking to me when this is all over but it looks so good. The pattern is Autumn Path from Milton & King and I'm obsessed. It looks so good with the vanity and existing tile. I'm so happy with how much the room is changed without majorly renovating. Also, the Yellow Shirt team had a site meeting and I think they solved the problem. 😂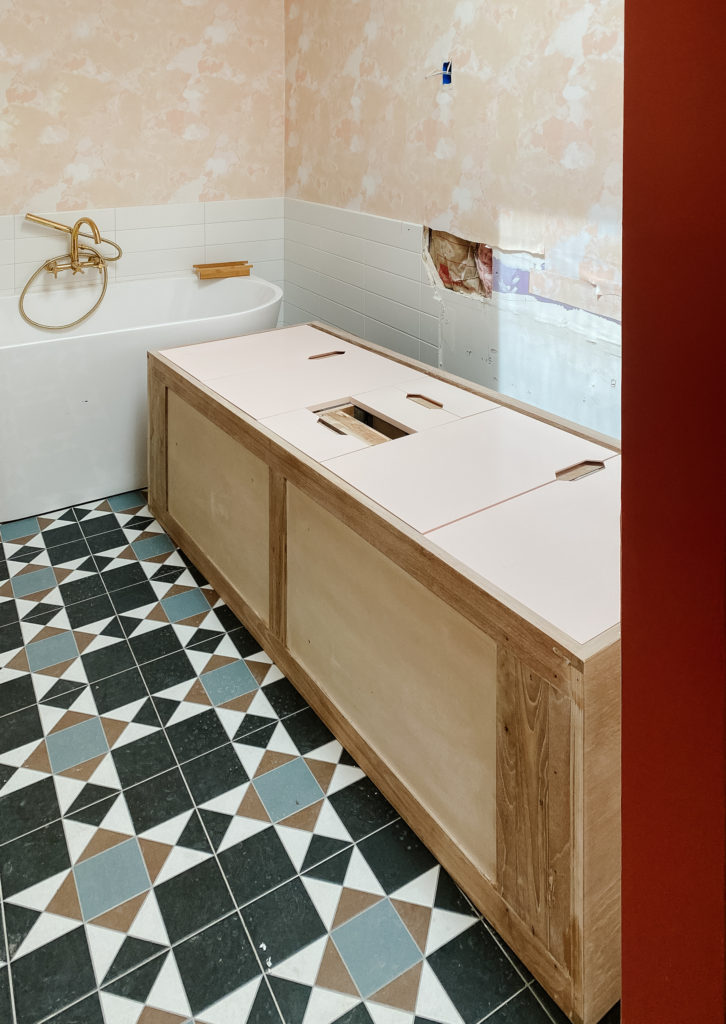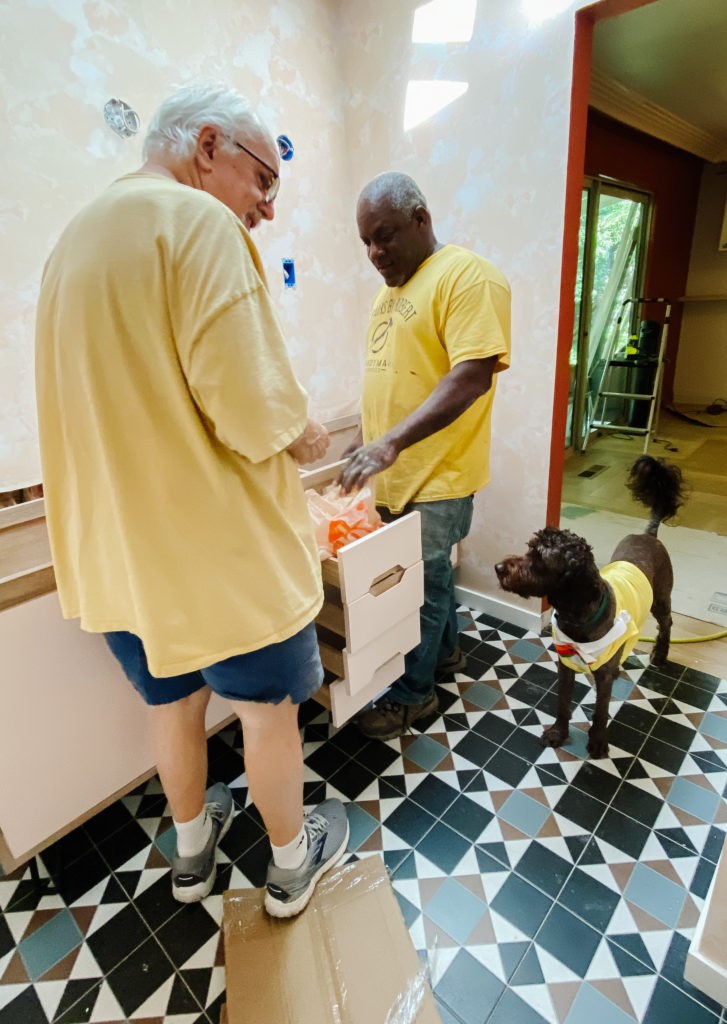 In more good news my friend Jeff, of  Baldwin Painting came over and painted most of the room. I'm only going to show some sneaky peeks now but it changed everything. Why was I living in a plain white box before?!! They painted ceiling, trim work, my closet and a couple walls and it is a GAME CHANGER.  Also, professional painters make it look so easy and there is such a difference in the results. 
I specified a total of 7 paint colors in the bedroom. Yep, 7 in one room. That includes different finishes for walls and trim in some of the same color(s) but its the most ambitious color scheme I've attempted to date. We partnered with Sherwin-Williams who provided Emerald Interior Paint on the walls and ceiling and it just looks so rich. This premium paint and primer in one allows you to achieve stunning interior results in fewer coats, which I know the painters appreciate. For the trim we used the Jeff's preference of Emerald Urethane Trim Enamel. Its an interior/exterior waterbased urethane modified alkyd with the look and feel of an alkyd/oil finish. I love the way it contrasts with the matte walls. I can't wait to show you how it all works together but you're going to have to wait!
Disclosure: Sherwin-William provided paint as in-kind compensation for this post, but all opinions are my own.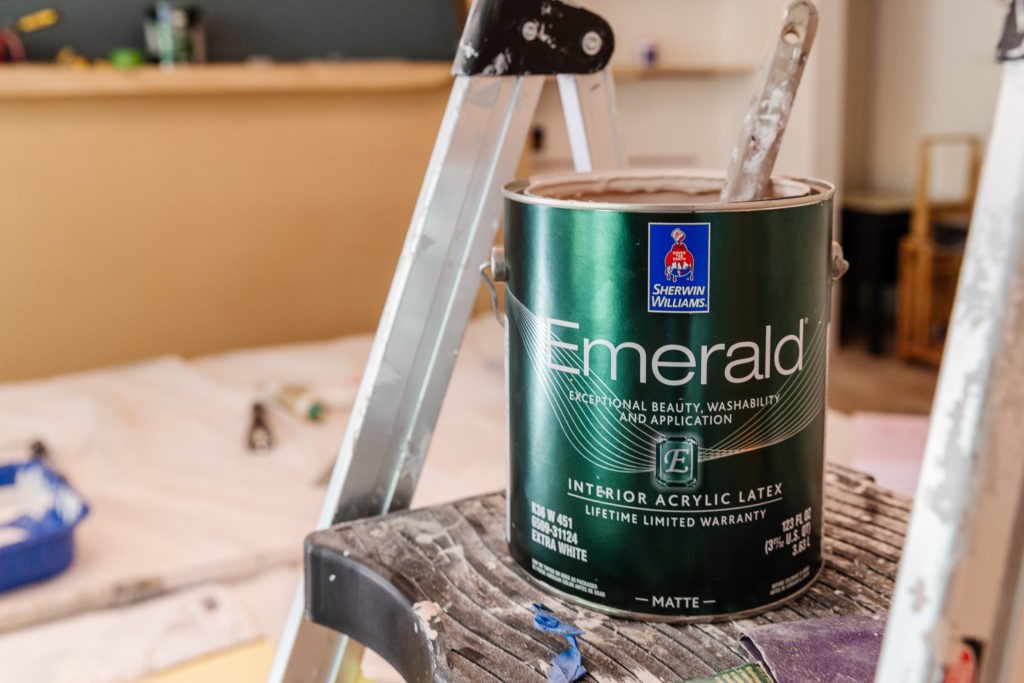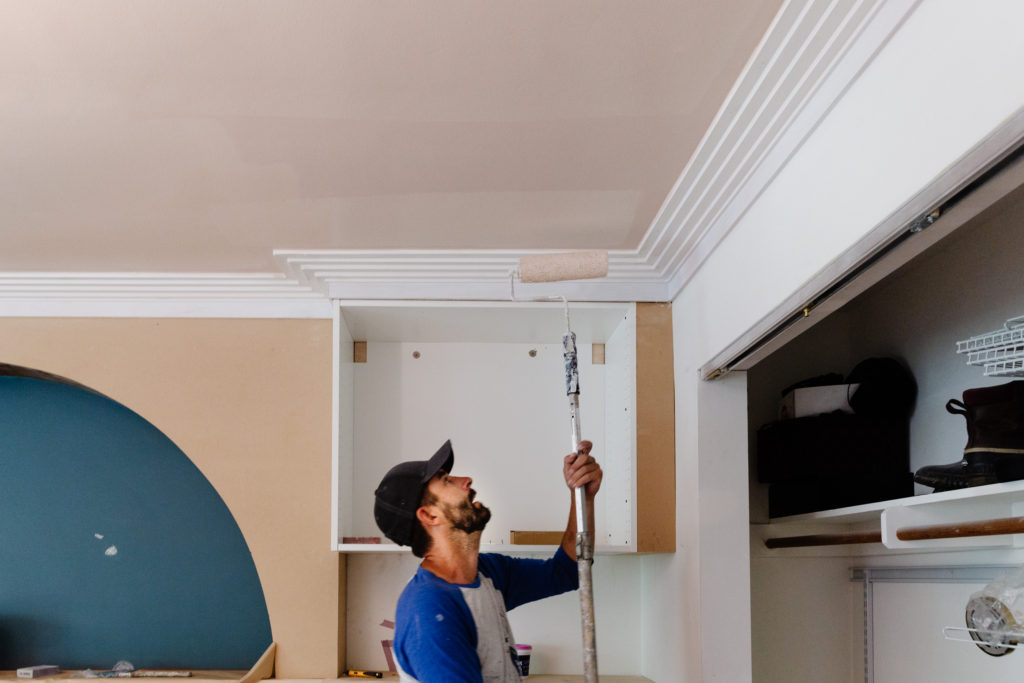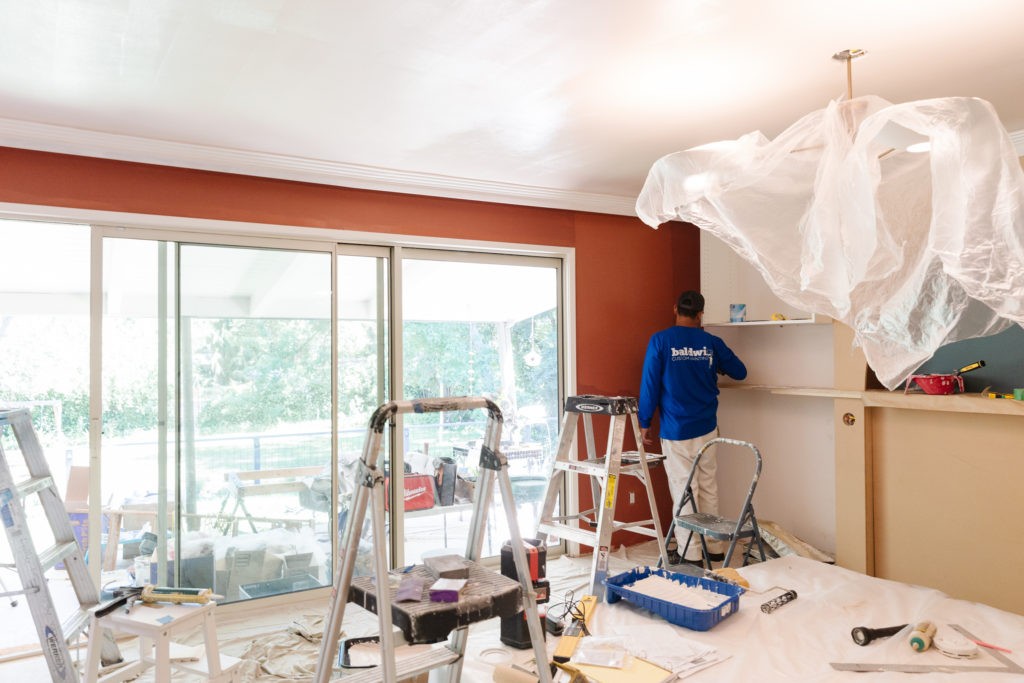 I know you noticed the crown moulding. IT'S.SO.GOOD. I wanted to really create a luxe space and knew we needed to add some detail. Sure, its not what one normally thinks as 'midcentury' but the geometric lines of the sawtooth from Ornamental Moulding & Millwork still feel modern while elevating the whole room. We installed Ikea Sektion upper cabinets so we could install the crown around them and my favorite local cabinet maker is working on updating the doors and building floating vanities that will hang below the wood shelf.
Snag 3
See that space above the crown over the sliding glass door? We left a gap to accomodate the custom drapery that will be installed this week. Buuuuuuttt we got some bad information and didn't make the space big enough to fit a double rod of ripplefold drapery. So it looks like we need to tear out the crown on that wall and part of the other 2 to repair it. Hopefully we can get new material in time but I have a plan B if need be.
Back to the good news: my mom started installing the wallpaper in the bedroom from Pacific Designs International!! Its exactly what I envisioned. It has depth, dimension and a little shimmer while still keeping the room bright and airy. It feels like thick, handmade paper but its a nonwoven substrate so super durable too.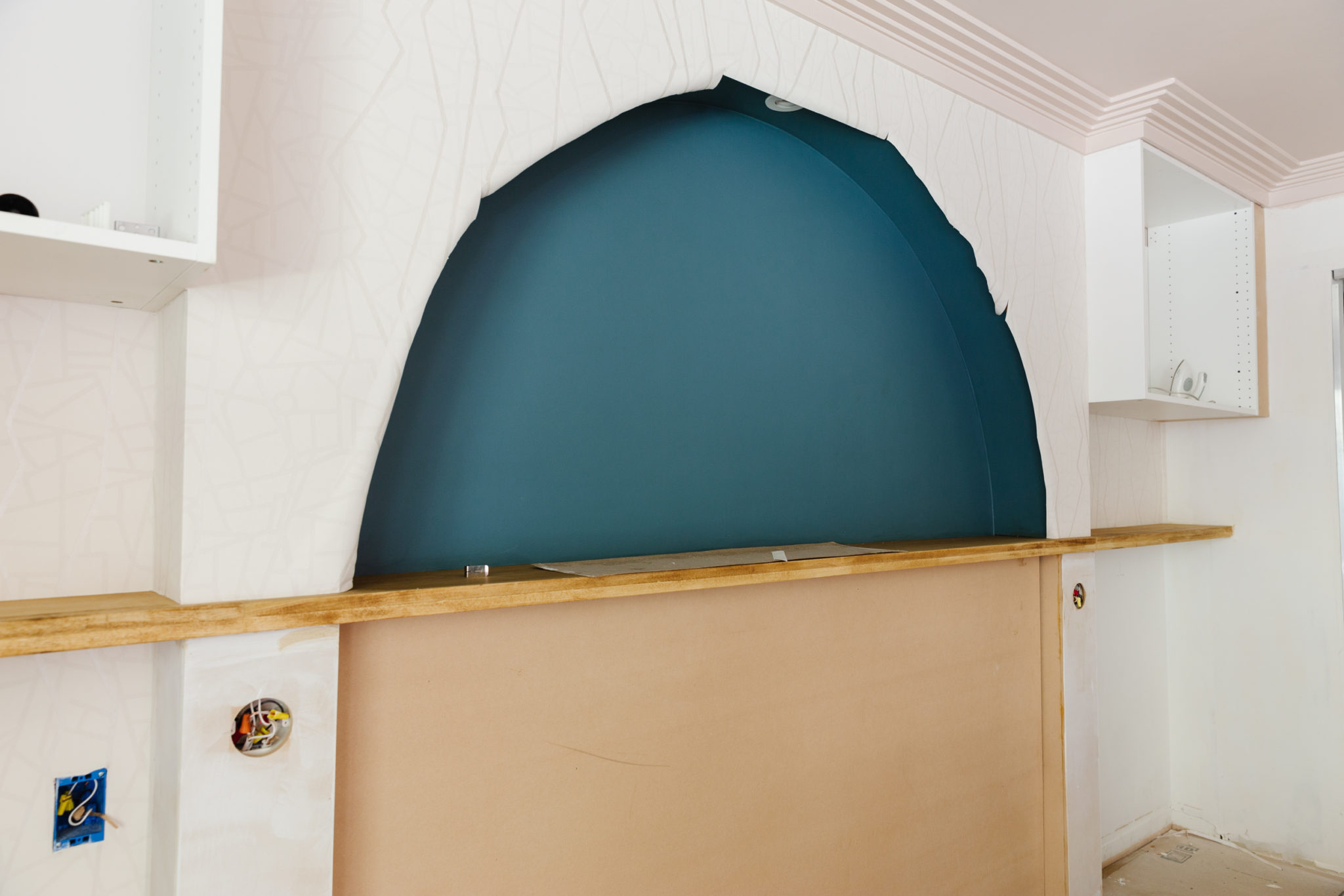 I love how it catches the light and has such a striking pattern but its still subtle. Ahhh, I love it so much. Also, yes, this shelf looks like hell. We used 2 pieces of poplar and for the top stained fine but the face looks really bad and splotchy.  We bought a roll of white oak veneer and will be applying that to just the face piece and it should look great when its done.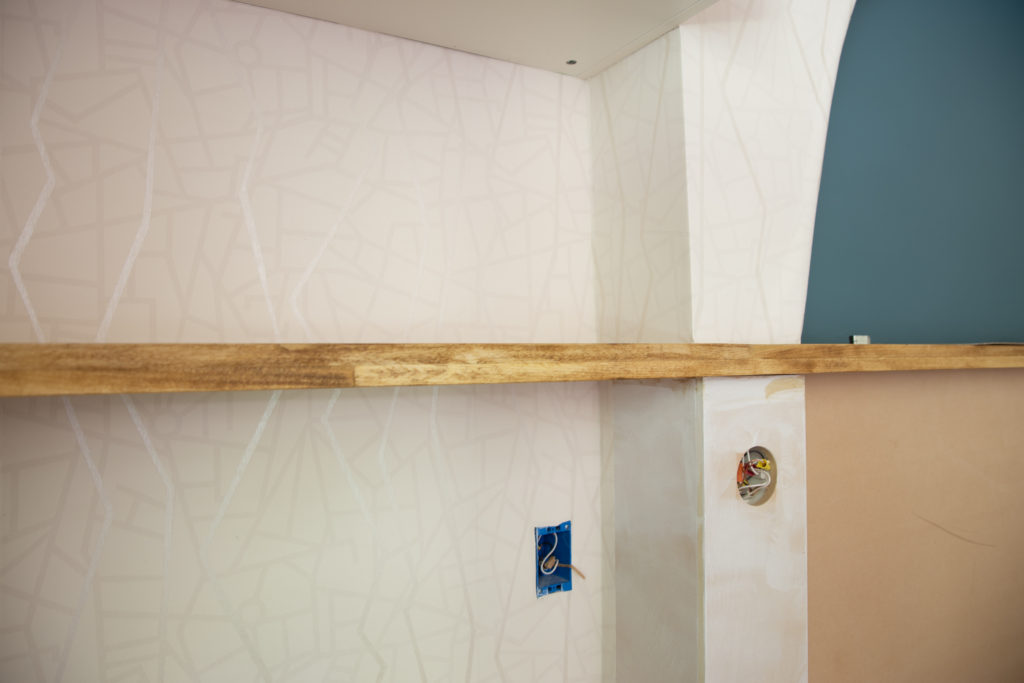 I had planned on telling you all about the two artist collaborations I'm also working on but this post is too long. So, I'll be back in a day or two with a bonus post! I'm beginning to see the light at the end of the construction tunnel and can almost imagine the day I get to style and do all the fun stuff. Also not sleep on the living room floor. I'm so ready for that. 
Ok the state of this list is finally making me VERY happy. Its going to happen!!
My previous One Room Challenges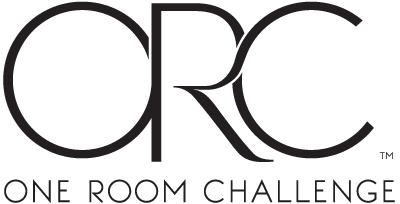 The Featured Designers are wrapping up their rooms. Get up to speed before its all over!