Can you believe its finally done!!? The problem with renovating 3 spaces at once (besides the obvious) is that I don't know which one to reveal first!!
So I'm going to go in order of the name I came up with for this Challenge, the MudBathLaundry, with a bonus Hallway section, since it deserves its own spotlight. And of course, walk you through all the Befores and Afters with links to sources at the end. Let's go!
Mudroom
Ahhh, I never knew that 14 square feet could be life changing, but this little alcove already is. A place to drop groceries, bags, shoes and backpacks that is not our kitchen island is just so, so gratifying.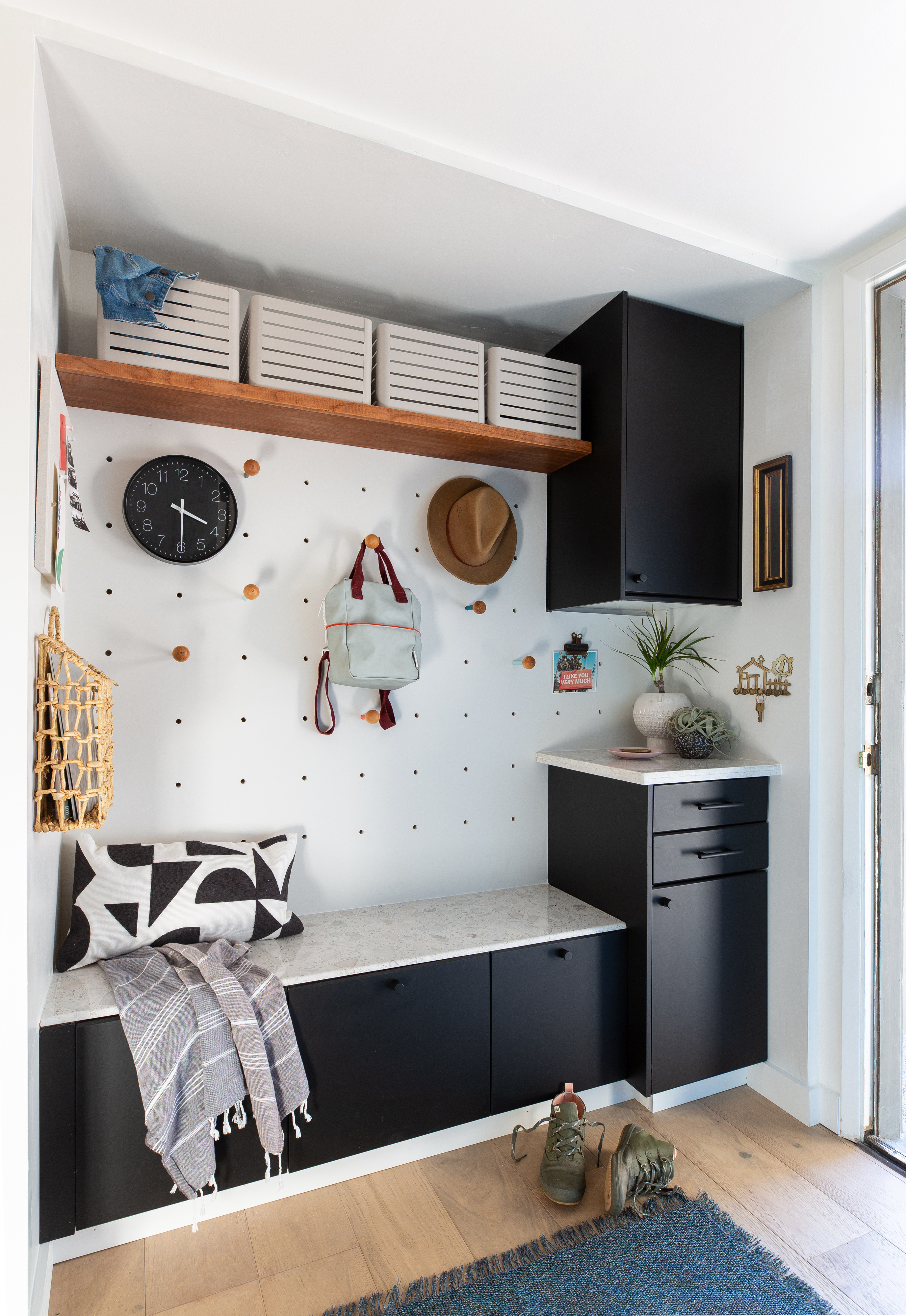 Like I've mentioned in previous posts we primarily use this back door as it leads to our driveway. The original built-in cabinets seemed like they'd be functional storage but this hallway isn't wide and there was no way we were going to open a door and put a coat on a hanger when we came home. We are not those people. Opening the doors also was annoying in such a narrow space.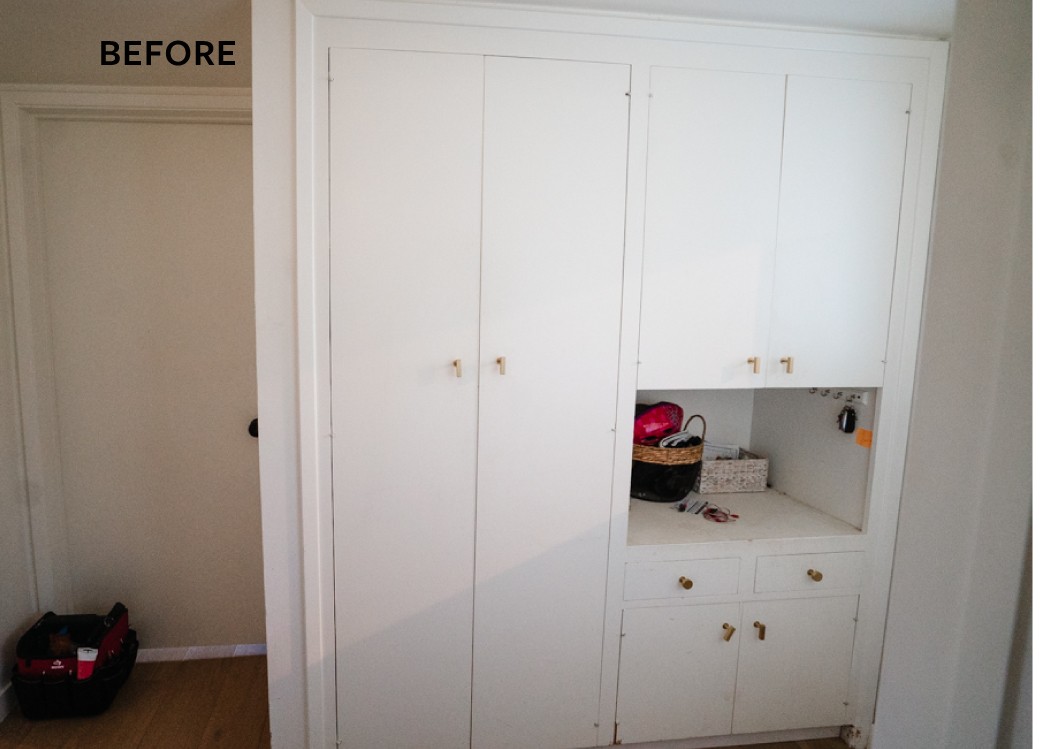 I always seem to have full hands and too many bags so I dreamed about one day having elbow room and landing zones here. I had added hooks on the opposing wall which helped keep things off the floor but encroached even more on the narrow walkway.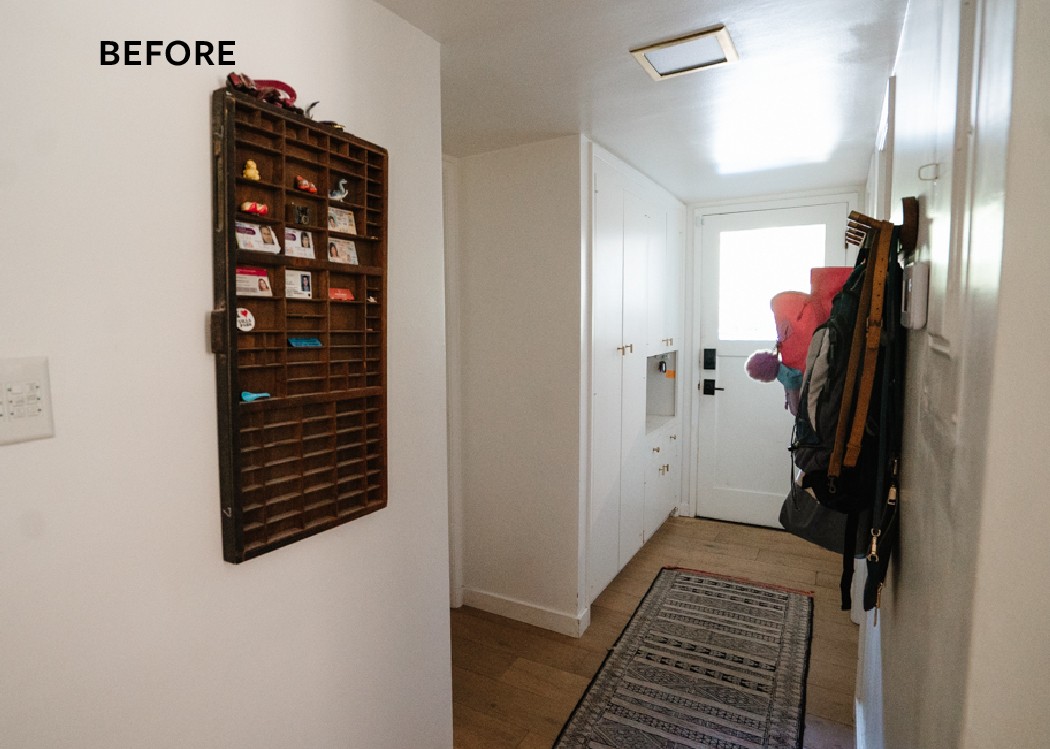 And now we have it! We've only gained about 8 inches of walk way and incredibly it makes a huge difference. I'll talk more about the hallway updates later but the overhead sconce from Lumens is such a beautiful upgrade. I love its simple shape and the profile is visible through many parts of the house. We also received this Chilewich runner from Lumens (yes, they have such good home accessories!). Its woven vinyl so will stand up to high traffic but I love the softness the fringe brings.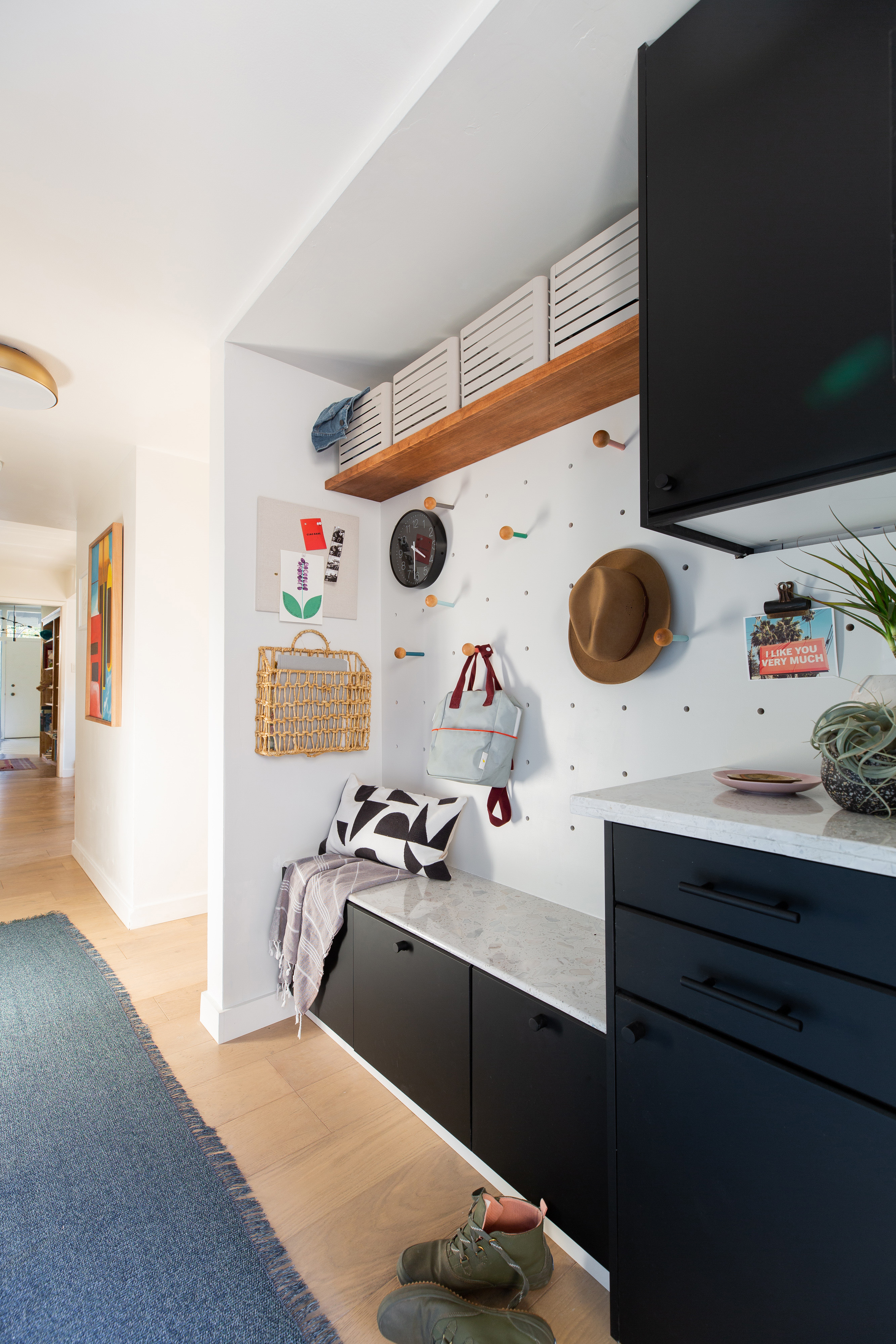 I've always loved the graphic simplicity of an oversized pegboard and knew this would be the space to make it happen. Its functional, interesting, modern, and just cute! I know a lot of you have asked me about it so I'm going to put a post together dedicated to how we did it. We made the pegs too and I painted them different colors to bring in the color I was craving without competing with everything else happening in the adjoining spaces.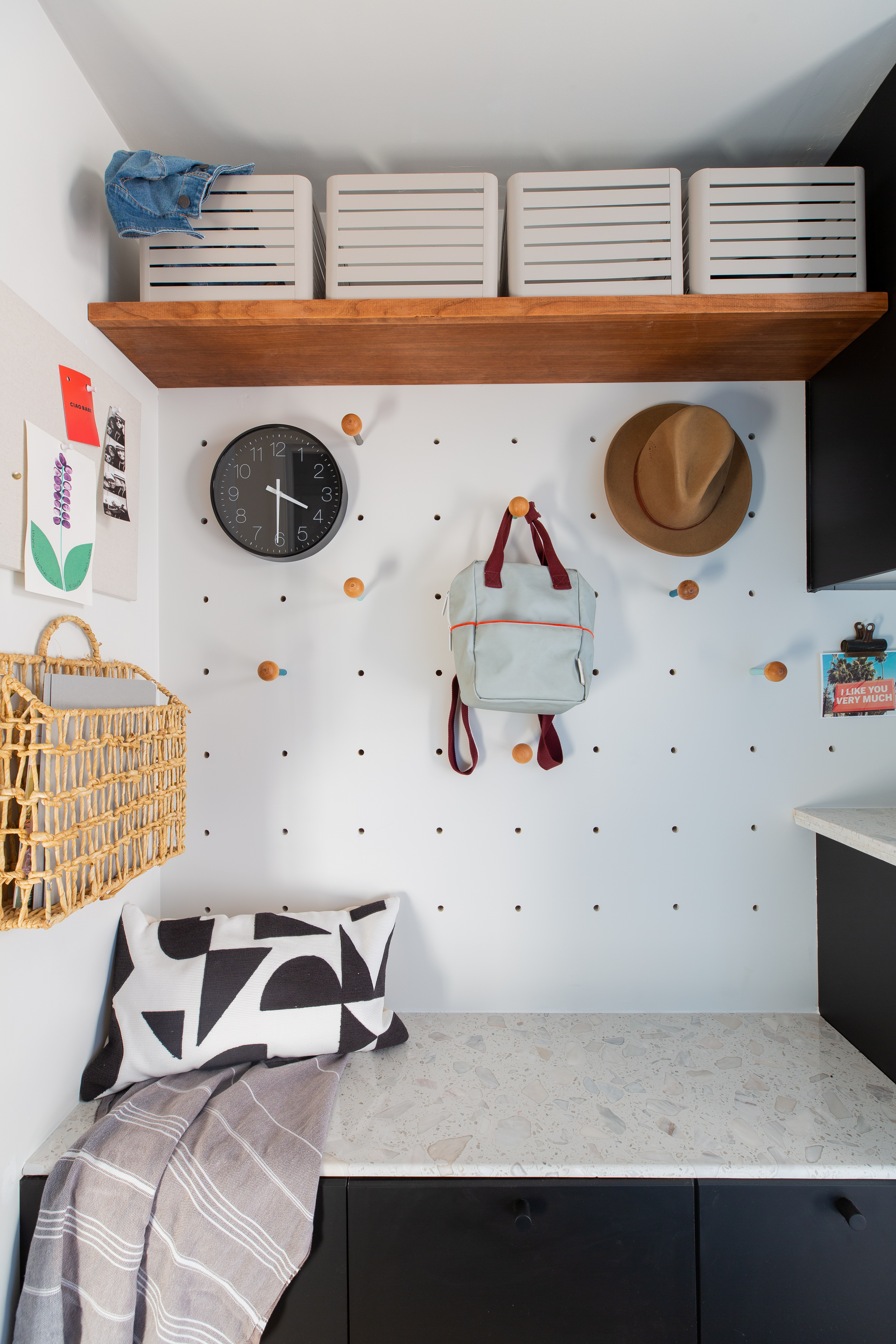 If you've been following along you know I originally hoped for a light aqua cabinet facings for our Ikea cabinets. After some frustrating false starts I made a big design pivot and went with these black doors and drawers directly from Ikea. I really love them! They're a soft, velvety off-black with a subtle bevel detail on the tops and bottoms of drawers.
I almost went with brass cabinet hardware but fell in love with this black on black idea. I knew the whole area would be full of color pops and am so happy with how quiet it looks. I think it also brings a little sophistication in.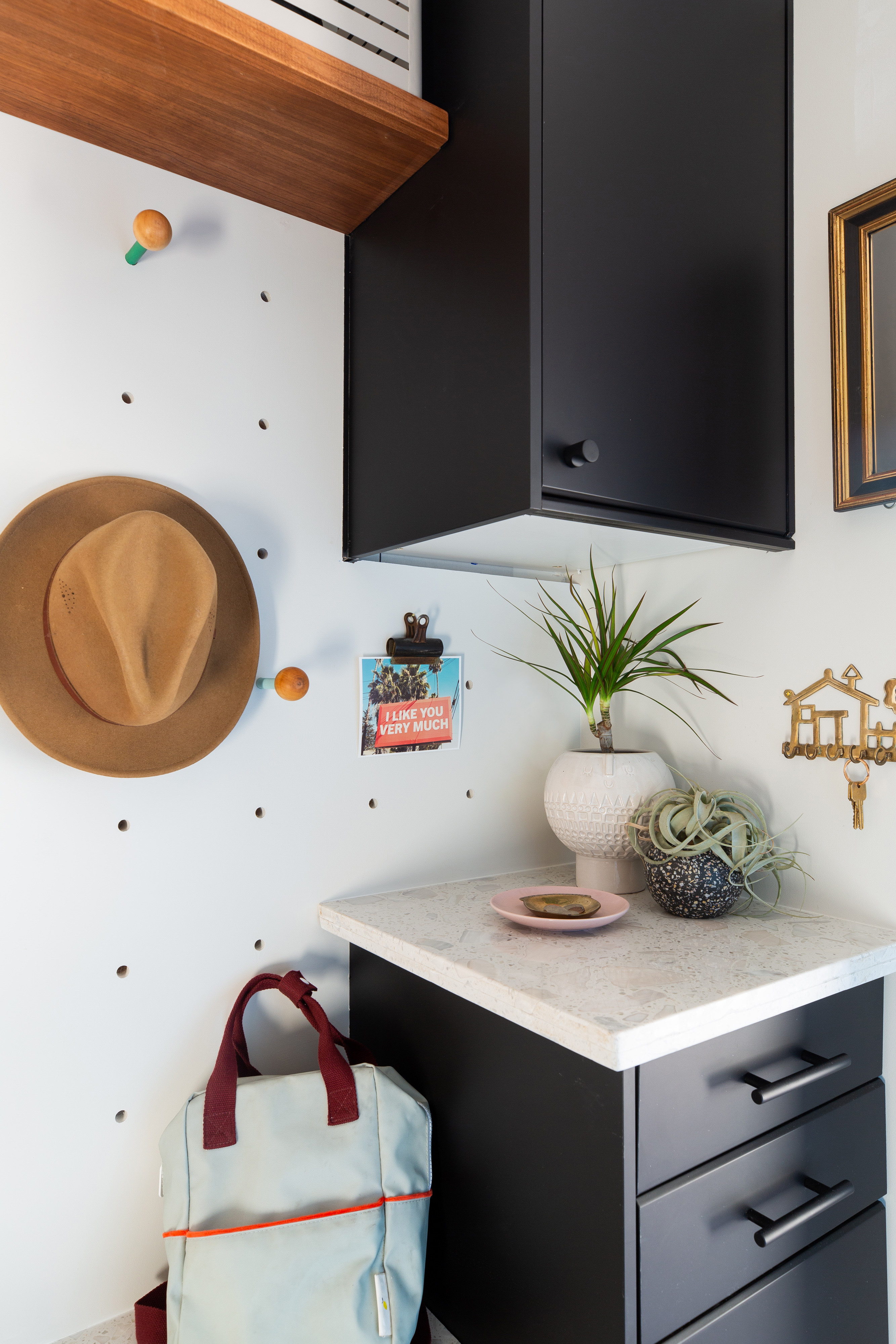 You may have heard about our $25 countertop slabs, there's a whole bunch of Stories on it in my Instagram highlights, but basically we found these chipped quartz pre-fab bath surrounds that my dad figured out how to fabricate himself. They're not perfect, but the price was right, we got all of our counters out of 2 pieces, so $50. We left the bullnose on the bench top and I really love how it sits and meets the drawer bevels.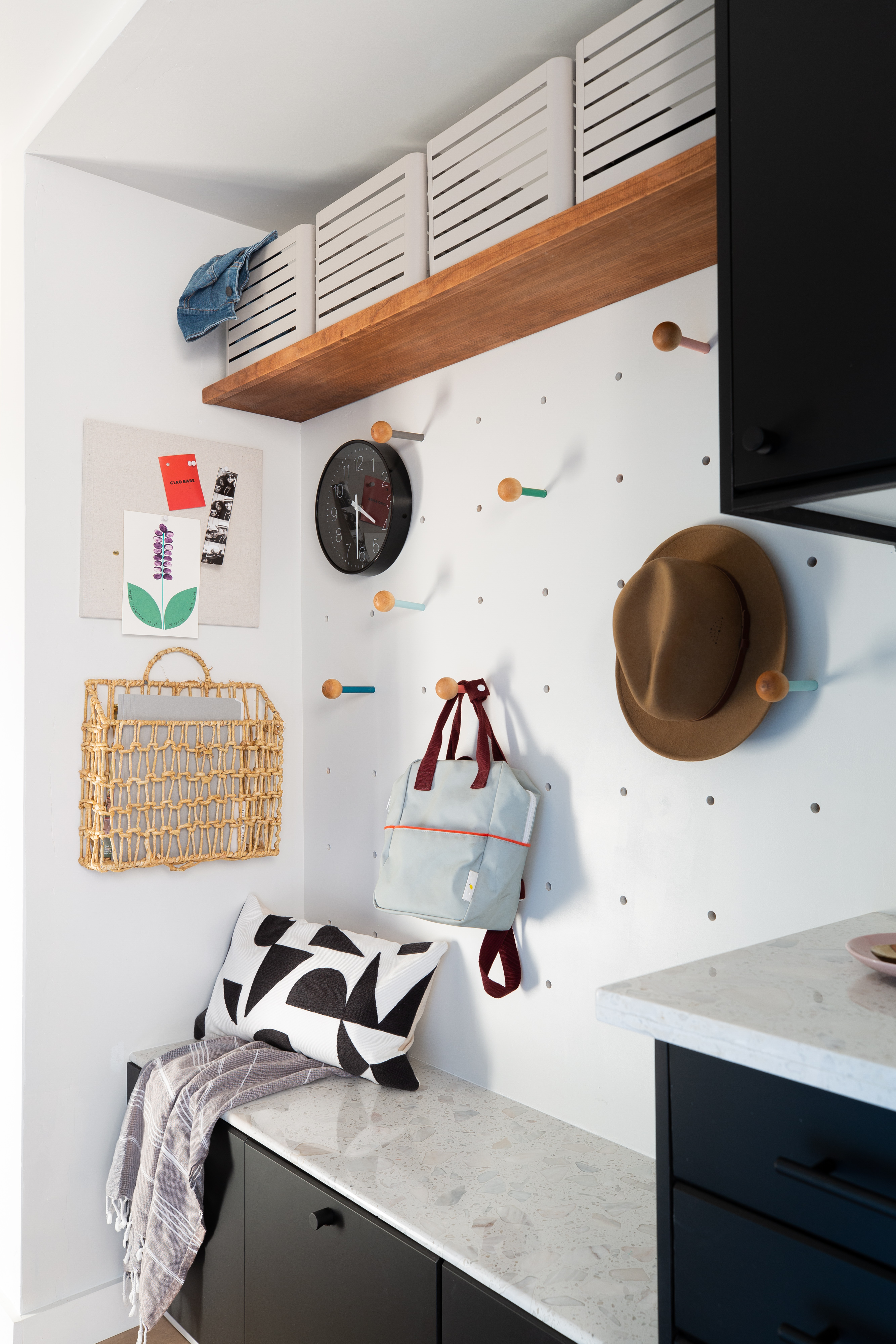 Even though we technically lost storage space this is just so much more useful. I'll be working with Carly from Tidy Revival in the coming weeks (she did our pantry organization last year) tohelp us organize this spot to maximize efficiency and give us a strong family launch pad.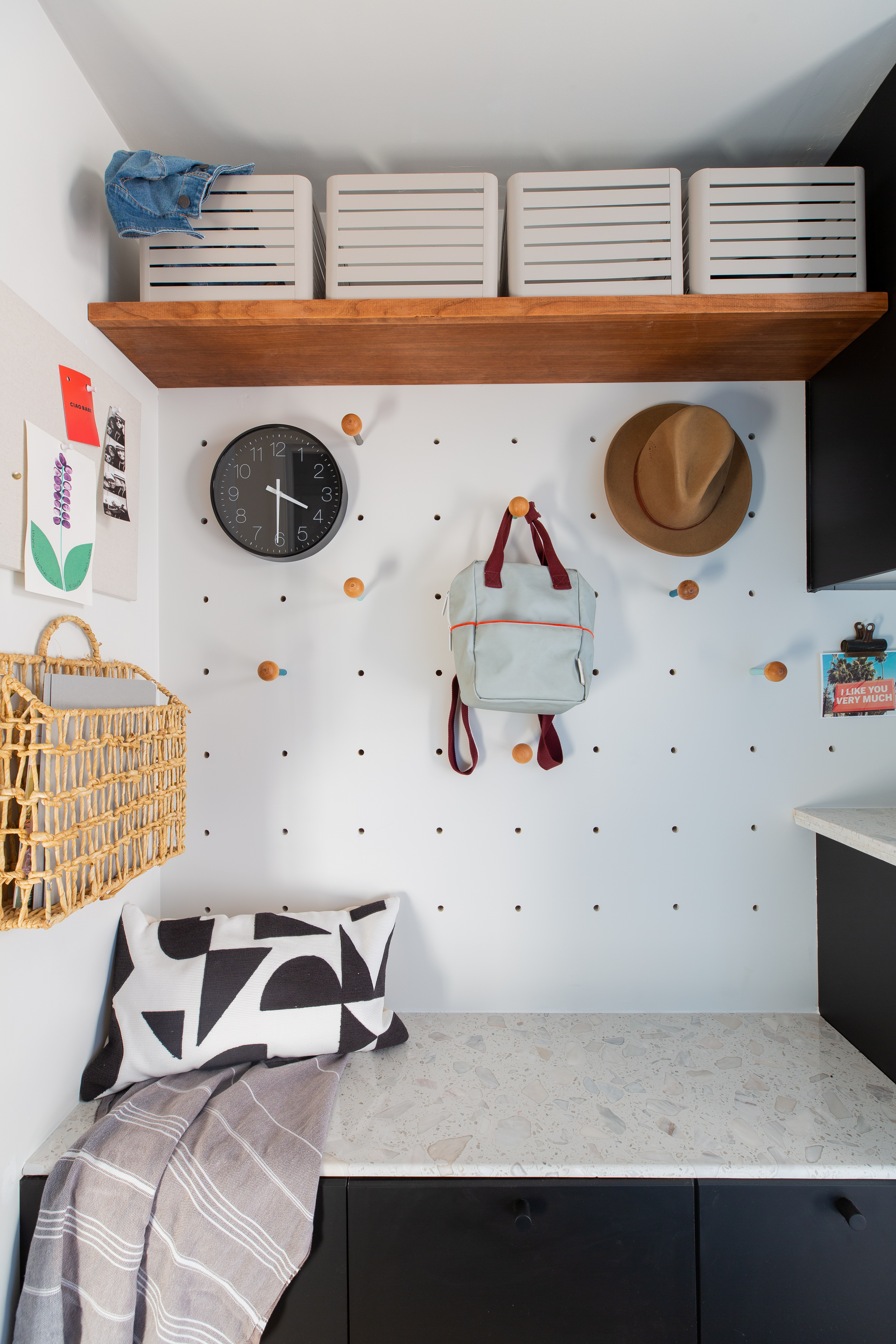 Lastly, I included a few accessories to start our days on the right foot. This little print from Juniper Print Shop* is a happy reminder before we walk out the door, the narrow vintage mirror is big enough to check your teeth, and a clock and spot for pocket change and keys keep us organized.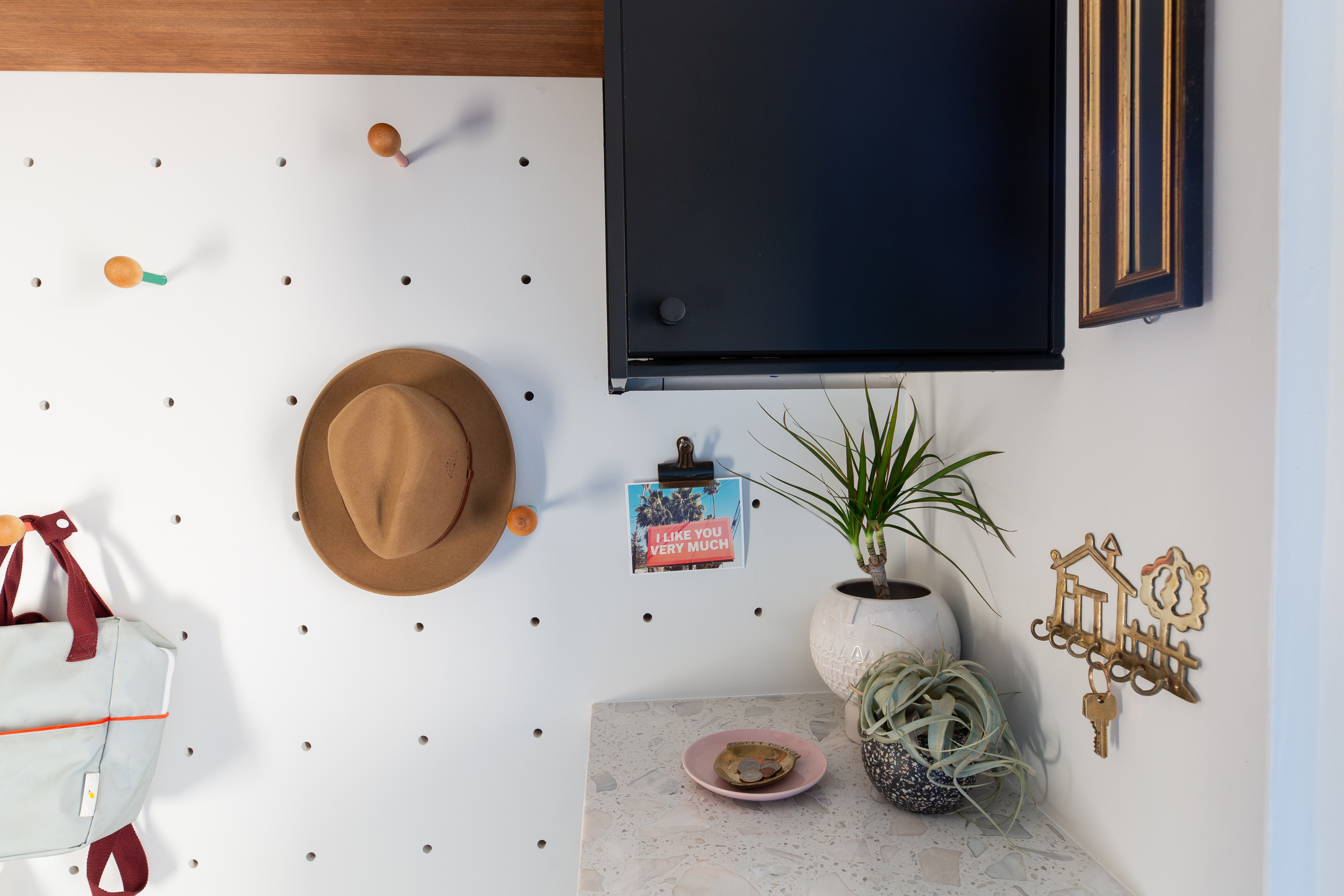 Bathroom
Ok, are you ready for this!!?? Behold, our new guest bathroom!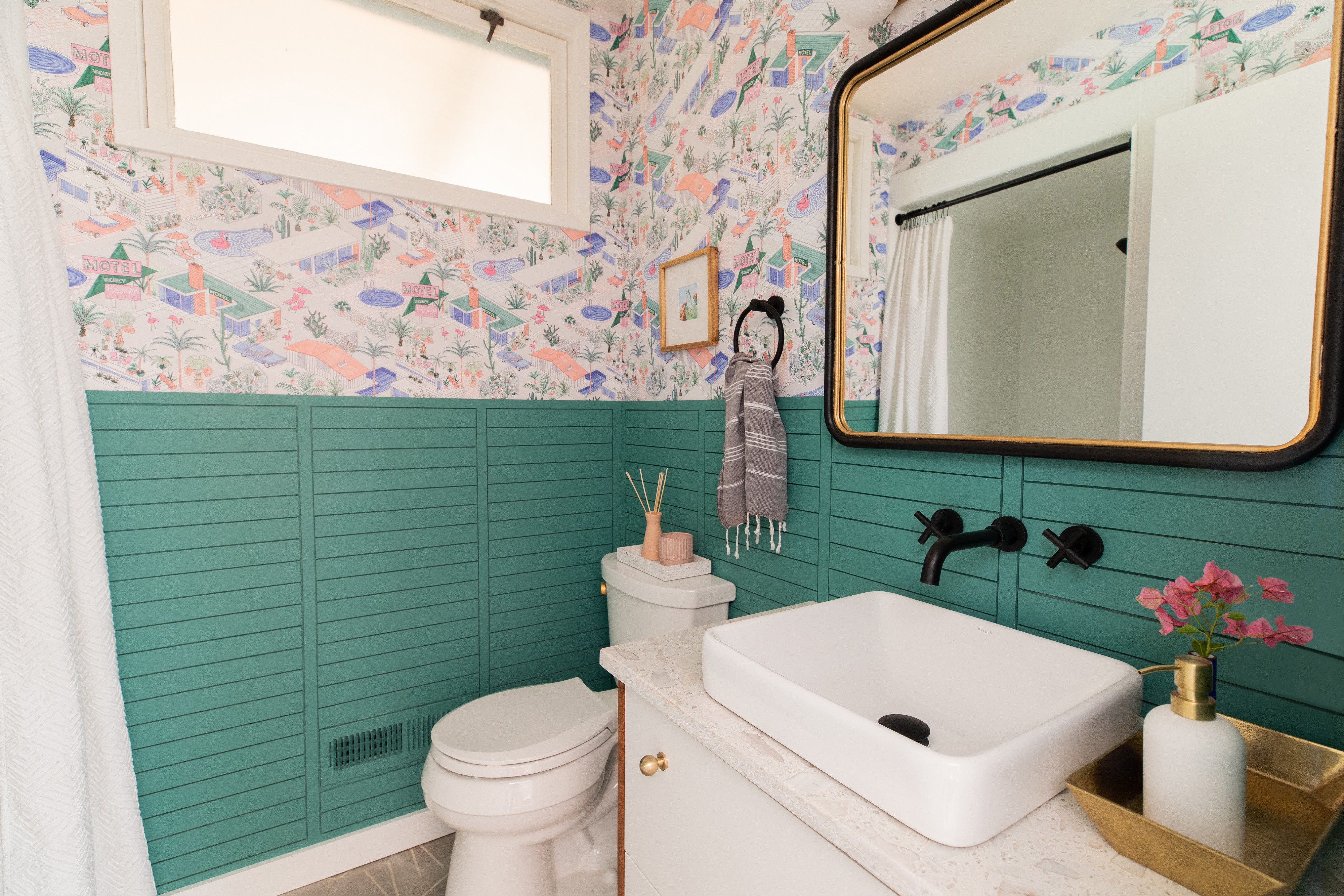 Here's the creepy Before that I rarely went in but would make our guests use. Sorry, guests! It was beige everywhere, the toilet seat didn't stay up when it hit the banjo countertop, had bad sheet vinyl flooring, and everything was just aged and gross.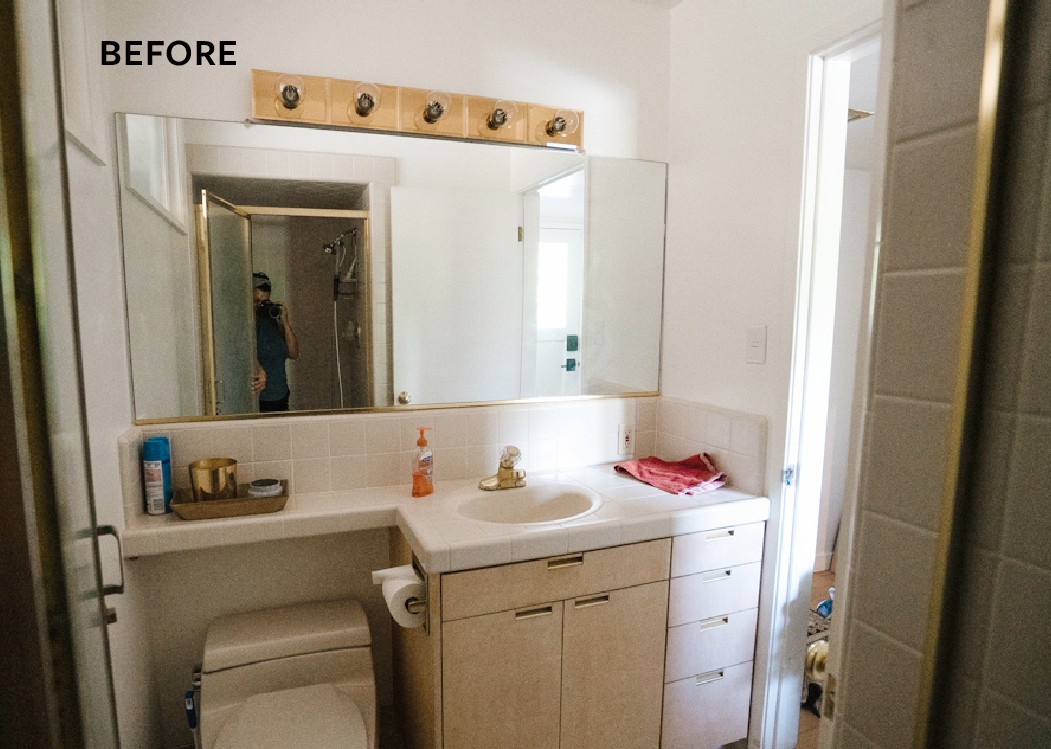 Here's an even older photo from before we moved in.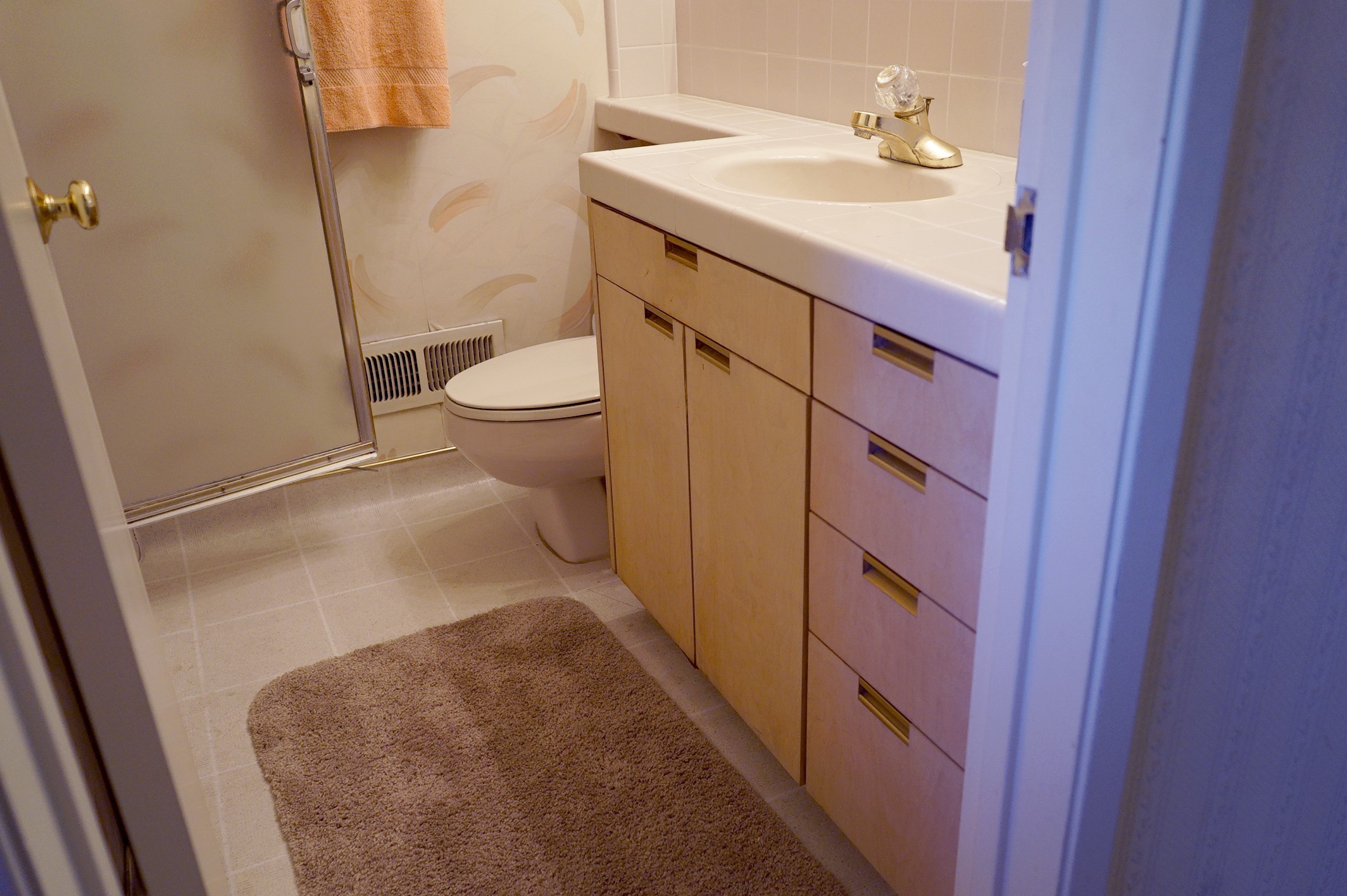 And now! My vision was to have this bathroom be bold, clean and fun. Since it's a small space, I wanted it to surprise and delight and I pushed myself to not play it safe). The Palm Springs wallpaper* gifted from Milton & King hit the mark, bringing that midcentury story to our 1960 home and defining the color palette.
The illustration adds the perfect amount of whimsy and makes me smile every time I see it. Milton & King has an incredible website full of statement wallpapers and fabrics and it was so easy to order through them. This was the first time I installed wallpaper in any of my homes (ok, my mom actually did the work), you can read more about the installation process here.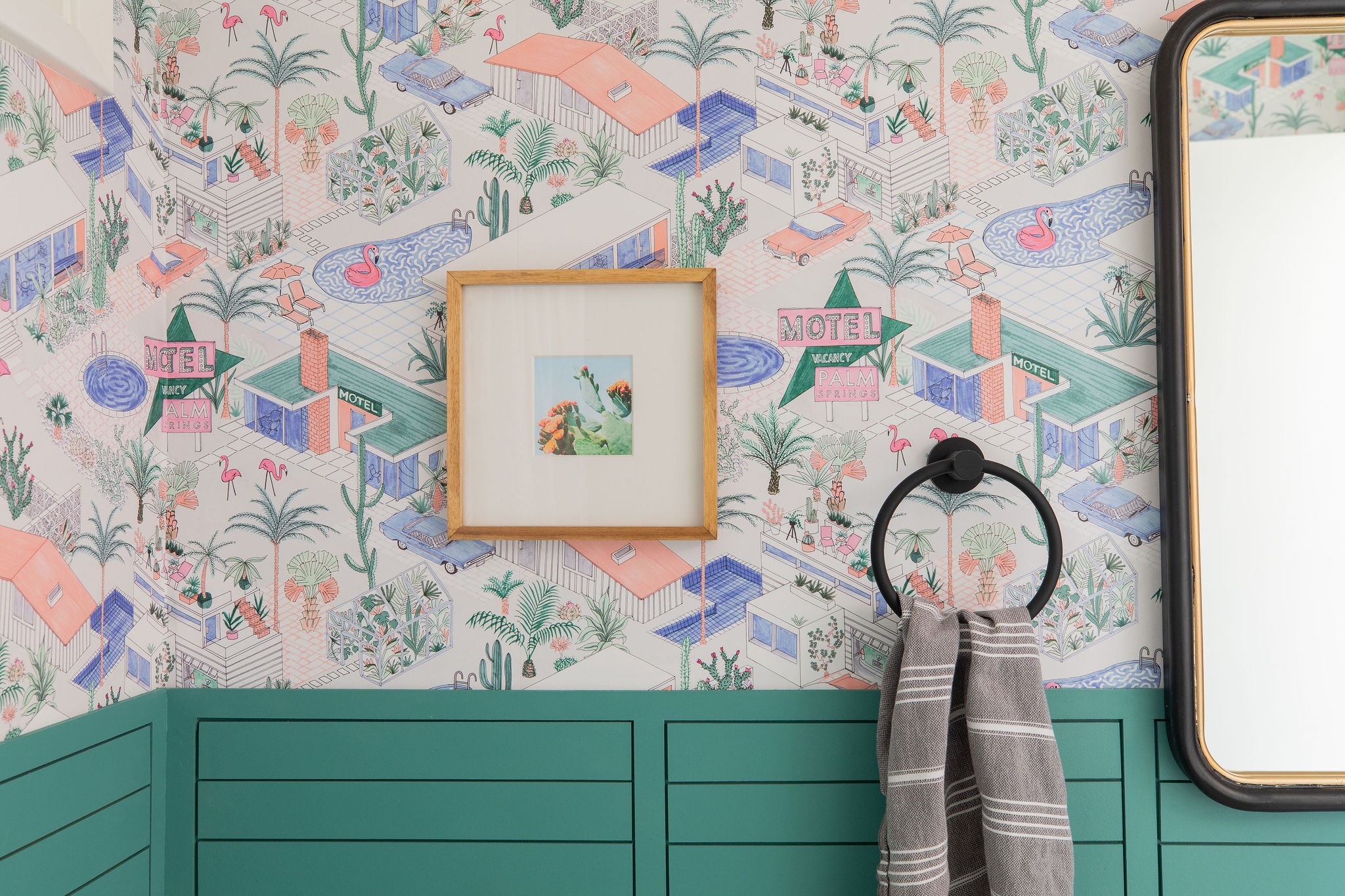 I LOVE how this wainscoting we designed turned out. Its simple but interesting and remains modern. This green is really saturated but I couldn't resist how it interacts with the wallpaper and really love it.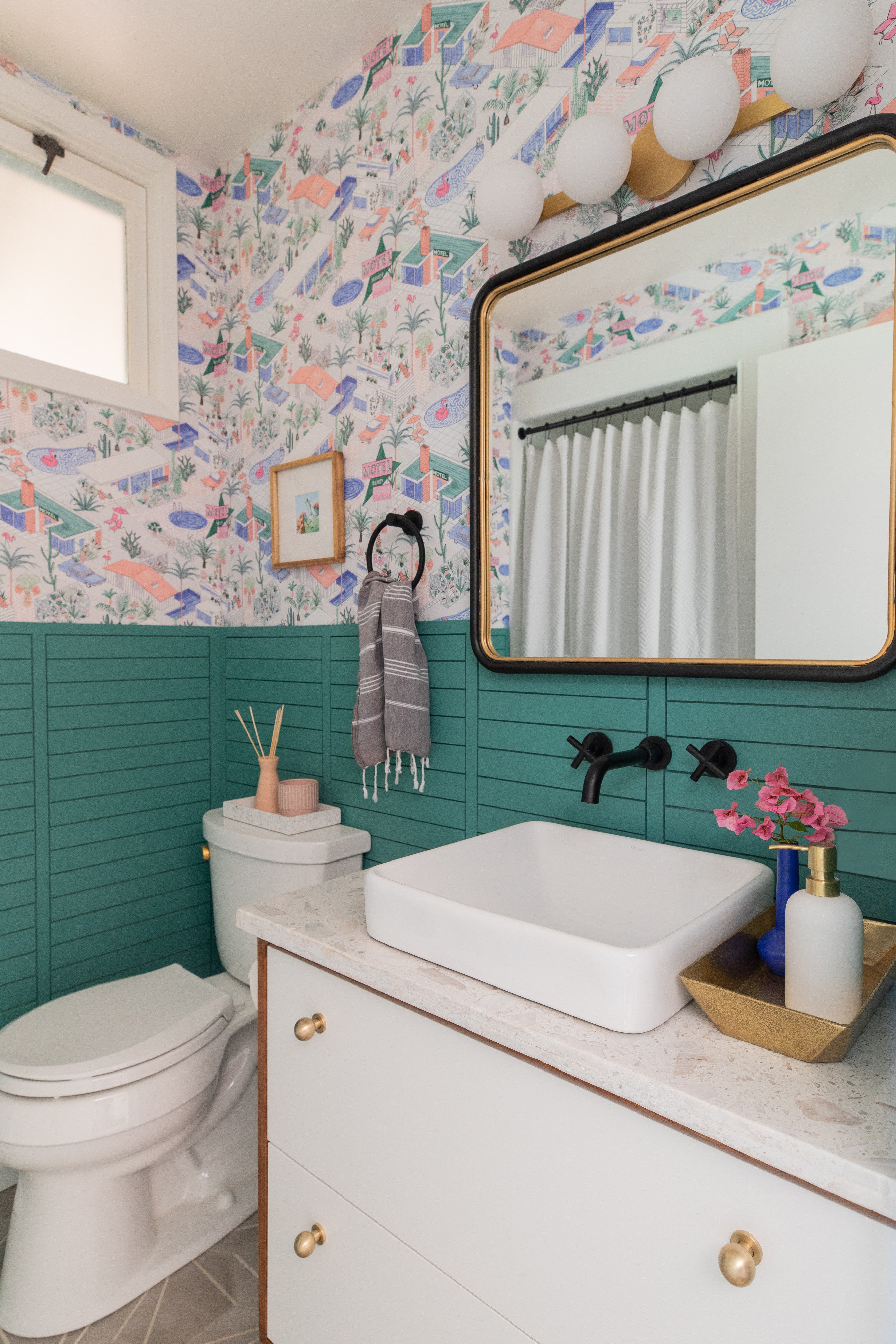 This cement floor tile! We worked with Villa Lagoon Tile* who sponsored these tiles and I couldn't be happier with how they work with the rest of the elements. Keeping the floor a neutral gray helps ground the other colors and the cement brings in a subtle organic texture that I just love. The "Crows Feet" pattern is just the right amount of atomic and  the larger scale works with the wallpaper pattern.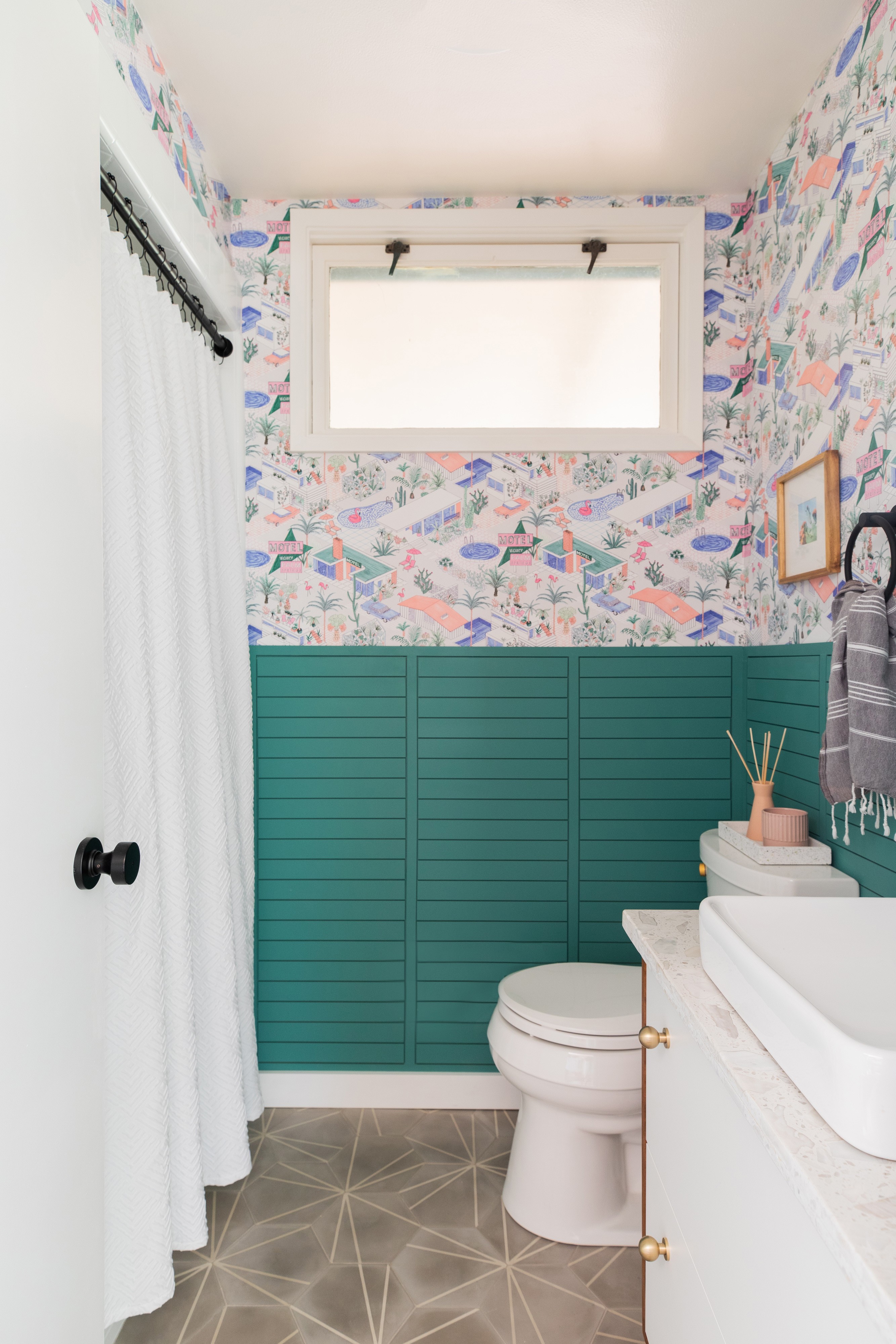 The vanity lighting needed to stand out against the wallpaper but not compete. I am obsessed with this take on a traditional bath bar fixture from Lumens*. The mouth-blown frosted globes are so soft and pretty in person, they're heavy and cast the perfect diffused light even thought they're LED. The repeating round shapes are still geometric but break up all the straight lines. The brushed brass was a perfect match to this mirror I picked up at HomeGoods (sorry, I can't find it anywhere!).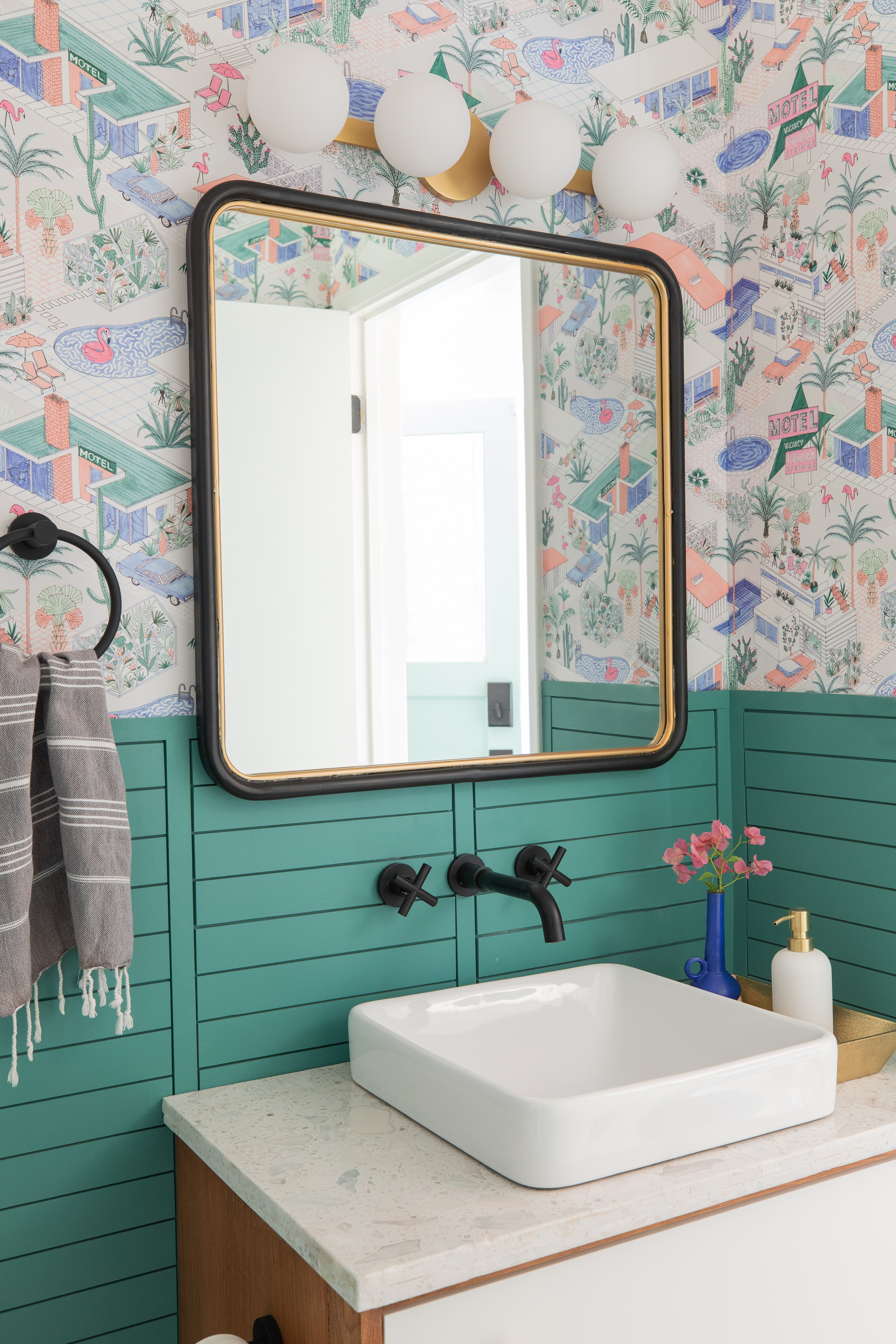 Ok the shower situation. Its brand new! But its not, because its the same tile we had before it was just refinished by Miracle Method Sacramento. Miracle Method* repaired and refinished our tile right in place without the mess and expense of demolition. In 2 sessions and a few days of curing, they gave us a beautiful shower that looks and feels new.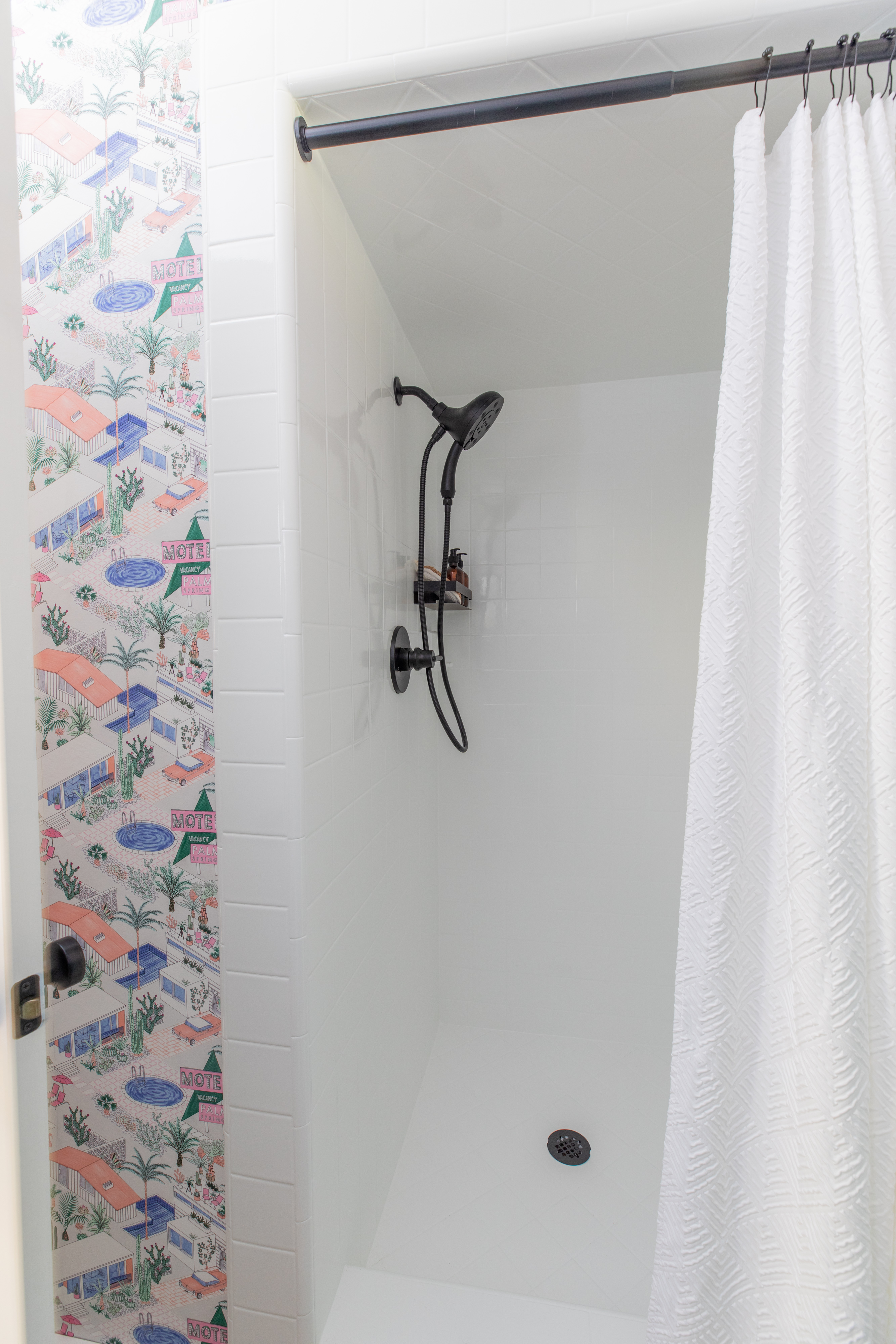 Here's what we were dealing with: old grout, stained caulking and a dated shower door. There is no niche so we needed a hanging shower caddy for our shampoos and bottles. Together with the tacked on handheld spray wand it was just a little much.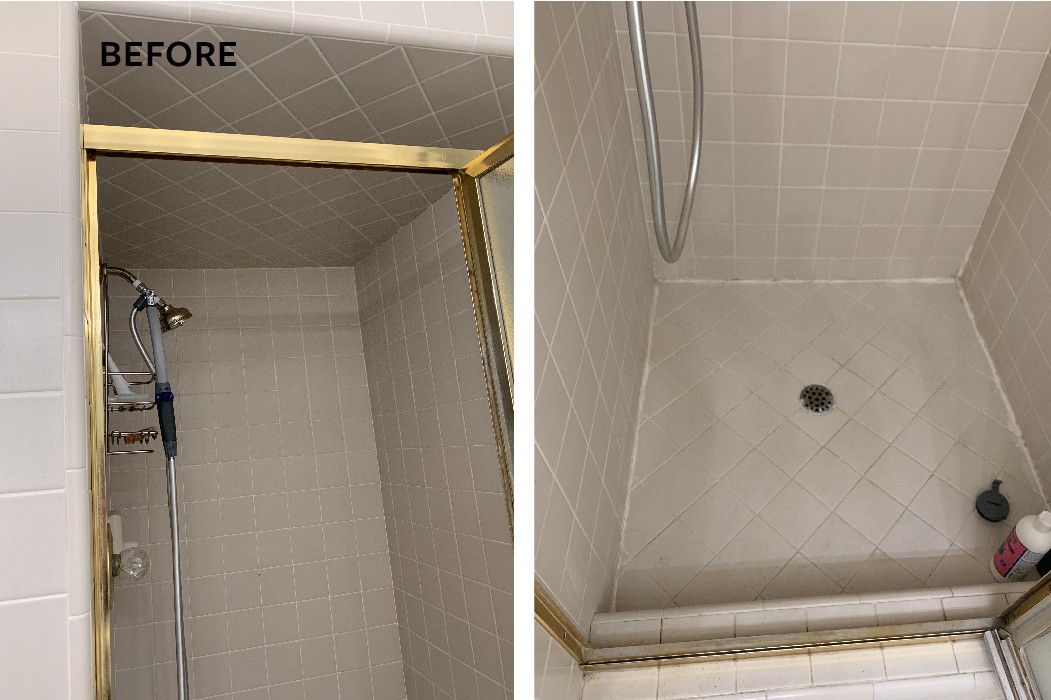 Since we use this shower mostly for cleaning the dog it was a must to have a handheld showerhead. We also wanted to minimize construction in here so finding an all-in-one was surprisingly difficult but I'm happy with how this all worked out. I found a little matte black shower shelf that attached directly to the tile and its so much more attractive.
Look how clean and pretty the tile is now! Miracle Method repaired and filled in the grout so the lines are more shallow and sealed which means super easy to clean.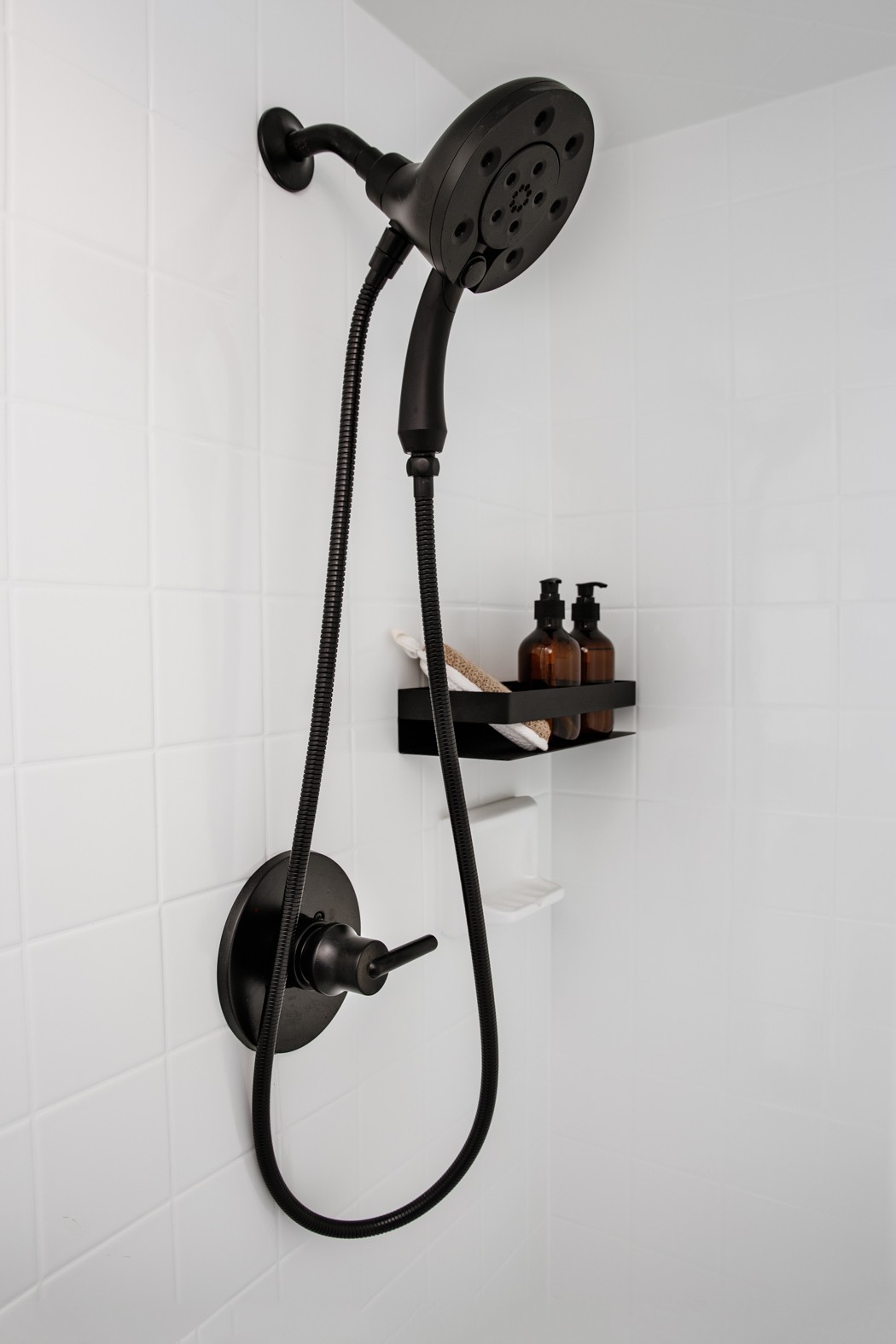 I'm pretty proud of this vanity situation. I wanted it to look like a piece of vintage furniture but didn't have the time to hunt. I couldn't find anything new that fit our budget so that's when I came up with this Ikea hack. We started with the standard 2-drawer Godmorgon and my dad built a cabinet facade around it.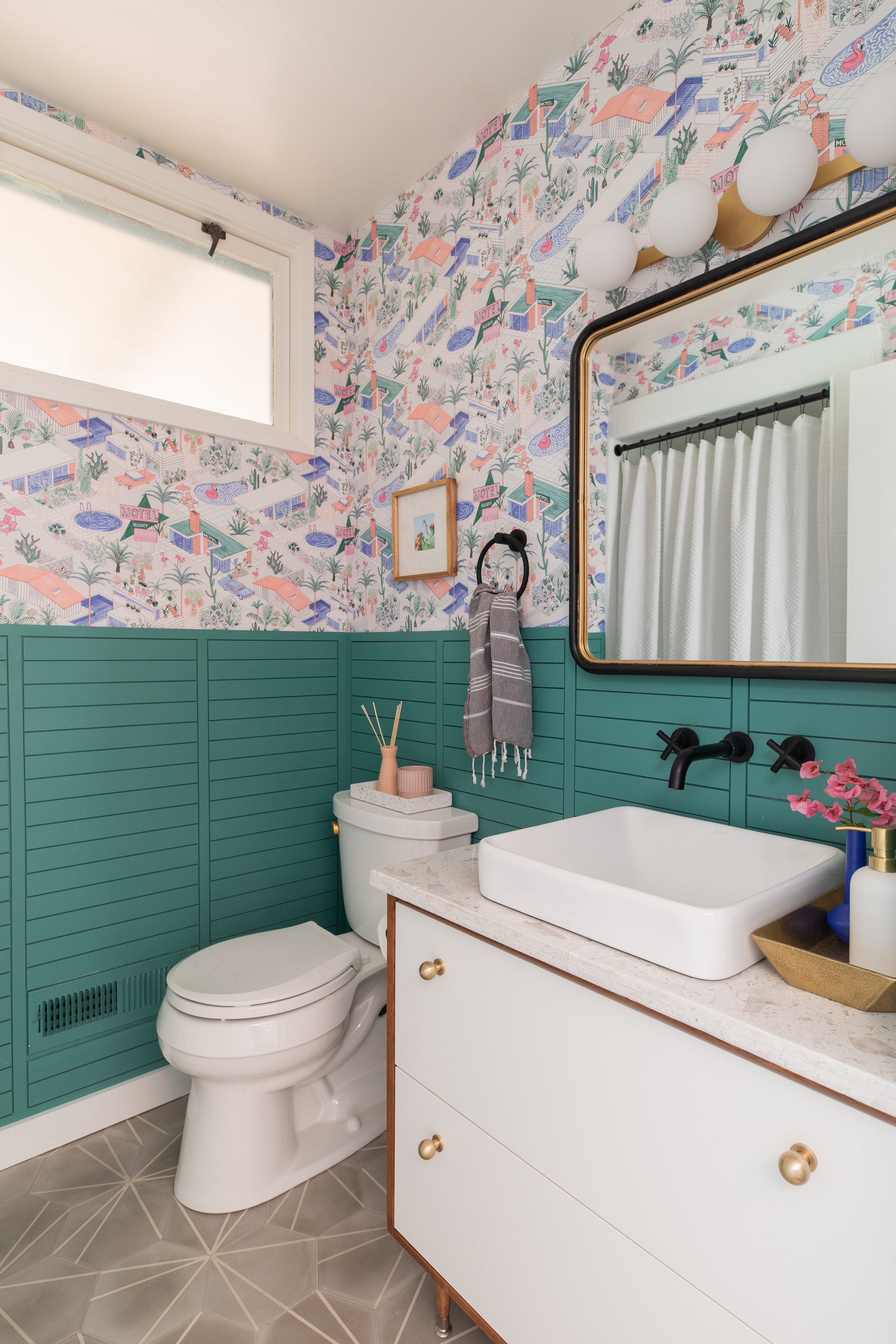 Here's a peek of the build in process. These tapered legs are from Home Depot!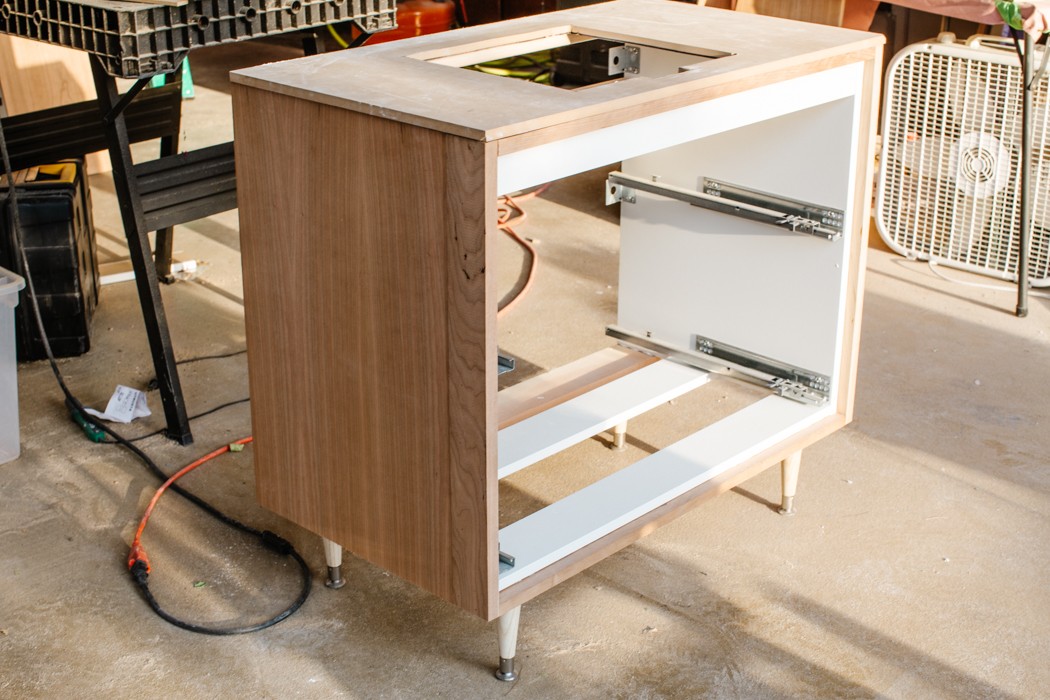 Adding quality hardware elevated the whole thing and I'm super happy with the results.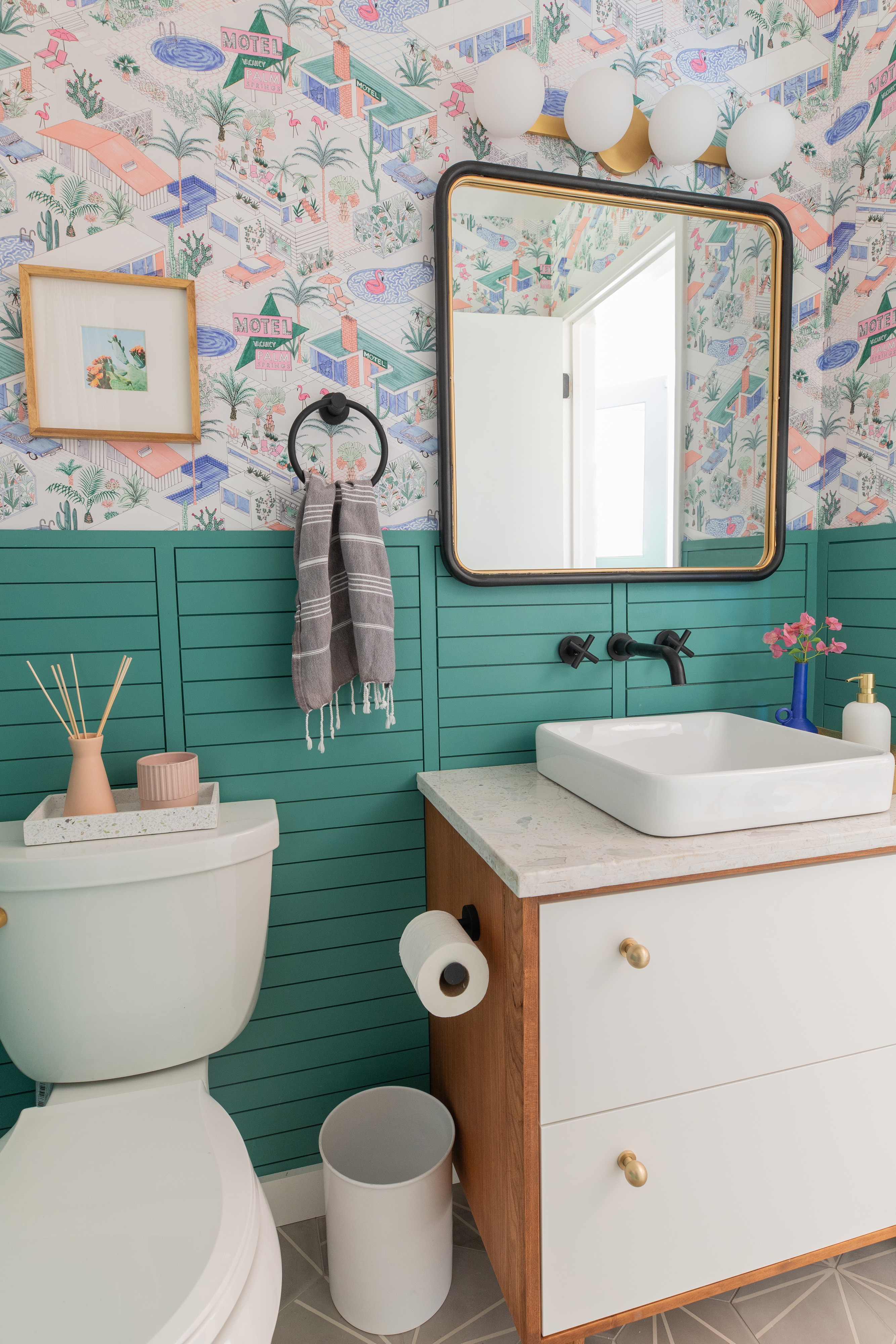 Ikea vanities are made to use with their own sinks and hardware but I wanted to customize it more. So rest of the hack includes cutting into the back of the top drawer to fit plumbing, and of course making our own counter top. To keep that top drawer functional we needed a vessel sink so I found this semi-recessed version (for a steal!) that has a lower profile than most vessels.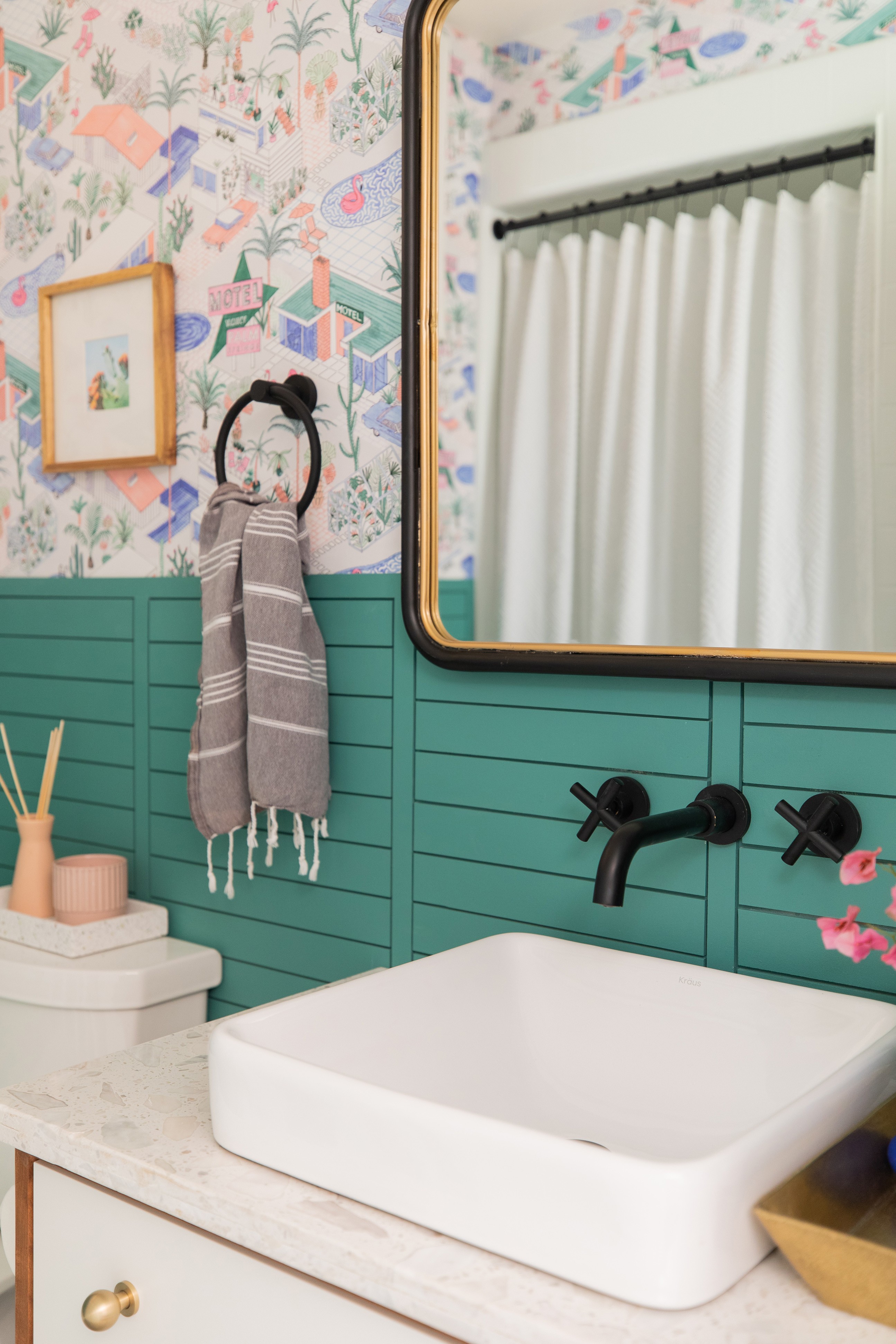 We had to open the wall above the sink to work on the laundry plumbing behind it so I talked my dad into installing a wall mounted faucet which I've always wanted. It was also one less thing to drill into the counter.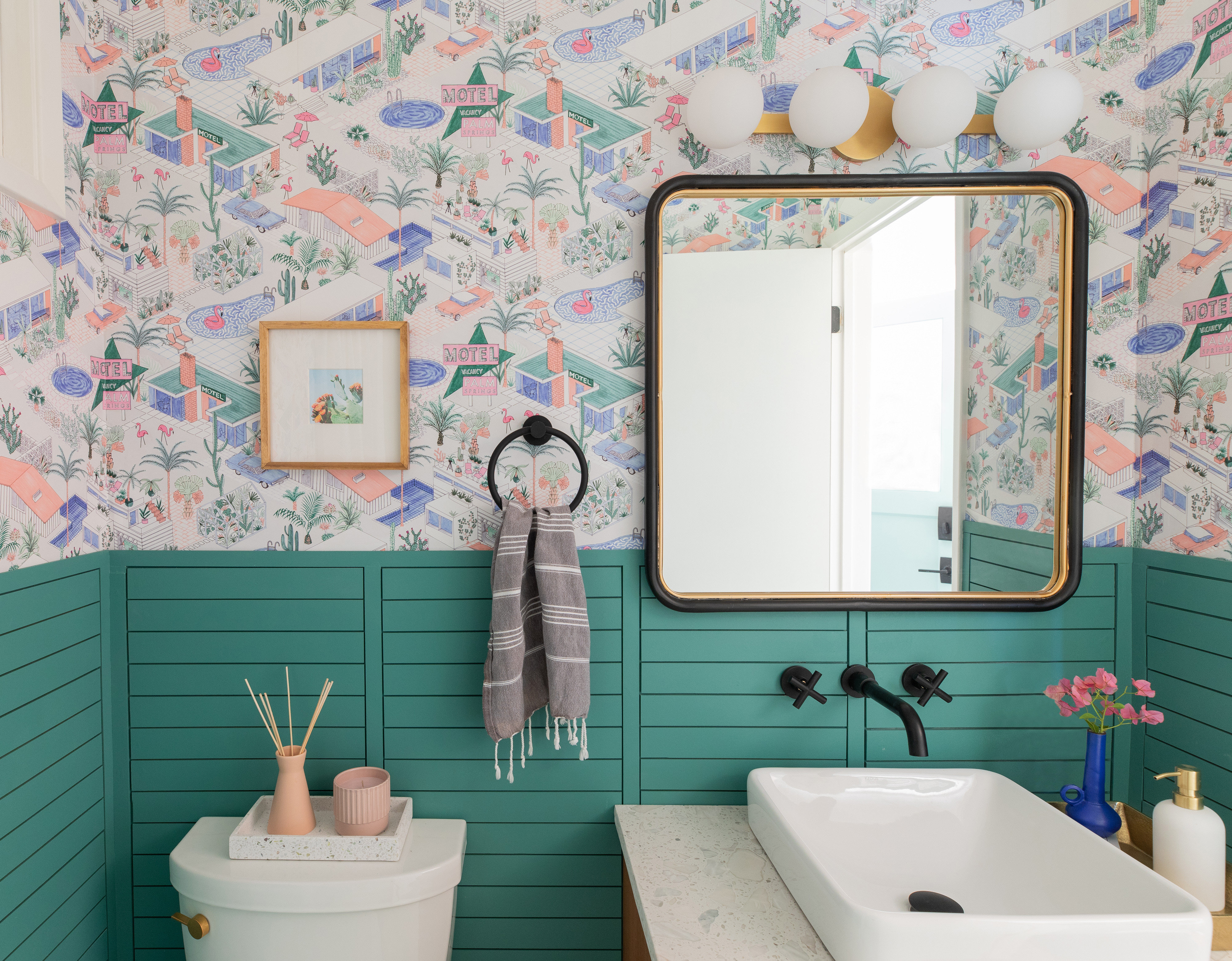 And let's not forget the smallest detail, but probably my favorite thing. The brass toilet lever! I know its ridiculous but I don't care and I chose this toilet because it had the cutest flusher. Sue me!
This blooming cactus was a photo I took earlier this year in my neighbor's front yard.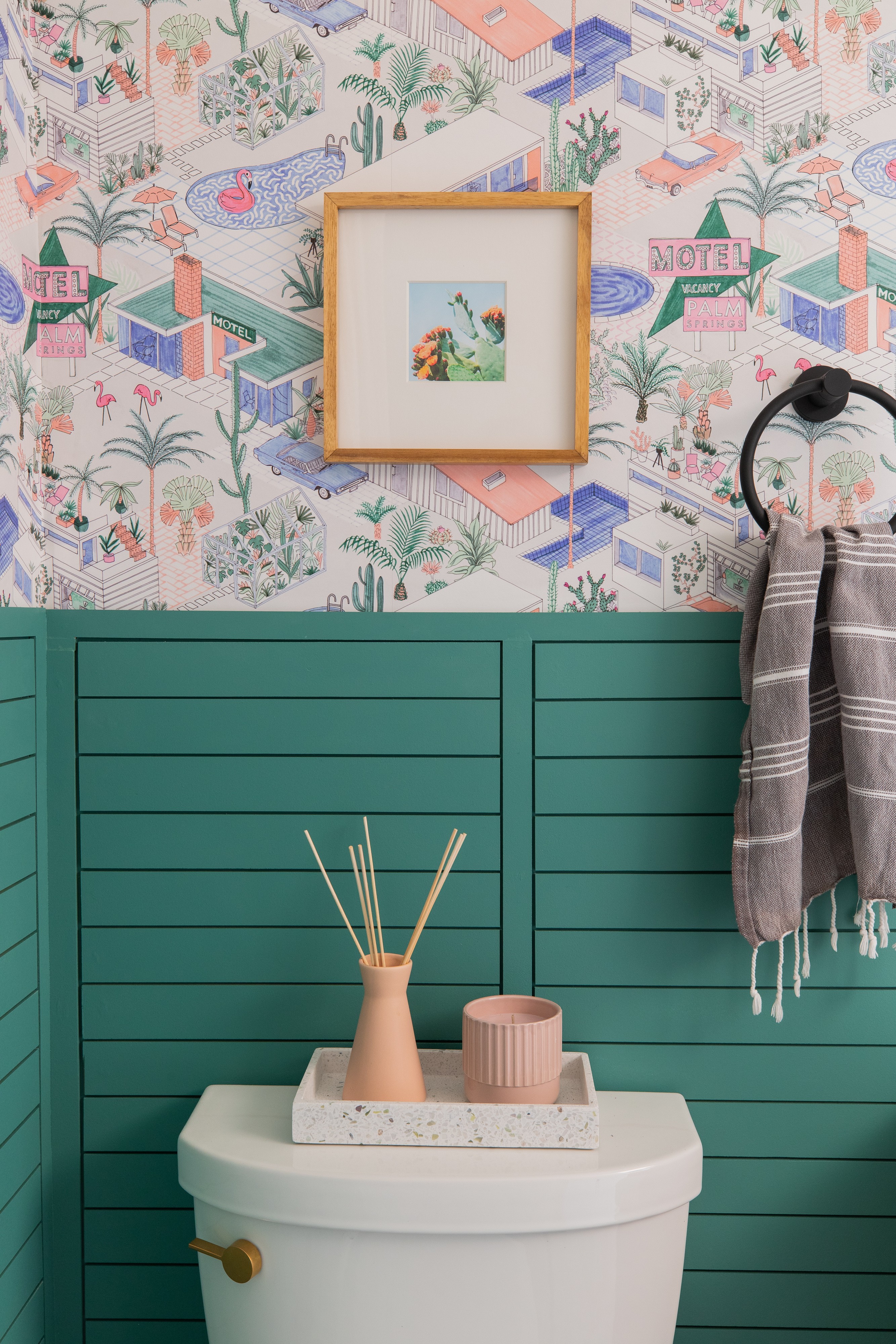 Laundry
In our house, my husband is the laundry expert but this update has me encouraged to be better at it. From a design-perspective the goal was to keep this space simple and not draw any extra attention. All materials followed what was used in the mudroom without the extra color pops. We used the same flushmount here and it does so much to elevate this tiny hall.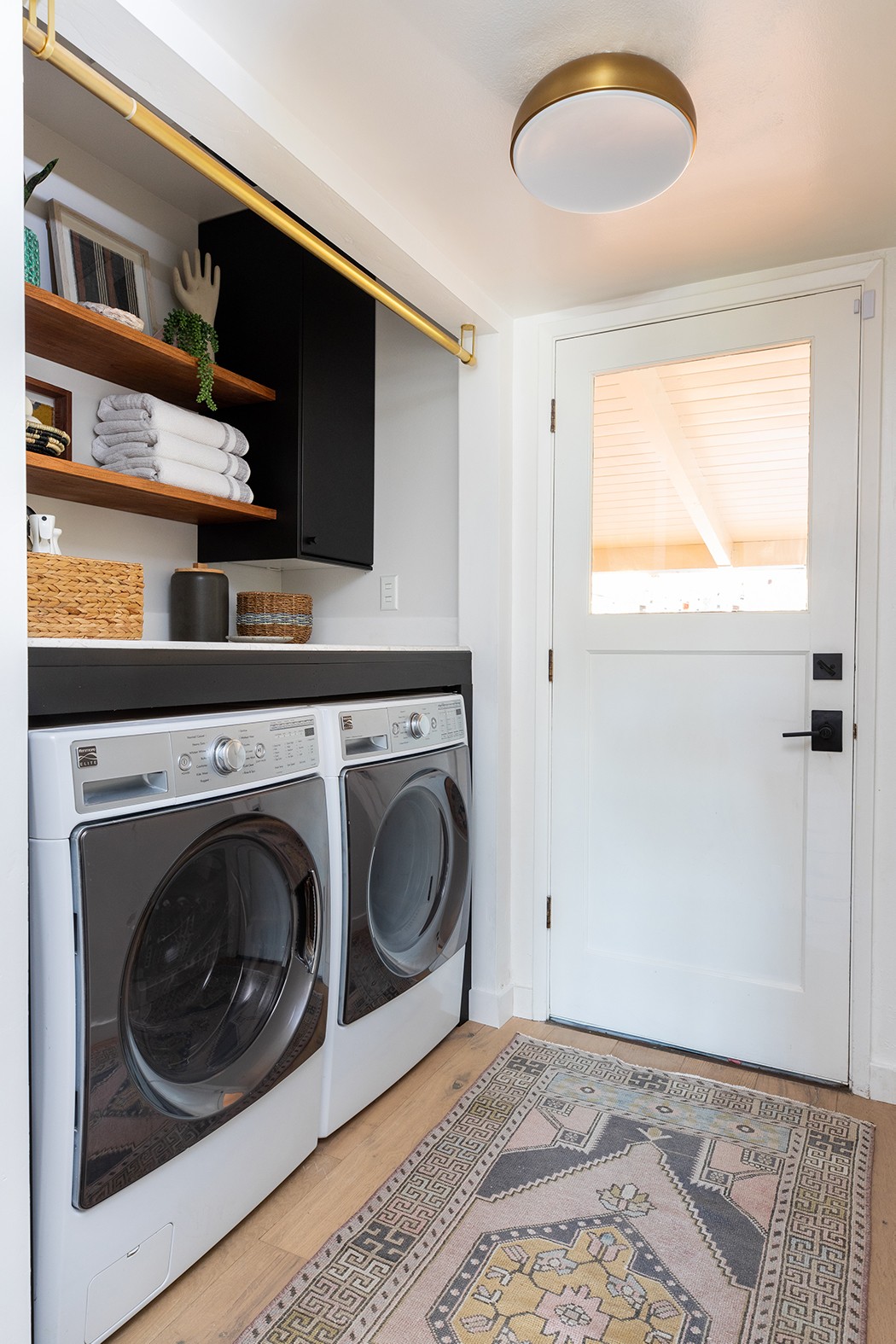 The first major change here was removing these obnoxious doors that when open, block the access to the patio door. There was some internal debate since the doors also hide the mess and noise but I decided that if we actually designed this utilitarian space we could do it. It was a pain to remove the door casing and clean up the frame but those details make this feel intentional and not like we just took doors off a closet.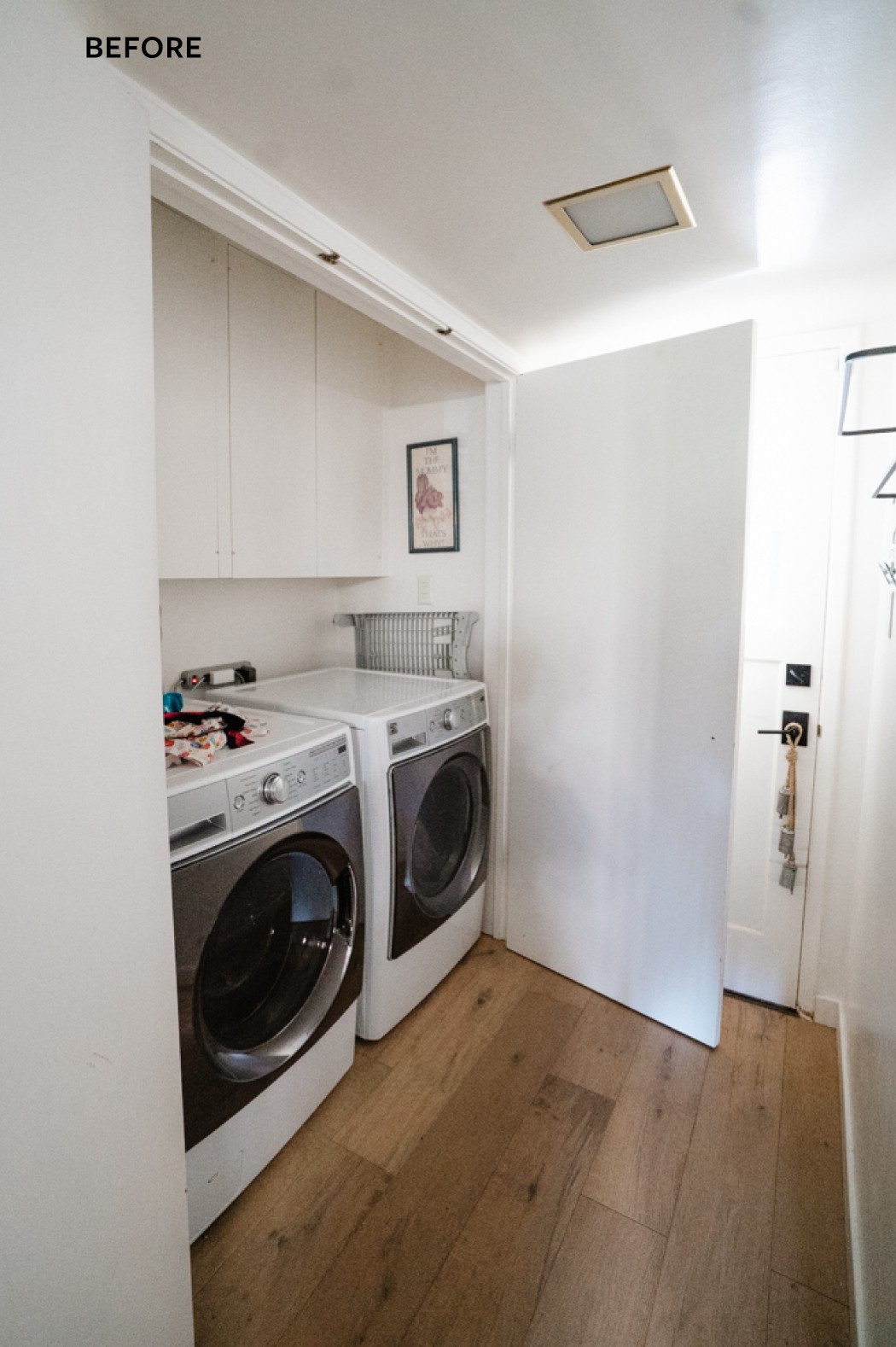 Adding the quartz counter (the fifth and final piece of our $50 investment), added SO much needed function. It had to be mounted pretty high to clear the machines and electrical, but its still so useful. No more socks falling between or behind the dryer, and a nice, smooth service to fold and stack clothes.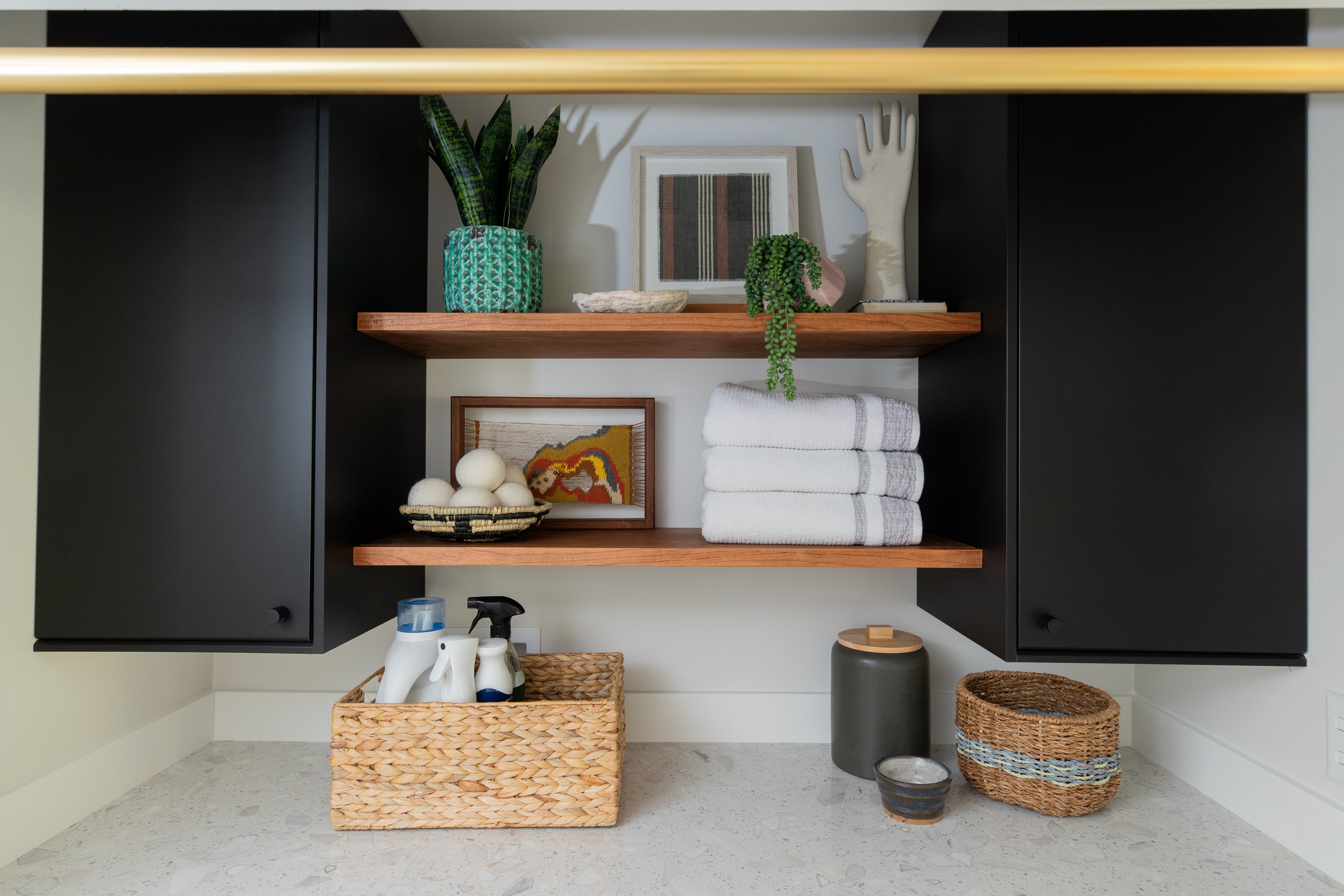 This is exactly how it looked 6 weeks ago. Definitely needed doors to close off the utilitarian jumble of plumbing, electrical and laundry stuff. Also, that print was in my childhood home in the 80's, my mom passed it down to me when I was pregnant. Haha!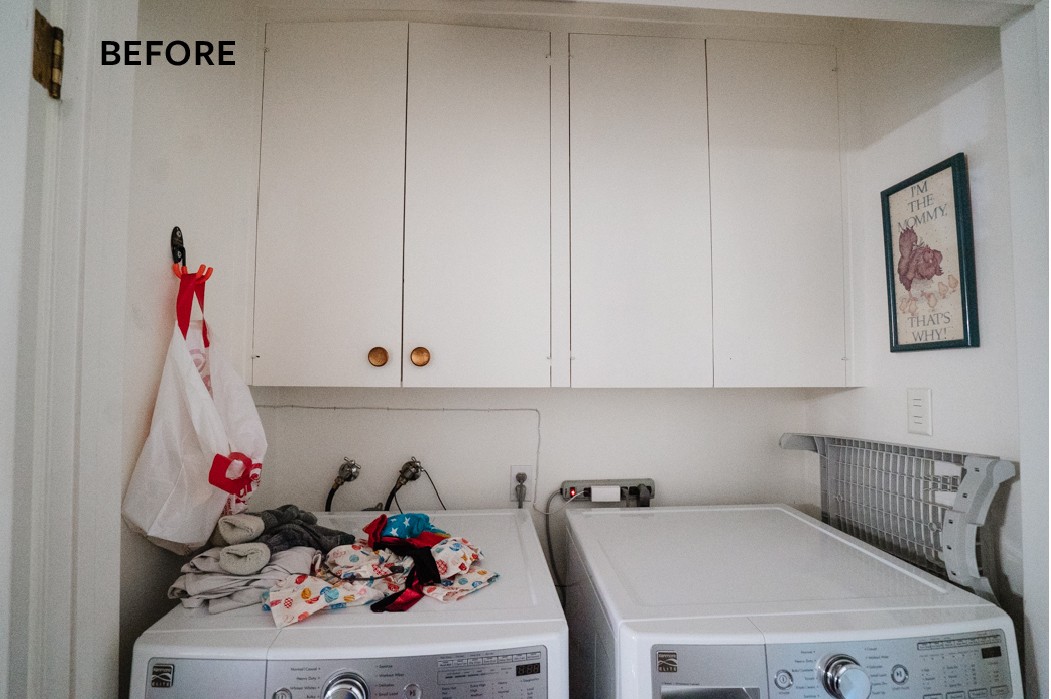 I did some shelf styling and had fun telling a laundry 'story.' The vintage glove mold alludes to hand-washing, and the art is made of textiles and thrifted fiber art. The wool dryer balls are on display and I corralled our daily washing supplies in one basket.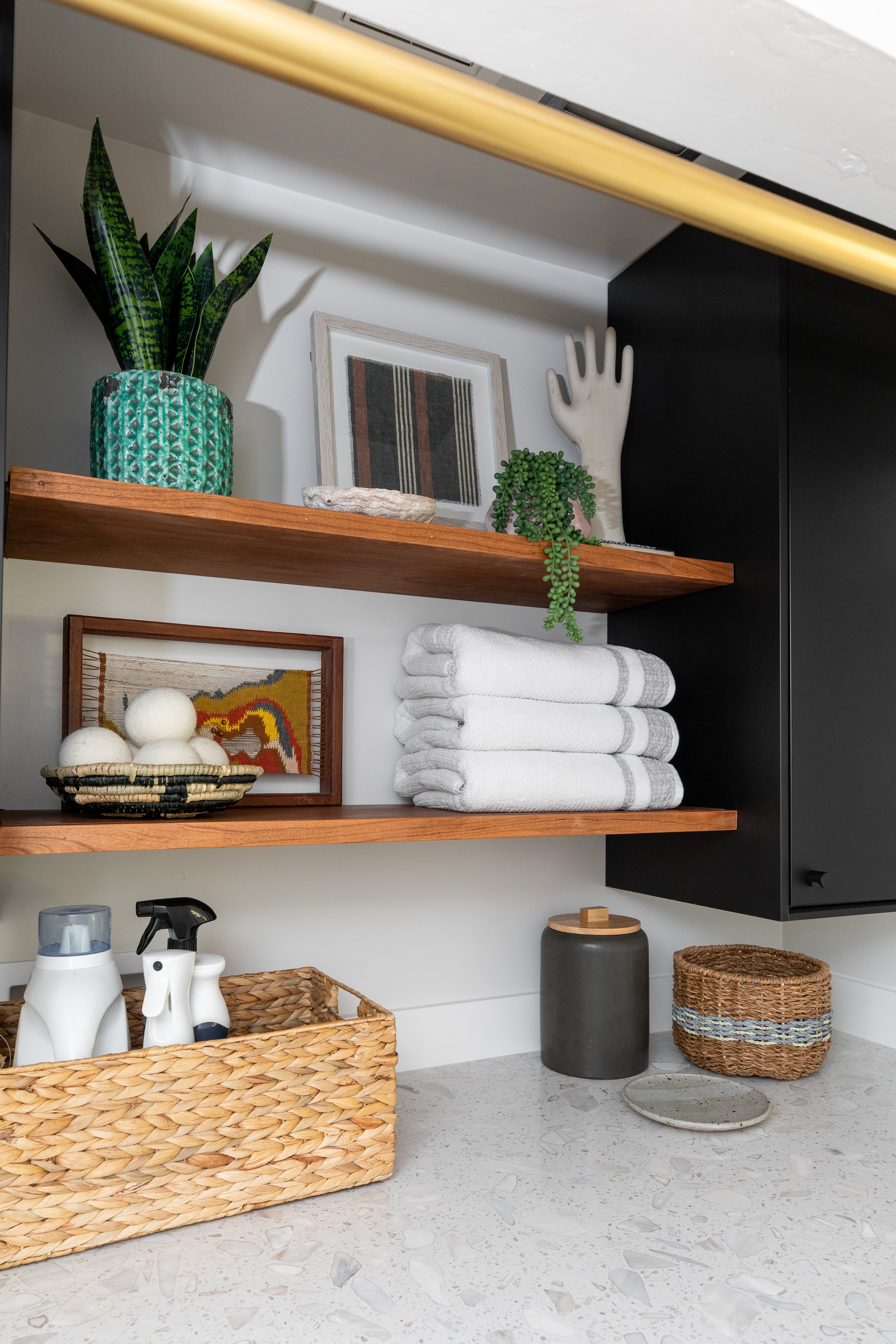 Let me preface by saying Nicole Dianne did not take the following photo but I wanted to show you the last-minute detail of the clothes hanging rod. I had planned on putting a rod inside the door opening but it didn't clear the cabinet doors. I found this gorgeous curtain rod from West Elm and love the details of the hardware allowing it to hide in plain site.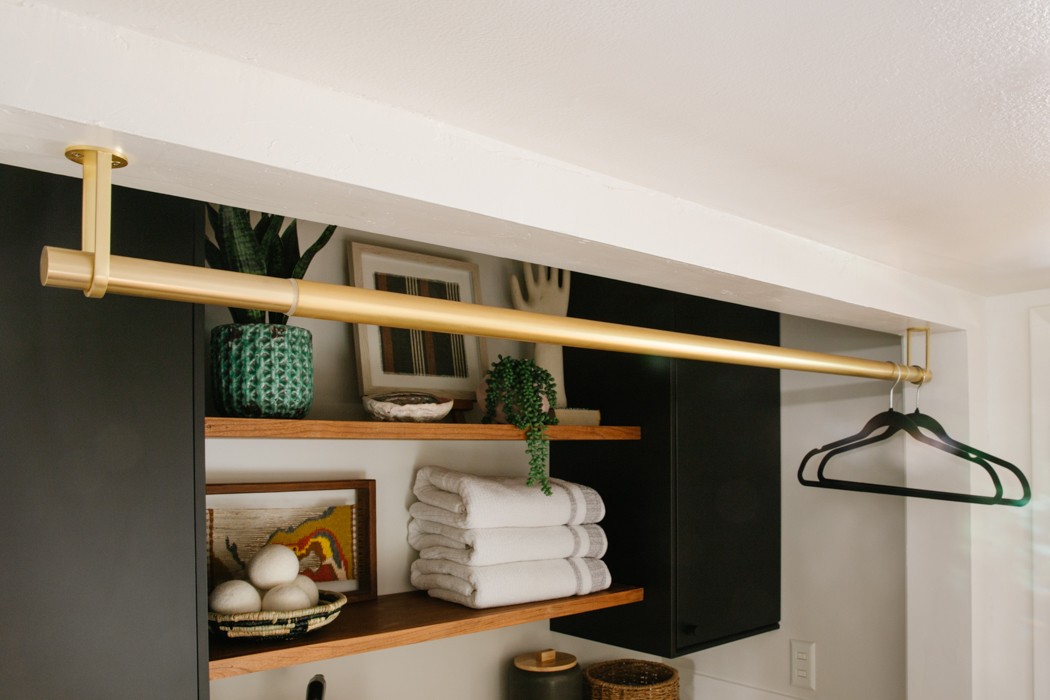 Now when I catch a glimpse of the laundry area from the kitchen, its no longer cringe worthy and just so pretty!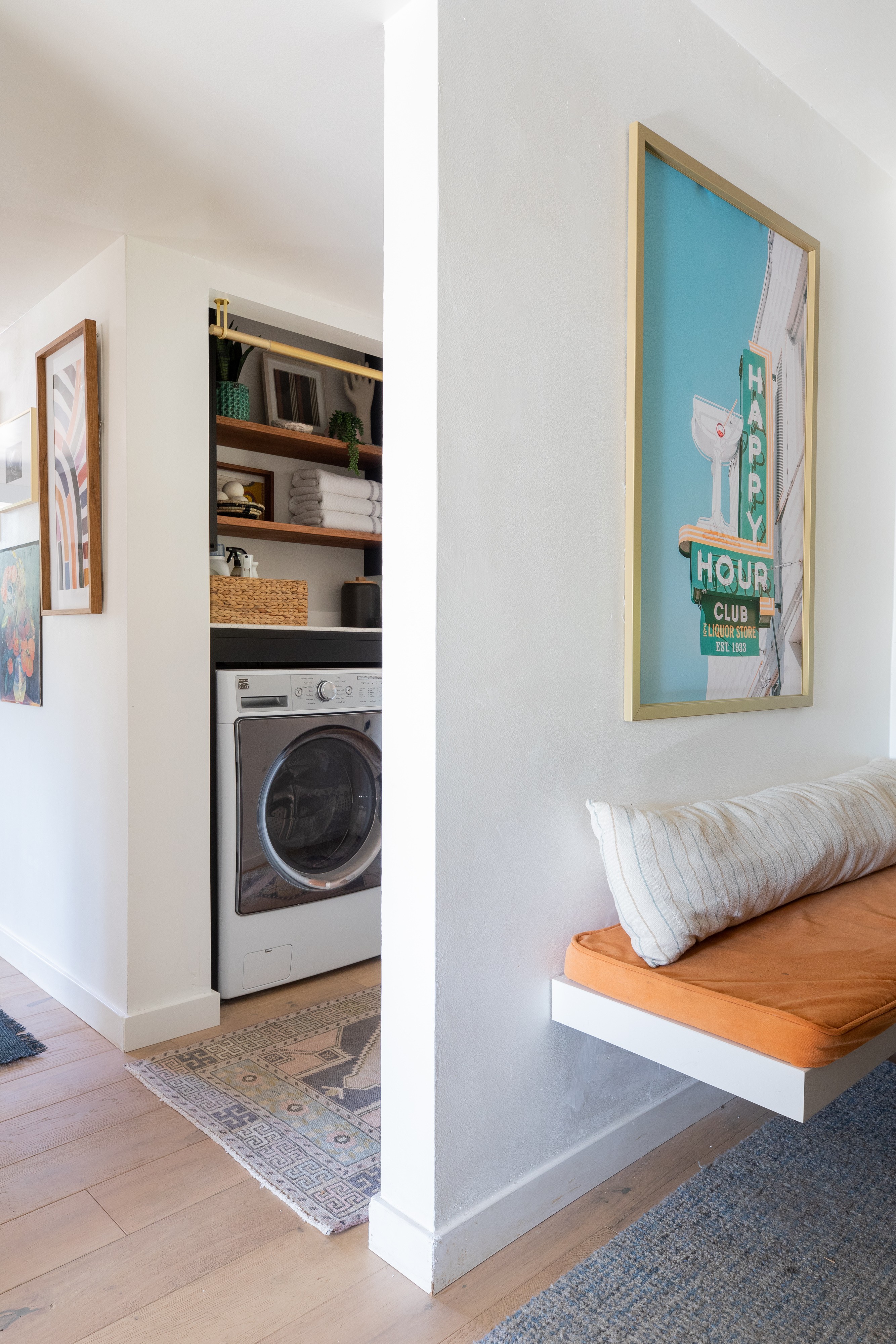 Hallway
Which brings me to the bonus space, the hallway! This is the area that connects all the others and it holds its own now!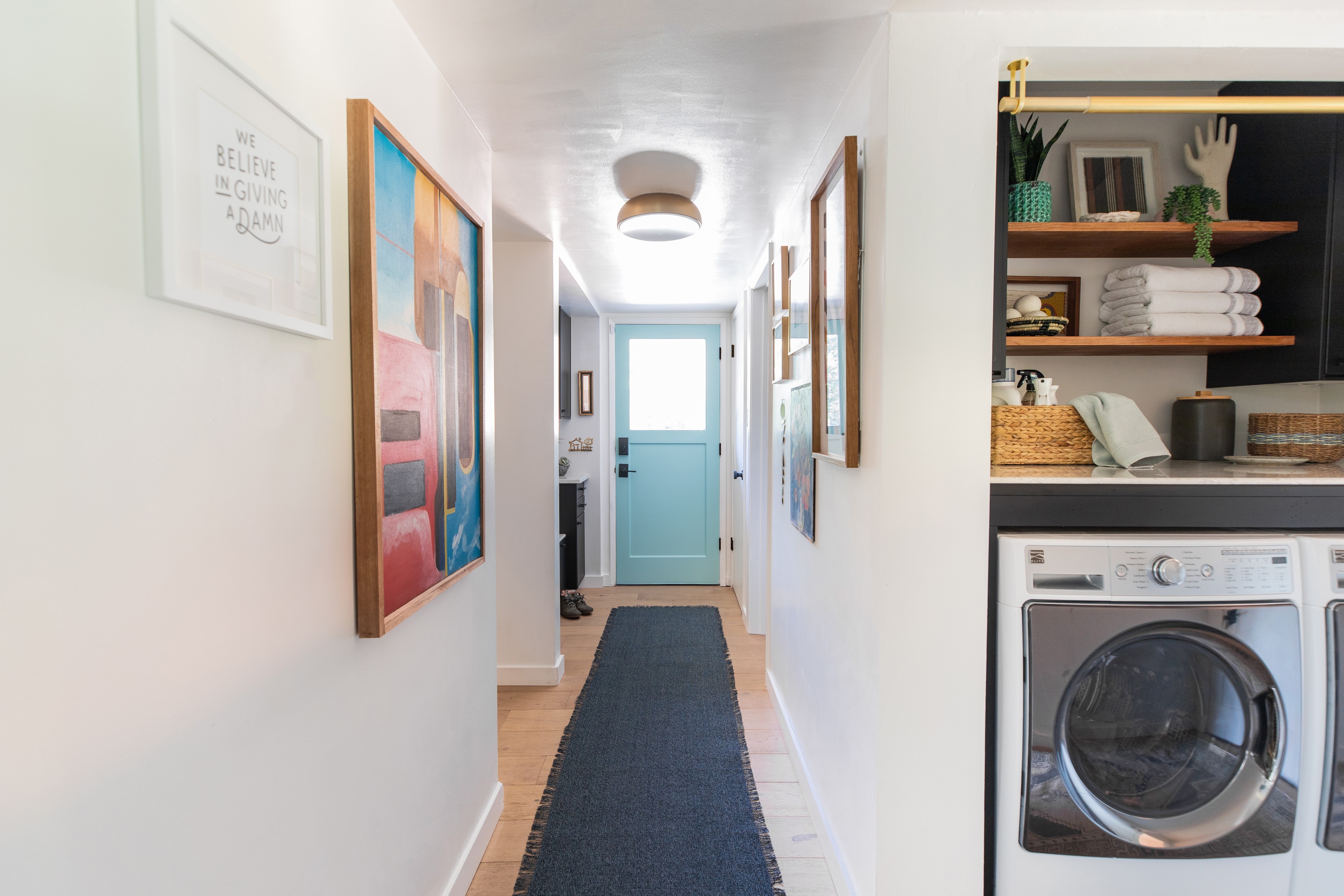 Let me remind you of this sad, sad view. It was just a hall that you tried to get through as fast as you could.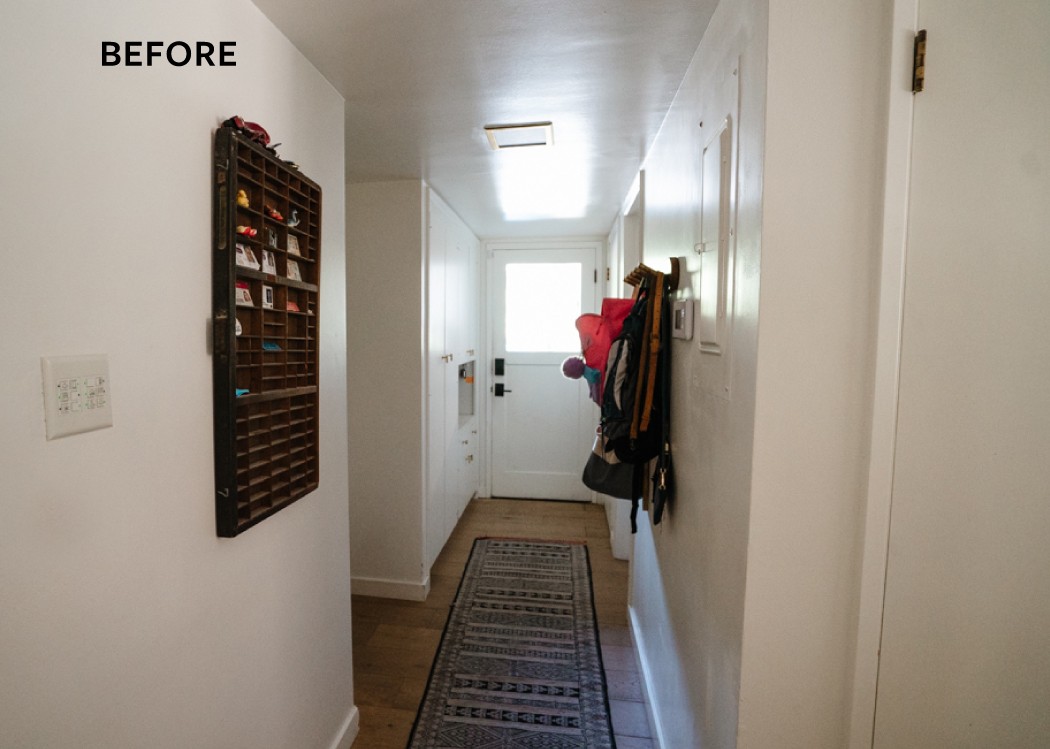 Now it feels like part of the kitchen and so much more open.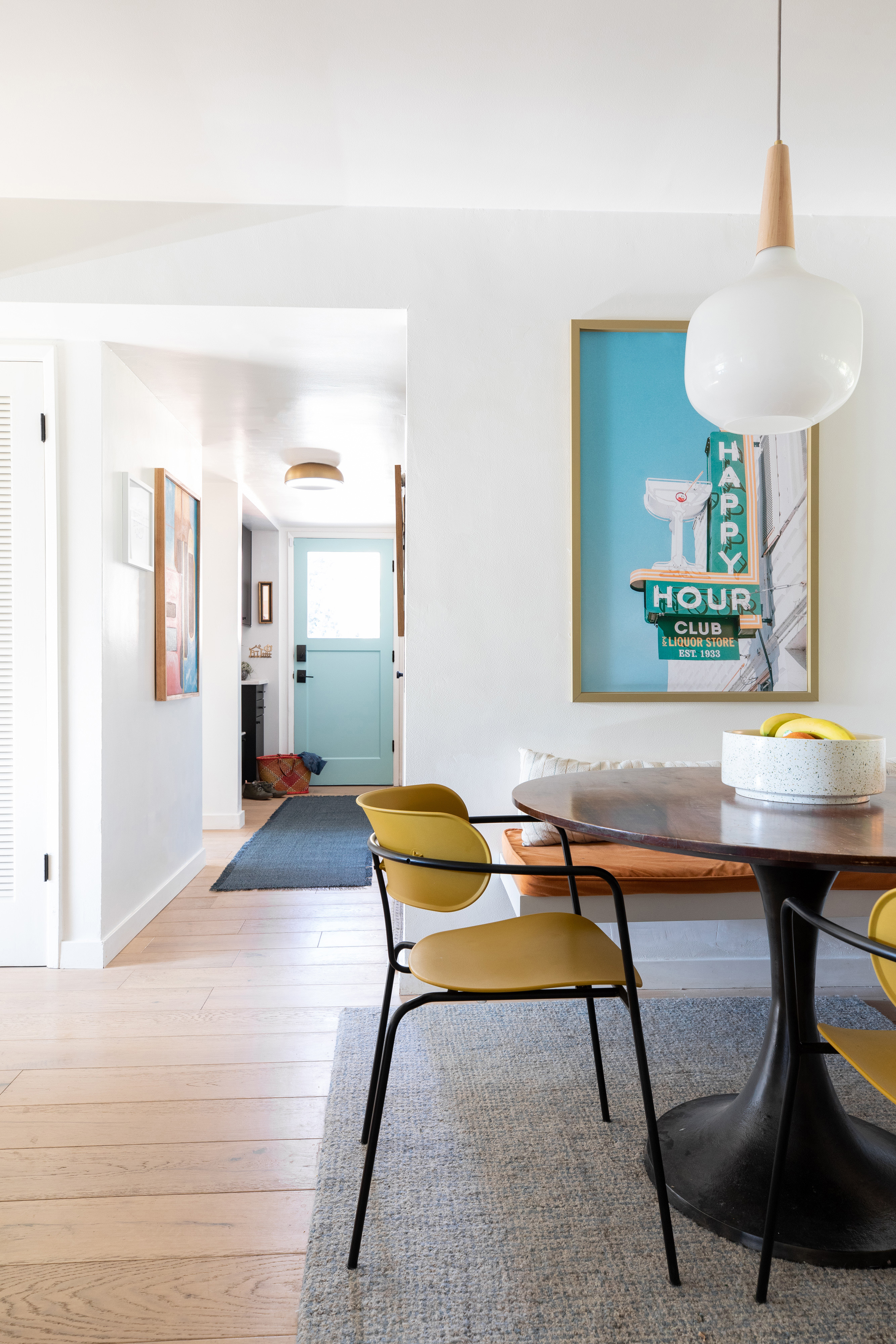 Substituting the hooks of shame with a collection of new and vintage art makes me so happy when I walk out of my home office. The vertical PRISM downloadable print was gifted by Juniper Print Shop and its a perfect fit to cover the unsightly electrical panel. I've been a mega fan of JPS and Jenny Komenda for years and their collection of art is super accessible and perfectly curated.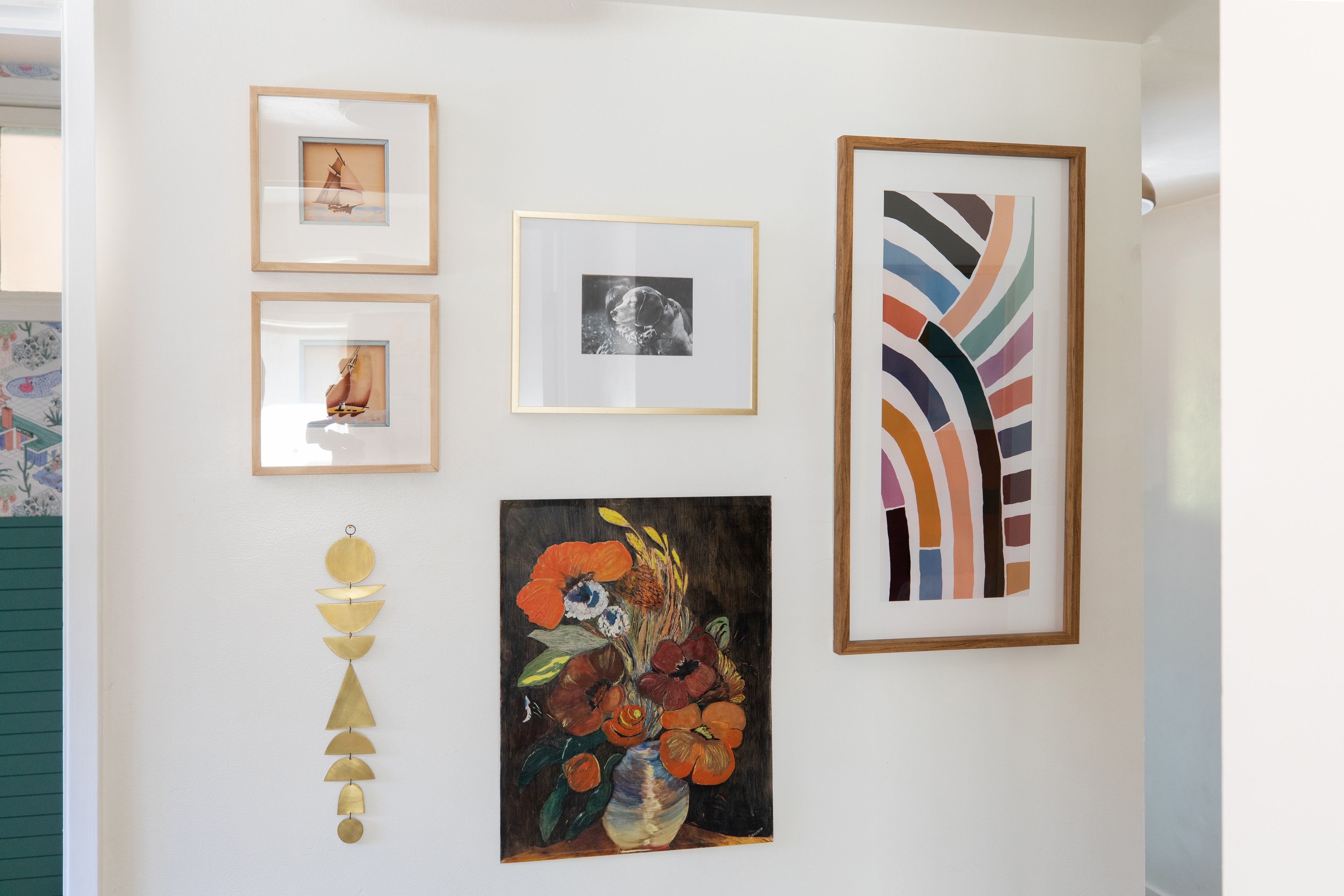 Again, these flushmount lights from Lumens* make me so happy. Our ceilings are really low in here but these only have a 4″ profile and unless we invite some MBA players over, we should be good.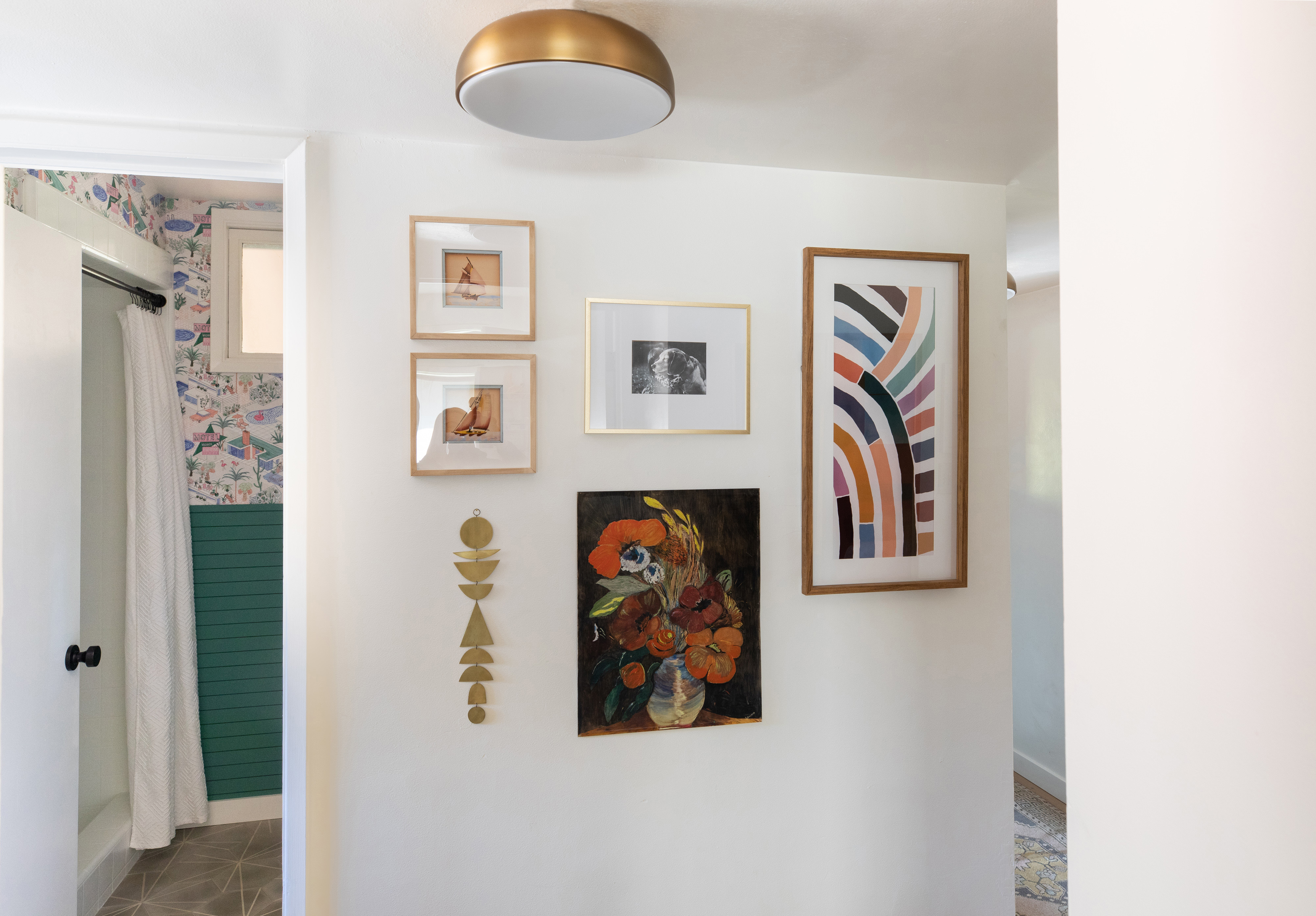 What really kills me is that I didn't think of painting the inside of this door sooner. Its the perfect color pop that brings it all together. I love how it ties into my Happy Hour photo in the kitchen nook.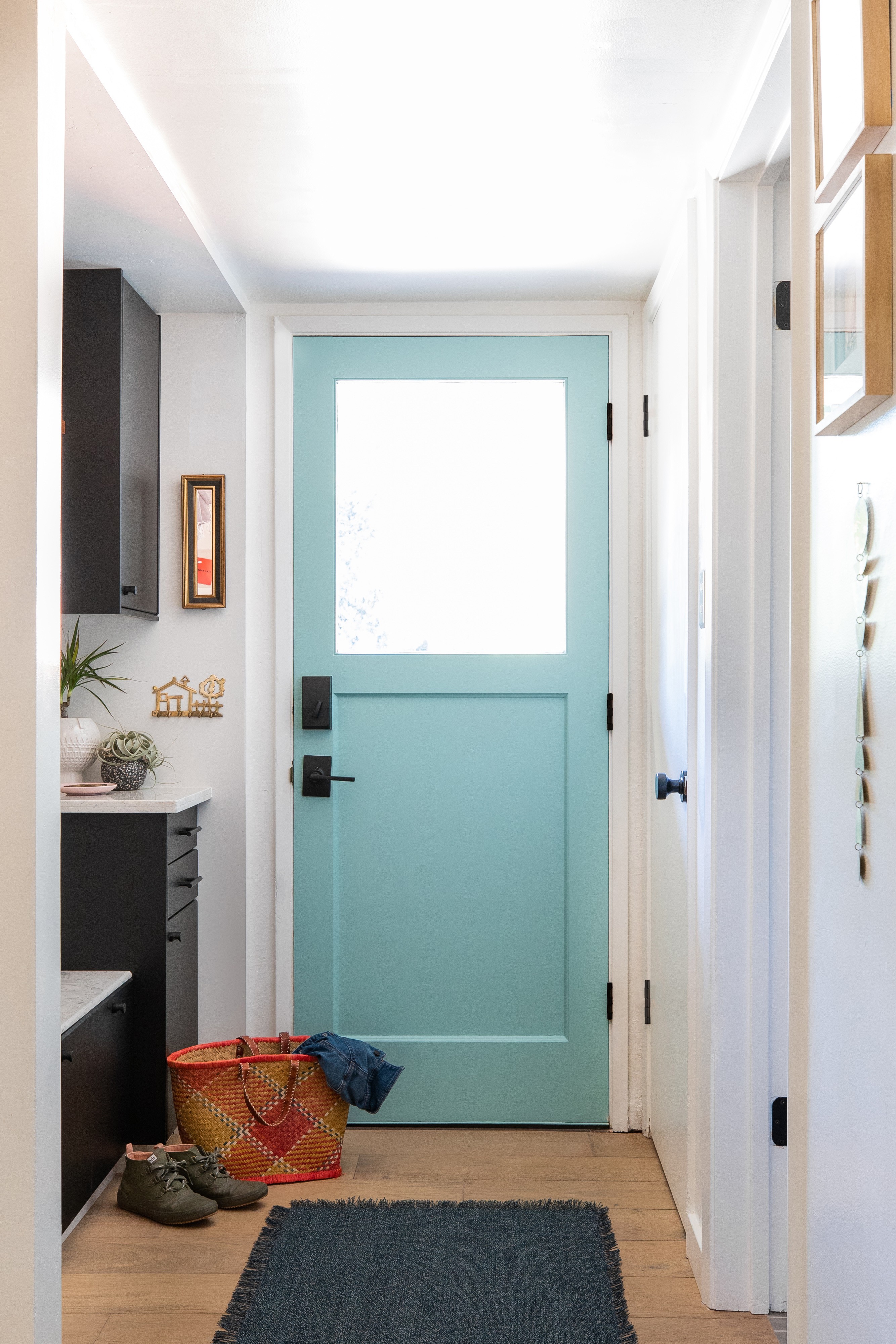 The We Believe in Giving a Damn print was lettered by my friend Grady Fike and then letterpressed by Ray Sensenbach. Its a favorite quote from the CreativeMornings manifesto and is a good reminder. The painting next to it is one painted by my grandpa and I finally feel like it found its rightful home here.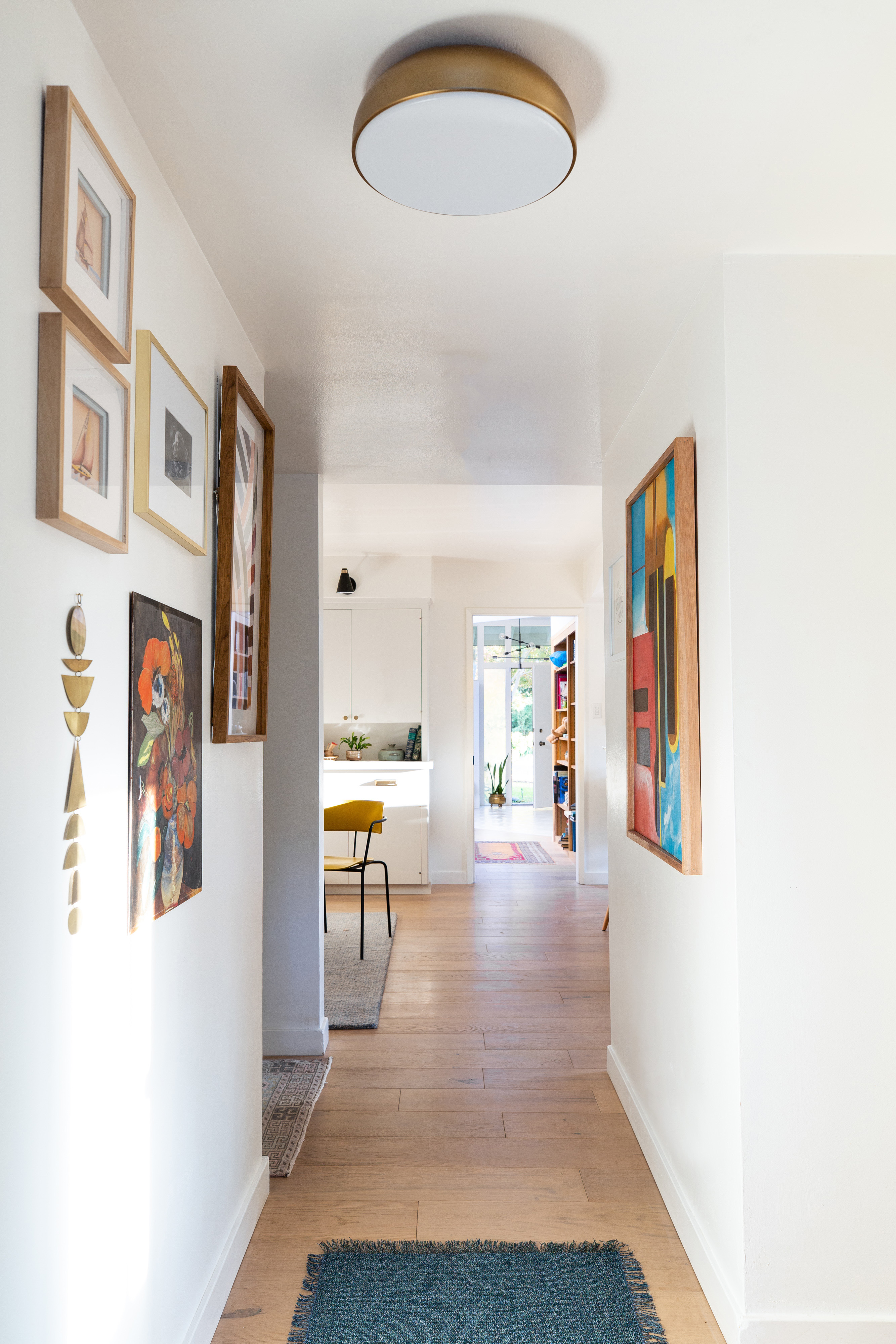 So, that's it!! I can't even begin to thank everyone for their constant support and interest in our projects. Major thanks to our generous sponsors who elevated all of my ideas and made my design dreams come true. Thank you friends and family for giving me space to do this, and keeping my kid occupied when necessary. Thank you mom for all of your wallpapering expertise and spending hours cleaning up after us.
Thank you to Linda, the founder and host of the One Room Challenge twice a year. She brings us all together and has always been such a warm support system to me behind-the-scenes.
Major judos to the super talented Nicole Dianne  who shot the spaces and made our crazy deadlin. These spots are technically difficult: low light and really tight spaces but she nailed it.
The biggest shout out of the decade goes out to the ORC MVP, my dad. He basically did all of the construction work single-handedly with some well-timed assists from a floor tile installer and my husband. He took on all my crazy design ideas, never batted an eye and engineered them into reality. He's always up for a good challenge so we make a good team and I am so so grateful for his expertise. Thanks dad, you're the best.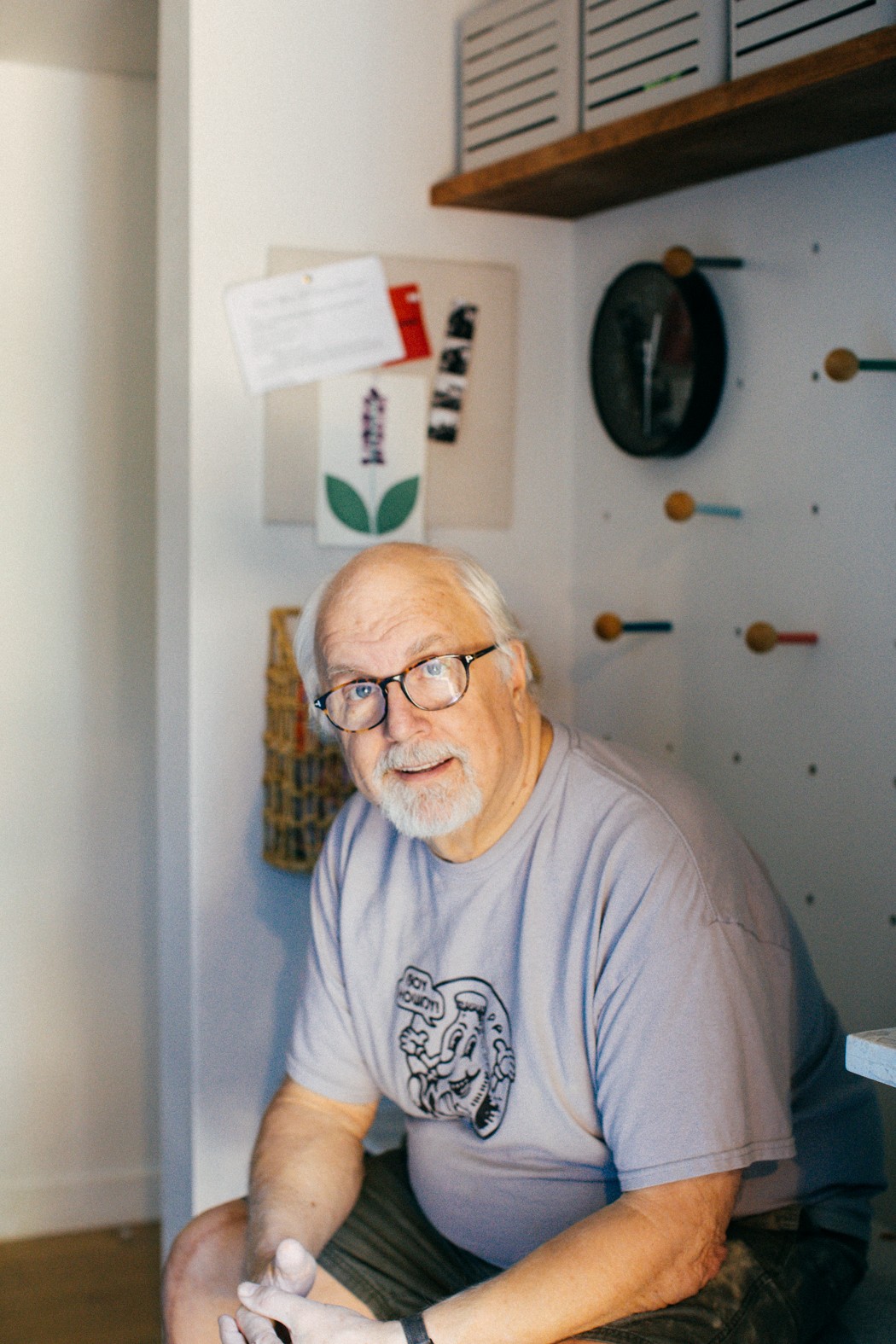 Sources
Contains affiliate links which may earn us a small commission on the sales of products we link to at no additional cost to you.
Bathroom
Palm Springs Wallpaper* | Cement floor tile* | Vanity light* | Shower Resurfacing* | Showerhead | Shower trim | Shower shelf | Shower curtain | Shower curtain rings | Toilet  | Toilet Lever | Accessory hardware | Hand towel (similar) | Sink faucet | Sink | Sink drain  | Vanity (customized)  | Vanity legs | Drawer knobs | Soap dispenser | Reed diffuser | Pink candle | Terrazzo tray | Brass Tray (similar) 
Paint Color: Panelling
Laundry
Ceiling light* | Brass Hanging rod | Rug (vintage) | Cabinets | Cabinet doors/trim | Cabinet knobs | Striped basket  | Faux snake plant | Large basket | Gray canister | Framed fabric
Paint Colors: Inside Walls | Outside Walls
Mudroom
Ceiling light* | Runner* | I Like You print* | Cabinets | Cabinet doors/drawers/trim | Cabinet knobs | Drawer pulls | Storage bins | Clock | Pillow | Linen bulletin board | Entry Smart Lock | Keyrack (thrifted) | Mirror (thrifted) | Pegboard/Pegs (DIY)
Paint Colors: Inside Walls/Pegboard | Outside Walls
Hallway
Ceiling light* | Prism striped print* | Brass mobile | Dining chair  
Paint Colors:  Walls | Back Door
My One Room Challenge Sponsors

Milton & King  //  Lumens  // Villa Lagoon Tile  //  Miracle Method  //  Tidy Revival  // Juniper Print Shop

Other One Room Challenge Posts
Catch up on the whole project
Week 1  //  Week 2  //  Week 3  // Week 4  //  Week 5  //  Week 6 (You're here!)
Links to my previous One Room Challenges
Fall 2018: Kitchen Refresh | Spring 2019: Midmod Patio Reveal
I've been head down writng this post and I can't wait to see what all the other  Guest Participants and Featured Designers pulled off. There have been a lot of close calls but I think everyone made it!