Welp, somehow we got a bonus 2 weeks this round and I'm still behind. Why do I do this to myself!!?? We have had more tiny setbacks that are just annoying but I think all the major snags of last week have been addressed and are almost remedied. Almost all the wallpaper is done, my mom killed it! Yesterday we got our replacement vanity top in, our final drapery from Calico should install in the next day or 2 and then we can repair the crown moulding. I still need to upholster the bed frame but I ordered a piece of foam locally cut-to-size, and will pick that up tomorrow. I'm also waiting to hear from my cabinet shop that is building our floating vanities and modified the doors to our Ikea cabinets. Fingers crossed, that's just a simple install. The only major headache we have left is getting all the doors installed and wallpapered and/or painted. I kind of pushed my dad on the jib doors and fingers crossed we've made the final adjustments and they can go in tomorrow. 
Its all coming together, Today on Instagram I told the magical story about the vintage Persian rug that showed up on my doorstep today and it brought my whole vision together. I'm so happy, and I can't wait to share it with you!
If you're new here, I'm Rebecca designer and founder of Studio Plumb. In January 2017 we became the second owners of the #plumbmidmod, a one-of-a-kind 1960 midcentury ranch on .8 of an acre outside of Sacramento, California. It has cool original architectural details, a creek running through the yard, and a perfect floorplan. It also needs a sh!#t ton of work. Bit by bit with the help of my dear old dad we're bringing it back to its former glory with a modern spin. 
For more updates follow along on Instagram and all you design entrepreneurs check out our new podcast the Hot Young Designers Club.
Calico* did install our ripplefold sheers last week and they are SO PRETTY. I feel like a bonafied grownup waking up to these legit, perfectly hung drapes. The beauty of working with a large company like Calico is they handle everything from helping with the fabric selection in their showroom to in-home measurments and then installation. Due to the exacting nature of the ripplefold style we had a couple adjustments that needed to be made but they are handling it all and its been a seamless (hehe) experience for me as the customer.
* Gifted by our generous sponsors in exchange for promotion. All opinions are my own.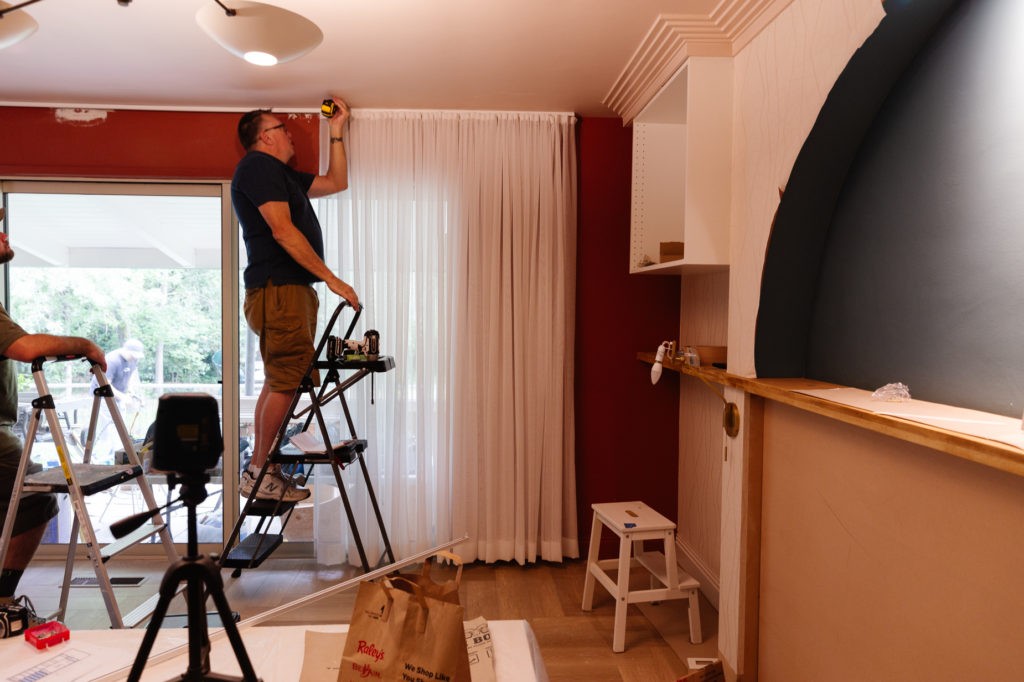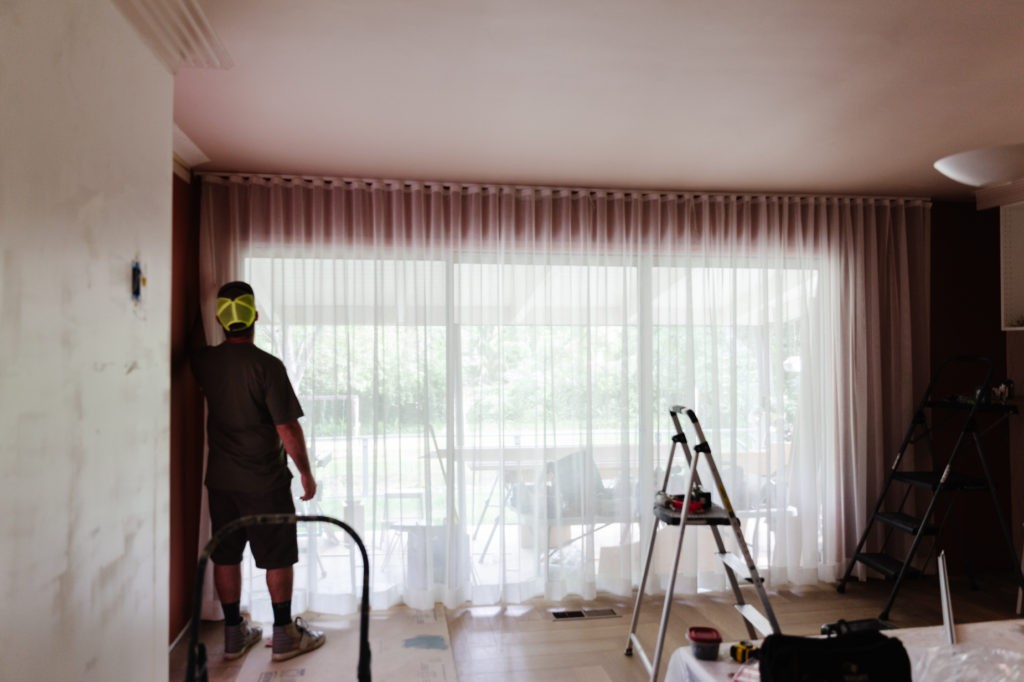 Today I want to talk about art happening in the room. I'm working with two local Sacramento artists to bring some custom details to the space and I'm so thrilled to get my eyes on the final pieces. I worked closely with both of them to commission the pieces for the space and thought it would be fun to walk through the process.
Propagate Plants & Gatherings
I met Alli Okumura a couple years ago through my time at CreativeMornings and connected with her right away. She officially opened the Propagate brick & mortar store last year and its just the cutest little plant shop you've ever seen. In addition to indoor plants, pots and accessories, they offer consultations on interior plant design, installations and even weekly maintenance services. I have been a big fan of her work around town, seen some of her creative installations and hoped she could help me.
Now that our bathroom is basking in natural light thanks to our Velux Fresh Air Skylight, I knew I wanted to make a statement with indoor plants. I originally planned on some sort of living wall next to the vanity but was nervous about doing it well without damaging the walls and requiring a ton of maintenance. Alli came over to see the space, and agreed that it might be tricky and told me she had recently started experimenting with preserved moss wall hangings. The moss is basically pickled and dyed and attached to a plywood board, bringing vibrant color options with zero maintanance. SOLD. I just had to come up with a design for the boards and she'd do the rest. 
 I thought that would be easy, but I went through 20 different ideas before settling on the final. I played in Procreate and Photoshop on my iPad to get a sense of the texture within the shapes. I really wanted the arrangement to turn the corner at the end of the tub so just kept playing until I landed on a solution that felt right!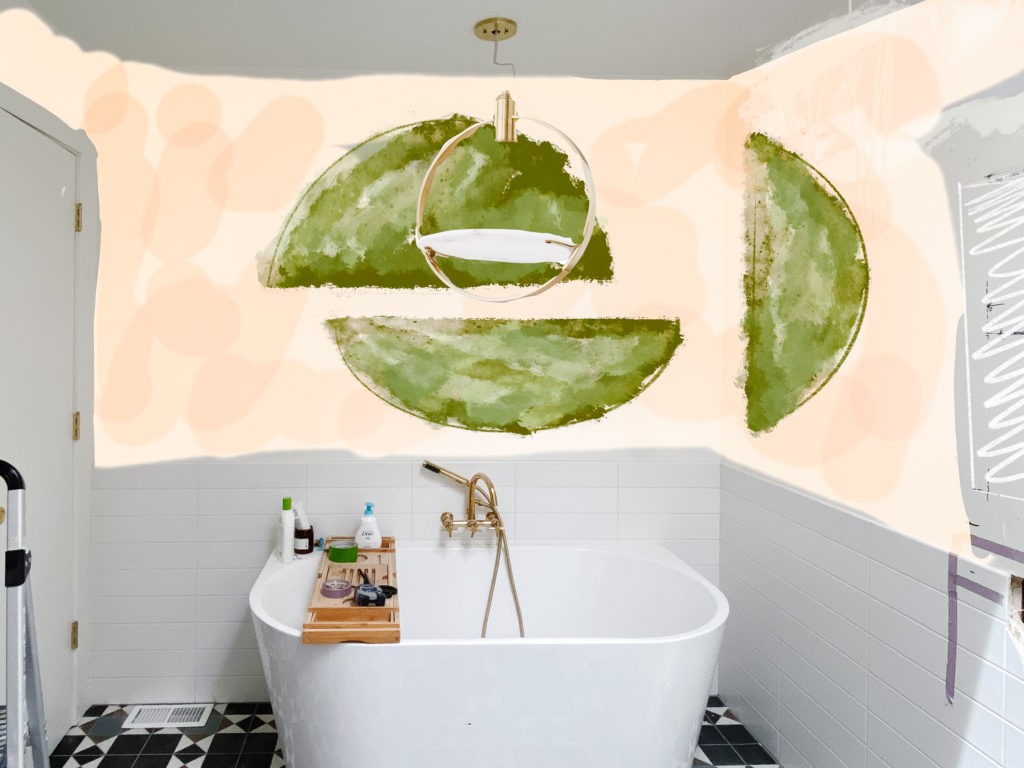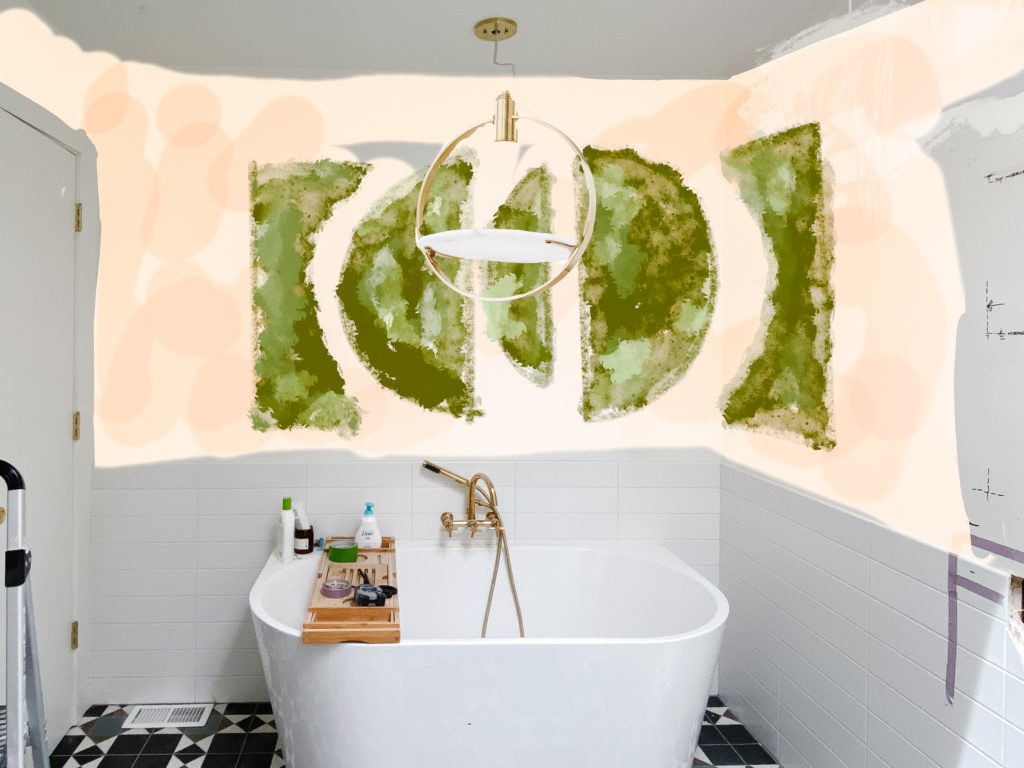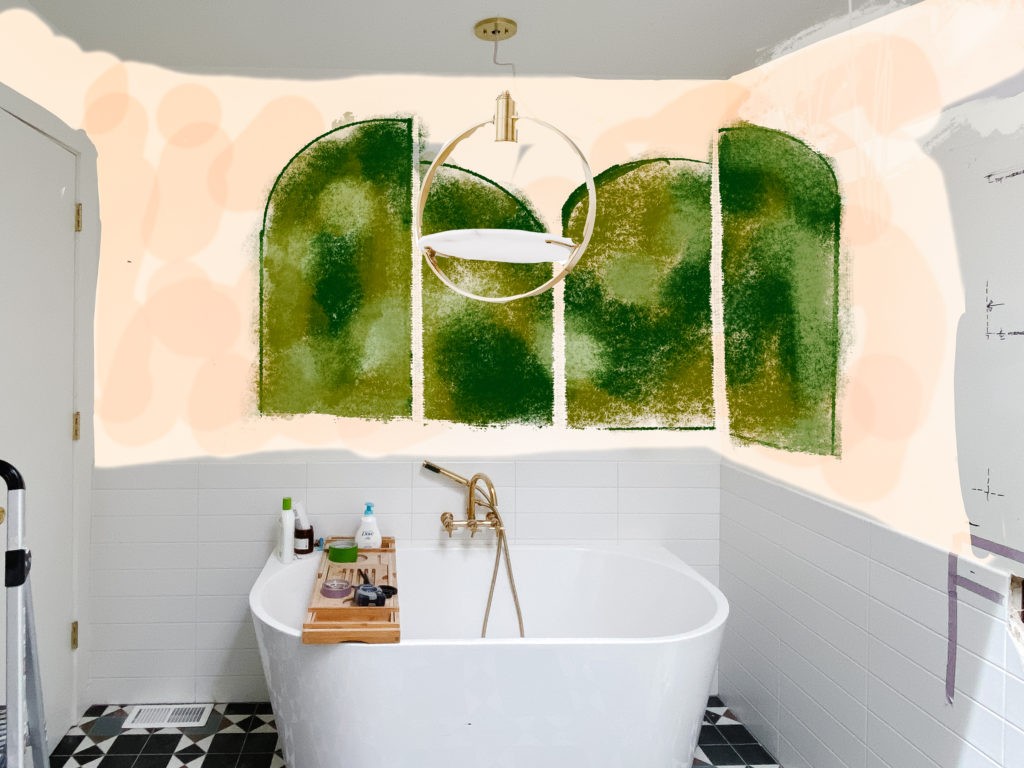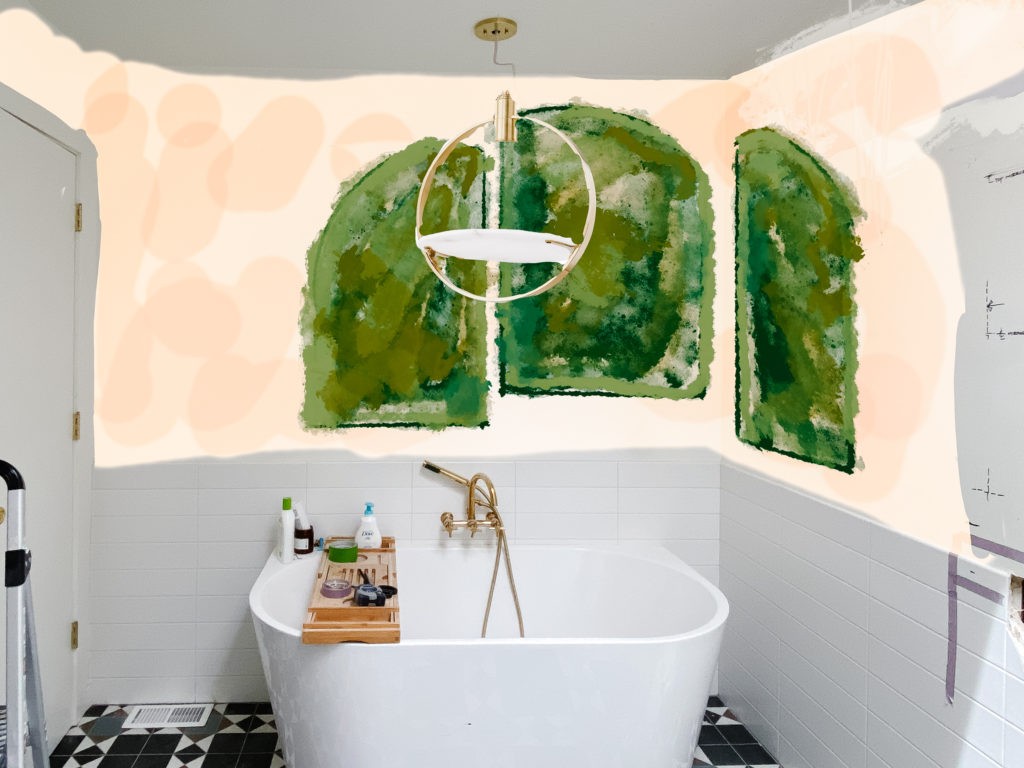 This triptych of half arches felt like the right scale and they nicely reflect the arched headboard directly across from them. My next step was to mock them up (I used Ram board since we had it) and look at them on the wall to double check size and get a feel for them. The nice thing is they doubled as tracing templates for the plywood boards.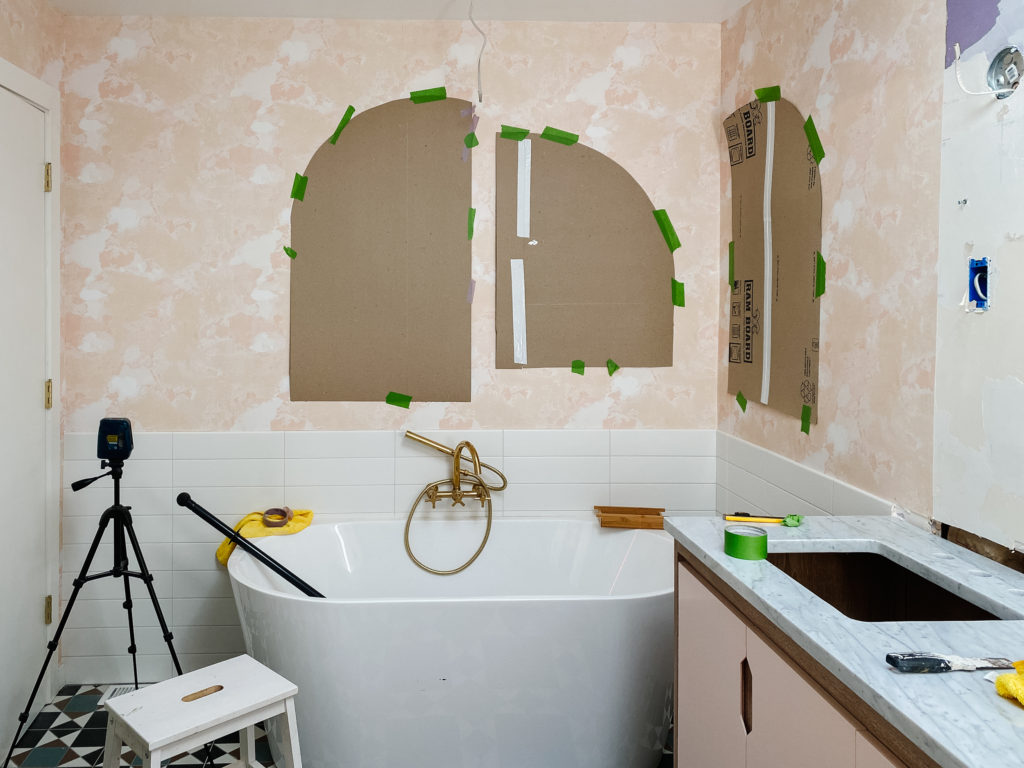 Before dropping them off at Propagate we made simple french cleats and attached them to the back. Now when we get the boards back all we have to do is drop them right on and won't disturb the moss!
I had so much fun pawing through the bags of moss and choosing my favorite colors. Alli is going to use various varieties to create texture and dimension. Its going to be incredible!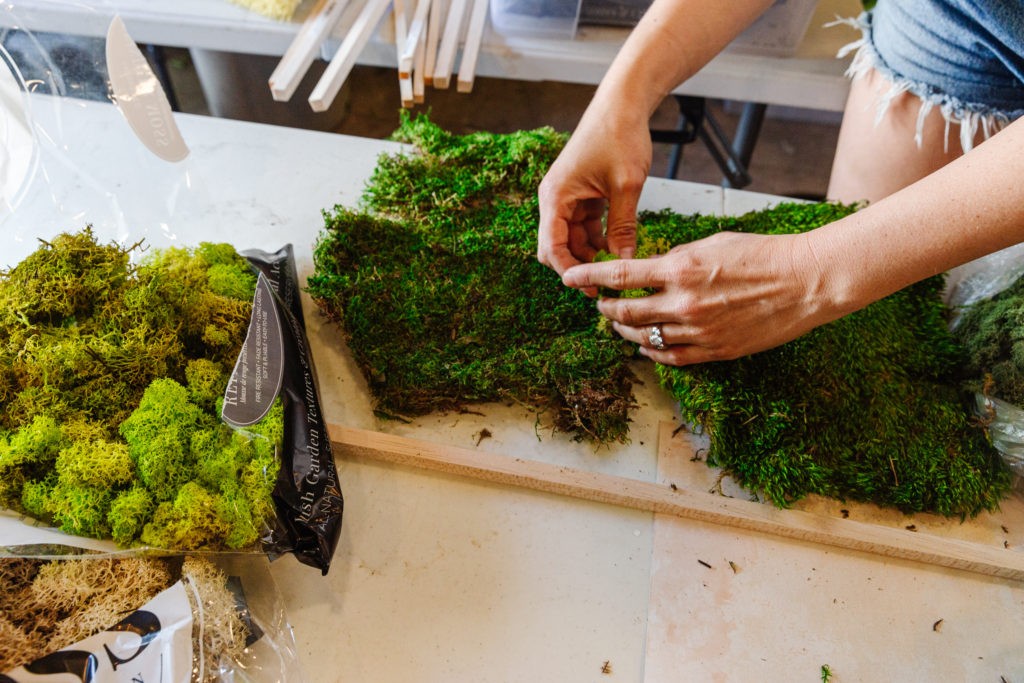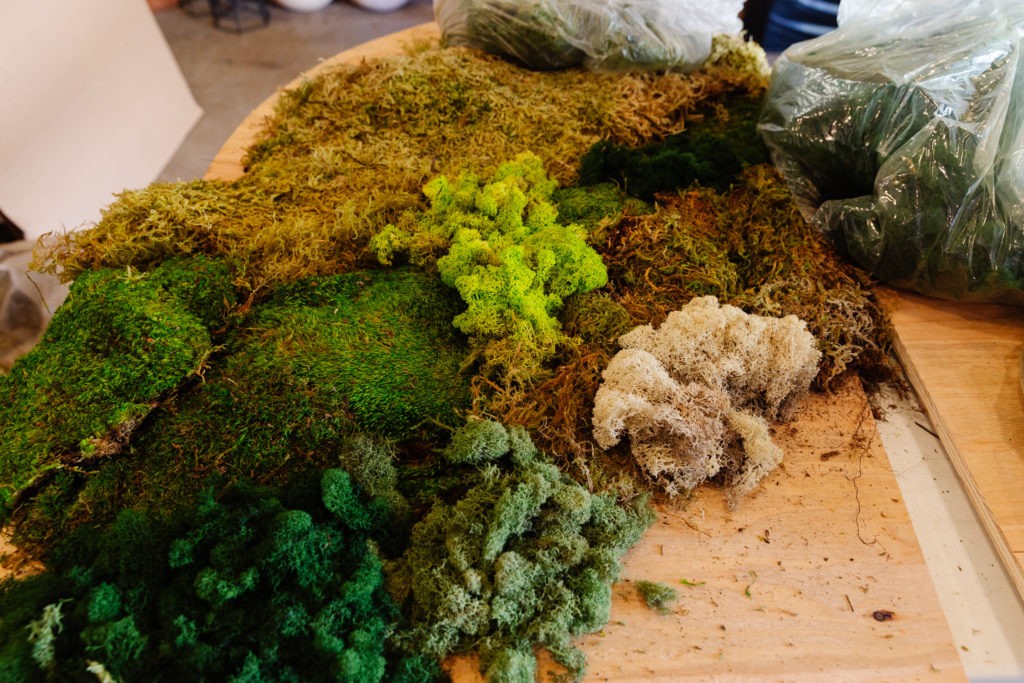 I also brought a few living plant babies home and I got a really creative idea from Alli on where they're going to go!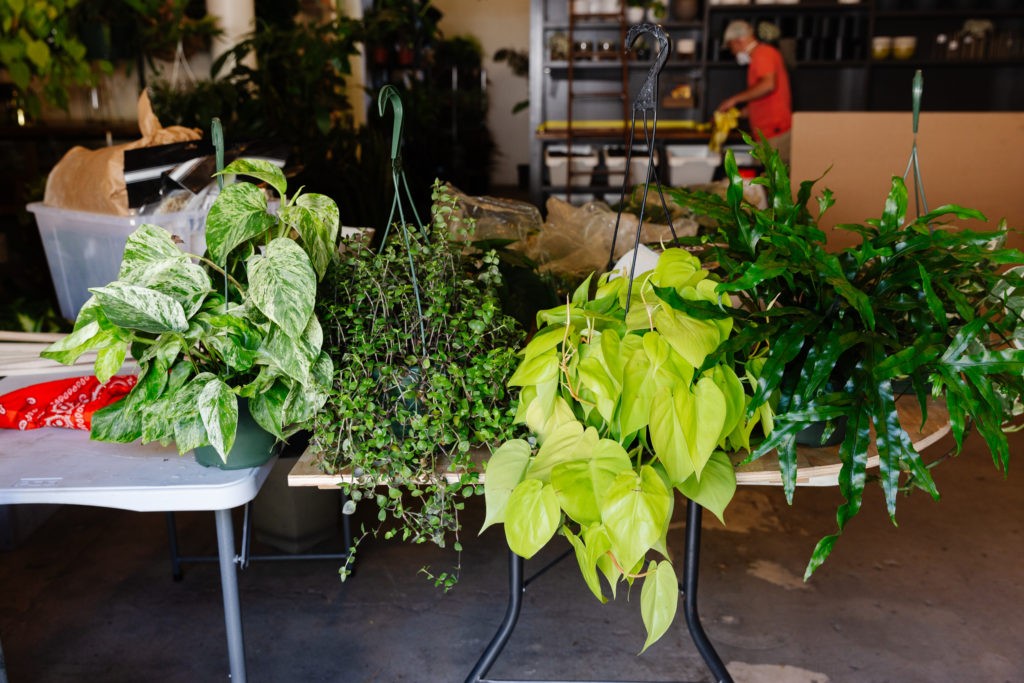 If you're local to Sacramento you really have to visit Propagate in midtown. Its in a charming old building with tall ceilings and stain glass windows. She's also offering virtual plant design consultations if you're not in the area!
Propagate
1700 I Street | Website | Instagram
Erica Avila Art
Once I settled on the arch feature as a headboard I knew the art on the ledge would need to be extra special. I fell in love with Erica Avila's art when I saw it hung in a showcase at The Urban Hive. Her pieces are typically abstract florals painted with heavy palette knife texture that I absolutely love.  My art is about the evolution of a woman and is represented in the curves, movement, rich color and textured blooms. When I contacted her a couple weeks ago she enthusiastically agreed to work with me on not one but 2(!!) commissions and was able to meet my timeline. I really appreciate the thought and meaning she puts into her work, and she does a wonderful job explaining her pieces.  
"I want my art to inspire women to follow their own internal trajectory, regardless of familial and societal values imposed on us."
If you're curious what its like to commission a piece of art, here is the general process we went through.
The first piece that will live in the bed archwe are loosely calling "Arches." The other piece will be smaller and on the rust painted wall leading to the bathroom. we're calling that one "Floral" for now. Since I knew exactly where these pieces would live, I sent her the following moodboard with my colors, art locations and other pieces I'd have in the room. I then completed a questionnaire to help guide her on what I was looking for. We had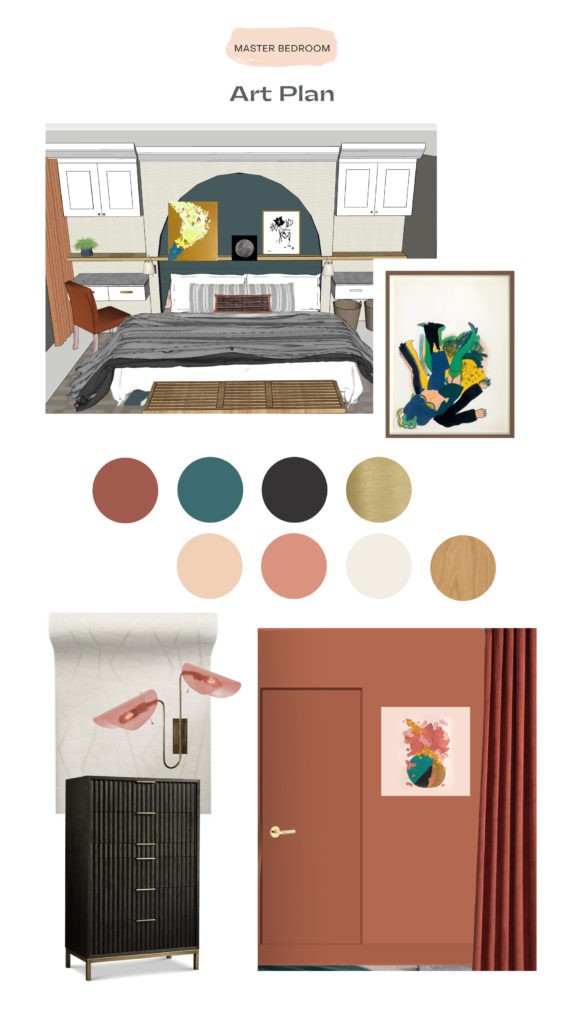 Questionnaire
1. Describe and/or send photo of the colors you envision for this piece.
The room palette is a mix of deep blush, terra cotta, dusty peacock blues and warm organic tones punctuated with black and white. I would love the art to be complementary with the palette but not necessarily 'matchy-matchy.' I did a bad photoshop adjustment in the mockup pulling in some yellows and ochres but would love your input!
2. Describe the feeling you want the painting to have.
Floral: I want this one to look and feel like more of a still life. I like the monochrome tones of this corner and wouldn't mind keeping that in the background like the example in the mockup. I want it to feel restful and interesting. 
Arch: I would love some movement in this piece that feels like dreaming. I'm keeping much of the bedding quiet so would love this to feel energetic.
3. In terms of scale, do you prefer small, medium or large marks?
4. Texture: Do you like thick swaths of paint, a little, or none at all?
Floral: I'm thinking larger marks with thick/chunky paint.
Arch: To differentiate I think small/medium marks and less texture although I am open to your interpretation and would like there to be some! We are installing a spot light in the arch which will showcase the texture. 
5. Style: abstract or floral?
Floral: Interesting pot, textured florals. 
Arch: I would prefer this piece to be abstract and not too "floraly" just so it differentiates from the still life.
6. Send pictures of my previous work that you are drawn to for this painting. 
 Some of my favorites below…

A few days later Erica sent me the following sketch and write up: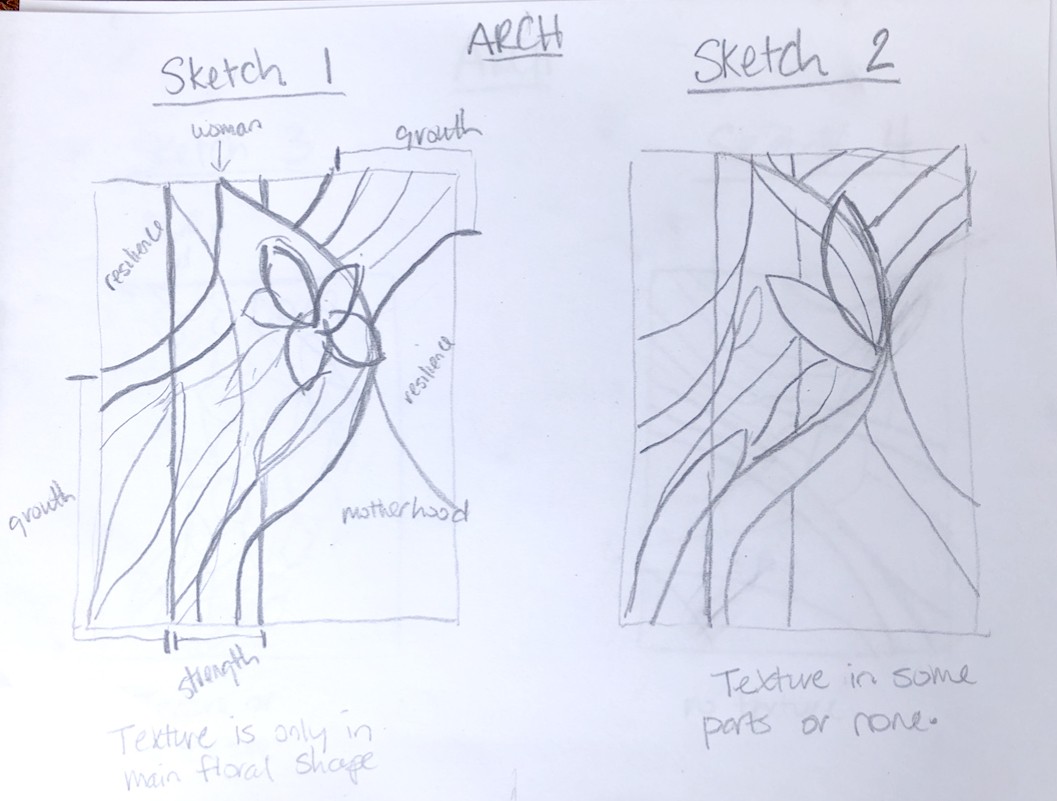 Here's some more insight on my inspiration for this project. After reviewing your design plan and ideas for the commission, I took time to process and brainstorm for the painting. The composition really came to me as a vision, made up of sweeping lines, each of which represents an aspect of womanhood. Starting with a bold curved line for woman, then two bordering round shapes for resilience, growth lines sweeping up and throughout the middle to create movement, two straight vertical lines for strength, a large open space for motherhood, and a robust textured bloom for femininity. I felt an immediate kinship with you as a fellow creative entrepreneur and really was so honored to create a piece for your beautiful space.
So good, right? We continued to exchange ideas and feedback as she went through her creative process. She sent me paint swatches for approval…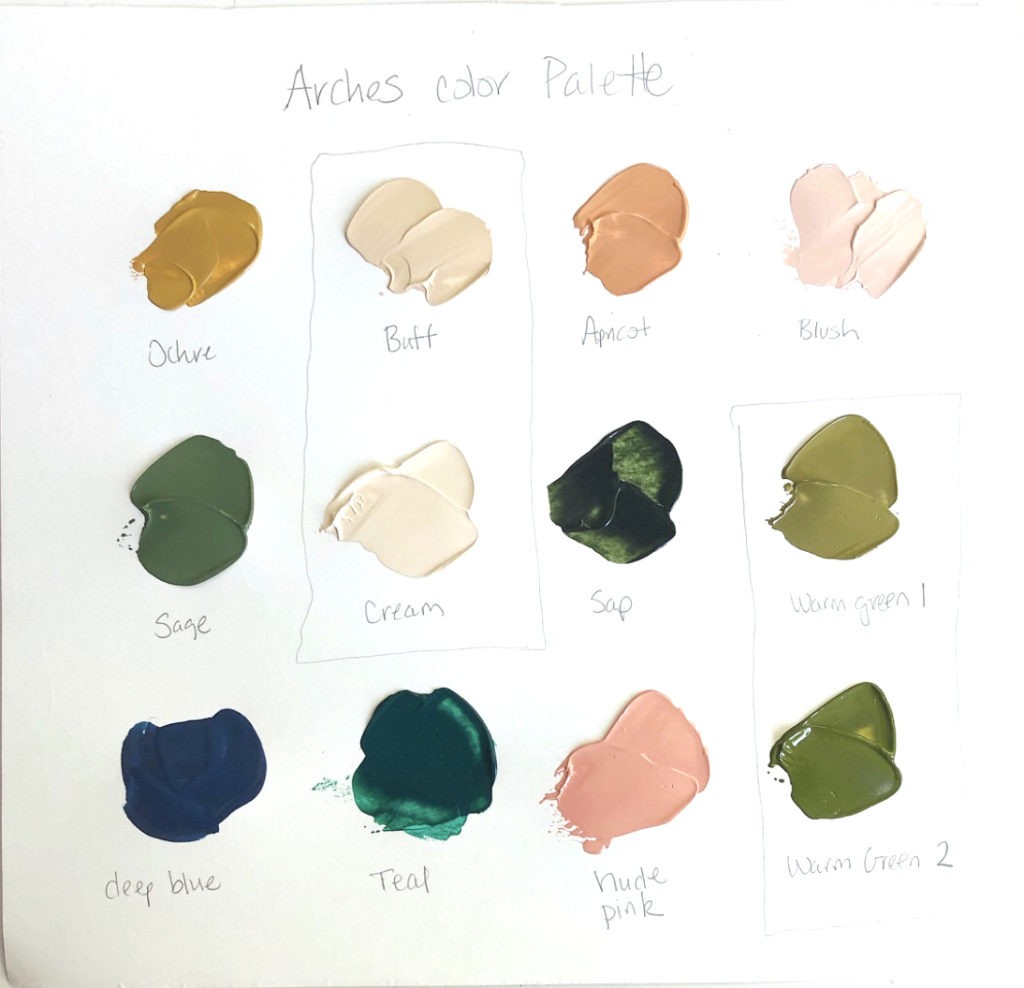 And once we were aligned, she snapped some progress photos along the way. I'm only going to share a peek at the piece now, but doesn't it already look great?! It has since been completed and framed and soon I'll have the both up on the walls!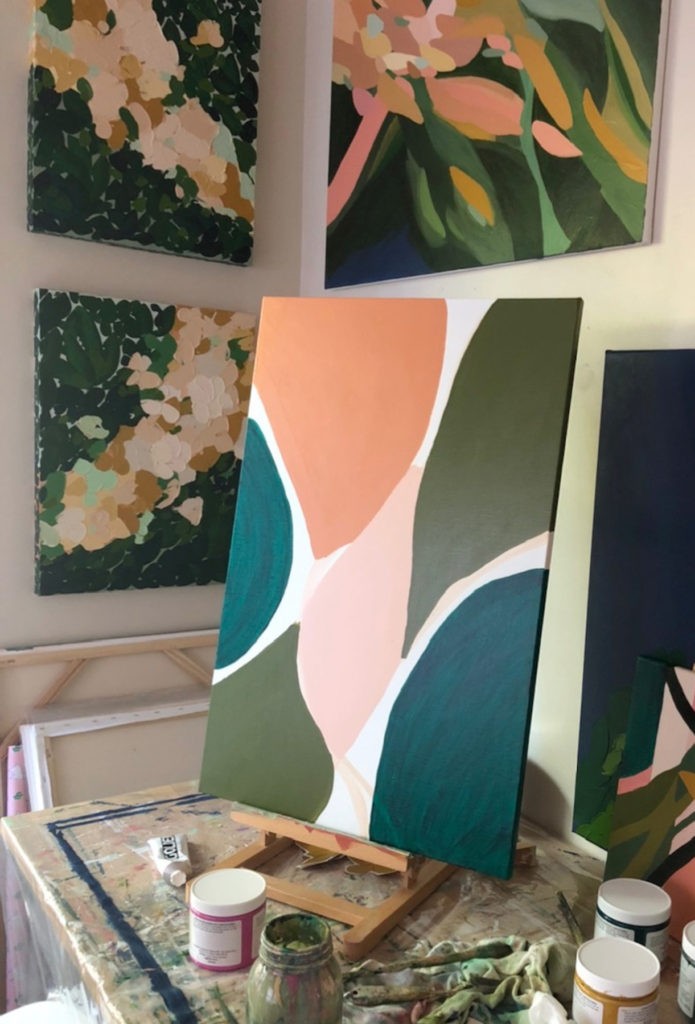 Erica is available for commission paintings and art licensing. We did all of our collaborating over email and Instagram so she can work with anyone anywhere!
Erica Avila Art
Learn more Website | Instagram
My previous One Room Challenges