Hi! I'm Rebecca designer and founder of Studio Plumb. In January 2017 we became the second owners of the #plumbmidmod, a one-of-a-kind 1960 midcentury ranch on .8 of an acre outside of Sacramento, California. It has unique original architectural details, a creek running through the yard, and a perfect floorplan. It also needs a sh!#t ton of work. Bit by bit with the help of my dear old dad we're bringing it back to its former glory with a modern spin. 
It's happening! I can't believe its been 3 years since my last One Room Challenge but it feels good to be working on my house again. And since the only rooms I've designed in our home have been part of the ORC, I'm way past due. For a refresher you can see our past projects: Kitchen, Backyard Patio,  the MudBathLaundry room, Primary Bedroom Suite and the Dining Room.  
This time I'm working on our Family Room, which I've made updates to over the years but its never felt finished to me.  In the past we've done a lot of DIY construction and renovations where I've roped my family in to help with some heavy labor. As much as they've loved being a part of it, let's just say they've all officially retired. (I am getting my dad to come back for one teensy piece of the project, but more on that in coming weeks). So for this room it will be mostly furnishing updates with BTS of my design process and designer resources.  My goal is to show you how properly scaled furniture, a strong color palette, and styling can transform a space without moving any walls.
Today I want to give you a look back at all the versions this room has been and what hasn't been working.
Here are some photos from MLS showing how the room was staged when we bought it. This room was the only one in the house with popcorn ceilings, which are also dropped extra low at 92″. As you can see there wasn't a lot of color going on, but the house had me at the original breeze block wall.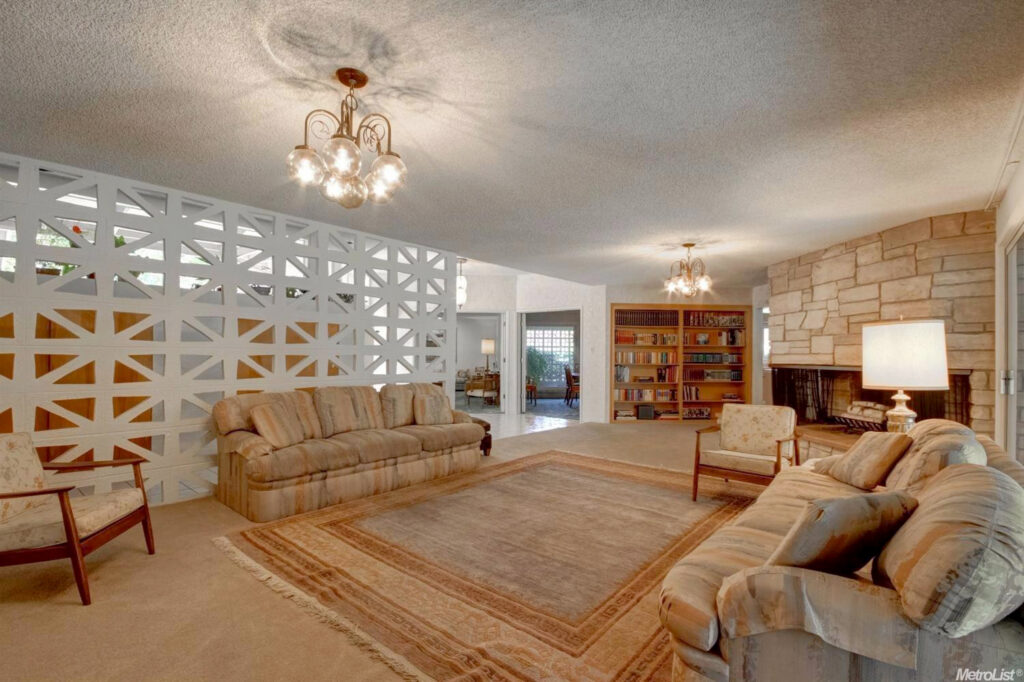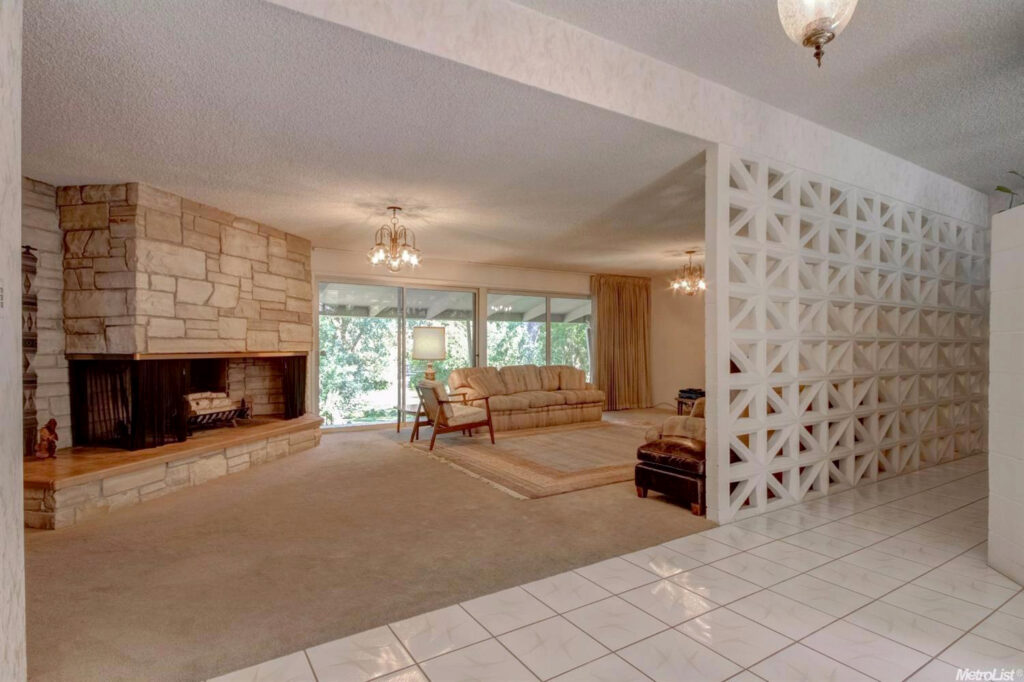 I actually love the stone on the fireplace but I don't love the Band-aid colored, bull-nosed hearth tile. I'm always fantasizing about what I can do to replace the tile but unless there's an ORC miracle I'm not sure if its going to happen. The built-in bookcase that leads to the kitchen is also something I love and am hoping to give it a little attention too.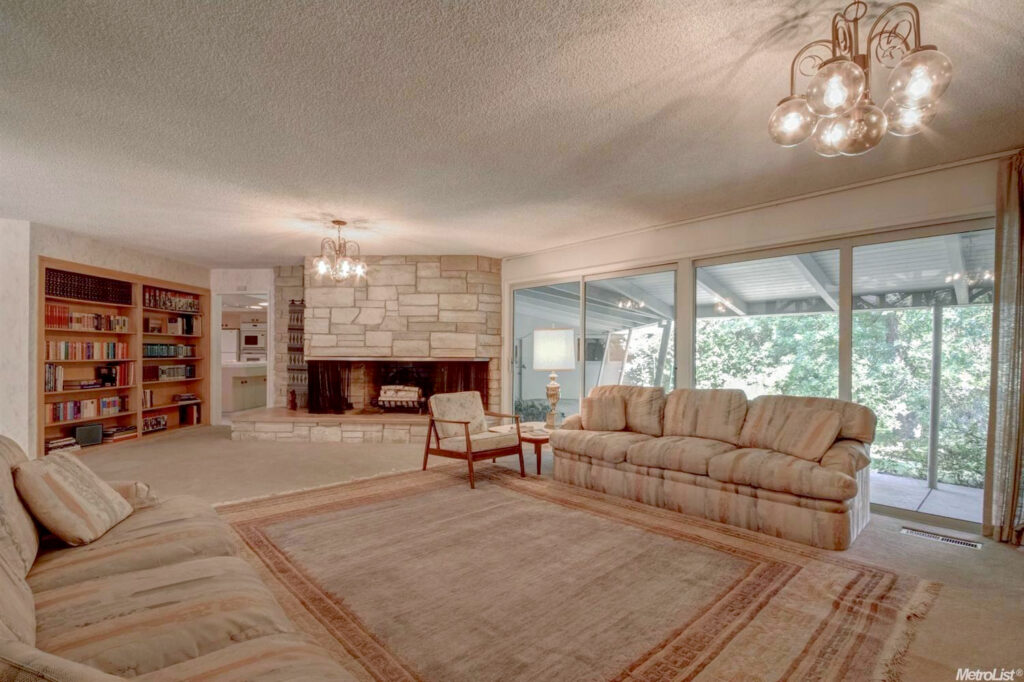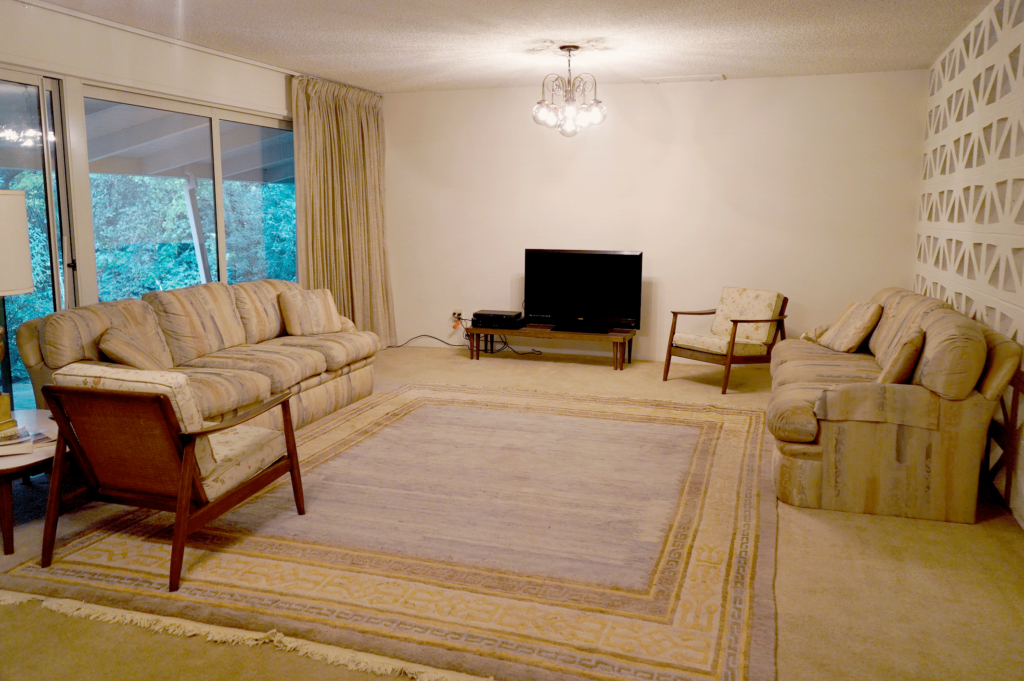 There were several, even more terrible versions of this room but it was all stuff we brought from our old house and didn't fit the room at all. Everything just felt floaty and disjointed without good conversation flow.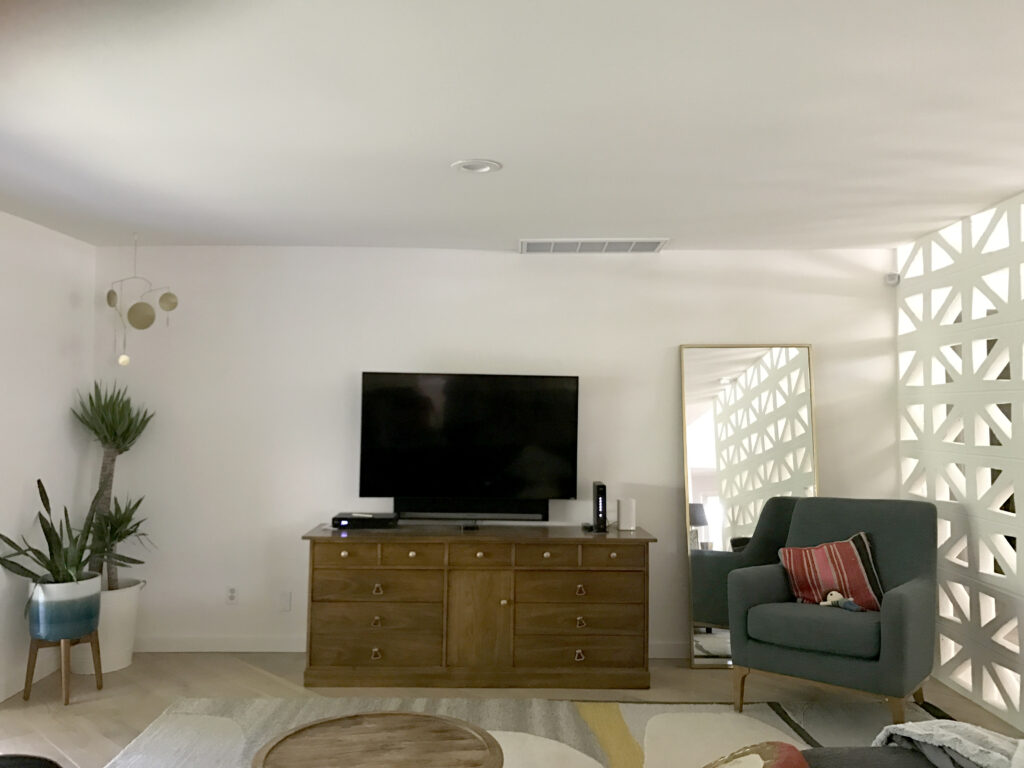 In 2019 I found this vintage 10 piece modular sectional that gave us more seating and allowed some flexibility. Although it was an improvement, I couldn't stand how beige everything looked and wanted to bring in some drama.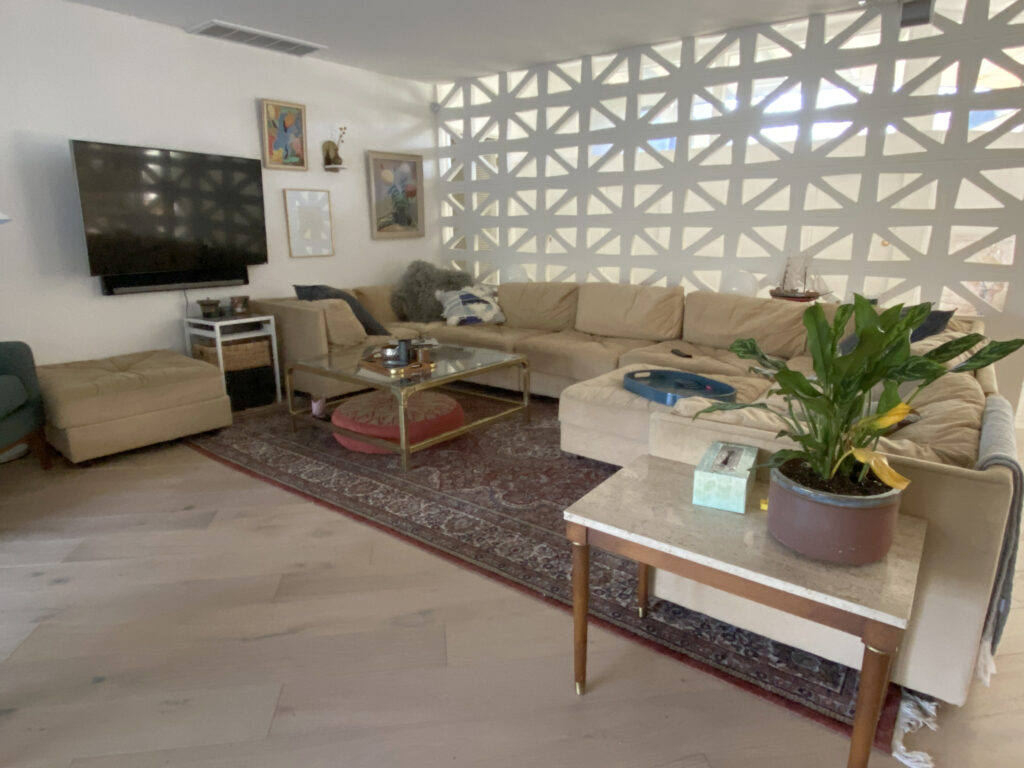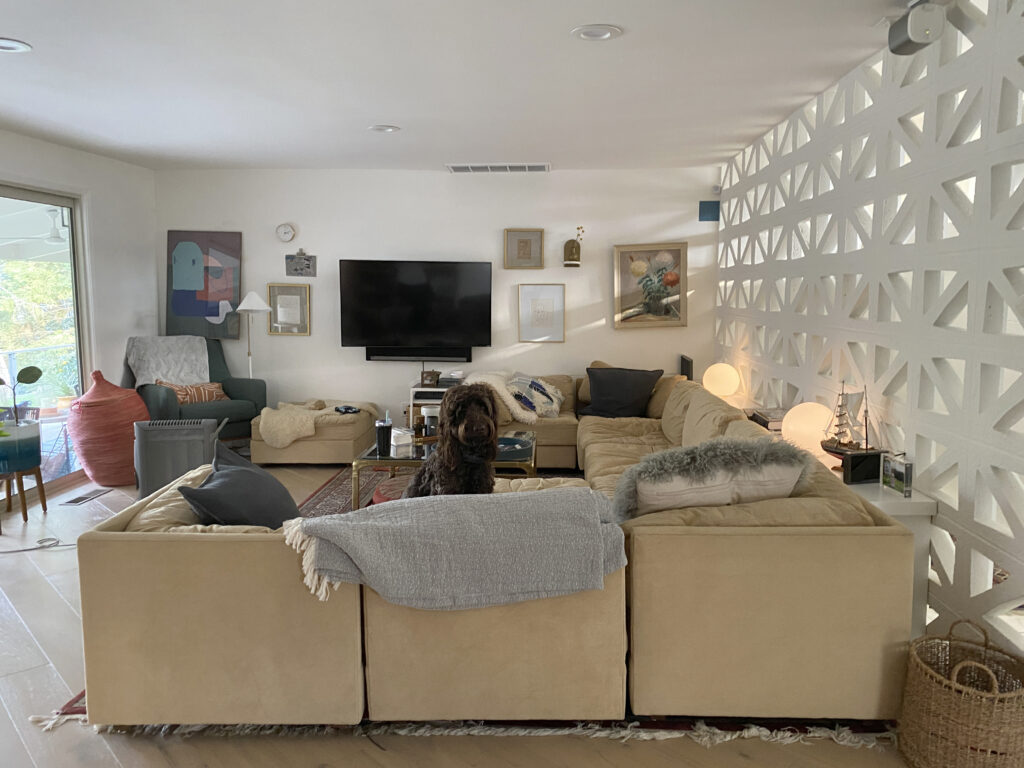 So what goes great with beige? Blue! In early 2020 I had the whole room, ceiling and all painted Behr Blueprint and I still love how it feels in here. Its cozy, but not dark and makes the breezeblock and fireplace sing.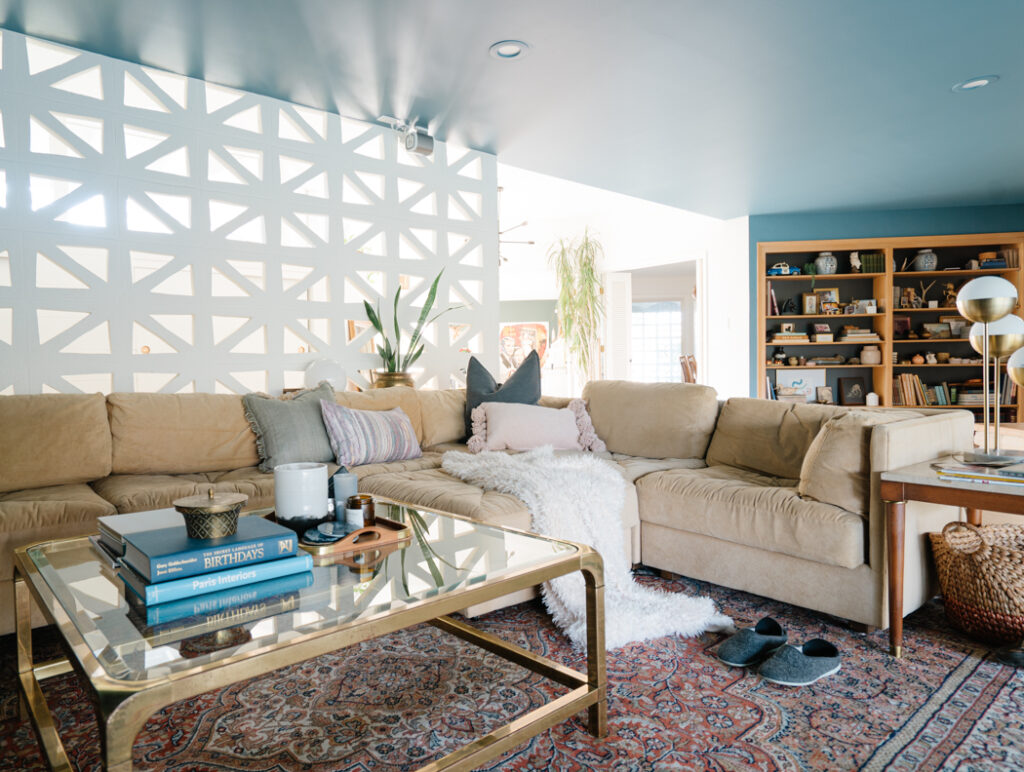 Which leads us to today. I snapped these photos a couple weeks ago and its basically how its looked the last couple years. Ok, but not great. The room felt too full now with the corners stuffed with electronics and the sofa pieces weren't the best when older members of my family visited.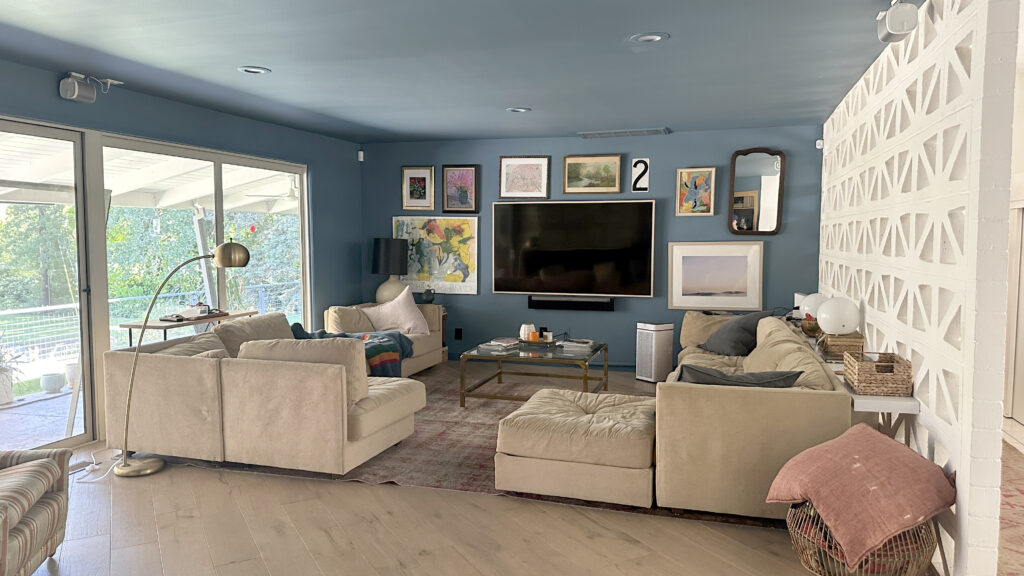 I reworked the floorplan and want to open up the room to allow for a variety of seating types and shapes as well as multiple colors and textures. I love our Frame TV and have been collecting new art to liven up the gallery wall and make it feel more cohesive.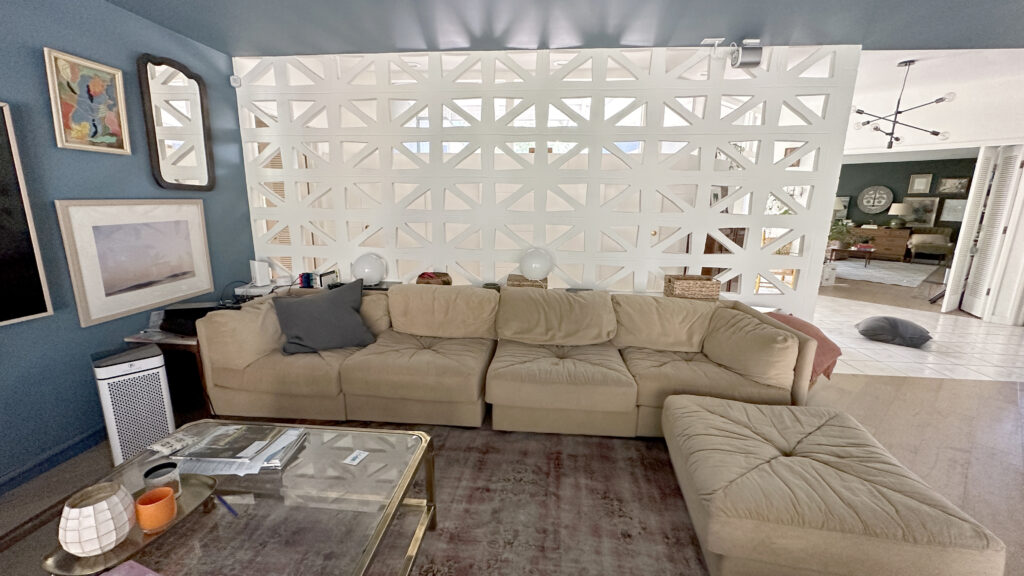 We've never had window coverings on this large double slider because A. we don't need the privacy, B. we don't get strong direct sunlight, and C. this 20′ wall needed to be custom drapery and I haven't been ready to deal with it.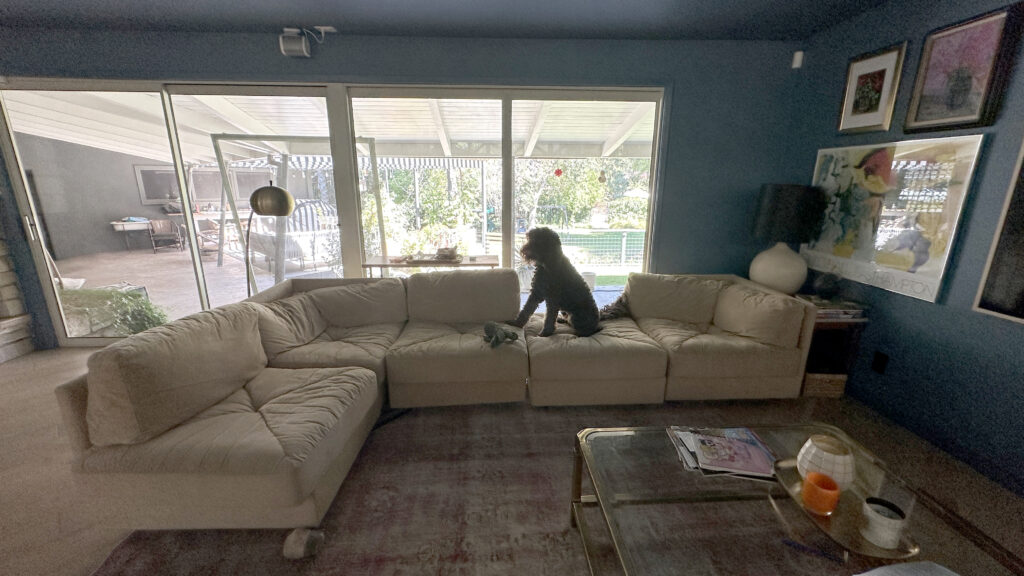 Here's a drawing of the room layout and how it interacts with the other rooms. Its right off the main entry and operates as the hub of our home. Next week I'll be back with more details into what I have planned. Thank you for being here and coming along on this ride with me!