Let's chat (big) details on this room! I've been meaning to do a follow up post with the remaining items that really give this room the Wow transformation without the Wow price tag. Once again, we didn't change any major fixtures in this room, most everything (except the floor) was just resurfaced and the plumbing fixtures were swapped out.
The first thing you notice when you open the door now, is this incredible wallpaper designed by Tiff Manuell is called Garden State from Milton & King*. I love the dramatic scale of the pattern, each of those flowers are the size of my hand. In order to achieve this, there are 3 panels per roll so its almost like a mural. Its something to keep note when installing, but it give the walls so much more movement, your eyes can't find the repeat which I love. My daughter and I chose the style together, Its a little girl's bathroom now (she's 7), but I think it will transition with her from teen to tween.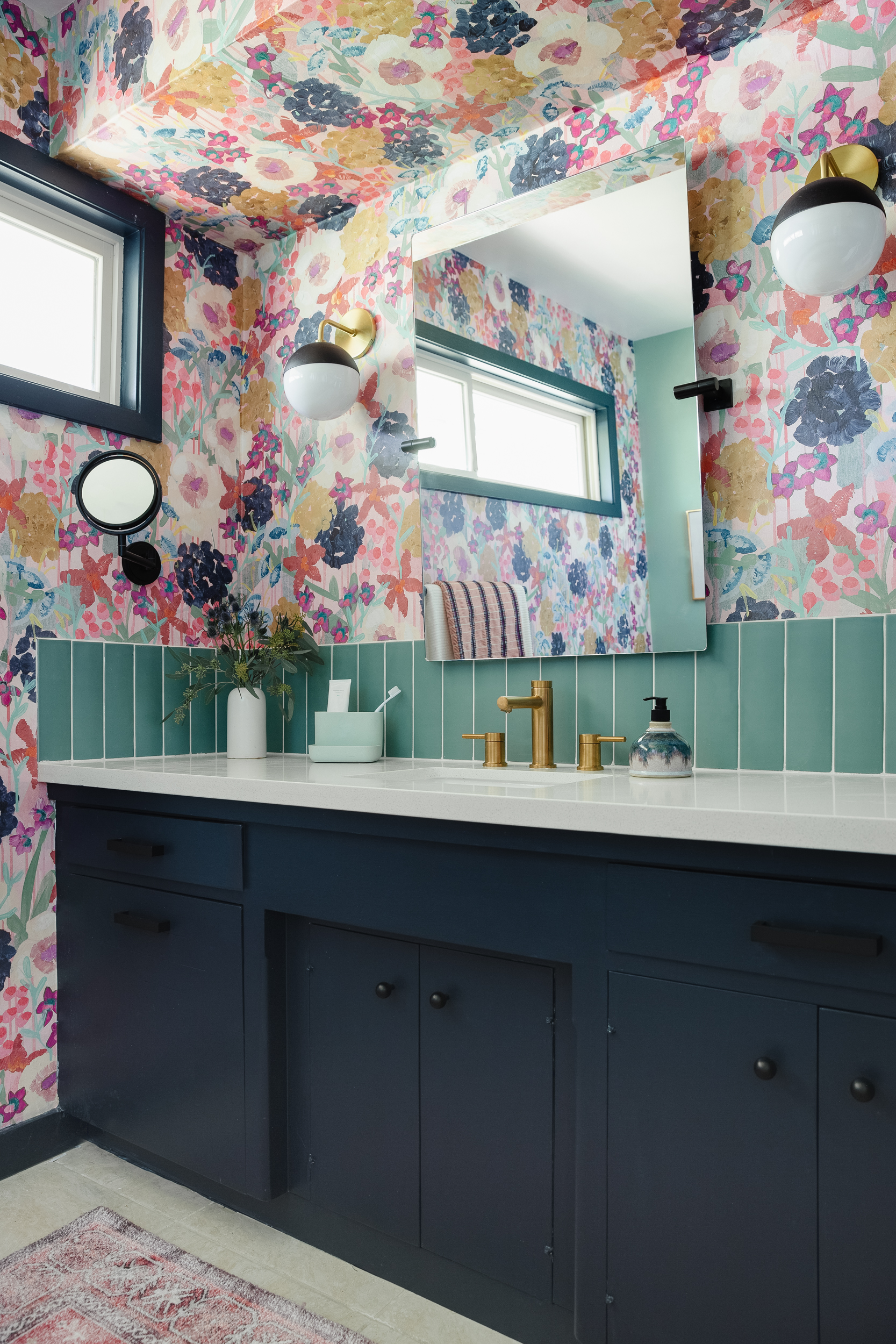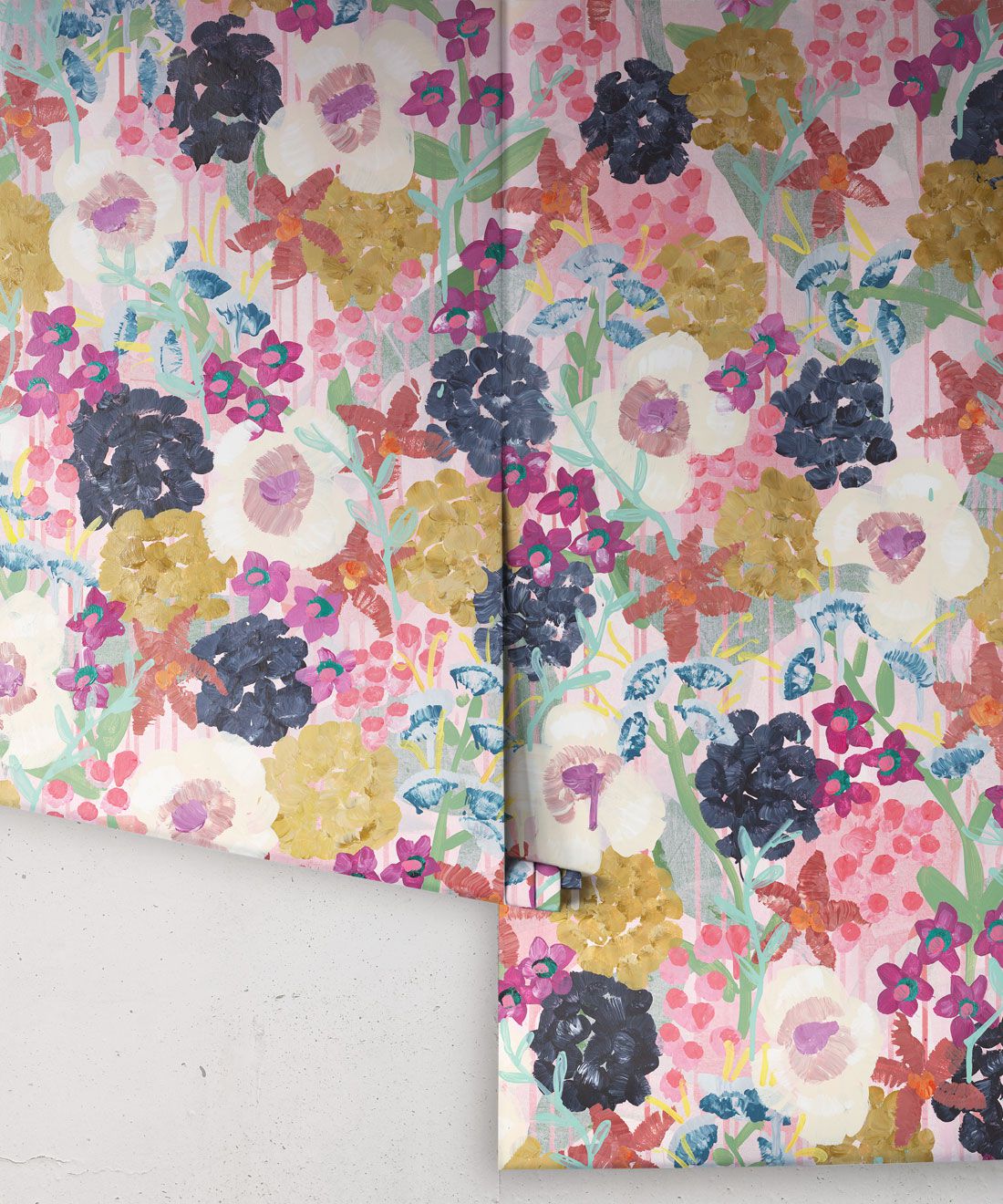 I really wanted to limit how many tradespeople we had to outsource to but ultimately decided on switching out the backsplash because we had some wall damage when we removed the old tile and it was simple enough to do ourselves. Plus, another opportunity for color. The new tile* has this cute little pillow effect on it that gives a subtle scallop to them and I love the color. My friend Jared at Sac Tile Liquidators is such a helpful resource, and he gifted us the box we needed. Thank you Jared!! If you're in Sacramento (or now, Lincoln!) look him up. He can help find anything and he's a wealth of knowledge on pretty much anything tile-related.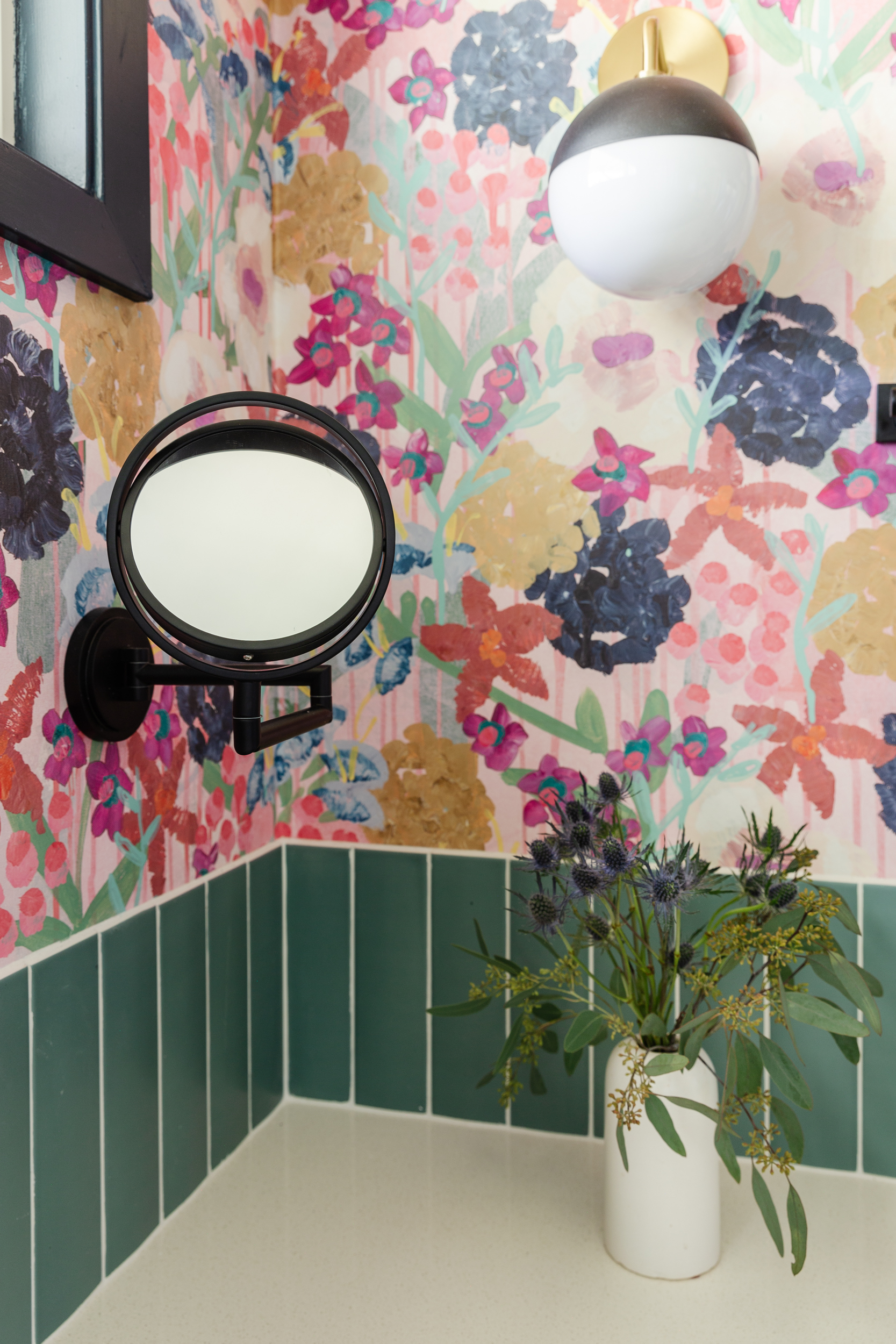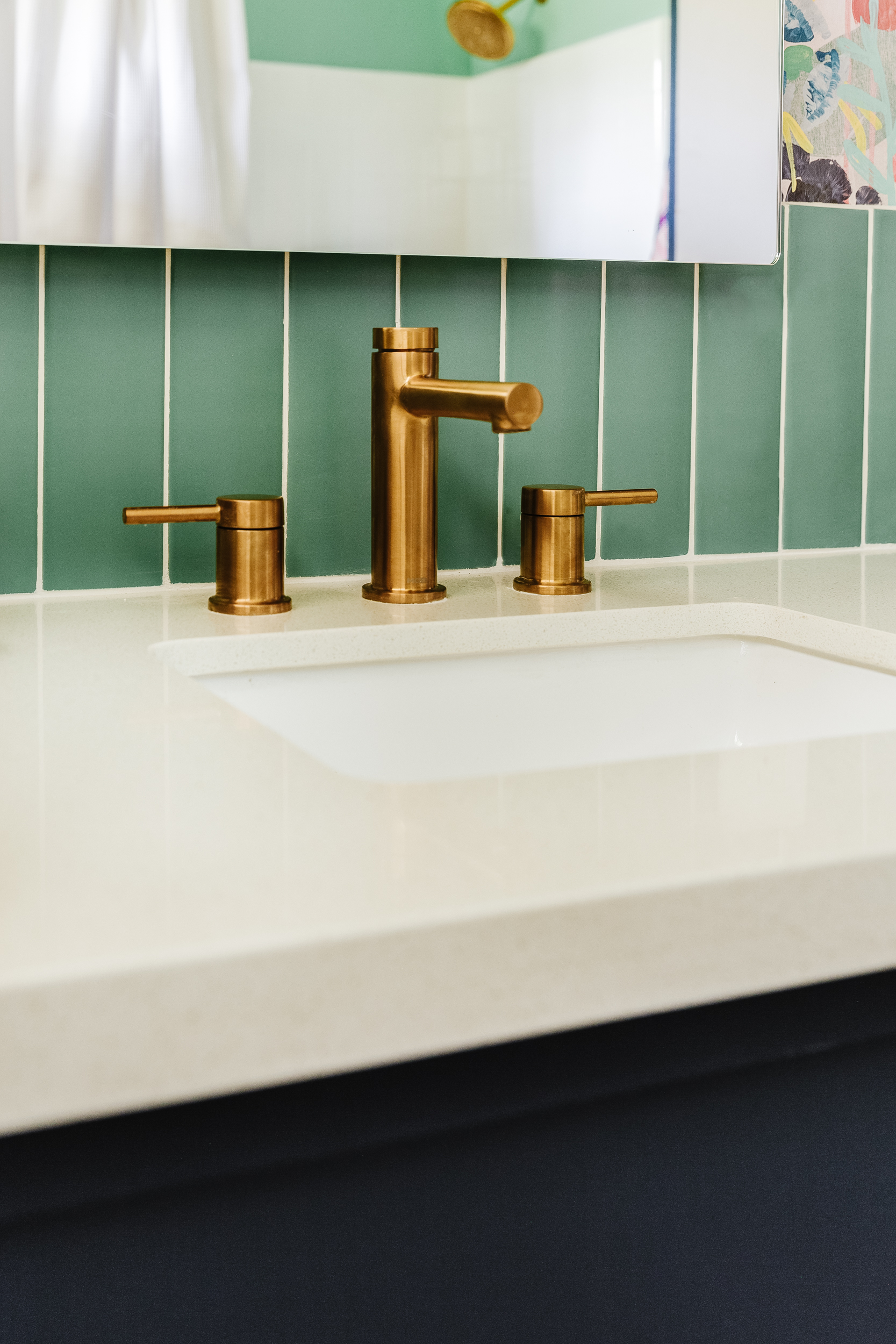 Here's a close up of the shower and tub. We had it refinished by a local company who will not be named. They had a good price, but honestly I much preferred Miracle Method, who did our other shower. The coating is not quite as thick this time, and they didn't spend as much time on prep and finish work. I won't link to them, but its still a heck of a lot better and I'm glad we did it. On the other hand, Miracle Method has locations around the country and if you just want clean and white (they have other finishes as well), it works great on tubs, sinks and tile.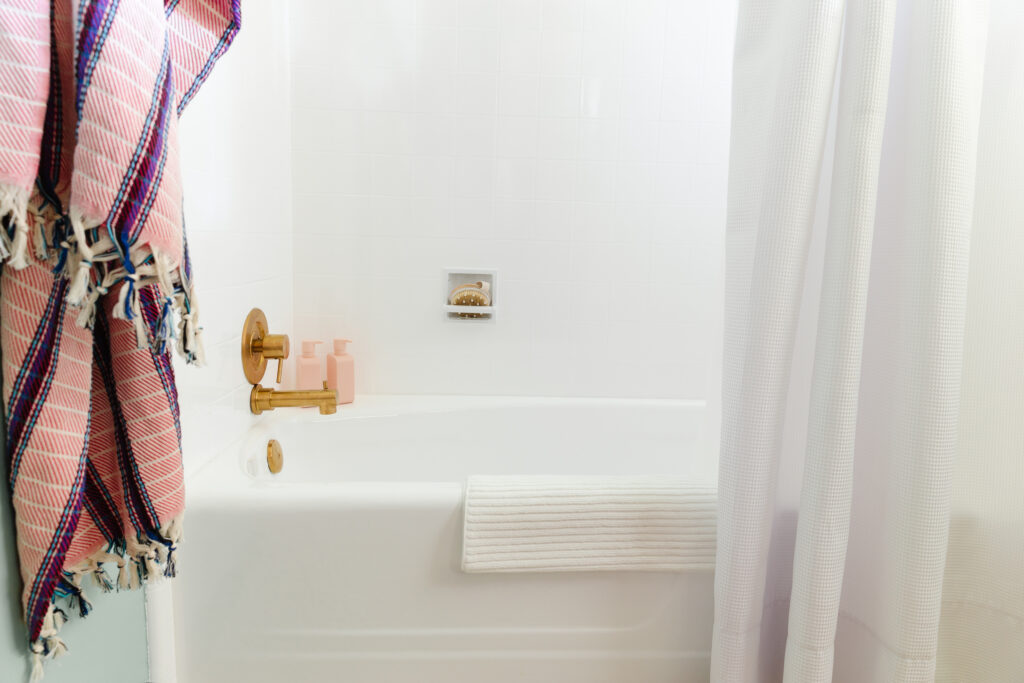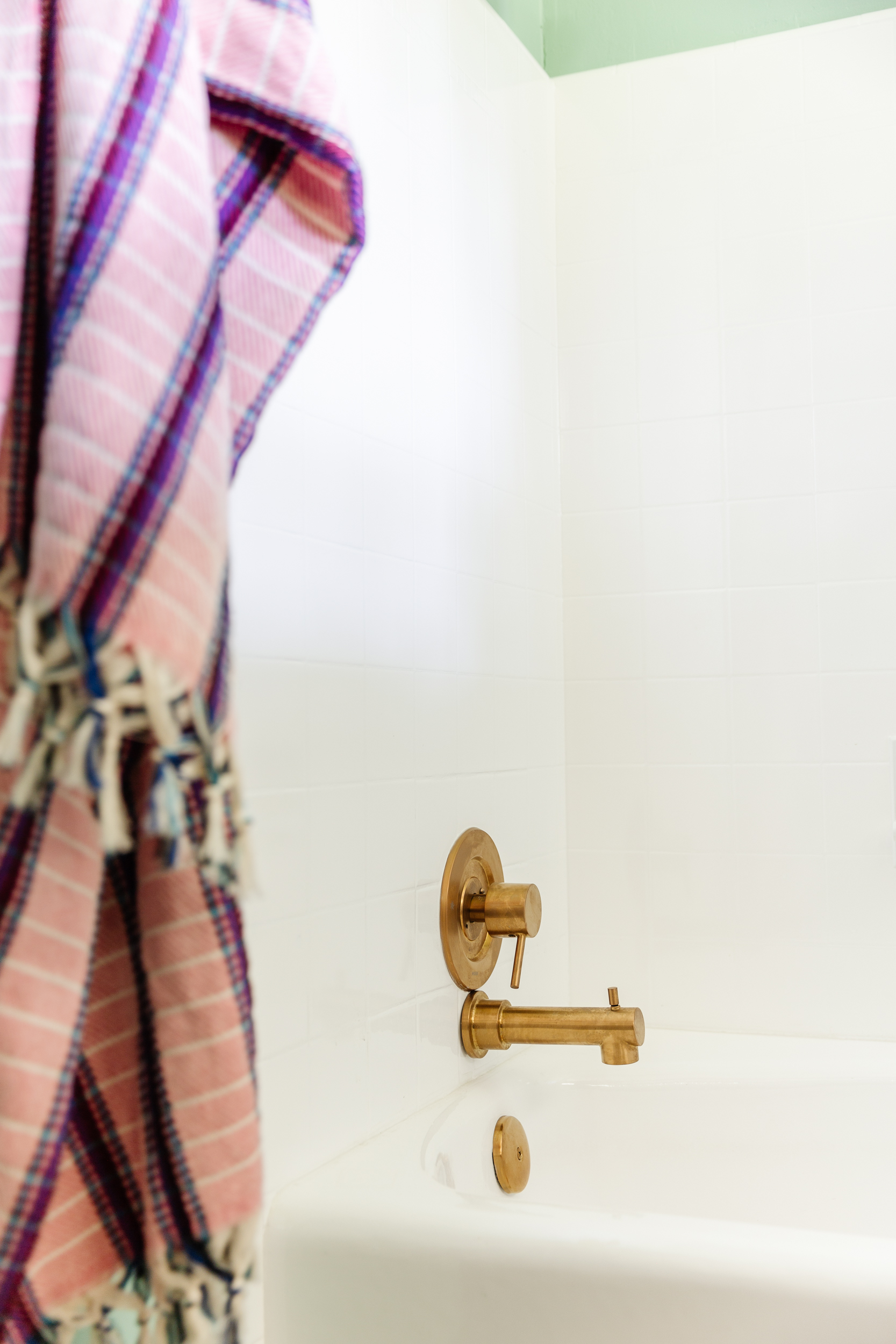 If you read the previous posts, you know we kept the original vanity and this wall had a pocket door into what is now the play room. I always found that door location awkward, so decided to just cover it up. This Ikea Billy bookcase actually fit the space really well. All we did was install it on a 2×4 platform and add trim and an MDF side panel. Then I took one of the shelves to my local Sherwin Williams and they color-matched the Ikea blue perfectly!  Painting the vanity the exact same color helps elevate that hack and make the room feel a little more cohesive. We now have so much more storage in there which I know we'll appreciate as she gets older.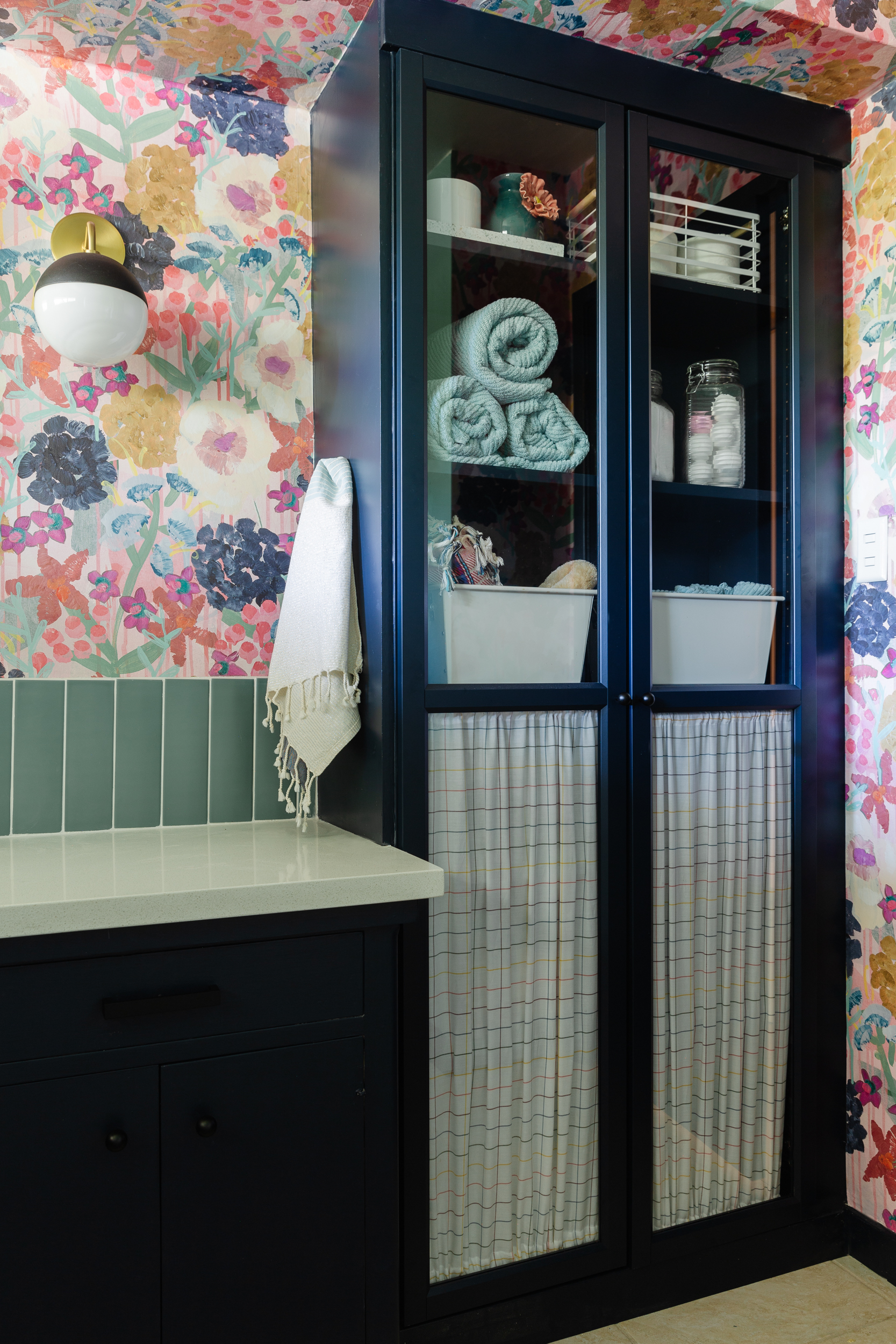 Thank you for everyone for all of your support and shares on this project. It wasn't easy to get it done this year but it is seriously such a happy space for us now.
* Gifted by our generous sponsors in exchange for promotion. All opinions are my own.
CATCH UP ON WHERE WE STARTed