I've been dreaming about redesigning this room since I laid my eyes on it 5 years ago, but it's been at the bottom of a long list. Our daughter is almost 7, and has happily shared our bathroom across the hall, but as she gets older, her hair products are encroaching and she's ready for her own space. Well, we're all ready for her to have her own space. The hall bathroom is one of those classic ranch style bathrooms and is 'fine', but has basically sat unused just because it's ugly. The room is large, but doesn't have an efficient use of space and I've been waiting to see if it was something we could take on as a gut job (which it needs), or do the ol' "lipstick on a pig" method. I know that making it cute will give her some pride in the space and she'll use it, so we're going with Door #2, and slapping some rouge on this swine for now.
After 5, exhilerating One Room Challenge makeovers, I have completely exhausted the charity of my family to help, so I'm mostly on my own with this one. My goal is to make it almost all DIY with my own 2 hands, and I'll get some outside help with electrical, plumbing and simple carpentry. 
The Feel
energetic

whimsical

clean

sophisticated
Energetic: I want her to be excited to be in here and set a positive tone for her day. She's a kid, so it's not like it needs to feel like a relaxing spa for her.
Whimsical: Yes, it's a kid's bathroom in the bedroom area of our house, so it's mostly going to be just her using it. I'm not worried about it flowing with the rest of our home at this point, since it's not meant to last forever I want to lean into the fun.
Clean: The biggest issue I've had with the room is that it's just felt old and dingy. Even after it was scrubbed down, everything was just sad and kind of icky feeling. I want it to feel CLEAN (I mean, it's a bathroom).
Sophisticated: You know I'm here for the bold color, pattern mix, and style juxtaposition, but she'll be changing a lot in the next few years and don't want it to feel like a little kid room.
The Before
If you're new here, our home was built in 1960 in a midcentury modern ranch style and we're only the second owners. The house has the best floorplan/layout and some fun custom features, but most rooms hadn't been touched in many years before we bought it.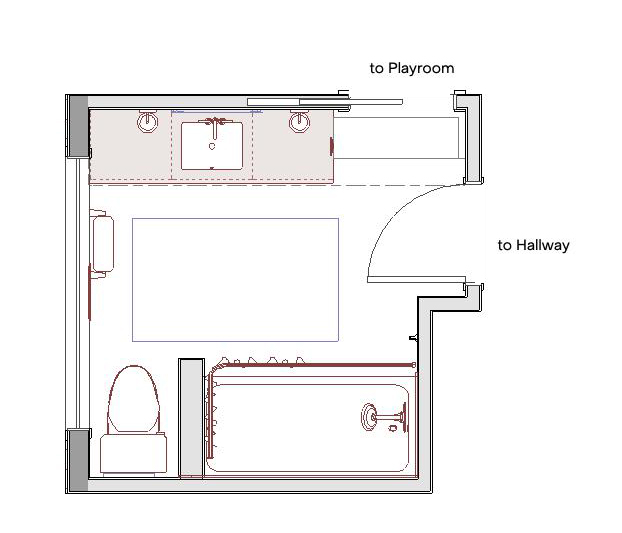 This bathroom is both typical of the time, but also unique. It's big! It's square! It's got wasted space! It's got that classic long built in vanity, but also a pocket door into a bedroom. It's the smaller of the two bedrooms back here, so we've used it as a guest room, and now a playroom. The pocket door seems like it might be a good idea, but once I realized it was ruining the flow of both rooms, I blocked it on the playroom side last year and we haven't missed it. I came up with a quickie solution to use that space in the bathroom that I'm excited about, more to come on that.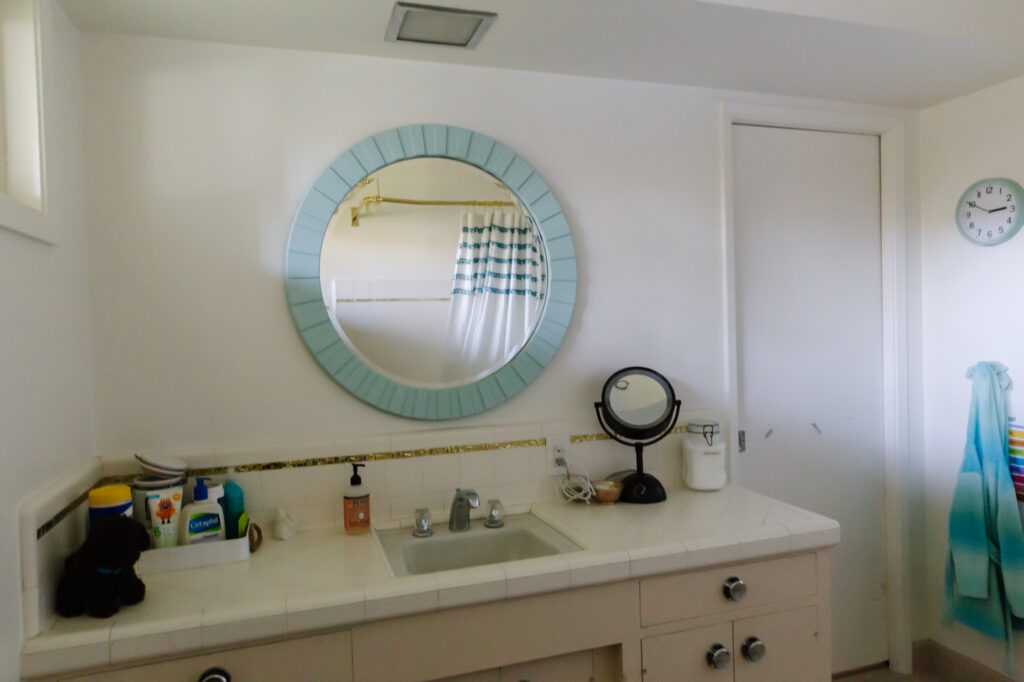 So ya, this is sad, right? The vanity is pretty cute actually and is in good shape but just needs new paint. The drawer on the bottom left is a pullout laundry hamper that we've never even used. The sink is old though and the tile countertop is chipped and feels gross to me. At some point the floors were replaced with the ubiquitous beige travertine, and I deeply considered ways to replace it but it was getting too far into construction-land. The previous owners unfortunately wrapped it under the vanity as a toe kick and then around the room's base, which would mean wall damage to remove it, and investment to replace it. Also, did I mention I don't have a lot of help on this project?  I decided that it's in good shape and if I draw the eye up and away, it will suffice for now.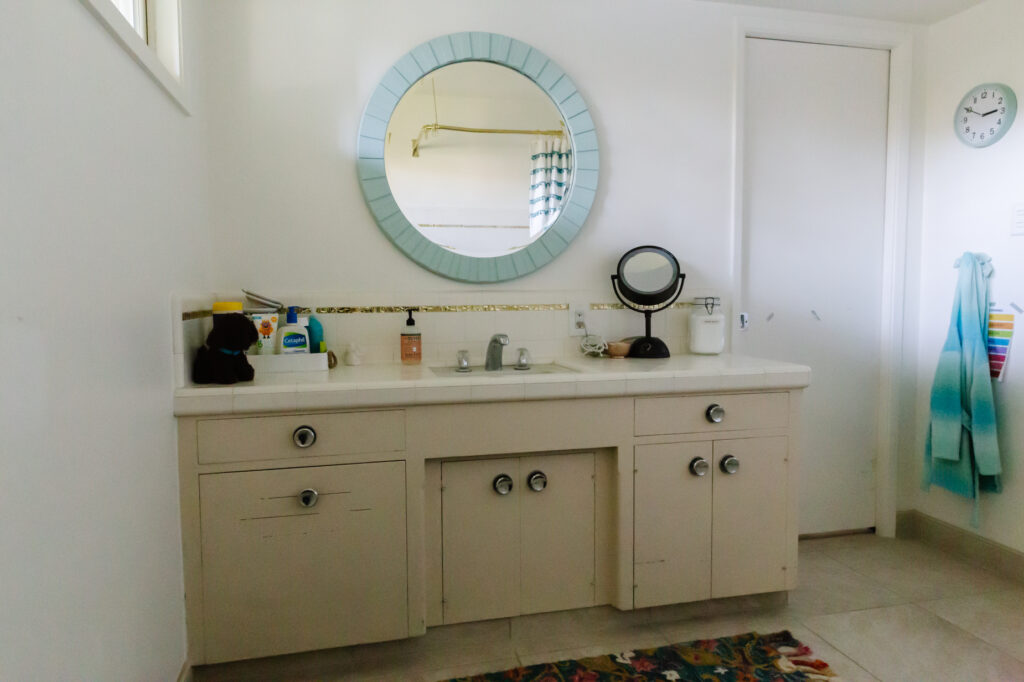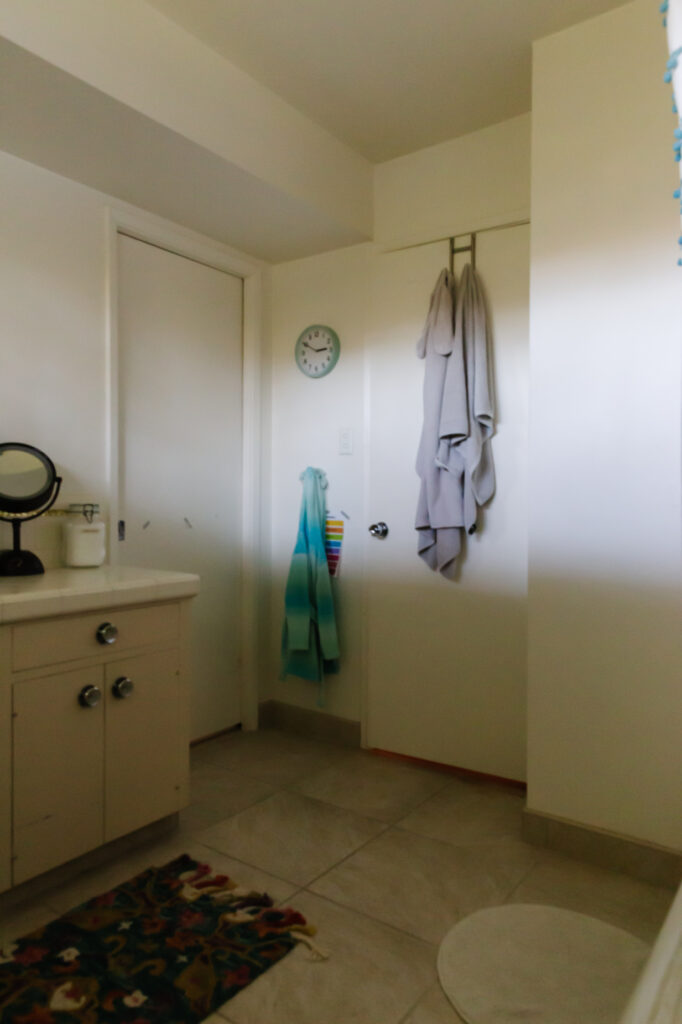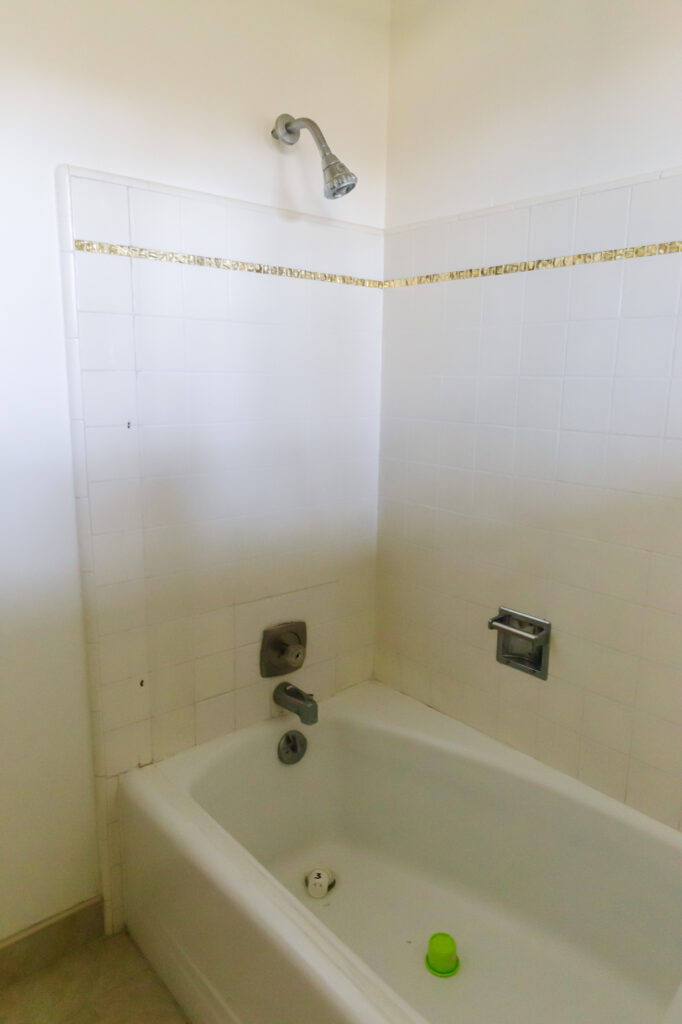 Ok, the shower/bath combo is the worst part of this room and mostly why we haven't made Cecily use it. When we bought it, we took out that frosted shower door, but it left behind even more problems. I think they refinished the inside with the door still on it, so there was a big strip on the edge, bolt holes in the walls, and an awkward height pony wall next to the toilet. I reasarched options when we moved and for this refresh, and again, without going into construction, my L-shaped curtain rod is the simplest solution. I'm going to repurpose the rod hardware we bought when we moved in, but attempt to fix it so it's not falling apart.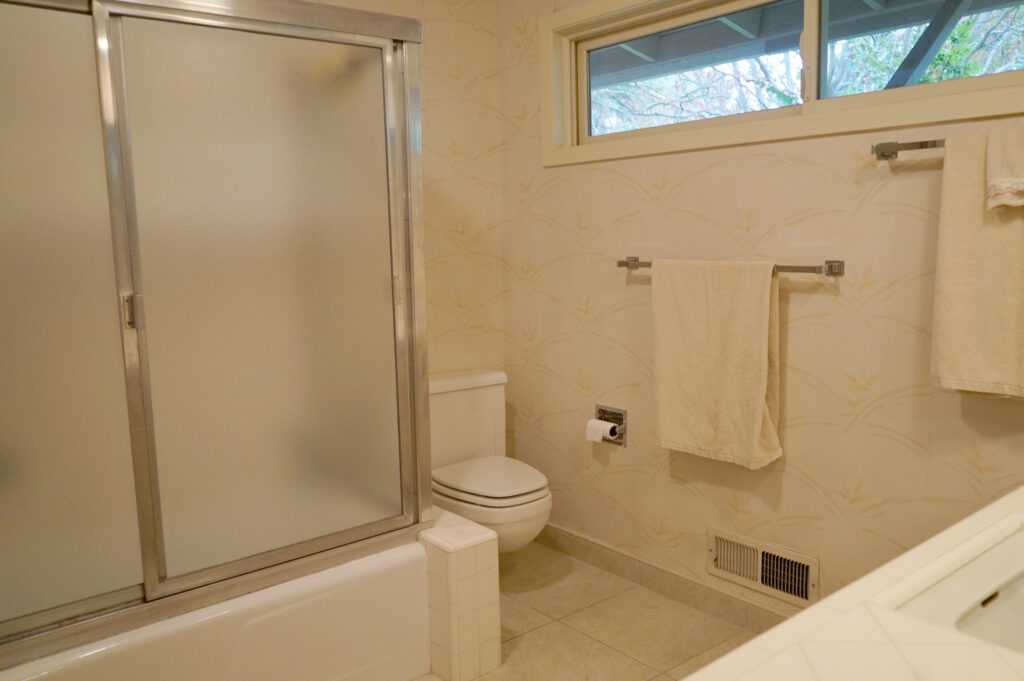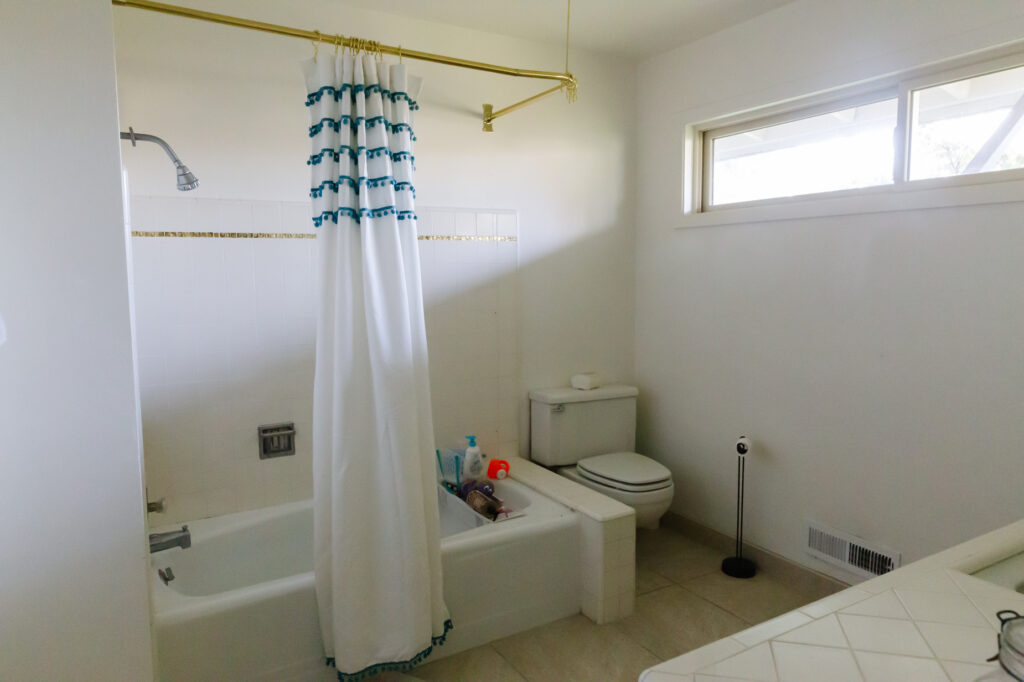 Mostly, I can't wait to get new plumbing fixtures in there and fresh surfaces. We are not retiling the shower but I did figure out how to make it like new. 😉 I also really wanted to replace the toilet, but this one is wall mounted and we were getting into the Give a Mouse a Cookie territory again, so I'm trying to hold off. It's not water efficient and looking every day its 61  years, but we stopped it from always running, and for now I'm going to make it work.
And now for the fun, pretty stuff.  Like I mentioned above, I'm going bold in certain areas to try to draw the eye away from the things we can't change, and razzle dazzle on a budget. 
What's changing:
New sink faucet
New sink
New countertop
New mirror(s)
New shower fixtures
New lighting
New cabinet and bath hardware
Bold wallpaper
Fresh vanity paint
Tall storage
Large rug
Cecily has been involved in some of the decision making so I'll be sharing her thoughts and feedback on Instagram as my littlest client, because that girl has opinions.