If you're new here, I'm Rebecca designer and founder of Studio Plumb. In January 2017 we became the second owners of the #plumbmidmod, a one-of-a-kind 1960 midcentury ranch on .8 of an acre outside of Sacramento, California. It has cool original architectural details, a creek running through the yard, and a perfect floorplan. It also needs a sh!#t ton of work. Bit by bit with the help of my dear old dad we're bringing it back to its former glory with a modern spin. 
For more updates follow along on Instagram  and all you design entrepreneurs check out our new podcast the Hot Young Designers Club.
It's here, it's here! I'm excited and nervous, but mostly excited for this season's One Room Challenge. If you're not sure what it is, its a bi-annual event hosted by Linda Weinstein and showcases twenty Featured Designers as they're challenged to design and renovate, a space in 6 weeks.* Every Wednesday, the designers update their process online while sharing their sources and professional advice over six weekly posts. The fun part is that every Wednesday the designers blog about their progress as well as a lot of daily documentation on Instagram. 
* Due to COVID-19 the Spring 2020 event has been postponed to a May 6 start and will be extended to 8 weeks to allow for delays in materials and procurement.
Anyone is welcome to participate as a guest, and together with my dad and reluctant husband we've renovated our kitchen, backyard patio, and MudBathLaundry room in the last three seasons. We were going to hang up our tool belts and sit this time until Linda invited me to be a Featured Designer and of course I couldn't say no because we've got a LOT of house left to freshen up. And also OMG, I've been watching my design blogger heroes do this for years and there will be millions of eyeballs following along (literally). That said I do want to say that this has been tricky planning during quarantine. 
Logistically speaking of course–getting materials has been annoying, we've had partnerships changes due to production closures, but more importantly talking about something like a "glamorous room makeover" has had me feeling at odds. I talked it out on Stories a couple weeks ago and the common message from followers was that they were looking forward to a fun distraction and appreciate the consideration.
Here's a super quick and satisfying look back at our last challenges. Instant gratification!
Fall 2019 :: MudBathLaundry
These are separate little rooms all in the same area off of our kitchen. I love how everything looks but most importantly it functions 10x better for our family. Read more
Yep, our first ORC was our kitchen. 😱 It was either the best idea because we had no idea what we were getting into, or the worst because…kitchen remodel in six weeks. But either way 100% worth it. Read more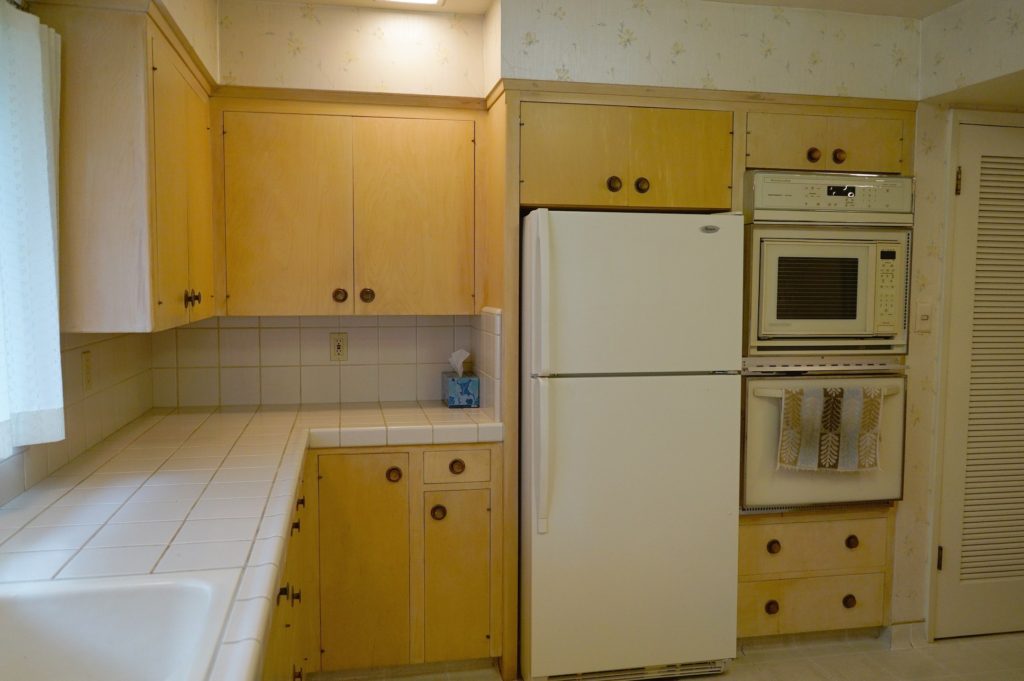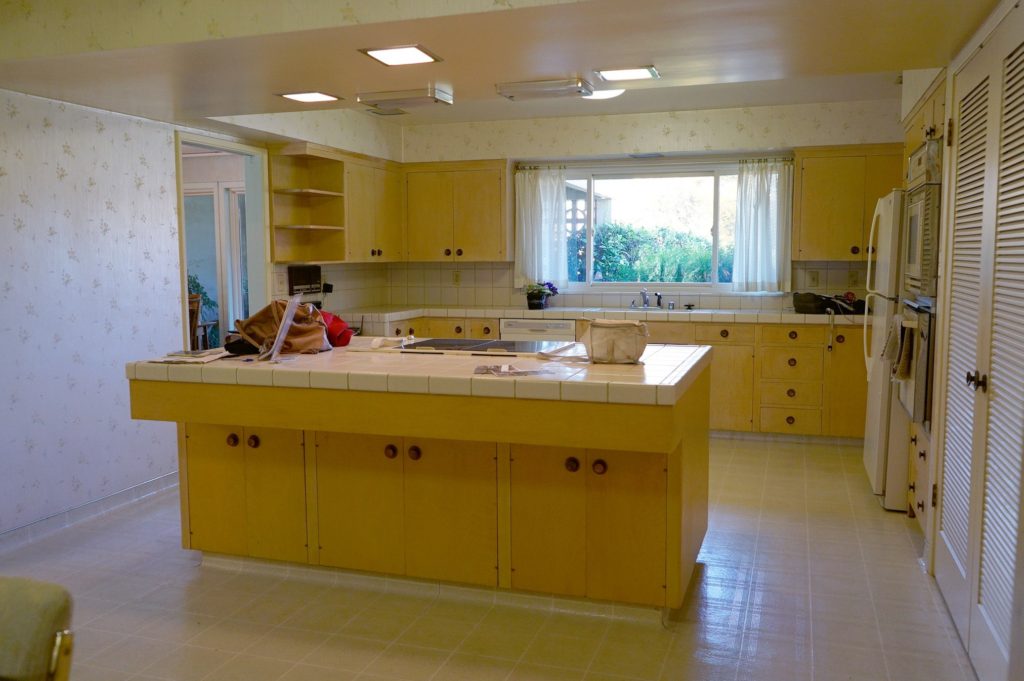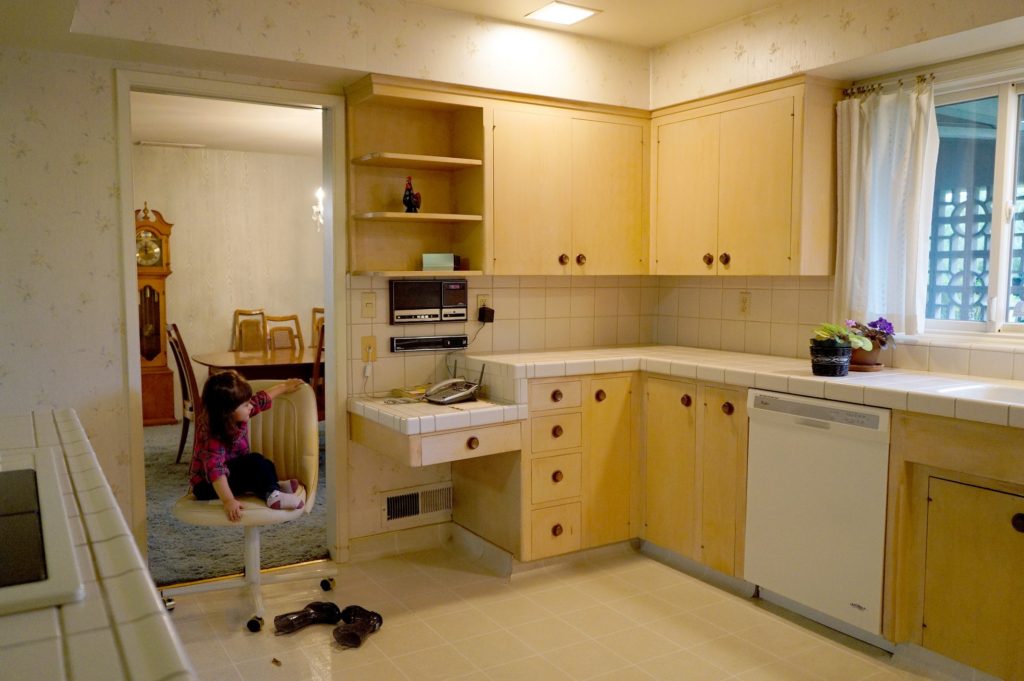 And now on to the current event. A few weeks ago on the original date of the event launch (April 1), I revealed that we are working on our… master bedroom suite! I've never had our room thoughtfully designed. Its been "ok" but really just a white box with random furniture that never really did much. Guys, I am SO excited to show you what we've been working on for months. today I'm going to walk you through where the room started when we looked at the house, where we left off and inspiration for the new design. Week 2 I'll reveal our design plan and more details of what's going down. 
The master suite itself is very spacious and has an incredible view to the backyard through a large sliding glass door, which is our favorite view from the house. We wake up and watch wildlife and its generally so peaceful to look out at, but the room itself isn't doing anything. 
Here's a photo of the bedroom from our original walkthrough. Looking back at it, the color scheme is almost identical to where its headed. Ha! The rusty orange thick carpet, creamy walls, I'm kind of into the bedspread and the furniture is serving midcentury campaign realness. But don't worry, it will look nothing like this when I'm done.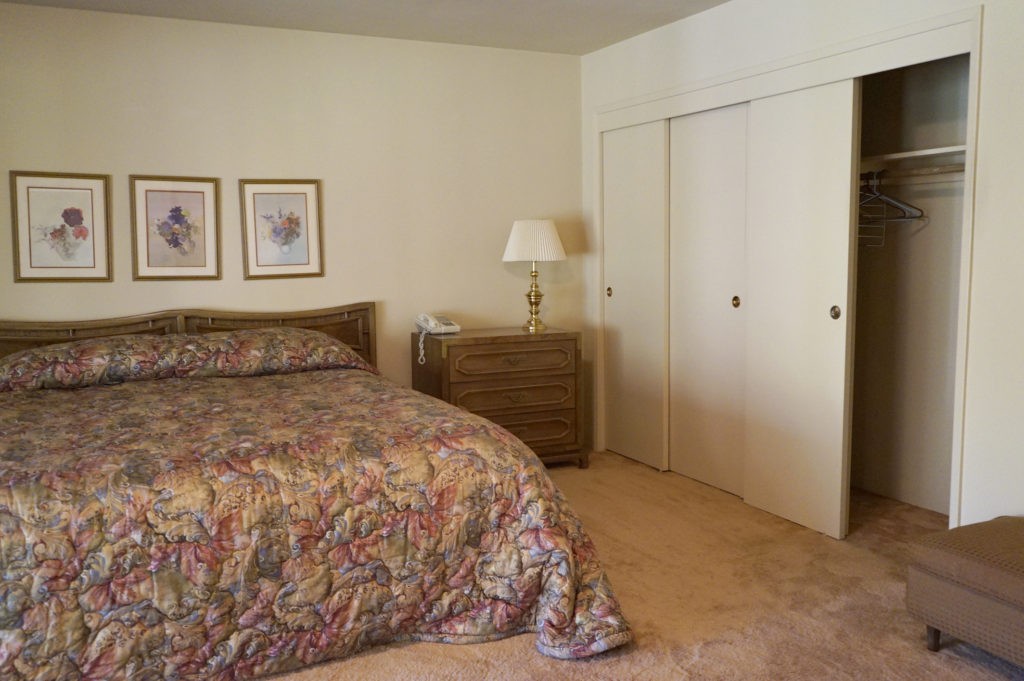 In the last 3 years I can't say I did the room any favors though. Yes, it got a fresh coat of white paint but those Ikea curtains aren't hung properly to the traverse rod, the bed is swallowed up by the wall and the carpet didn't stand a chance to our child and pets.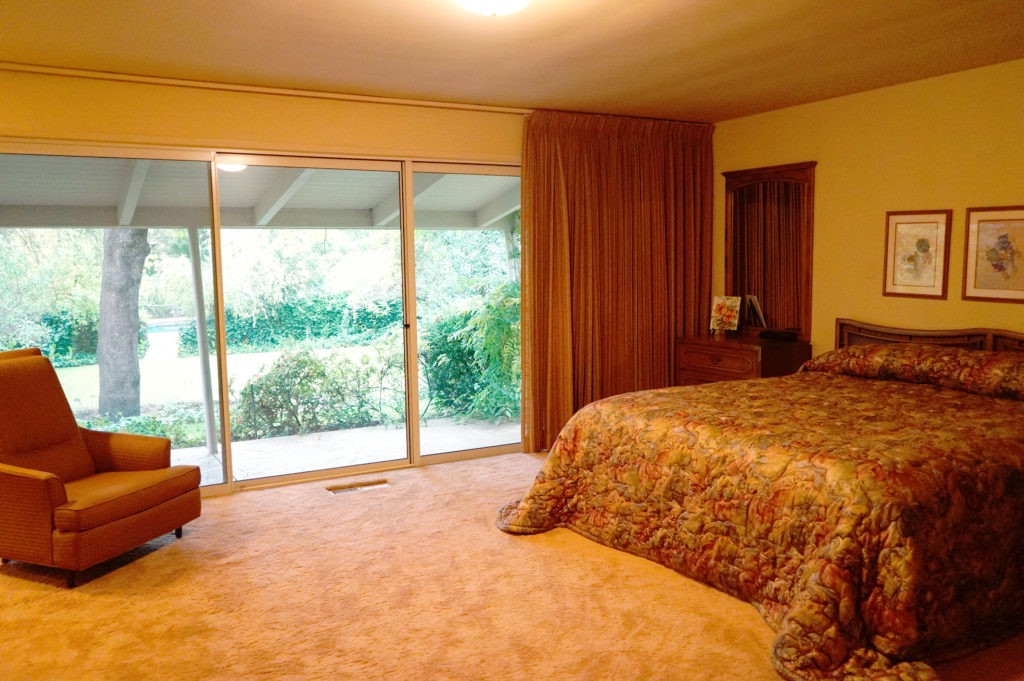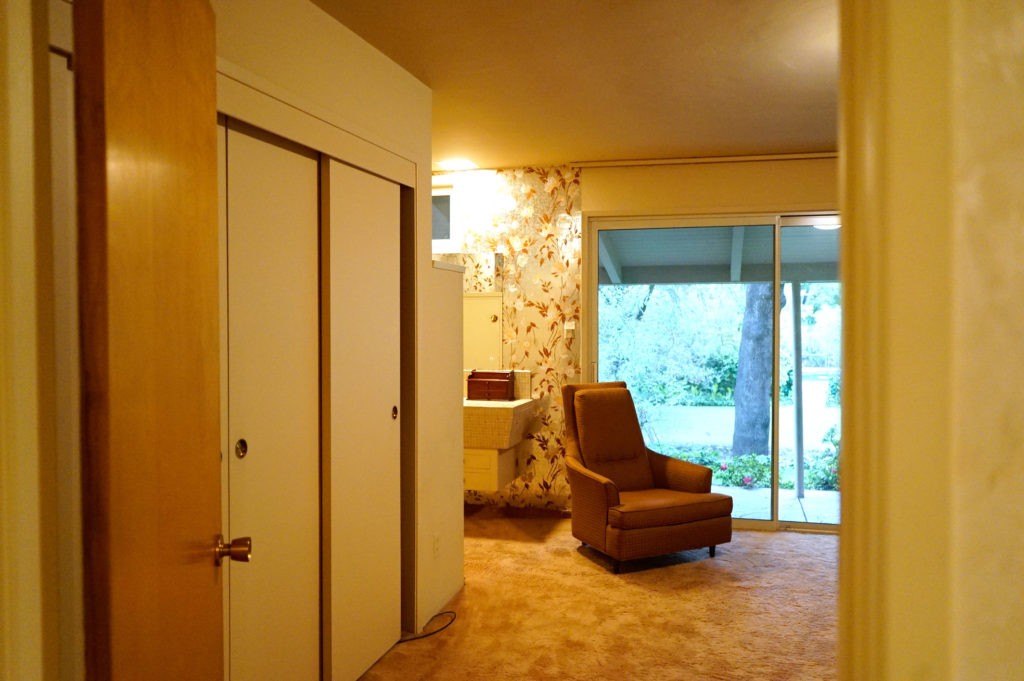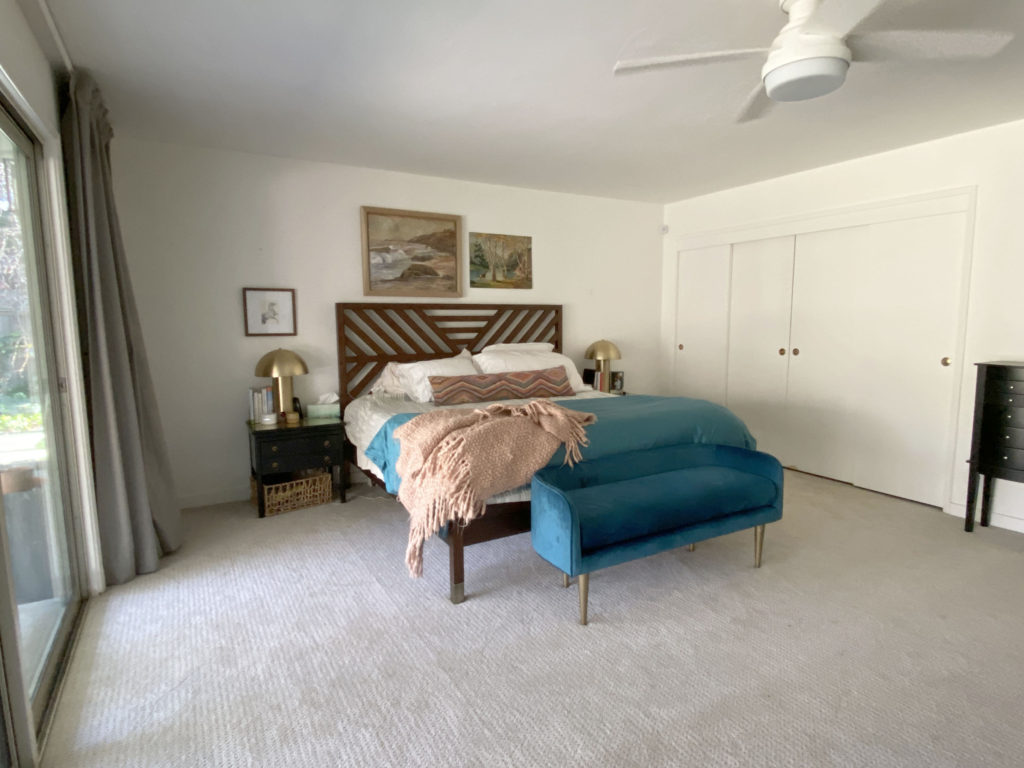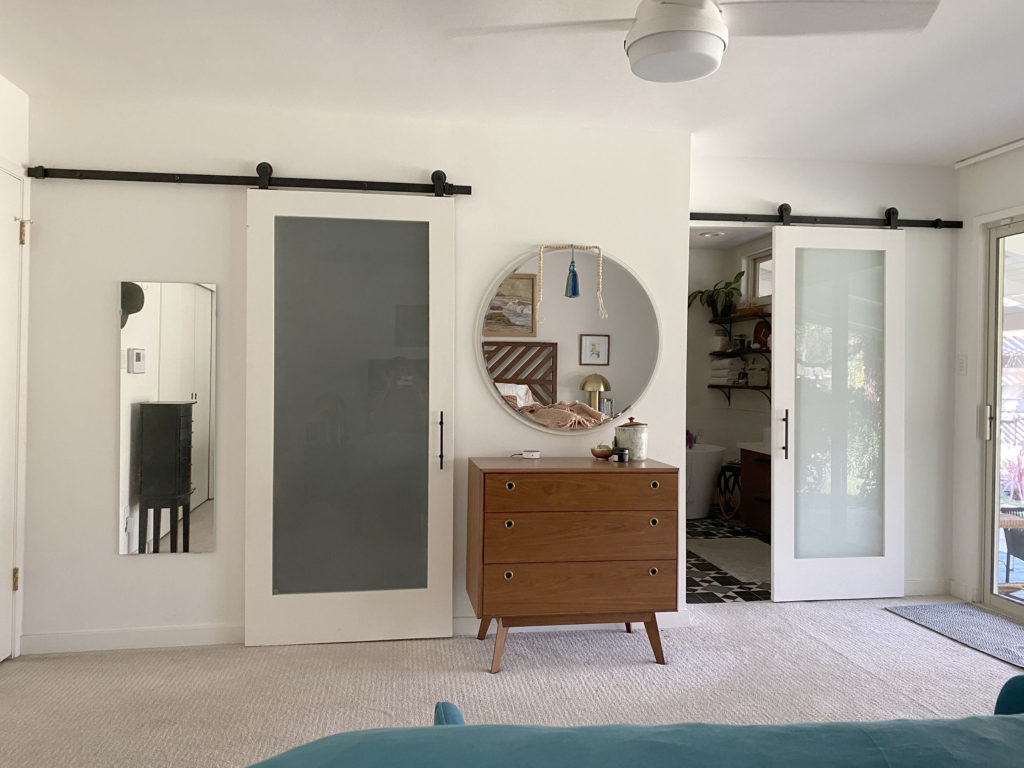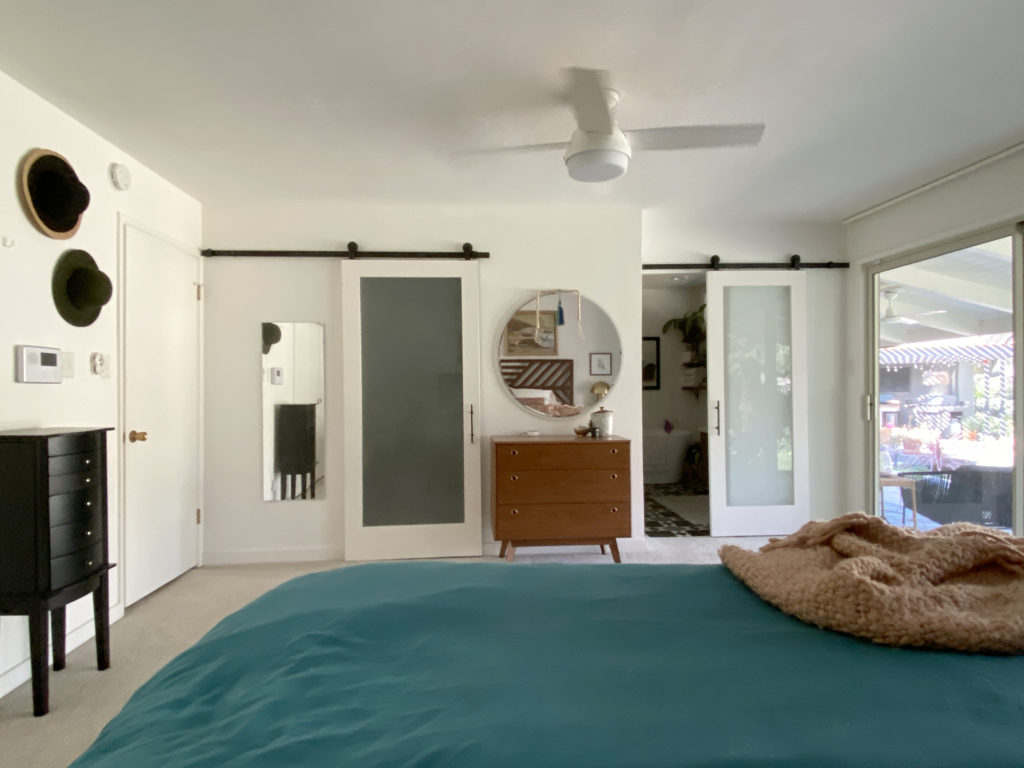 What makes me the most crazy in this room is all the dang doors. Atleast 5, and 9 if you count all the closet sliding doors. I don't like staring at these barn doors, they were a quick fix at the time but don't work for the house, and I lay in bed and look at this view. Again, its not the worst but it has no focal point with all the hardware and lines from the door panels..
On to the bath. When we bought the house the entire bathroom was covered in metallic orange floral wallpaper, with thick orange carpet throughout (including under the toilet). There was no privacy from any part of the bathroom to the bedroom and it was all just a deal breaker unless we could bring it up to modern times. The wallpaper was kind of fantastic though.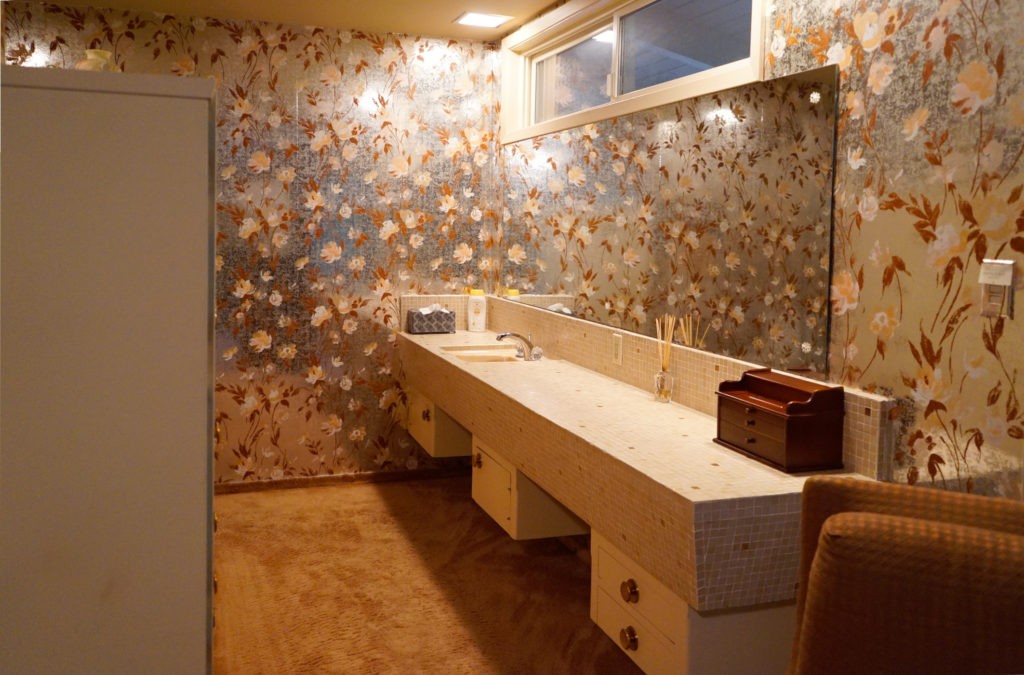 Here's what we did when we got the keys in January 2017.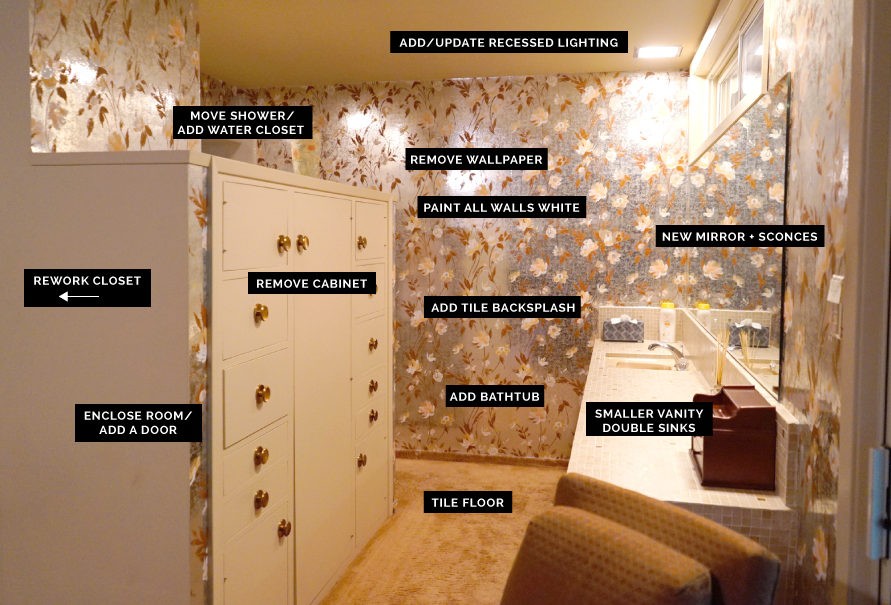 The giant vanity with the tiny sink was probably quite the custom showpiece in 1960. But just look at where those drawers are. So awesome and so strange to live this way for 50 years. but I'm not here to judge. 
The room isn't huge, but its an pretty good size and I really wanted to squeeze a tub into the new layout. With only the one high window blocked by the covered patio, we got very low natural light so I just wanted a clean, simple space and punched it up with some bold tile.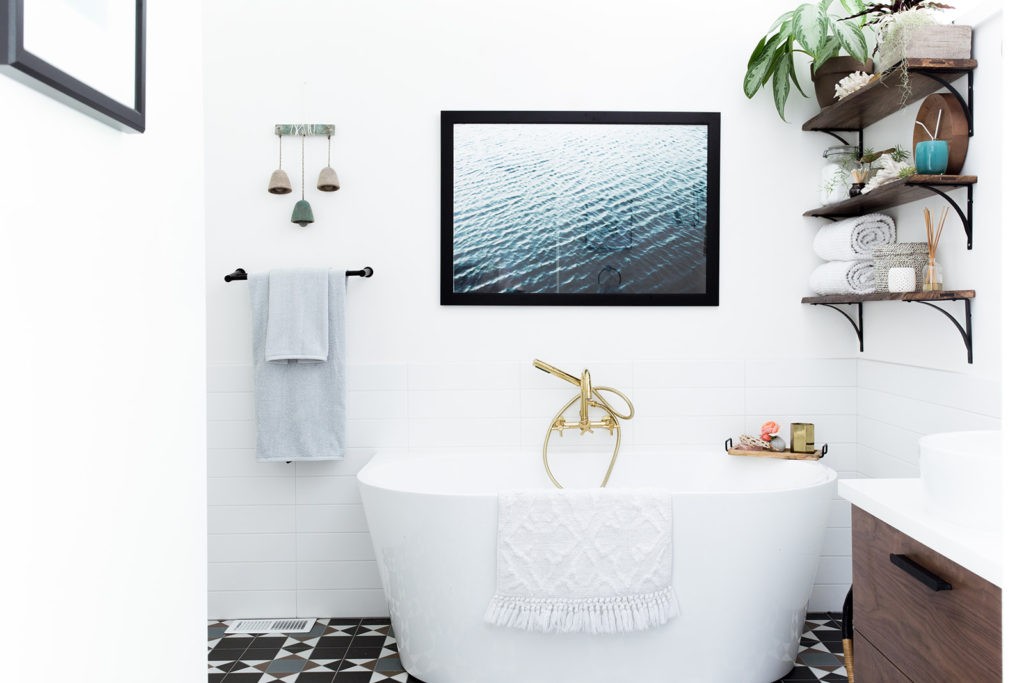 You may be wondering why we're doing anything in here at all–its a perfectly lovely and functional space. I completely agree but it was always lacking depth and personality and never felt quite finished. So when I decided to take on the bedroom I knew I could take the bathroom up a notch without ripping out all our hardwork We aren't touching the tile, tub, or shower so this is going to look completely different but with mostly cosmetic upgrades. Can't wait to show you!
The room has no architectural character, which is tricky in a modern ranch like this. I can't add lots of fancy trim, and paneling to give it interest…or can I? 🤔 The last few times I was in Las Vegas for Market I stayed at the NoMad Hotel and fell in love. The design is the perfect mix of old world and super modern, its feels sophisticated, luxe but approachable. I obsess over new details each time I go. It definitely is more traditional then our home but there are aspects of it that I am so inspired by and want to pull into our room.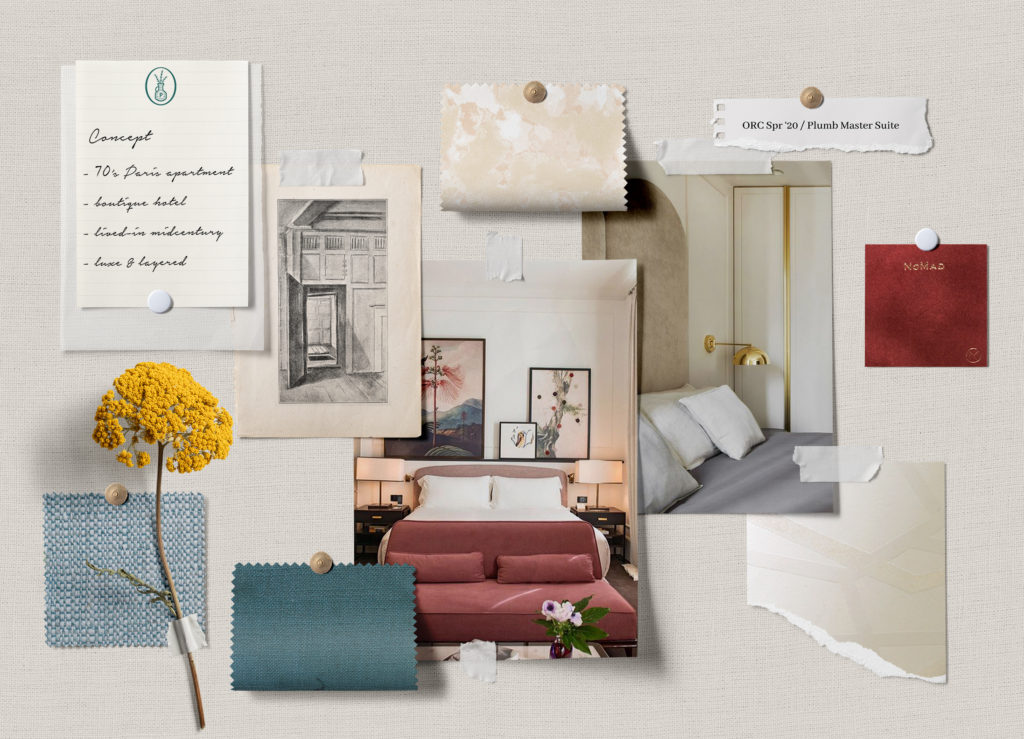 70's Paris apartment: I don't know if this reference is really a thing but its the feeling I want. A little earthy, a little glam but relaxed and effortless.
Boutique Hotel: I love a boutique hotel with crisp sheets, cool details and interesting lighting and art.  Looking out to our backyard feels so private and tranquil, I want to bring that feeling inside.
Live-in Midcentury: Not all midcentury details were atomic and super sleek. I want this room to feel like it was built in 1960, but time has passed and the furnishings have evolved. I mean, that is what it actually happened and I want to break the midcentury preservationist rules a bit.
Luxe & Layered: Back to the boutique hotel feel, I'm bringing in texture, luxe fabrics, textured wallpaper(s), lots of really cool lighting and of course color.
Welp, I think I've gone on long enough. Next week I'll be back revealing final finishes along with the design plan. We've started working on our room already so if you want to catch the daily updates I'd love to see you over on Instagram! I do a lot of chatting and decision-making in Stories and you can watch my dad knock holes in walls for no good reason.
Do yourself a favor and catch up with the rest of the Featured Designers, they are all so talented and will be turning out some incredible work.