Hi! I'm Rebecca designer and founder of Studio Plumb. In January 2017 we became the second owners of the #plumbmidmod, a one-of-a-kind 1960 midcentury ranch on .8 of an acre outside of Sacramento, California. It has unique original architectural details, a creek running through the yard, and a perfect floorplan. It also needs a sh!#t ton of work. Bit by bit with the help of my dear old dad we're bringing it back to its former glory with a modern spin. 
Catch up on the past few weeks
Apologies to every other important part of this project, but the moment I was most waiting the arrival of the new sectional. Being a designer without well-functioning furniture in your own home is a special kind of torture. We guide our clients to all the amazing pieces that will hold up to their lifestyles and fit their spaces, but meanwhile I'm looking around my house not loving what I see. 
I spent years trying out different arrangements in this room, some on paper, some with furniture I had, but landed on a large L-shape against the breeze block, and two chairs against the windows. This gives us that cozy corner we all want for watching television, but the chairs don't block too much of the view out the windows, create a full conversation circle, and are a nice alternative for seating, especially for aging relatives (not naming any names, ahem Dad).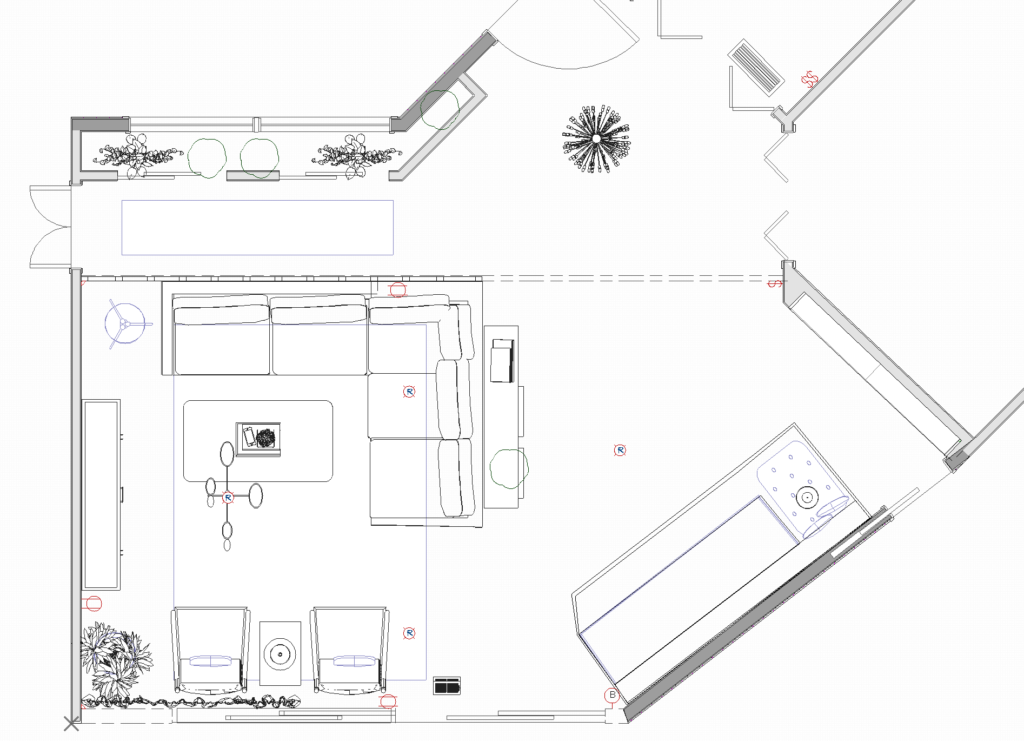 I sell custom upholstery to my clients all the time, but our family has never invested in a piece for our own home. A family room sofa may be the largest and most expensive piece of furniture for most families, so its important to get it right. I turned to my sister company, Happy Hour Design Collective, where we sell US manufactured custom upholstered furniture made to last.
The first step is to make an appointment in our showroom. We'll ask for measurements and photos so we can help guide you to the best piece for your space. People often want to sit on the exact item they're buying, and we do have several styles of sofas and chairs on our floor. Our process is to fit the furniture to you by taking measurements of the heights and depths of styles you like, and searching through our extensive catalog for the perfect piece. Once we have the size decided we choose the back and seat cushion foams to your preferred softness and density.  Our manufacturer uses the best foam on the market which is not usually what you get from large retailers and several of the cushion types have life time warranties.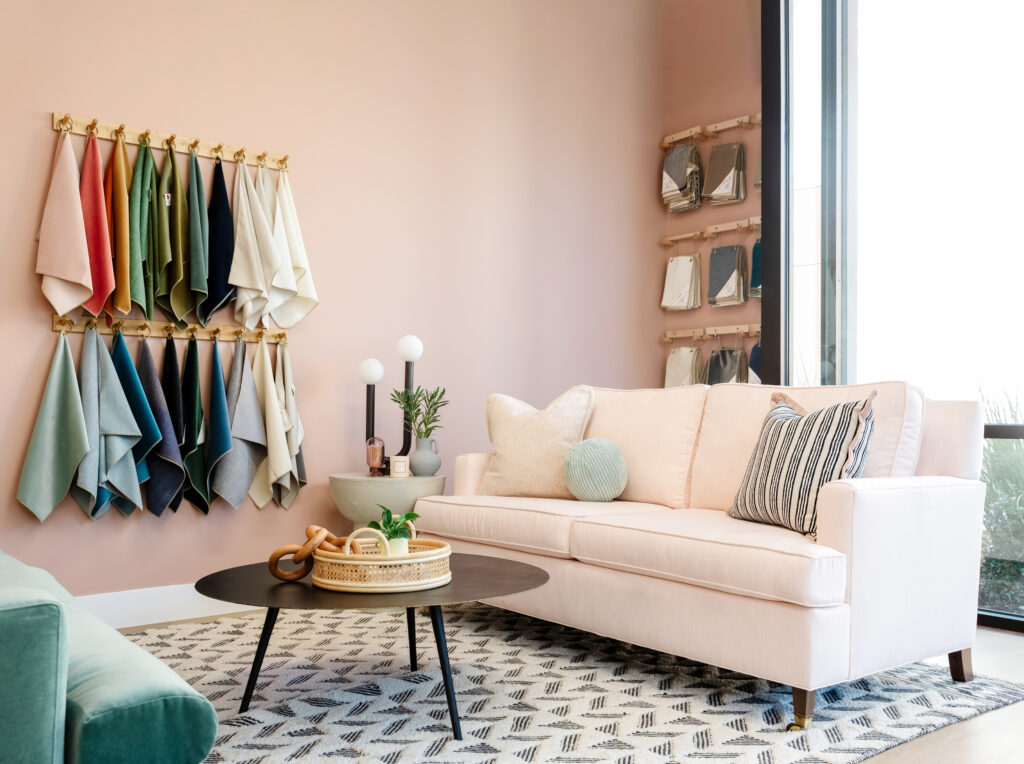 Once we know the style, we get to the fun part! We have hundreds of fabrics in our showroom to to touch and feel and since we specialize in homes with families and pets we have a large collection of stain-resistant and cleanable performance fabrics. We're also able to customize the legs and wood accent colors to change the look.  From there we enter it all into our 360º design tool, we where we can play with options to see how they look on the frame.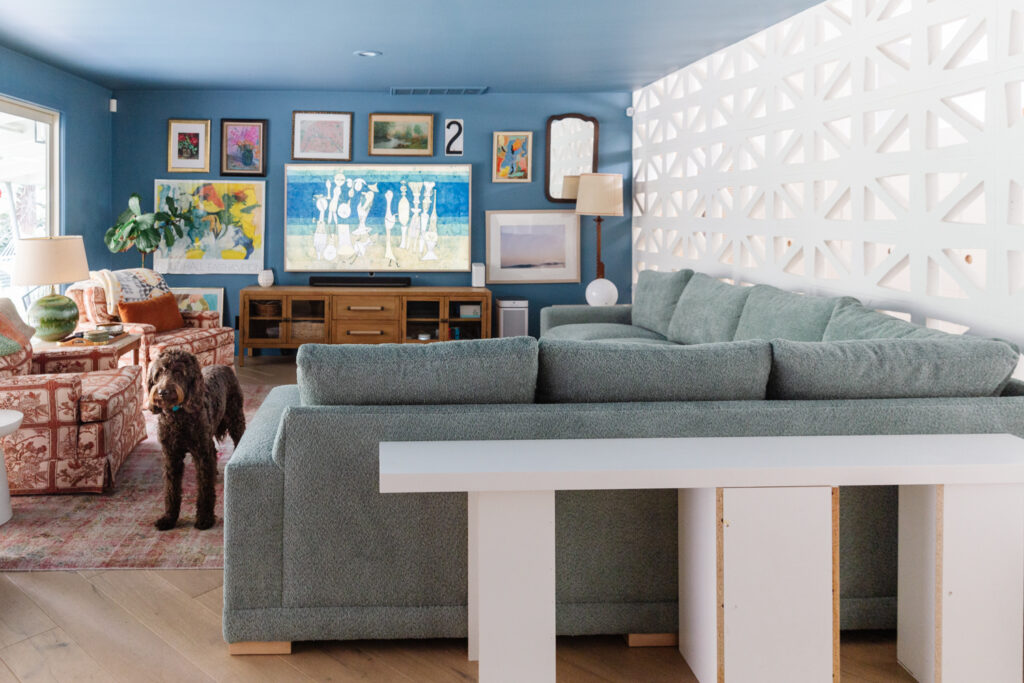 Reminder of where this room started: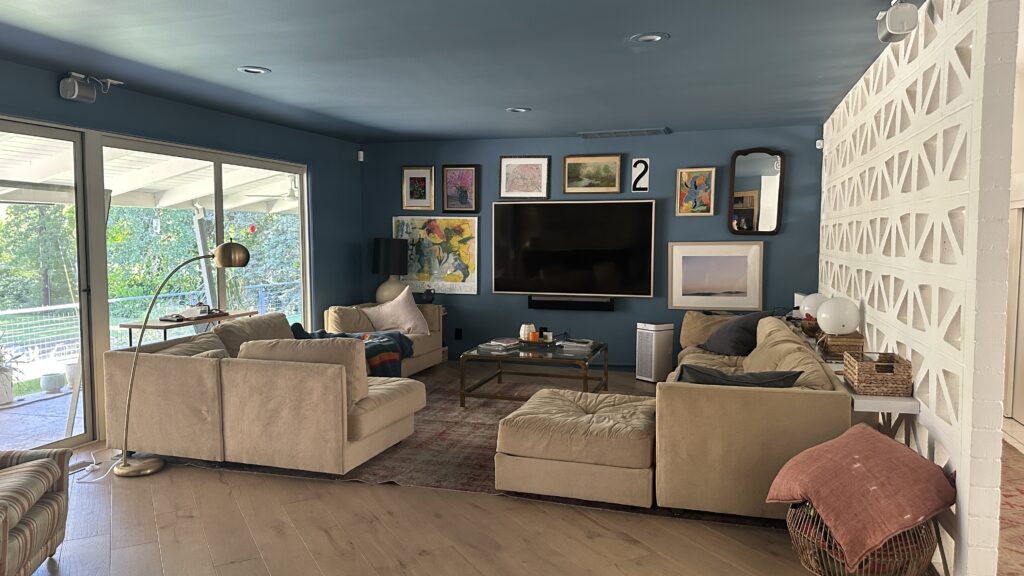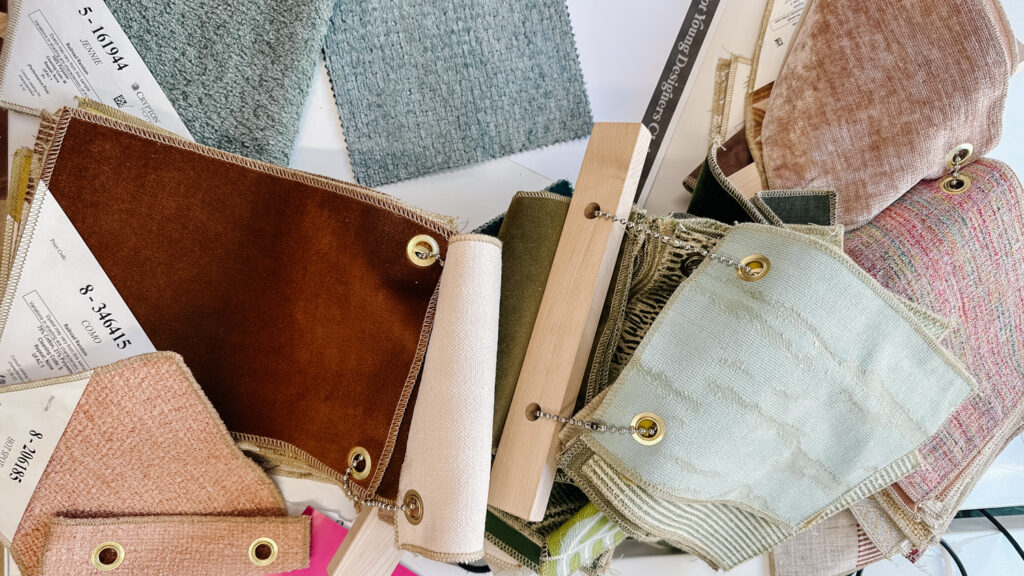 I've tested a lot of sofas during my market trips so I knew the depth and cushion style I'd want. We're going for cozy so it needed to have atleast 25″ seat depth, and our tranquility down-alternative fill so it would be fluffy but easy to maintain. For the fabric I played with a lot of options. It had to stand up to Desmond and my daughter, who both like to run and jump and rub their faces on the furniture and work well with the existing blue walls. I thought maybe a warm rust color, but ended up going for a lower contrast tone for this huge sectional, and I'll bring in warmth with wood and other accessories. After playing with the idea of patterns, I landed on a Crypton fabric that has a texture nubby chenille-like texture in a soft blue-green color. Its SO soft and also forgiving if Desmond chooses to use it as a napkin when we're not looking.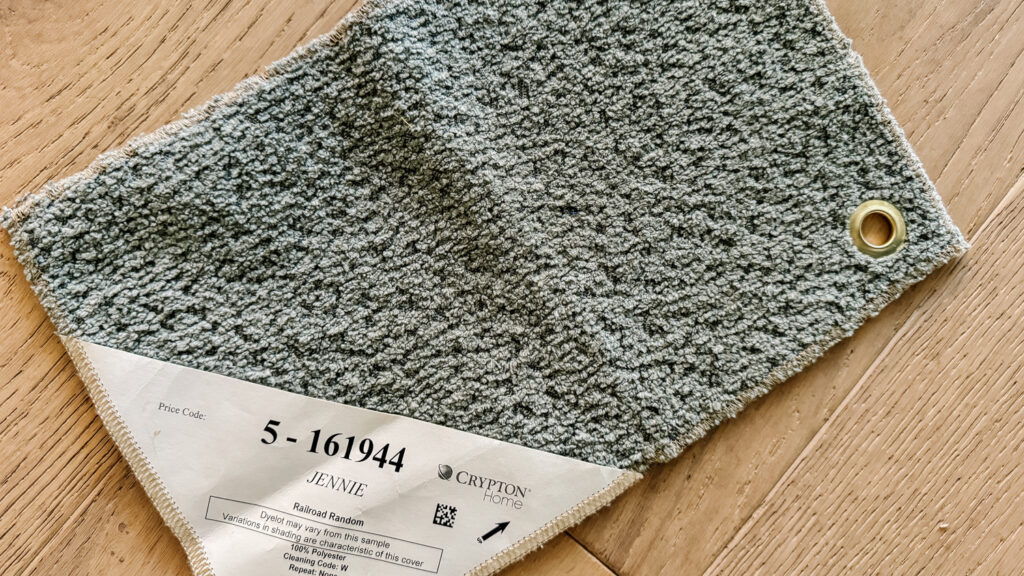 Once we placed the order, it took about 6 weeks to deliver to our warehouse before delivery. Then it was time for the big day! Our installation team unwrapped it all, brought it in, and put it into its new home.
We also got a new media console under the TV delivered at the same time. Ignore all the other furniture in here, but it looks and feels so good!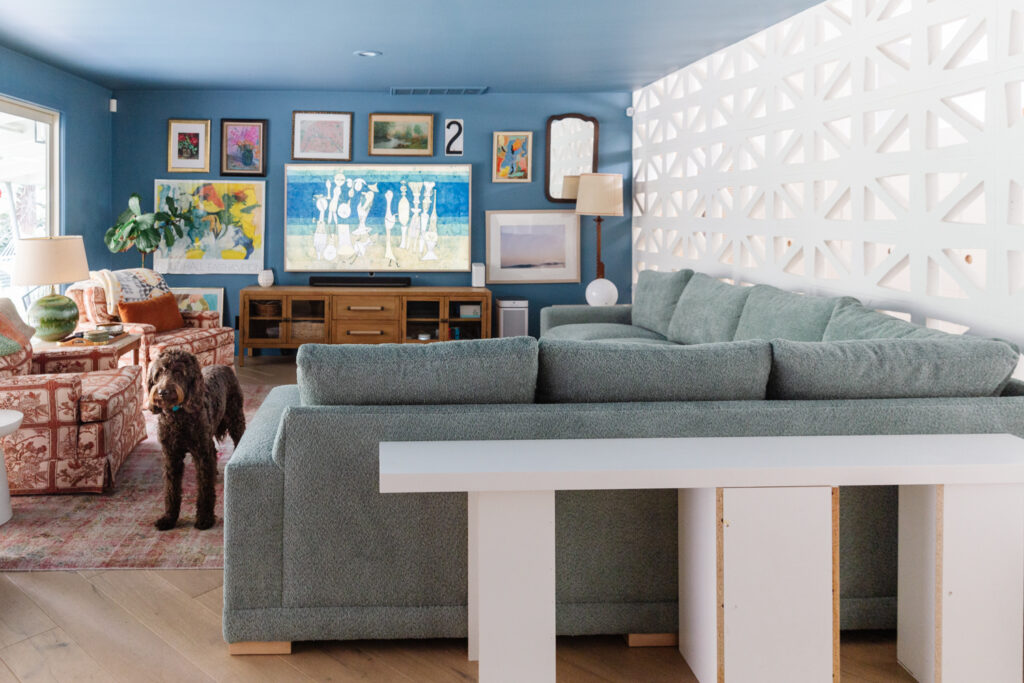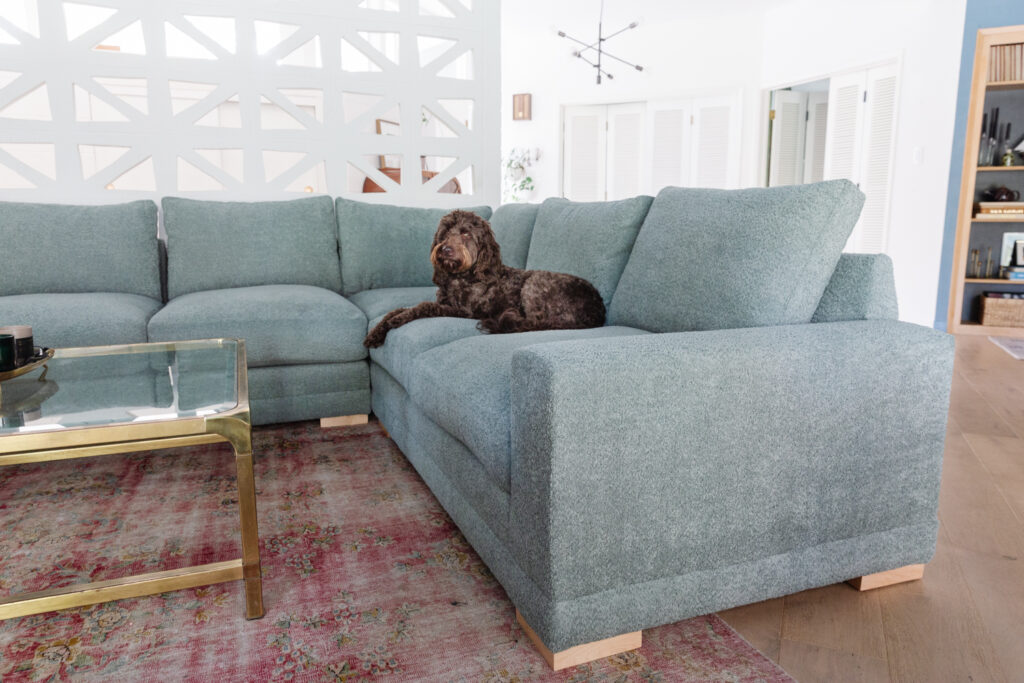 I'm obsessed with how it looks against the breeze block. Its hard to tell how soft it is, but its very velvety and obviously Desmond-approved.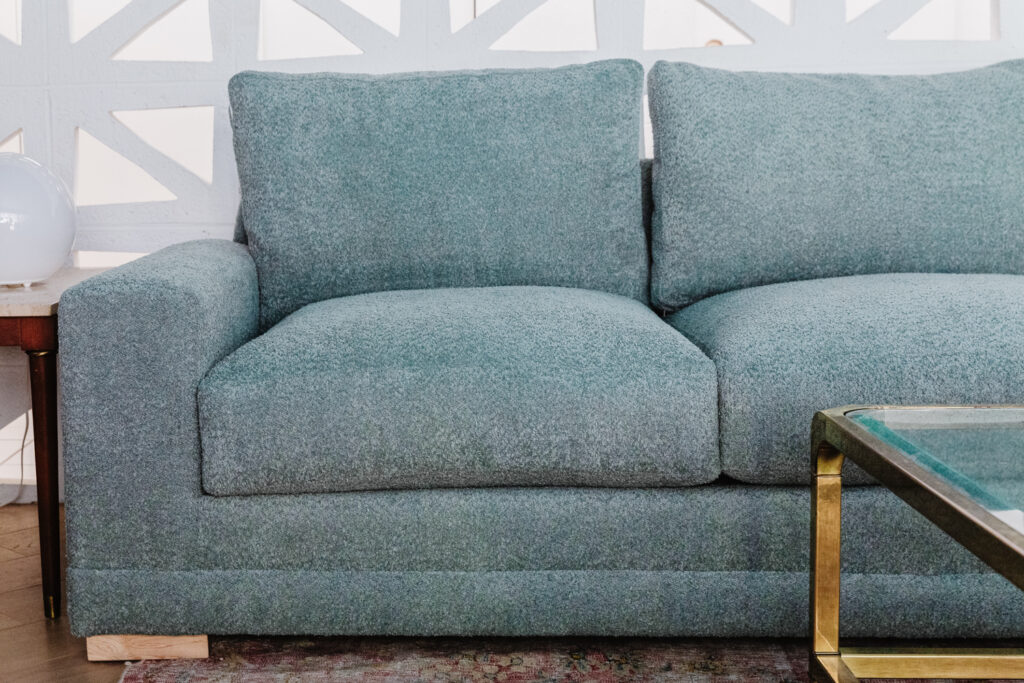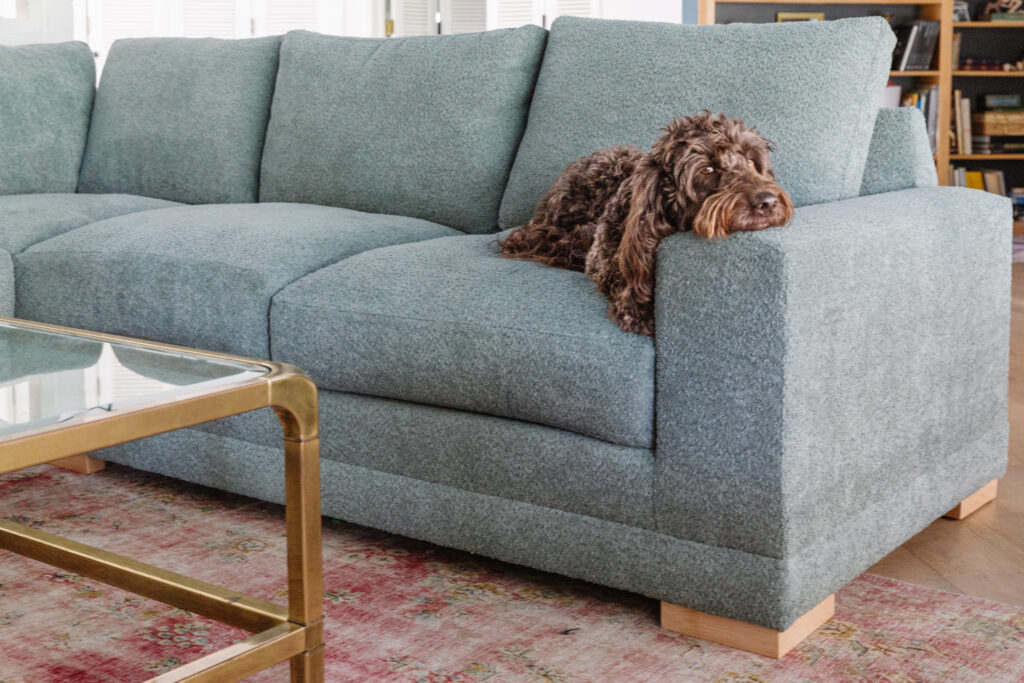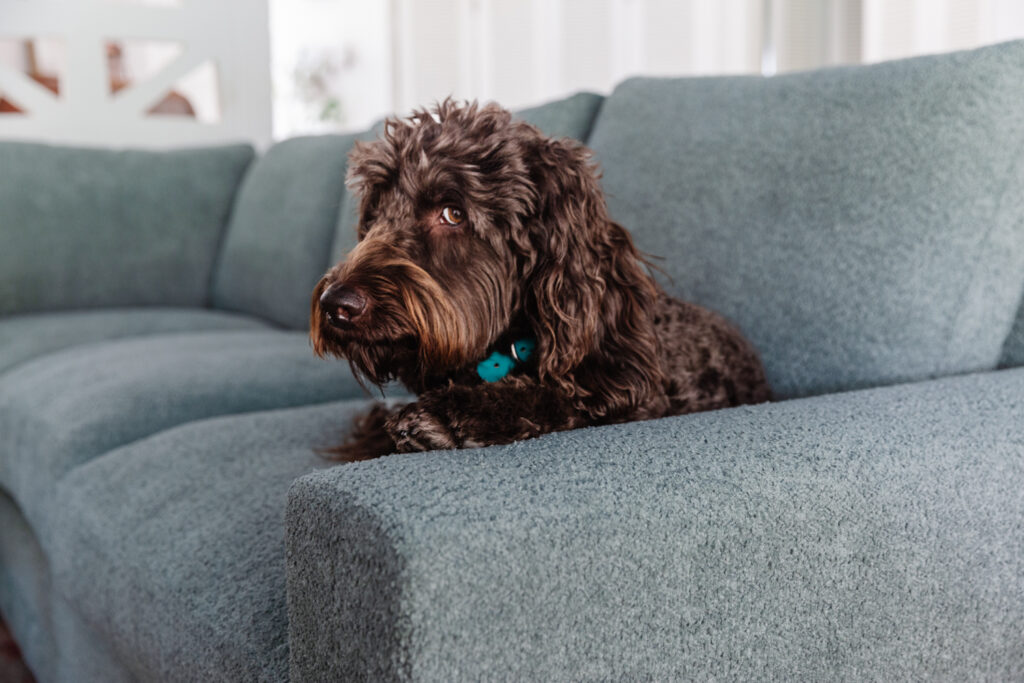 I'm not sure how we lived so long without anything under the TV. I've been low-key hunting for something long and low enough to work and finally found it in this piece. Its new, from one of the accounts I buy from frequently. I love its modern lines but it has a little bit of rusticness in the oak wood grain and the long handles are wrapped in cording that give it texture and a fun detail. Now we have a place for all the Nintendo stuff, extra cords and miscellaneous. Even unstyled and messy, I love it the way it completes this wall as a focal point.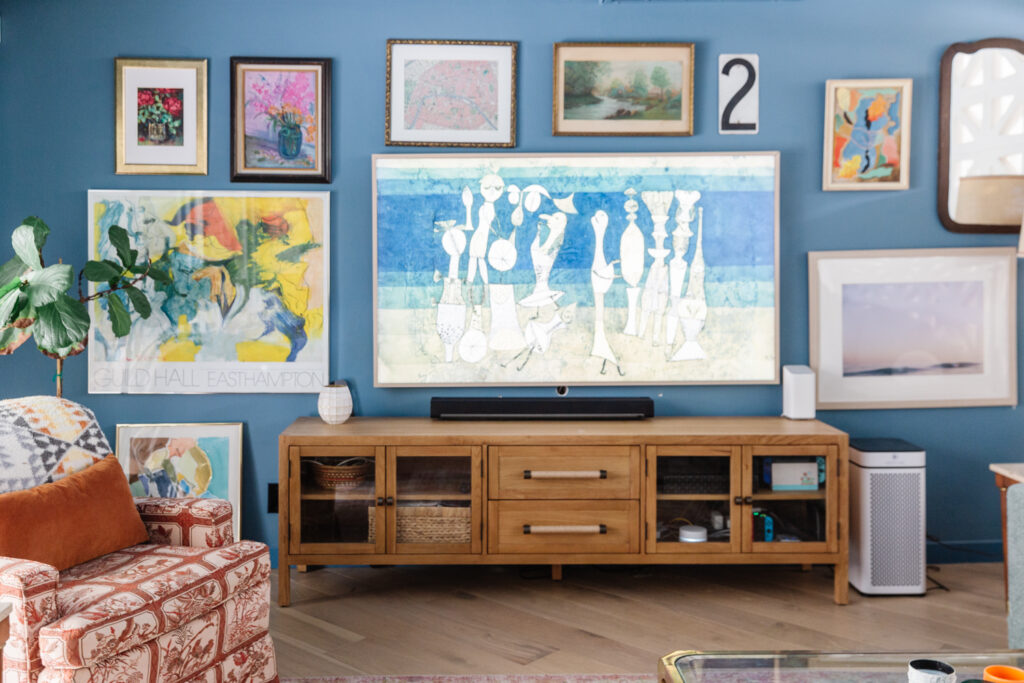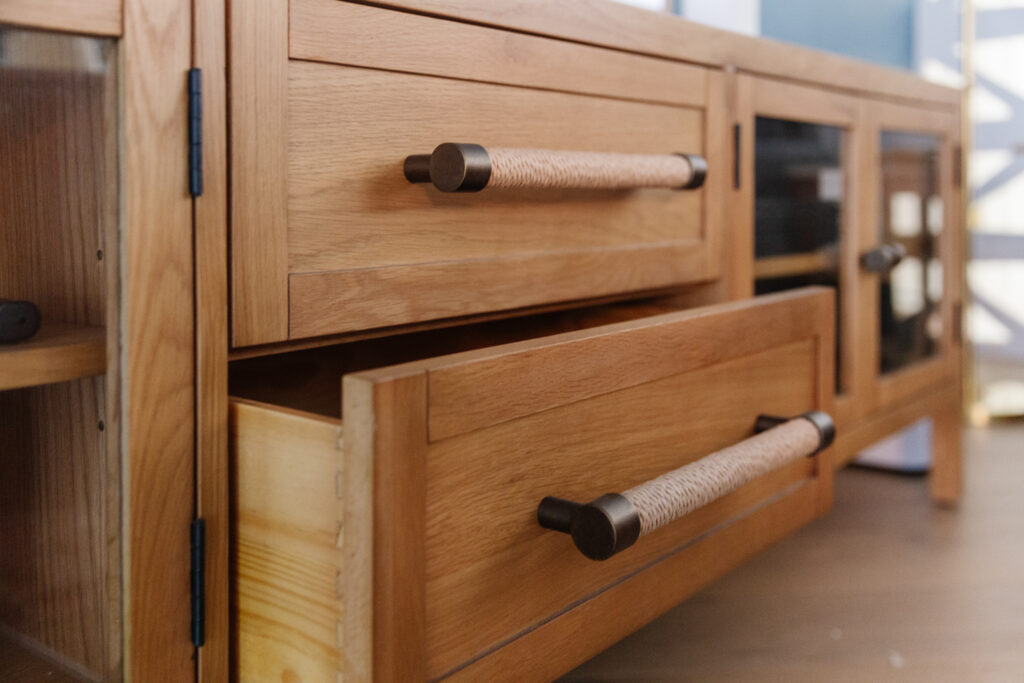 Next up: replacing these arm chairs, deciding on the coffee table and window treatments.

I've found so much inspiration from fellow participants. Be sure to read all the posts from all the rooms here! Thank you to Linda and the One Room Challenge team for all their hard work making this event run smoothly. And more thanks to Apartment Therapy, this season's media partner, who are covering the event.
I'll be updating the blog weekly, but follow along on Instagram for more behind-the-scenes progress!