Yes, it makes a sound.
If you follow me on Instagram, you know that last month a giant old oak tree tipped over and fell onto our house. It was a dark, stormy night (really it was), and I heard a loud boom at around 5:30 am. My husband had just left for work and my 4 year old had found her way into our bed. I heard the crash, it woke me up, but nothing seemed amiss so I chalked it up to thunder when I heard the rain.
When we woke up a couple hours later my daughter looked out the slider in our bedroom and said "Look Mommy, the tree started growing on our house!" As my eyes focused I realized she was right, and something major was wrong. Our 100 year old oak tree had landed on our roof, right above where we were sleeping.
We have a ton of trees on our property, but this oak was my favorite. It had perfect branches for a rope swing, shaded our lawn area and was a main thoroughfare for the squirrels. We had it inspected by an arborist last year but he didn't see any issues at the time.
Here are a couple photos of it when we moved in, for posterity. Also to note how ugly the paint was. I took the last pic of Cecily about a month before it fell.
So back to that morning. I went outside, saw the tree was leaning on our roof and called my husband and dad to get over here STAT. Our insurance company was great, and sprung into action. They sent over an emergency tree crew out to look at removing it off the house and no one seemed overly concerned since the roof wasn't leaking although it was still raining. A couple hours later I was in my office working when I hear and feel a super loud rumble, scraping and crashing noise that shook the whole house. I grabbed the dog and ran out the side door not sure what was happening. Was the tree about to break through the ceiling?! I ran around to the back and see the tree had rolled and slid across the entire back side of the house. My husband had been standing on the deck at the time, started hearing branches cracking and luckily ran to the back of the deck and dove into the ivy as it swung his way. It decimated a patio chair that had been sitting there and Terry could have been seriously injured. So now the damage had gotten real. Our fascia was scraped and torn ragged, gutters were hanging, and branches smashed everything in its path. Plus, we realized our beautiful master bathroom was now leaking from the ceiling. Basically it looked like a tyrannosaurus rex came through and tried to chomp its way into our house.
Here's me and my dad coming around the corner to see what happened:
So now what? First of all I'm soooooo beyond grateful we're all safe, and no one was hurt. The damage is all to the exterior of our home, our contractor put an emergency patch on the leaks and we're water tight for now. We're working with our insurance company to finalize next steps, but there is a lot of roof that needs to be repaired. So now we weigh our options. We have some repair funds from insurance but  I'm the type of person who wants to examine all dream scenarios and then scale it back to reality (I.e. budget).
Options we're weighing
Roof Style
I'd love to have a standing seam metal roof but its not looking like its going to happen ($$$$). We also need to take into account energy efficiency (California has some requirements), and noise. Apparantly we have a huge roof due to the large overhangs that go around the entire house.
Right now we have tar and gravel which isn't really done these days and the pinky-beige gravel is an eyesore. Now that I drive around staring at roofs it is actually pretty terrible. We can have our current repaired or re-tarred but its still a lot of money to spend on an ugly-ass roof that may need to be redone in 10 years. Moving away from this idea.
Composite cool roof that meets California energy efficiency requirements. I really want a dark/black roof and there are certain hoops you have to jump through to make it happen here. We're exploring this now. This also means we'd have to redo our gutters and do we consider solar installation at the same time? Ugh, this is turning into a big project. 

Skylights
I've also been trying to find a way to put in a skylight in our master bathroom because it gets so little natural light. Did I manifest this tree falling to happen? Whoa/yikes. We have an incredible patio/breezeway that runs the length of the back side of our house but it limits how much light gets into the rooms and it bothers me how dark it is despite how many windows we have. Should we try to also knock some skylights into the patio cover? Some rooms? Here we go with the slippery slope on unexpected home repairs. If we're going through the trouble of putting on a new roof the one thing I am not wavering on is these skylights. Its the one thing about our house that I really don't love, and I know that more natural light is going to be a game changer. The entire back of our house is essentially windows and the way the house is positioned (probably intentionally) means we don't get any direct sun in most of the rooms. Great for temperature regulation, bad for Instagram photos. #jokingnotjoking
Here's what our master bath looks like in the middle of the day.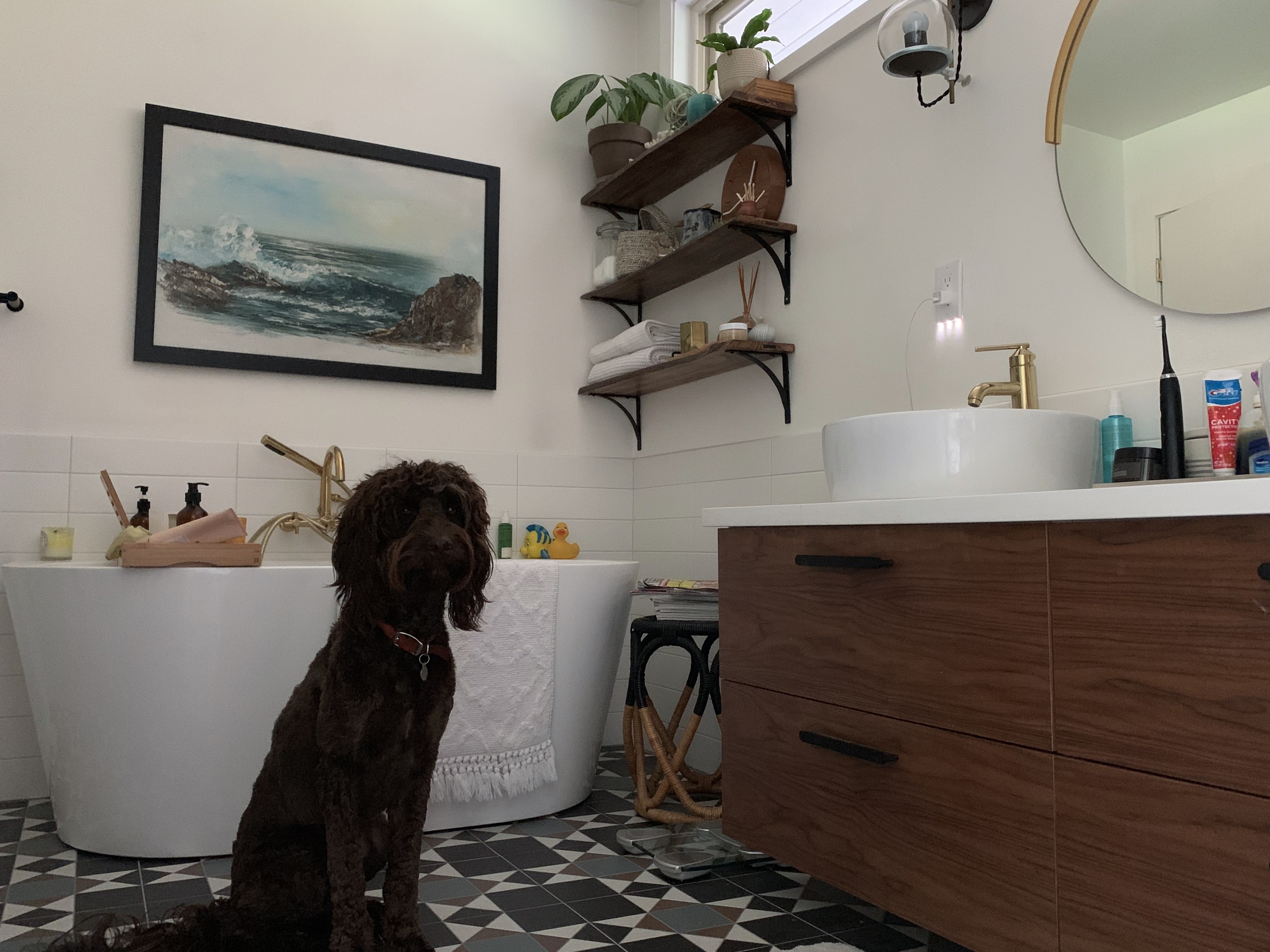 Here's what it looks like using about a 1 minute exposure. Its dark, guys, even with that little window because of the patio overhang. So here's my inspo of what I'm dreaming about.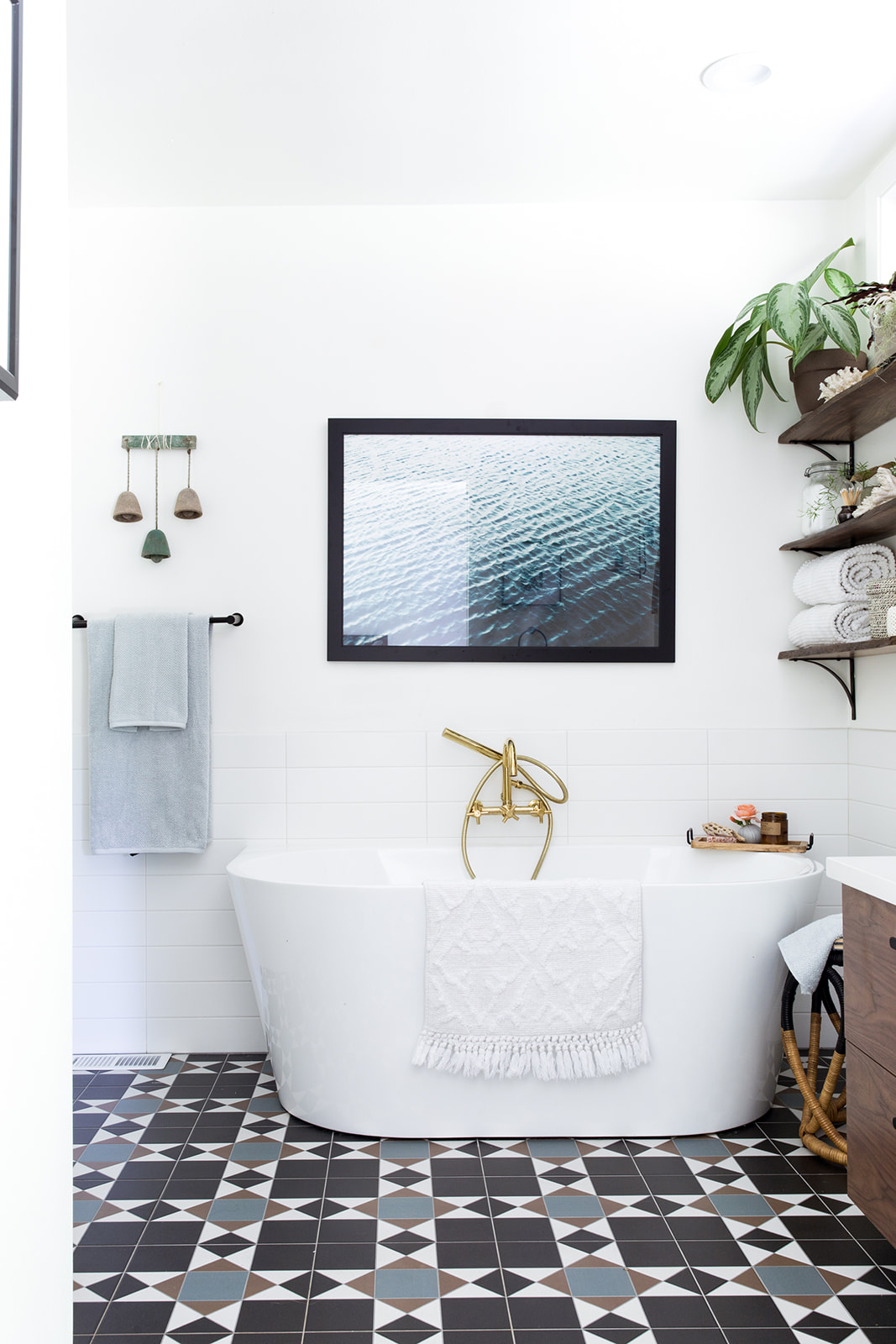 So yes, there are much worse problems to have but a skylight will add that bright morning light that we need to wake up and be so so pretty. Our bathroom is fairly narrow so here are some of the inspirations I'm drooling over.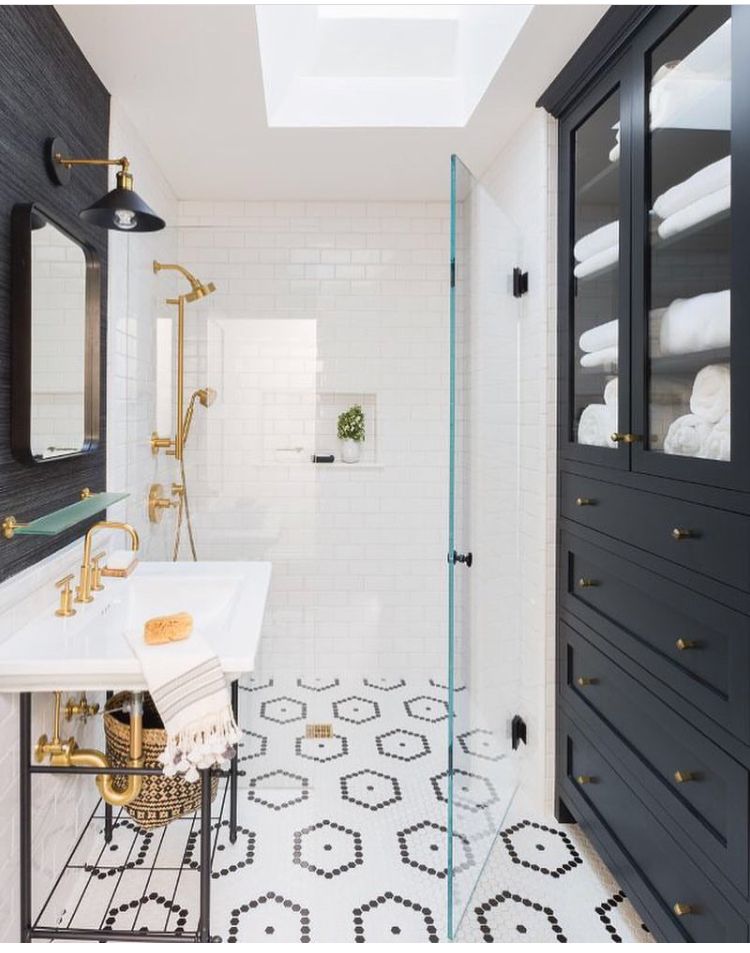 We'll likely be tackling a few other small projects while we have contractors here so TBD on that but we need to get shaking on everything. Summer is coming!
Has anyone had to deal with roofs or had solar installed recently? Tell me your experiences!