Or, How to Survive One Room Challenge without Suffering a Complete Meltdown. If you follow me on Instagram you have most likely heard about the One Room Challenge, a six-week renovation challenge that ends with a completely finished room reveal. We don't do it for prizes, there is no "winner," its just a way to have public accountability and complete rooms in my own house. Don't get me wrong–I live for doing these. Its so fun, quite addicting, but in the past, has wiped me out when its all over. 
This time I'm determined to do it differently, while still having fun and with awesome room results. FYI, this goes for any planned personal challenge such as: training for a marathon, a non-DIY home renovation, writing a book, building a website, etc.
I want to change my approach so I complete the challenge creatively fulfilled, healthy in body and mind, family harmony, friends who like me, and clients on track. Since I'm notoriously terrible at consistent self-care I pulled in the expert. My friend Tami, is an incredible coach who focuses on just this thing so I asked if she would help and she basically turned it into a coaching session. It was so helpful I asked her if I could share this info on my blog, and it turned into a fun collaboration.
She interviewed me on her podcast, and we created a downloadable worksheet (scroll to the end!) for anyone to fill out when you're about to embark on a short and intense challenge. Here's Tami!
---
I'm Tami Hackbarth. I help ambitious women find time in their schedule and create the energy they need to go after their big dreams and big projects by unapologetically putting their needs first.
At some point in the middle of the project you might think " holy s*** why am I doing this this?"
First question I'd ask anyone taking on the One Room Challenge is this: What's your why? Why are you doing this? I ask because at some point in the middle of the project you might think " holy s*** why am I doing this this?" Understanding your why will help you when your energy and your patience is lagging and you feel like you just can't go on. This will help you come back to you. "I'm doing this project for X amount of reasons. These are my reasons."
Once you know your why you're doing the project I want to know how do you want to feel while you're doing the project and I want to know how you want to feel after the project is done. If can't just be relief that is done. But if you are a first-timer (or seasoned pro), you might, as Rebecca found, be really exhausted and need a huge recovery. 
So if you would like to avoid burnout while working on a big project let's talk about this how you want to feel during the project and how do you want to feel after the project. Having these touchdown words will help bring you back when you are in the middle of a project and you're like: "I'm freaking out." I'm pretty sure you haven't picked freaking out as your word.
Here are the questions I went through with Rebecca and her answers. Scroll to the end to download your own plan!
TH: Why are you doing this challenge now? Why this project this time? What do you hope to accomplish? What problem are you solving? What's the big WHY?
RP: I haven't revealed what project we are doing yet, but I did a major last-minute pivot and and doing a space that is going to create efficiencies in our daily life. So that counts as self care, right?
TH: One word to embody how to feel DURING your challenge. If you had to choose ONE word to describe how you want to feel during the challenge what would it be? What are the actions you take to get you to feel the way you want to feel? Our actions determine our feelings: want more energy? Sleep more and drink less coffee. Want a quick pick me up? Take a short brisk walk or kick your legs up the wall instead of grabbing another coffee or cookie. Want to feel grounded and like life isn't running out of control? Take 10 minutes and meditate, take a shower or go on a walk with a friend. Stress release is your friend!
RP: ENGAGED. I don't want to feel like I dropped off the deep end with clients, friends and family. Its hard to balance but I can stay proactively engaged even though my time will be limited.
TH: One word to embody how to feel AFTER. How do you want to feel after the challenge is finished? What actions do you need to take daily to feel the way you want to feel? Remember our actions affect our feelings.
RP: PROUD. Proud of my finished space, proud of putting myself out there, and not guilty for feeling like a flake and bad friend.
TH: What are your the big rocks in your life that can't move? How will you care for them? This is your family, work obligations, health and commitments.
RP: My big rocks are my:
Husband: He really is a lot happier if there's a plan for dinner after a long day. He'll take the lead if necessary but neither of us love to come up with weekday ideas. So, together we've been working on a meal plan that either of us can execute after a busy day. More below.
Daughter: I will have fun after-school craft and art activities available for her to work on while we transition into evening family time. I'm also going to ask my village if she can join them for play dates.
Clients: Commit to spending early, quiet mornings catching up on correspondence and deliverables. I'm also not taking on new clients during this time.
TH: What are your essential extras? These are non-negotiable events that are coming up during this time such as holidays, family obligations, etc.
RP: Halloween is right at the end of the ORC so I vow not to overthink and hand-make a costume. I've been working with my daughter on ideas already and slowly collecting pieces now.
My mom and brother both have big milestone birthdays coming up the same October weekend. We will go to Southern California to celebrate with them for a couple days so I know I have to pre-game and plan for that time away.
TH: What can you say no to? Look at your calendar and see what you can skip during this time. If you let people know in advance, they won't feel let down and you will avoid guilt.
RP: I love social time as a solopreneur but I am putting on hold coffee dates, lunches out and networking events during this time frame.
TH: How are you going to feed yourself? We have to eat 21 times a week plus snacks.
RP: This is the hardest for me to plan for but really affects my family's happiness. We've been writing meal ideas on  3×5 cards and including notes on where to find the recipes. The plan we've agreed upon includes prepping sauces and soups for the freezer, easy 15 minute dinner ideas, getting subscription meal boxes some weeks, and stocking the pantry with staples.
TH: How are you going to restore your body and mind? Find pockets of white space for creativity and healing to happen.
RP: Get my self care out of the way early which means waking up an hour before the household. I will walk the dog and/or meditate daily.
TH: How are you going to move your body?
RP: Walk for at least 15 minutes every day!
TH: How are you going to celebrate? Not just that you completed the challenge, but that you completed it without wearing yourself down to the ground.
RP: So much of the One Room Challenge is about support from my community and people. I'm usually so exhausted that I can't think about planning anything else but I do love to entertain. This time I'm going to plan a low-key Reveal/Gratitude party before the project starts. This will be a way to let friends know I'm going quiet for a few weeks but put a date on the calendar to celebrate with them! I'm really excited about this!
---
Thank you SOOOO much Tami, you were so helpful to get a do-able plan in place. I feel better already. Tami and I also did a quick coaching session around this on her podcast 100% Guilt-Free Self-Care. Listen to our conversation here and download your own worksheet below. We can do this!
[stnsvn-col-row][stnsvn-col-2]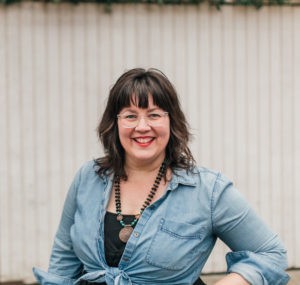 [/stnsvn-col-2][stnsvn-col-2]
---
ABOUT Tami Hackbarth
If you are somebody that would like to get some help with this idea of creating more time and energy for yourself in your business you can find her at www.TamiHackbarth.com. You can also find her on Instagram @tamihackbarth and her 100% Guilt-Free Self-Care podcast on iTunes.
[/stnsvn-col-2][/stnsvn-col-row]