This post is made in partnership with Green Acres Nursery & Supply but all opinions are my own.
I'm back with some more behind-the-scenes on our backyard renovation! Today we're talking about grass. Personally, I haven't always gotten excited about lawns, I leave that to my husband, but upgrading with sod was incredibly satisfying. Having a new, living carpet of green has completely changed the look and functionality of the space. And I swear its 10° cooler out there.
Why sod?
For us, sod was really the only choice. Sure, we were on a self-imposed 6 week time limit, but waiting for seed to grow wasn't really an option anyway. With a 4 year old and a labradoodle there was no way we were going to keep them off the grass for a couple months to allow grass seed to germinate and grow in evenly. We still needed them to be gentle for a few weeks but the sod took root quickly and has stood up to them (for the most part).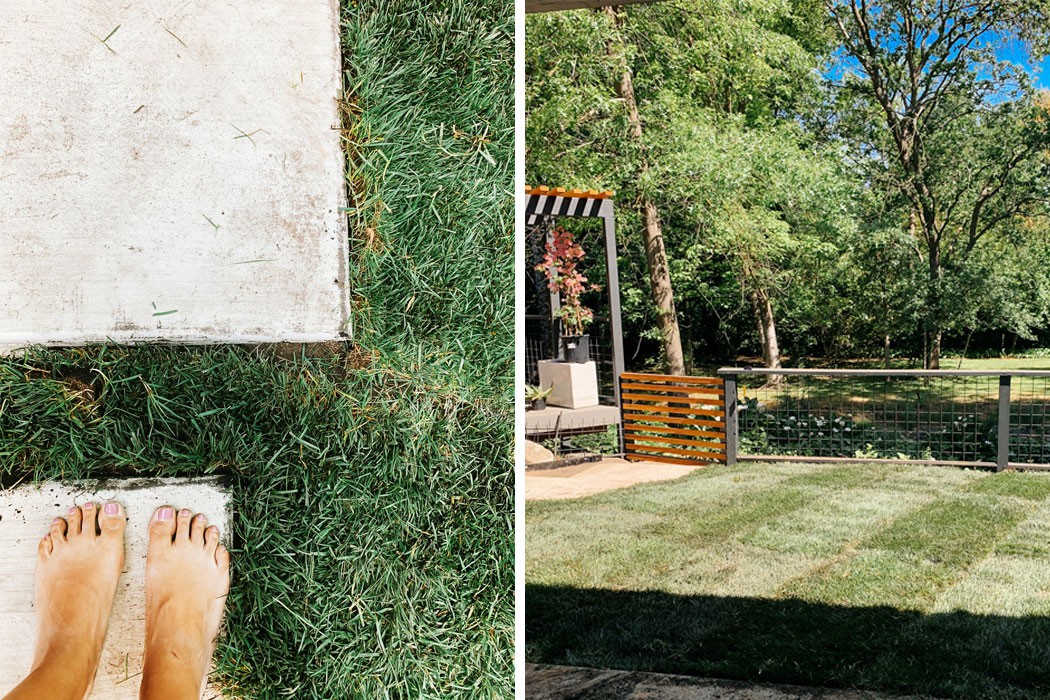 What kind should I choose?
Did you know there are 19 blends of sod available including mow-free and specialty sport turf? Not all lawns are created equal, and have their unique characteristics depending on your usage and maintenance needs. Green Acres Nursery & Supply has a knowledgable and friendly(!) staff that really helped guide us with our choice. Even easier, their website now allows you to research and order sod right from home. We went with the Bolero Plus premium blend recommended for our region and use. Hardy and heat tolerant, we were looking for a lawn that would also put up with cartwheels and doodle zoomies.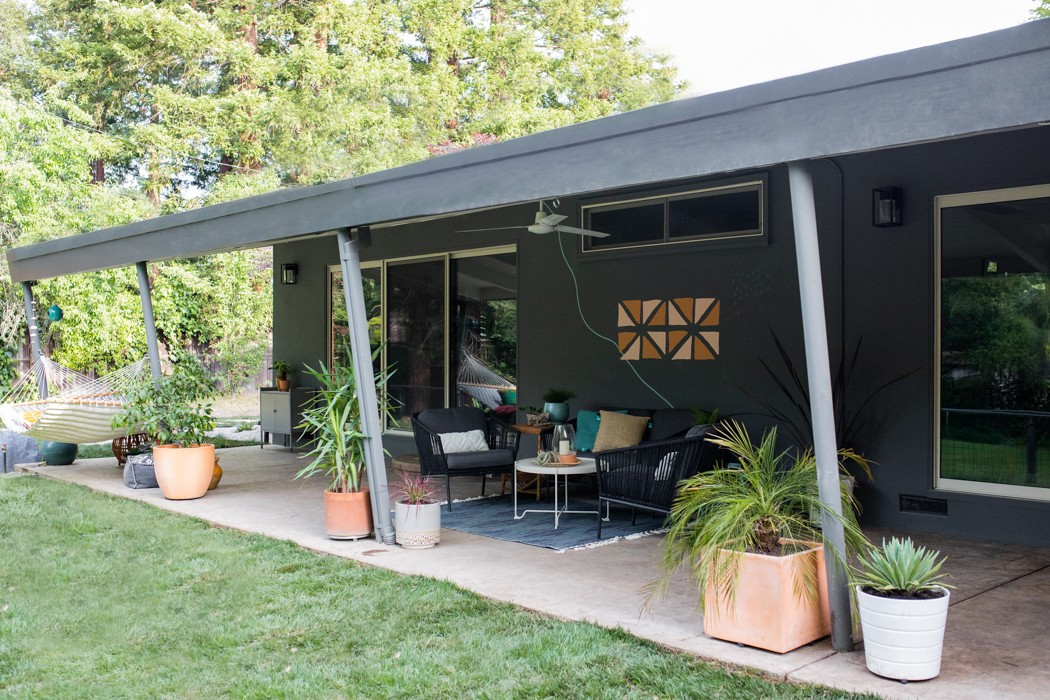 How to prep for sod
I highly recommend consulting with a landscaper and/or local nursery. Charles from Shipshape Landscape was my go-to and helped us with this part of the project. Together we did some advance planning on where the irrigation would need to go as well as landscape lighting before getting started. Here's the basic overview:
If there is existing vegetation/lawn you need to remove the roots using a sod cutter or tractor. Clear all large stones and rocks.
Roughly grade the area to allow for proper drainage and provide a level surface
Trench for irrigation and electrical for landscape lighting. This can be done by hand, but we rented a trencher for a couple hours and it made very quick work of it.
Install irrigation

 pipes in trenches and add your planter bed edging (we used DuraEdge steel edging on our outside planters)

Set any stepping pavers if needed
Add 4-6 inches of recommended topsoil
Add fertilizer
Before laying the sod, thoroughly wet the soil
Roll it out the green!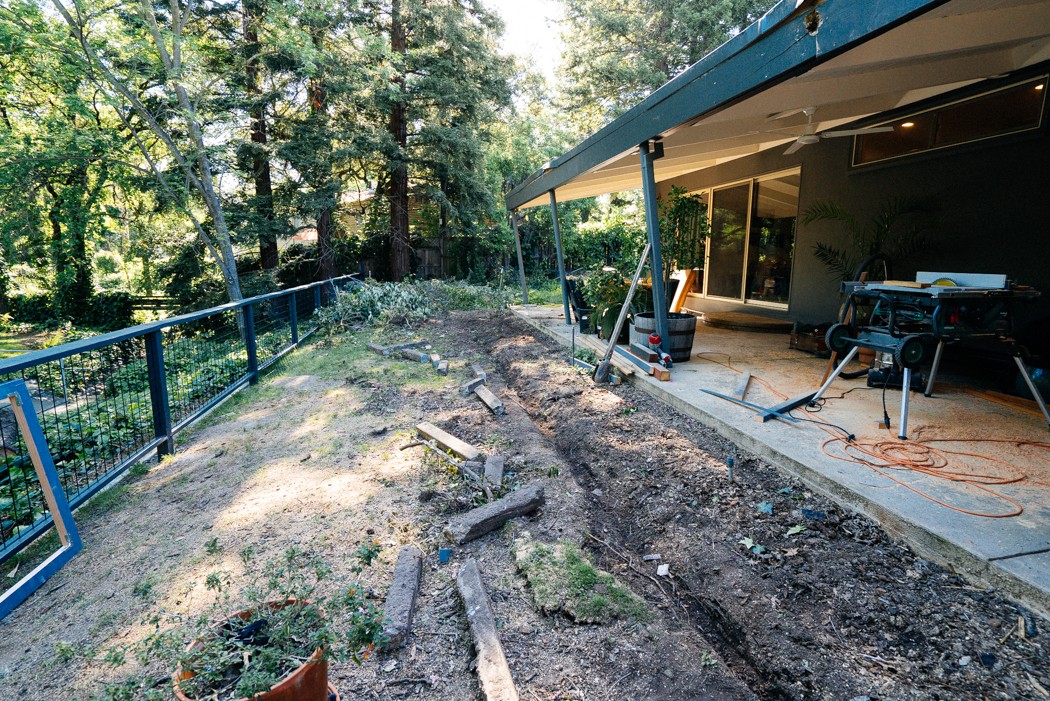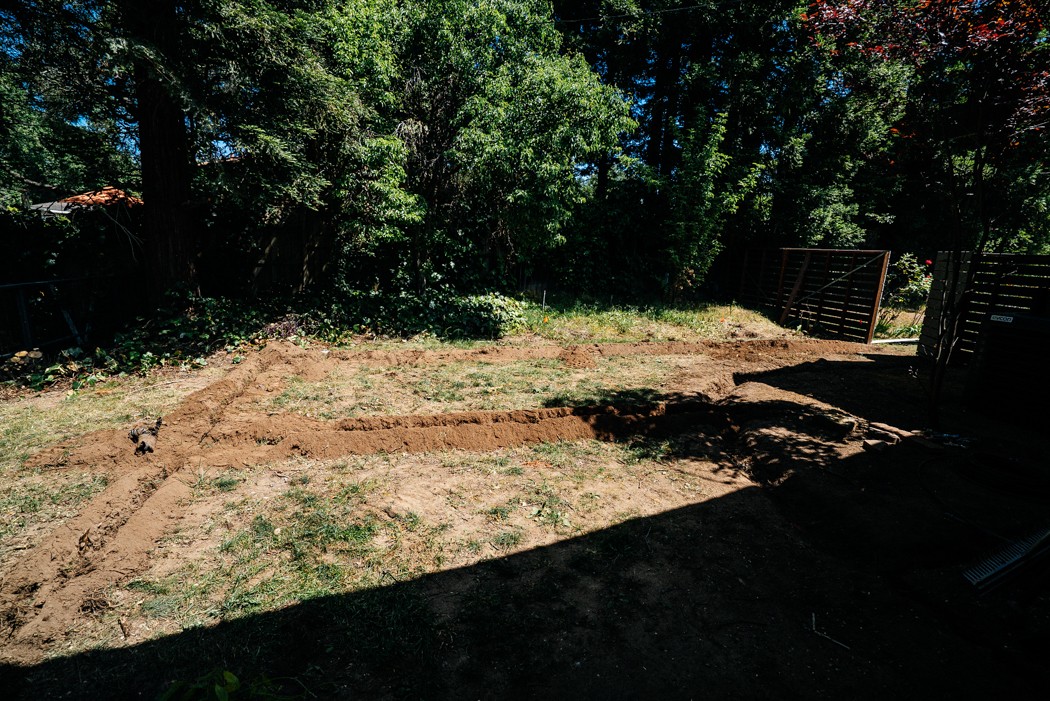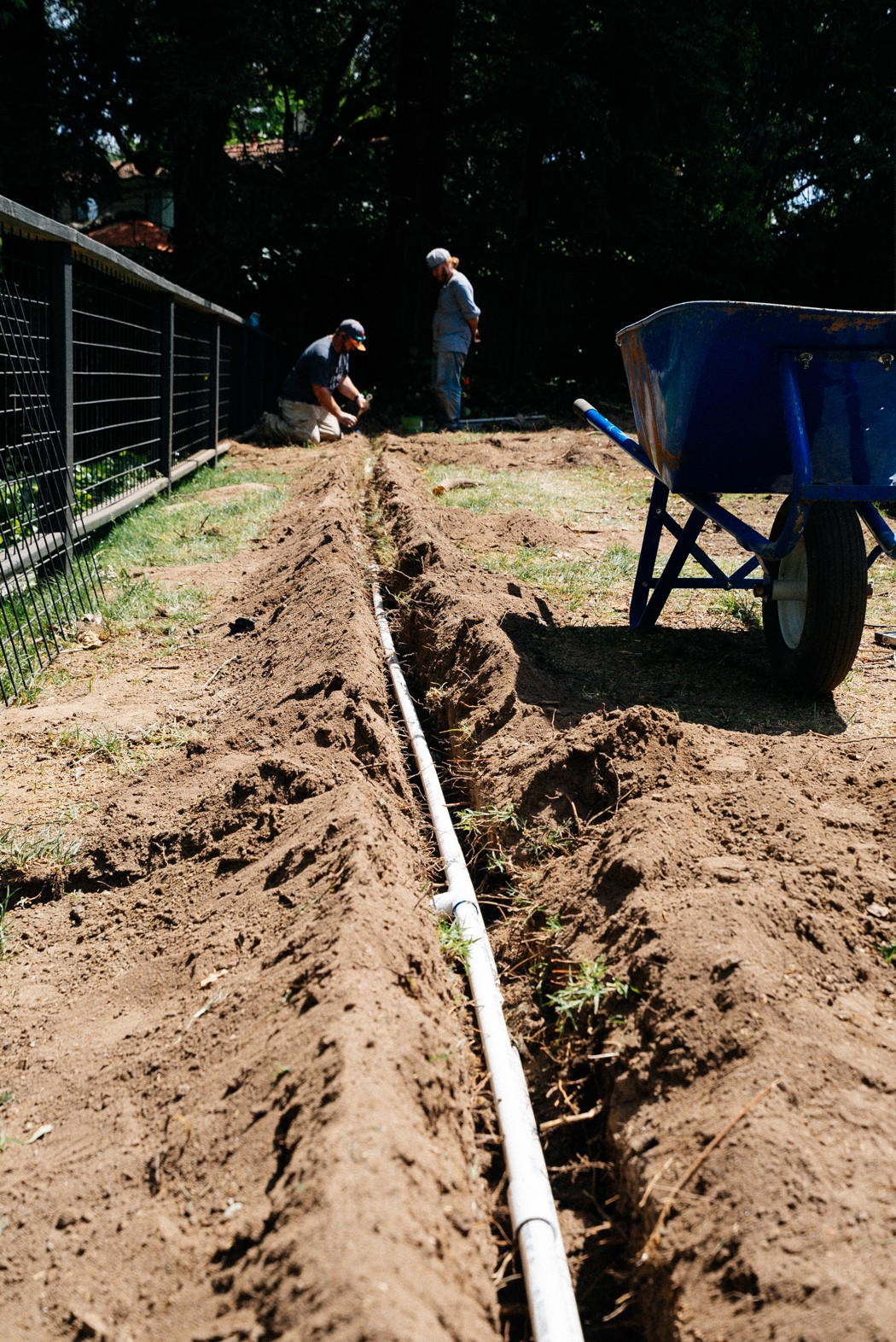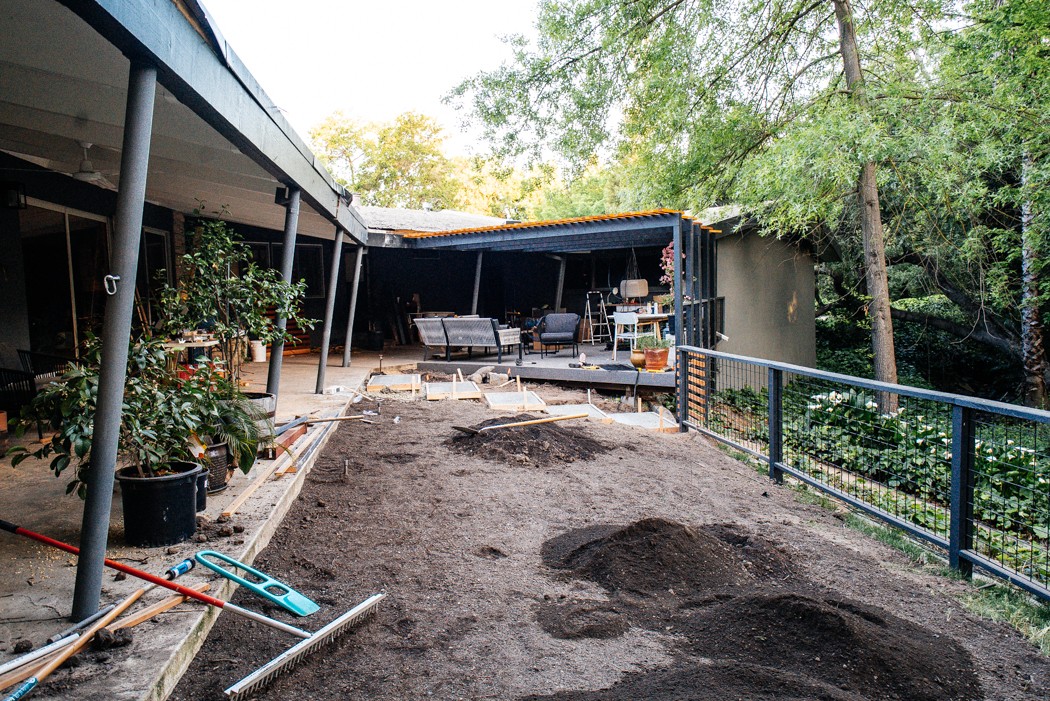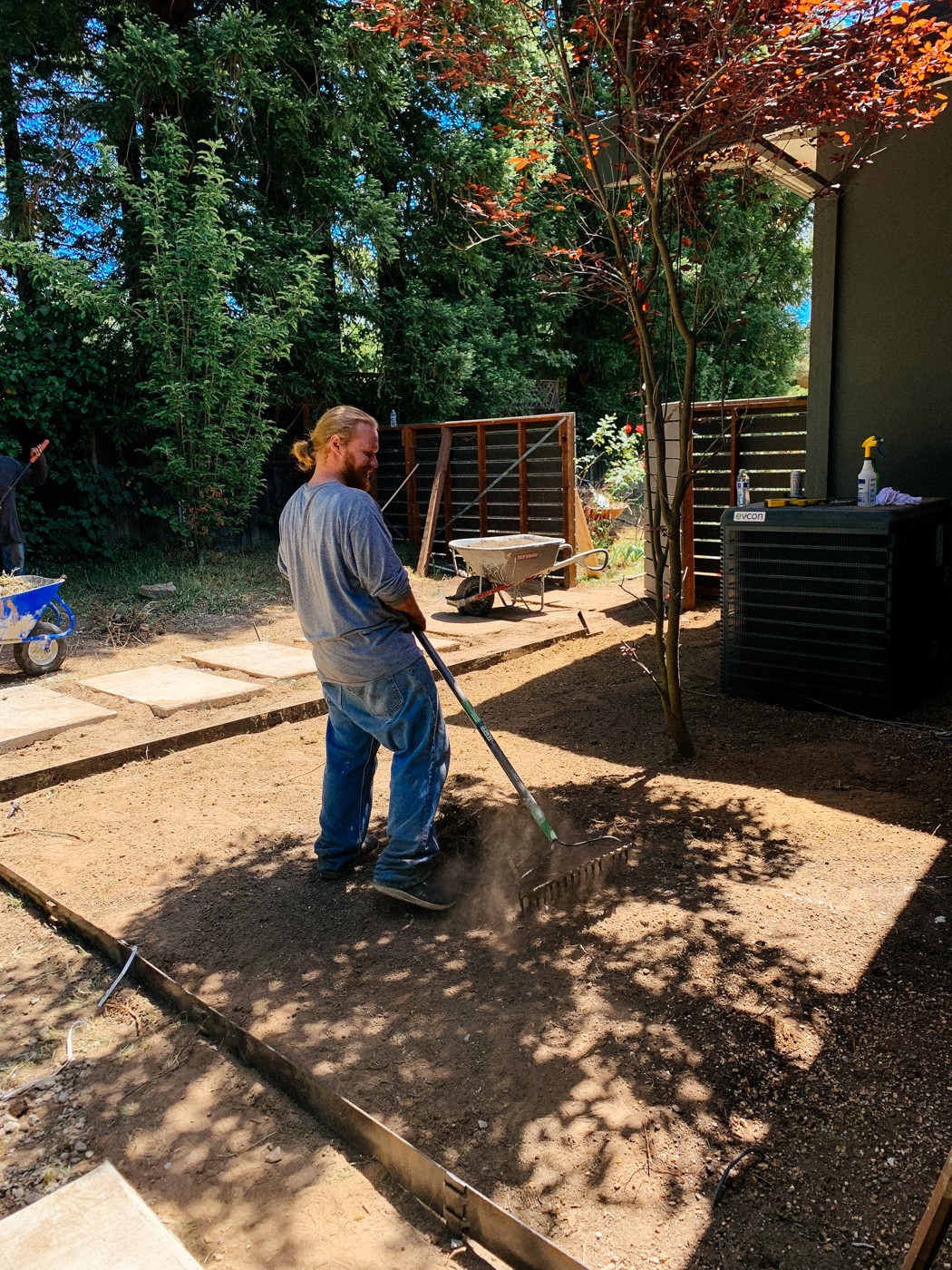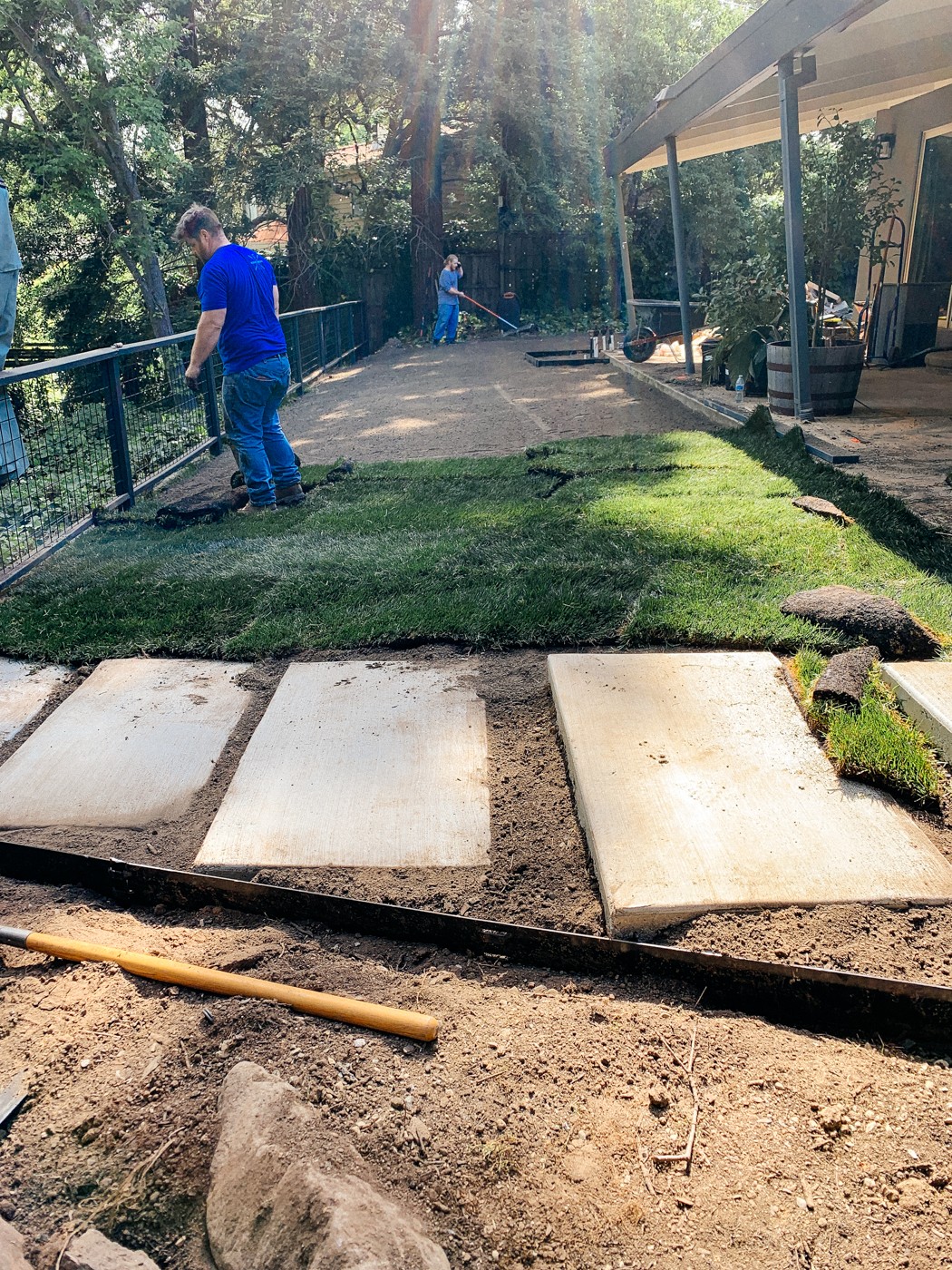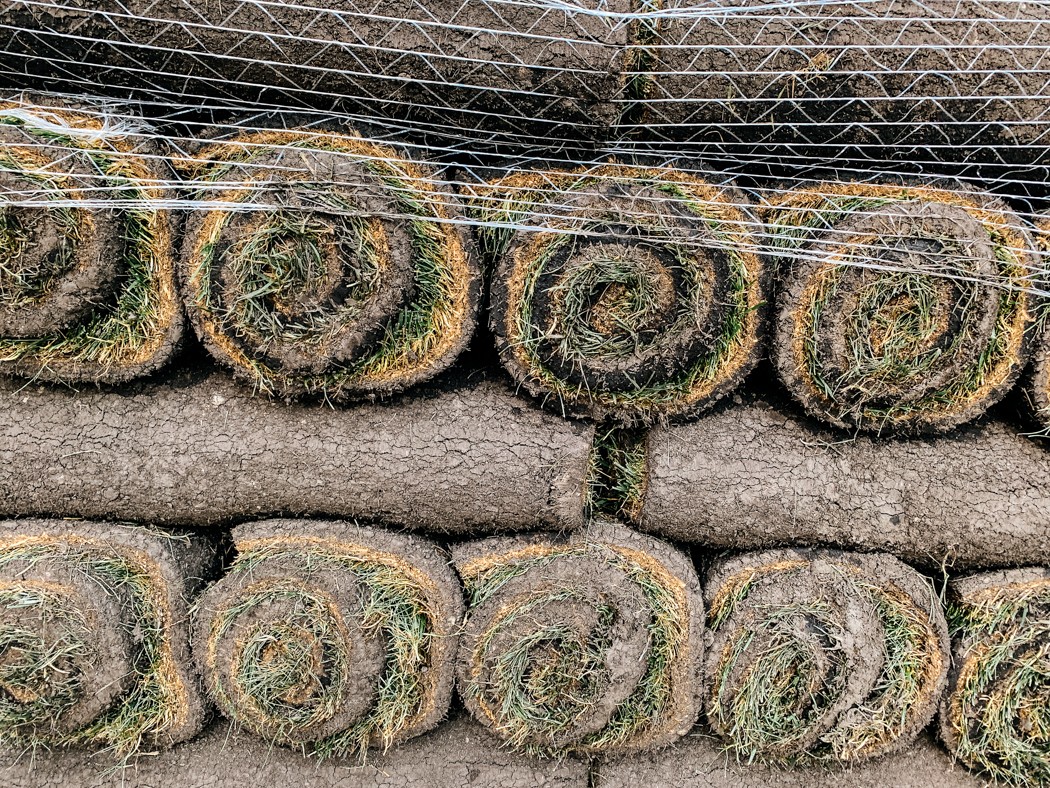 If you're planning on freshening up your lawn go to idiggreenacres.com to order sod. You'll need to order a minimum of 20 rolls and with free delivery on orders over 100 rolls (For reference, our lawn was 110 rolls/1100 square feet). They service throughout northern California – from the Bakersfield area up to the Oregon border and from the coast to the Nevada border.
And if you're not the DIY type there is an option to have Delta Bluegrass Company install the sod for you–find more information here.
Supplies
Here are some additional materials needed to tackle your own sod installation. They can be purchased or rented from any Green Acres locations or delivered with your sod order!
If you can imagine, we are completely in love with our entire yard. Its like we added a huge addition on to the back our our house, and we are getting so much use out of it. The good folks at Green Acres came out a couple weeks ago and interviewed me giving a tour of the place if you want to see more in detail!
Thank you so much Green Acres Nursery & Supply! With your help we completely transformed our yard and couldn't be happier!