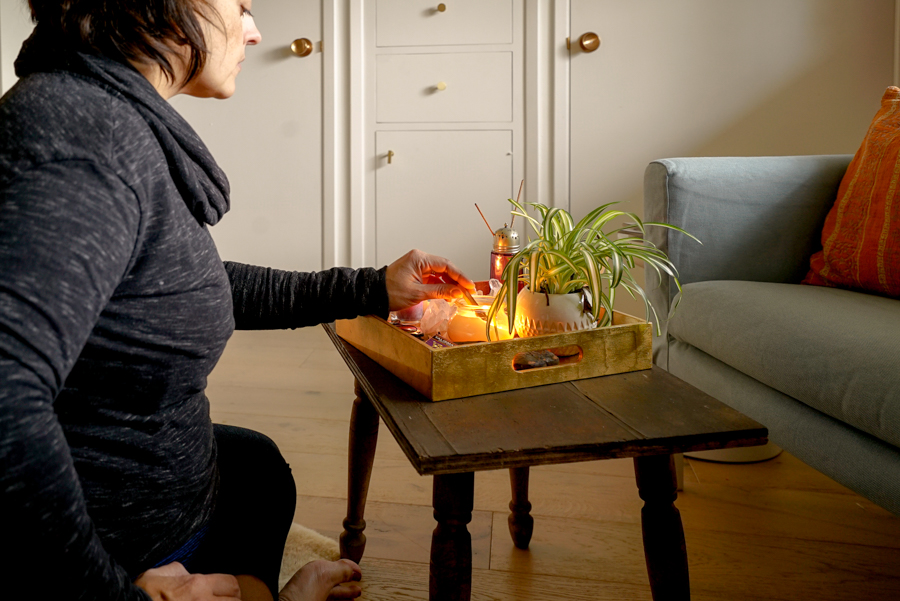 Are you guys sick of me talking about my little routines yet? Well, here's one more for you. I've been meditating erratically for the past few years but haven't stuck to a consistent practice until recently. I suppose I started when I was pregnant and would listen to guided meditations for relaxation. I didn't know that's what I was doing at the time, but realize now it helped get me through a trying labor. When I do make it a consistent, regular thing its immensely beneficial–my mood improves, I have better focus, and a lot more energy. This year I'm committing to daily meditation, even if its only 5 minutes. Let me qualify all of this by saying I am no expert, I am very easily distracted, I hate doing the same thing everyday, but the act of sitting without outside distraction really, really helps. Its a huge change for me to actively carve out time for my health and I've made it part of my morning routine.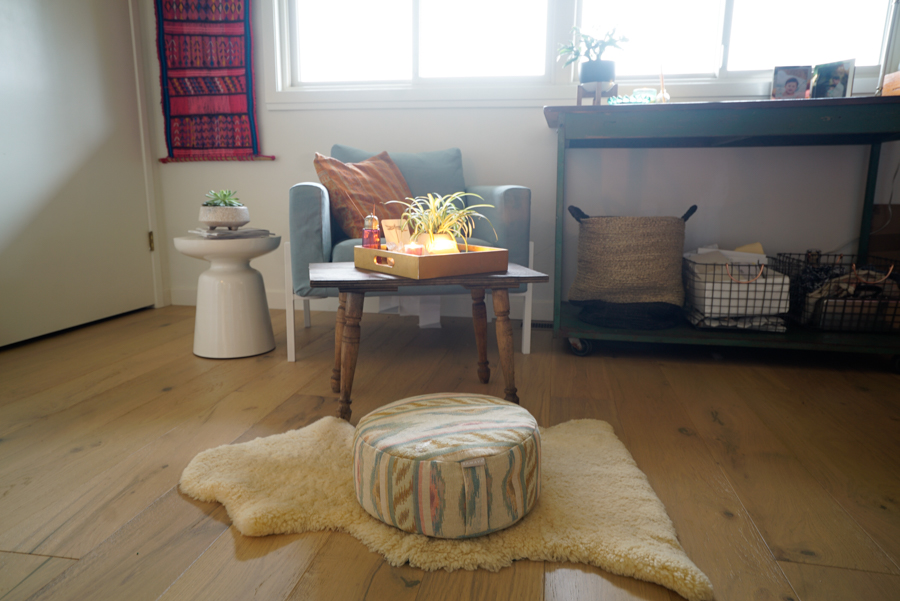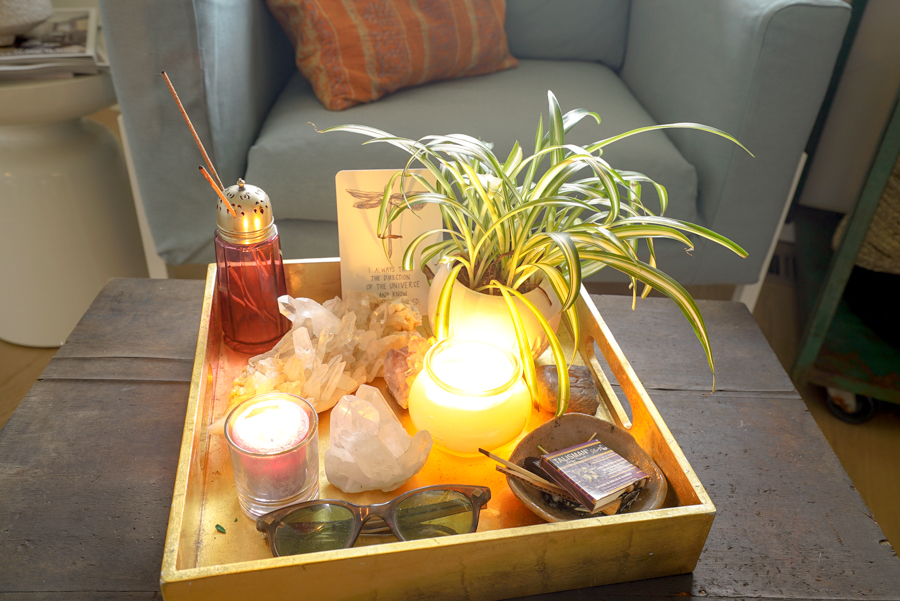 This routine includes sitting in the same spot in my office facing the cleanest corner (less messy things to annoy me). I put a sheepskin under my cushion and settle in front of a 'meditation altar' that's meant to use all 5 senses. This is all kind of woo-woo, but its been hands-down the best technique for finding a daily practice. My altar includes: candles, crystals, my grandfather's glasses (he's my creative spirit guide), an oxygen-giving plant, and other small, natural objects that bring happy memories and inspiration.  I've made the practice a little ritual by lighting candles and palo santo that now helps trigger relaxation and calm when it hits the air. I loooove it. And since I have a nosey 3-year-old and pokey puppy, its all on a tray that I put up high when I'm not using it.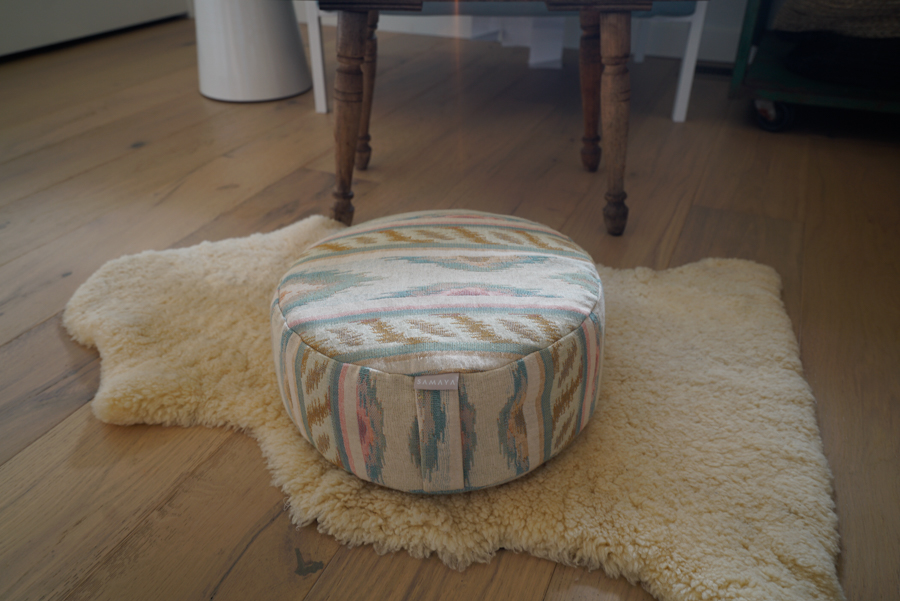 When I first started, I'd sit in a comfy chair but it was a little too cozy for me. I'd get sleepy and tend to doze off which was still relaxing, but didn't help with my focus. A couple months ago I invested in a meditation cushion to keep my posture straight while still being comfortable. Of course, I had to find one that I liked the look of and looked cute in the house (I still have my priorities).  I ended up with the one from Samaya and totally love it. Bonus that it doubles as a little coloring station for said toddler when she's in the office with me.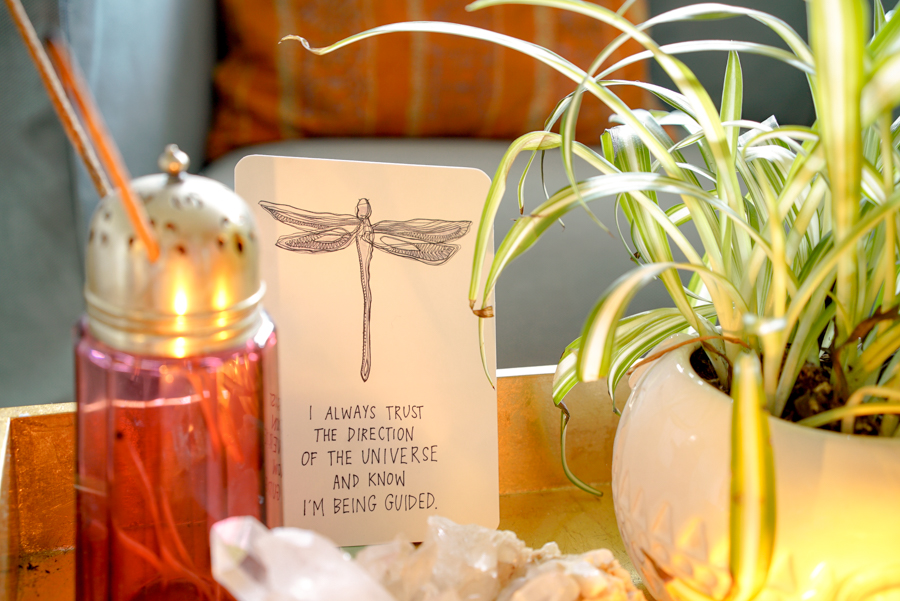 More meditation tips for beginners
There's an app for that I started with Headspace, which is a really well-designed, guided platform that gives a really good 'how to' as well as the benefits of a daily practice. The instruction helped me in the beginning and answered a lot of questions I had. I now use Insight Timer, which is free and can really be customized to your own practice. You can meditate with just a timer and ambient sound (or quiet), search thousands of guided sessions from the community and set goals while tracking your progress.
10% Happier The memoir by journalist Dan Harris was the first book that peaked my interest in meditating. He tells the story of his journey from a skeptical, highly-stressed individual to devout practitioner.
#oprahforpresident I did the Oprah/Deepak 21 day Challenge this summer and fall and really loved it. They start a new series based on a theme every couple months, and if you follow along in real time its free. Sign up for their newsletter to get alerts on upcoming challenges.
Take a seat Most importantly, you need to be comfortable. I know some people prefer to lay down, some sit against a wall, others like the chair option. Its entirely a personal preference, but if you're like me and want to try a floor cushion, here's a round up of some of the favorites I saw when I was perusing the inter webs.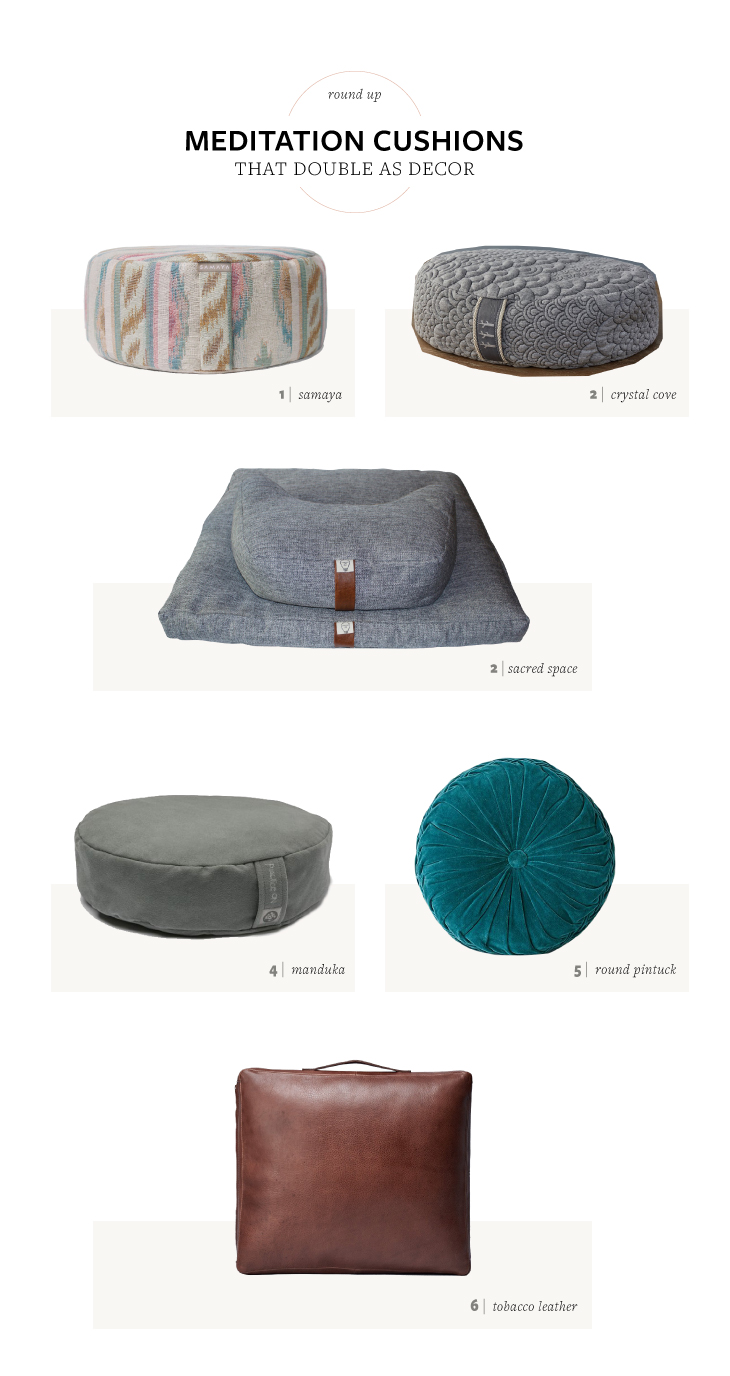 1 | Samaya Laurel Cushion $79 | Filled with organic buckwheat hulls, millet hulls, and a bit of dried lavender I love the clean lines of these and they come in great fabric choices. I wanted something that looked like a pouf and didn't take up too much space.
2 | Crystal Cove Meditation Pillow  $59 | A lower profile cushion this one has a stretch knit cover filled with buckwheat hulls.
3 | Sacred Space Kit $119 | This setup looks really comfortable and was a tempting choice. I love that there is a cushion for your legs and has nice fabric options.
4 |  Manduka Meditation Cushion $35 | Another simple style, I like that you can customize the buckwheat hull filling to suit your preferences. The quick-drying fabric makes this a good option if you're practicing after yoga or exercise.
5 | Round Pintuck Floor Pillow $39 / Not originally intended for meditation per se, but it comes in a ton of colors, is a soft velvet and could turn back into a throw pillow when not in use.
6 | Leather Tobacco Cushion  $89 / WIth beautiful grain leather, this is option is a little more masculine in nature and adds a natural texture to a space.
SaveSaveSaveSave
SaveSaveSaveSave
SaveSave