This post is made in partnership with Clare.com paint and supplies, but all opinions are my own.
There comes a point in every small business owner's life, when they need to ask themselves a very important question. "Does my home office suck?" The answer is almost always yes, but for some, clever organization and a  dedicated work routine can be all they need. For others, like myself, the flotsam of daily family life commingling with the jetsam of a design business was reaching critical mass. My home office is right off the back door and kitchen, which means its a convenient place to stash all the junk we don't want cluttering our countertops and floors. Plus all the material samples, thrifting haul spoils, and packages from my work was just not conducive to focus or enjoyment.
So, when my friend Wendy asked if I wanted to go in on a small room downtown that we could call our own, I was all over it. We'd been roommates in a past life, have complimentary business skills (she's a bookkeeper), and most importantly, she gave me free rein on decorating.
The office space we chose is perfect for our needs (quiet, ample storage, away from our messy homes), but lacked much personality. Its a 300 square foot square room in a converted motel in the heart of downtown. With the miracle of Clare Paint, a few small upgrades and some furniture, I'm pretty impressed with how it all came together!
Before
Here are some before shots. We asked the previous tenant to leave the shelving unit and curtains since we would be using that same area to store (and hide) our office supplies and my material samples and inventory. So ya, its a little institutional, the lighting was unattractive and not bright enough, and we needed some color to warm it up.
I played with a few floorpan options but we ultimately decided we didn't need traditional desks and liked the idea of one big table. This gave us flexibility to setup laptops, host meetings, and spread paperwork/materials out on. We tried these smaller tables and a rug I had but clearly weren't working so I went back to the drawing board.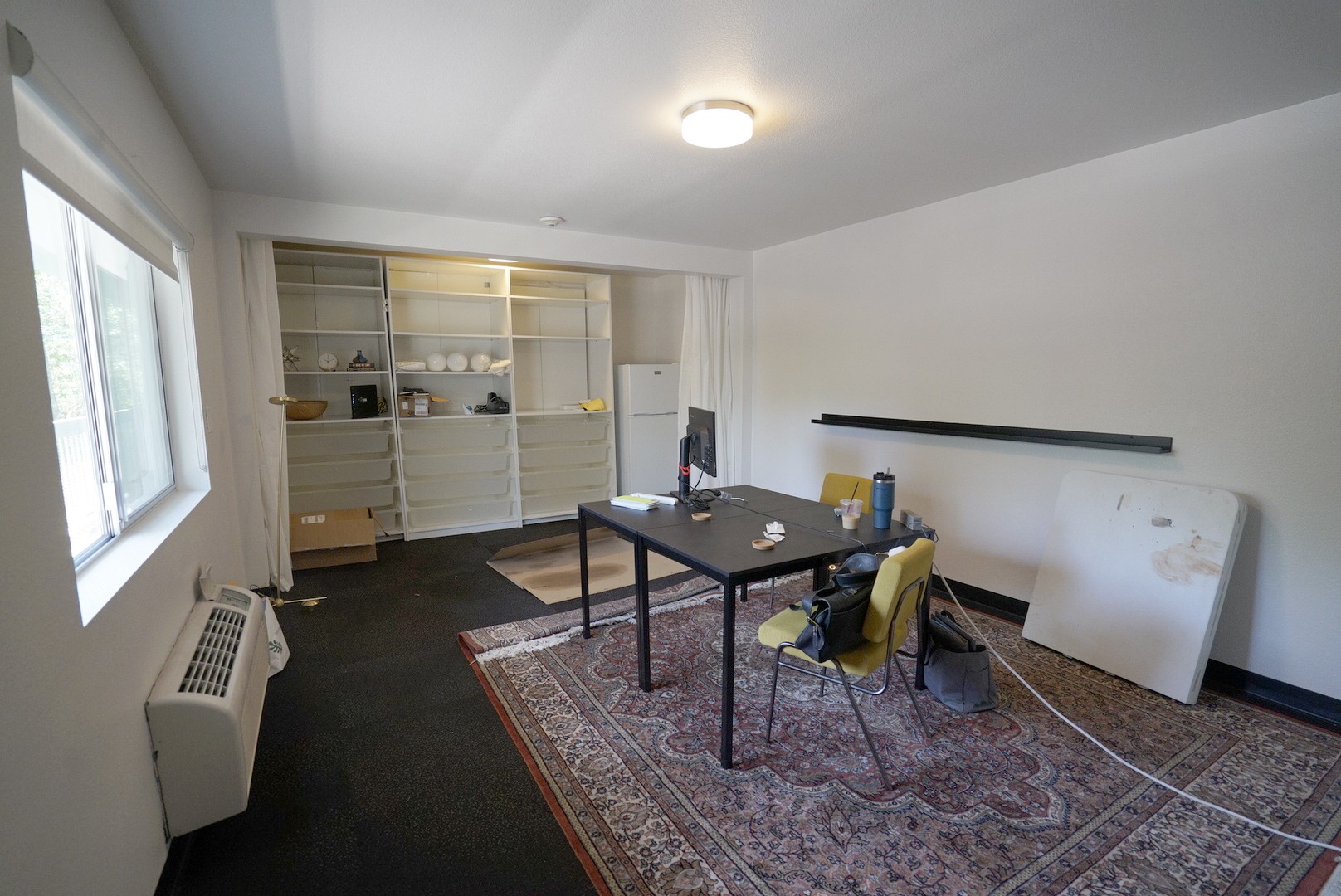 Inspo
Wendy and I both knew right away we wanted the room to feel feminine and warm. I reached out to the online paint company, Clare, because I'd heard such great things about their product and love that its  founded by an interior designer.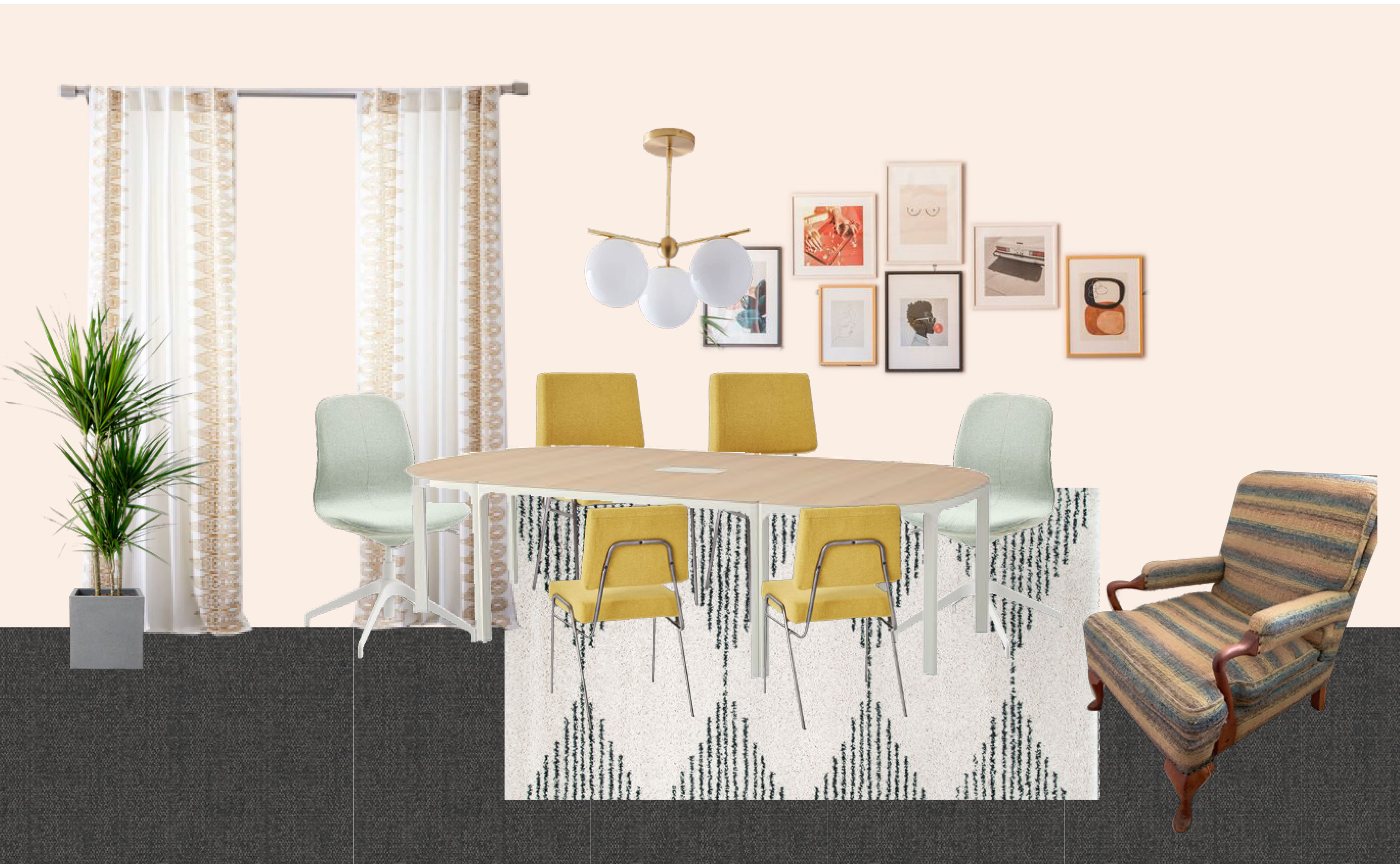 They offer an expertly curated palette of timeless colors with great names and keep it to just the necessities so as not to overwhelm. I love that you can order peel & stick Perfect Color Swatch samples, you stick them on the wall and there's no mess to clean up. Spoiler alert, we fell in love with Wing It and it became the jumping off point for the rest of the room.
Working with Clare from start to finish was so great. I love those sticky swatches, and the 5-piece paint kit was everything I needed to get to work. You know I love a well-branded product, all the packaging details show how thoughtful they are as a company.
After
Isn't this paint color so pretty!? Its so soft and warm and cozy but still brightens up the space. Its dusty, peachy, light but rich. The perfect blush. And since Wendy and I both graduated the same year as Donna Martin, we're calling our new hangout the Peach Pit.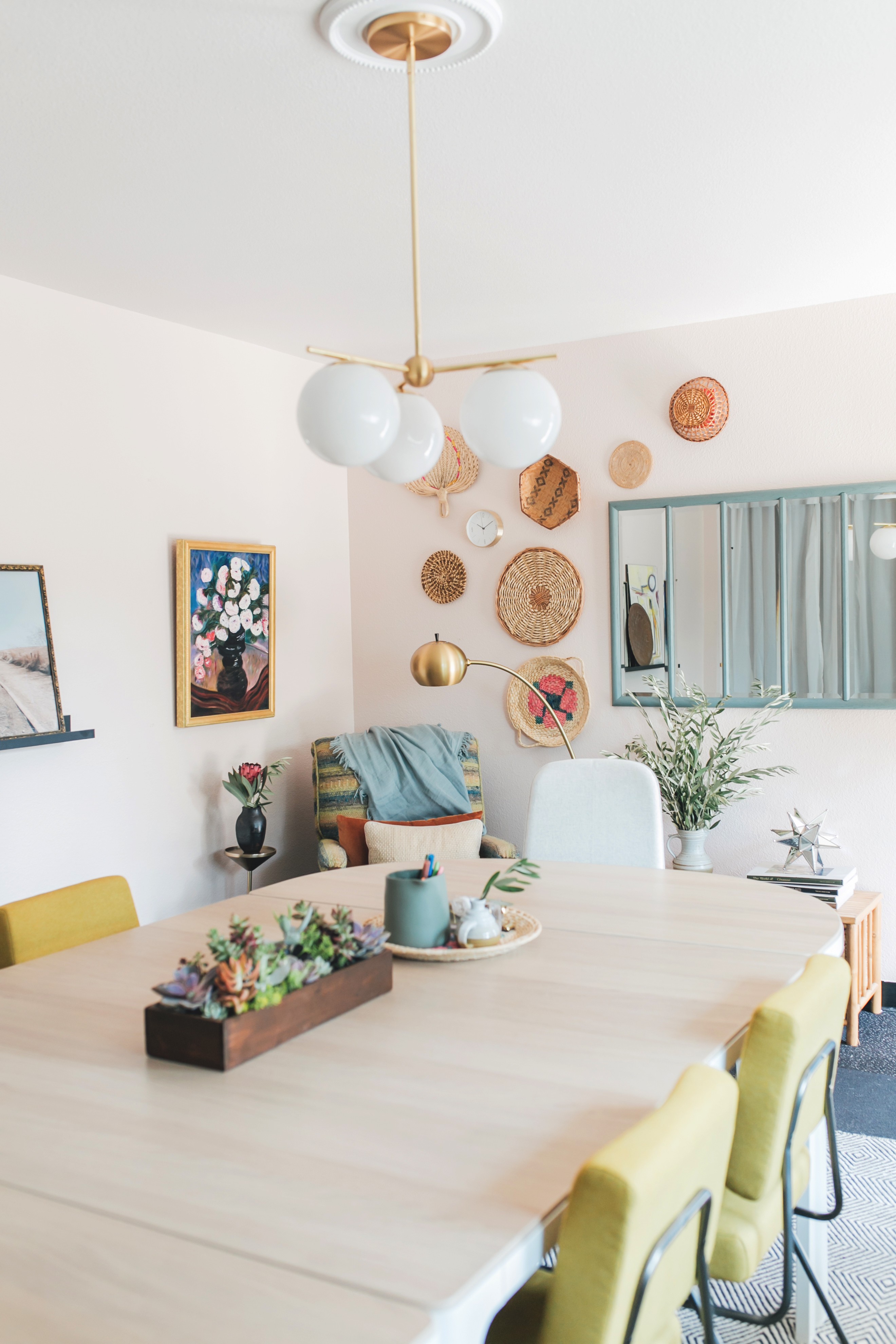 This Ikea conference table is the anchor of the room for a reason– is just good. Its big, its modular, it has good lines–its just what we needed. We picked up these dining chairs at a West Elm sidewalk sale and they are a nice, soft counter-balance to the "office furniture" vibes of the rolling chairs and table.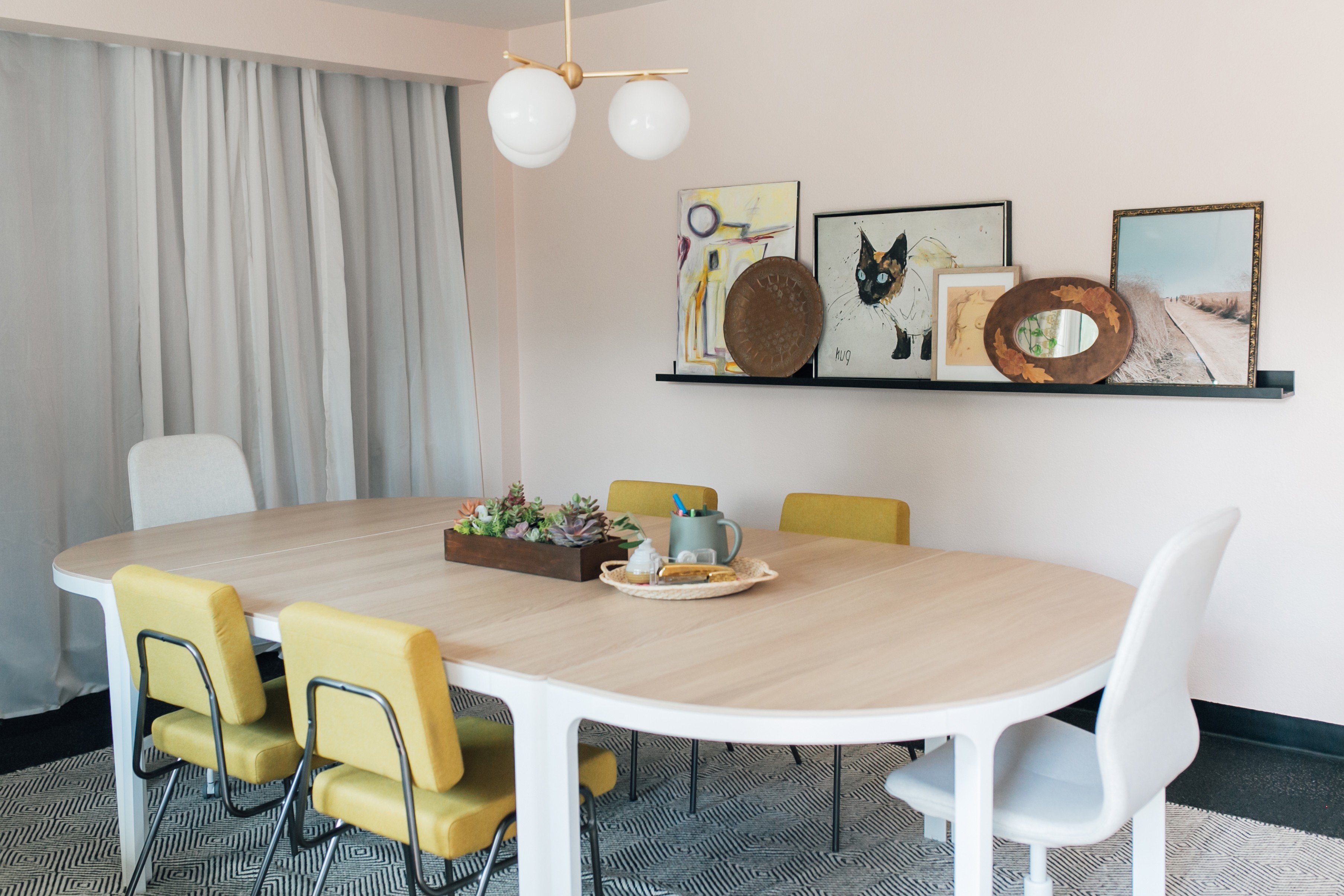 The light fixture really changed the feel of the whole room as well as added functionality. It no longer has a fluorescent flickering buzz, and it dresses everything up. I tacked up a ceiling medallion to cover up what was under the old one and it was a bonus architectural detail that's missing in here. The rug is simple and graphic, tying in the commercial carpet tiles.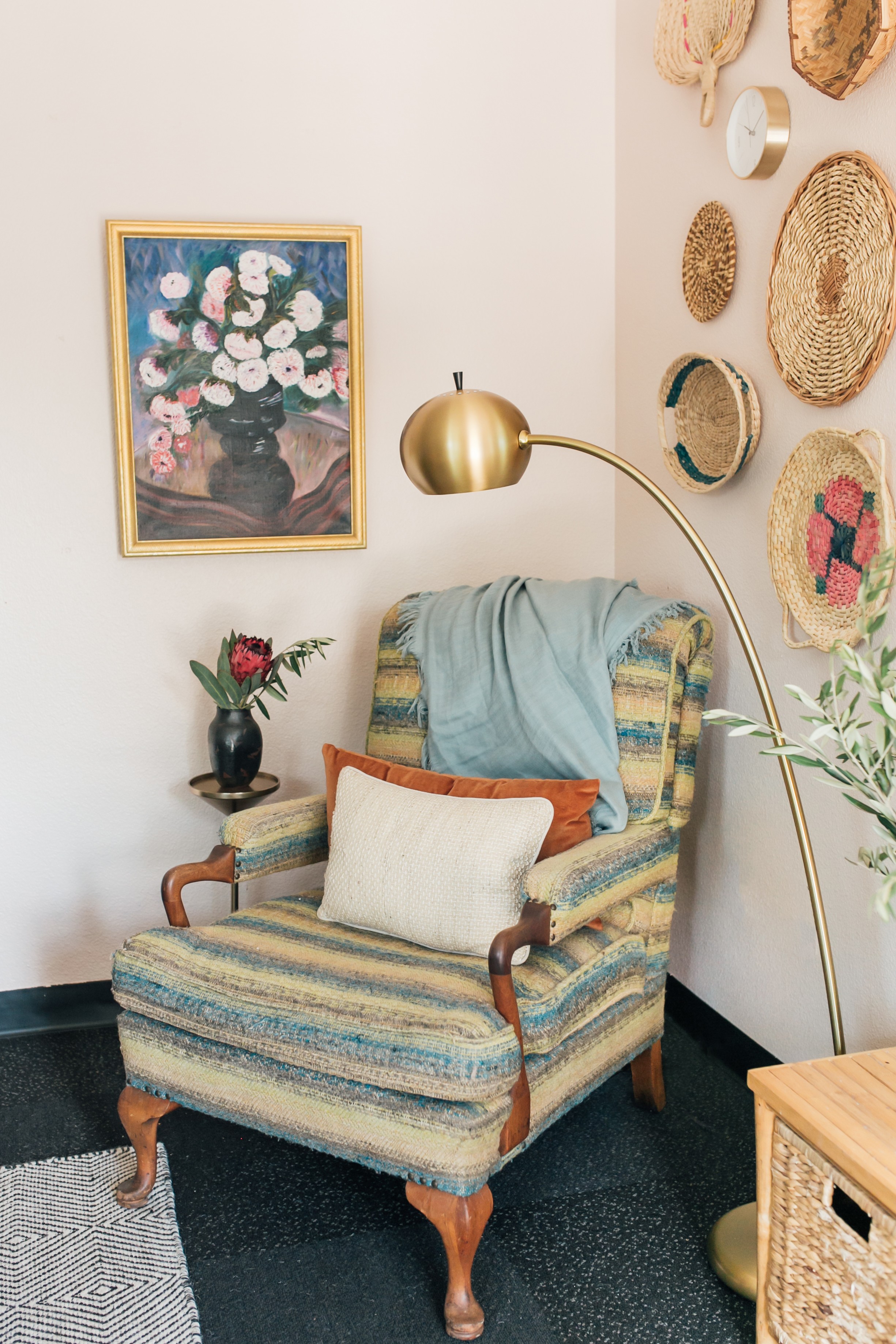 Everything else in the office, with the exception of the floor lamp, curtains and file cabinet, is thrifted. I bought this chair for $15 over 20 years ago and its been in every home of mine since. Someday I may recover it, but I also love the nubby stripes as-is.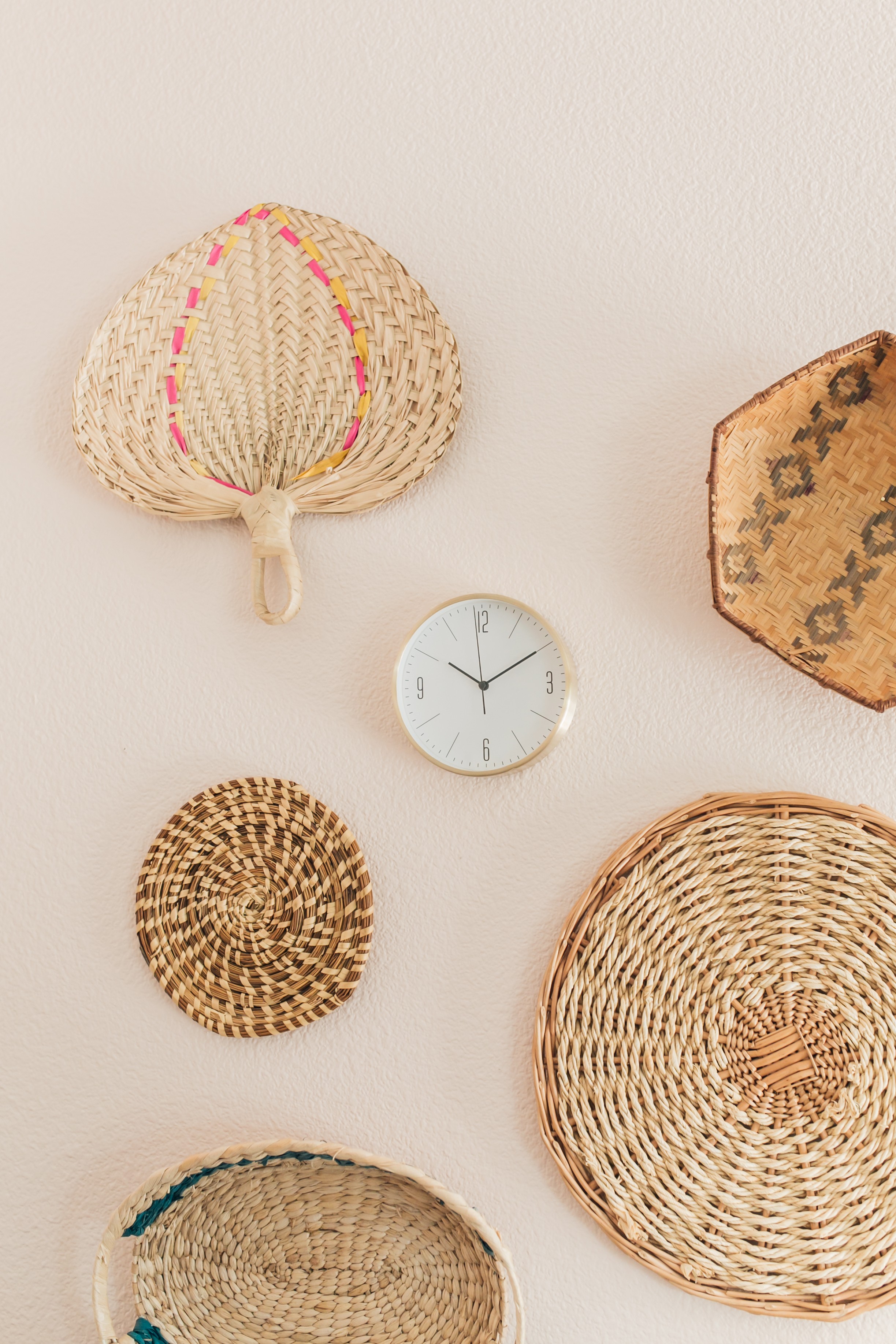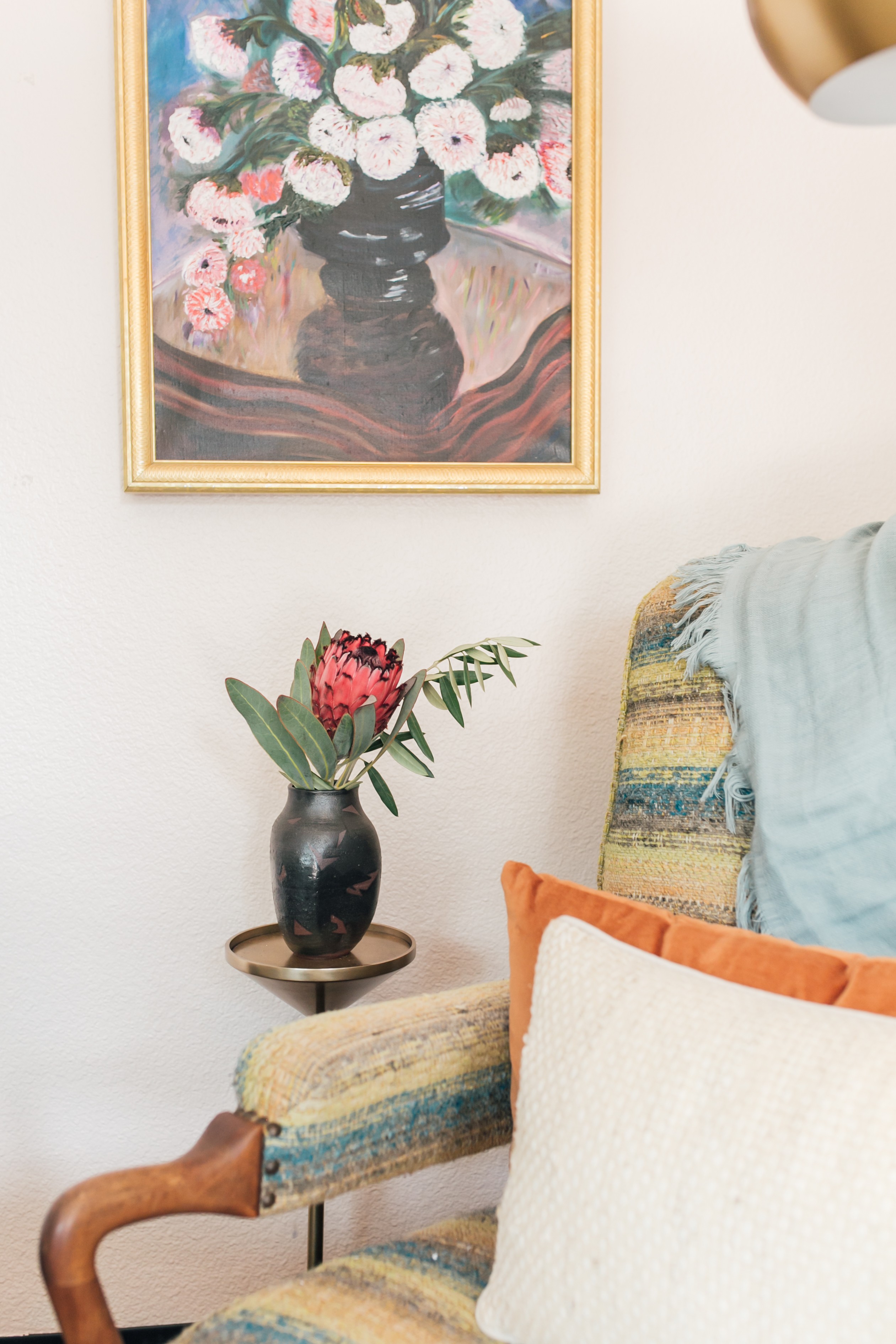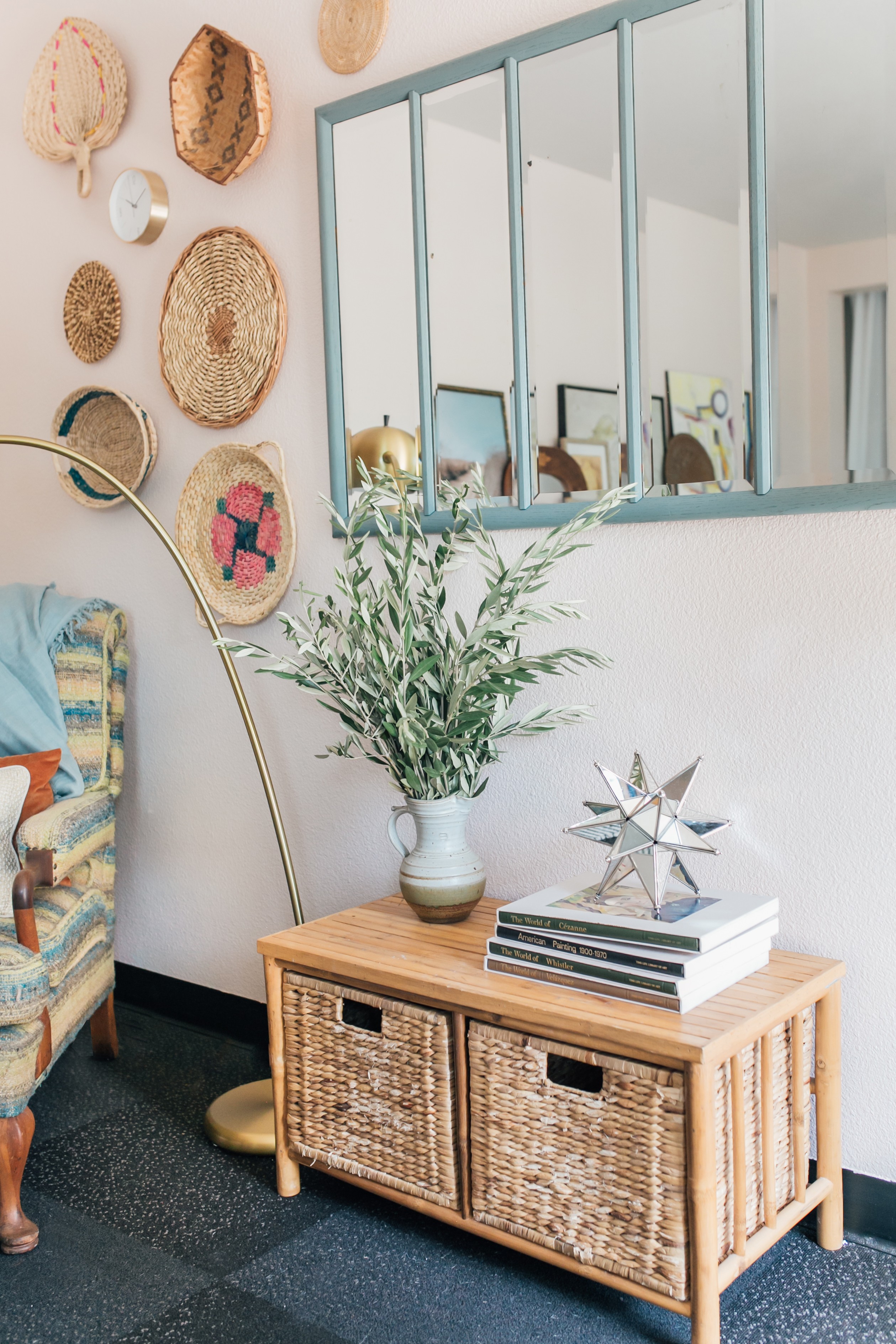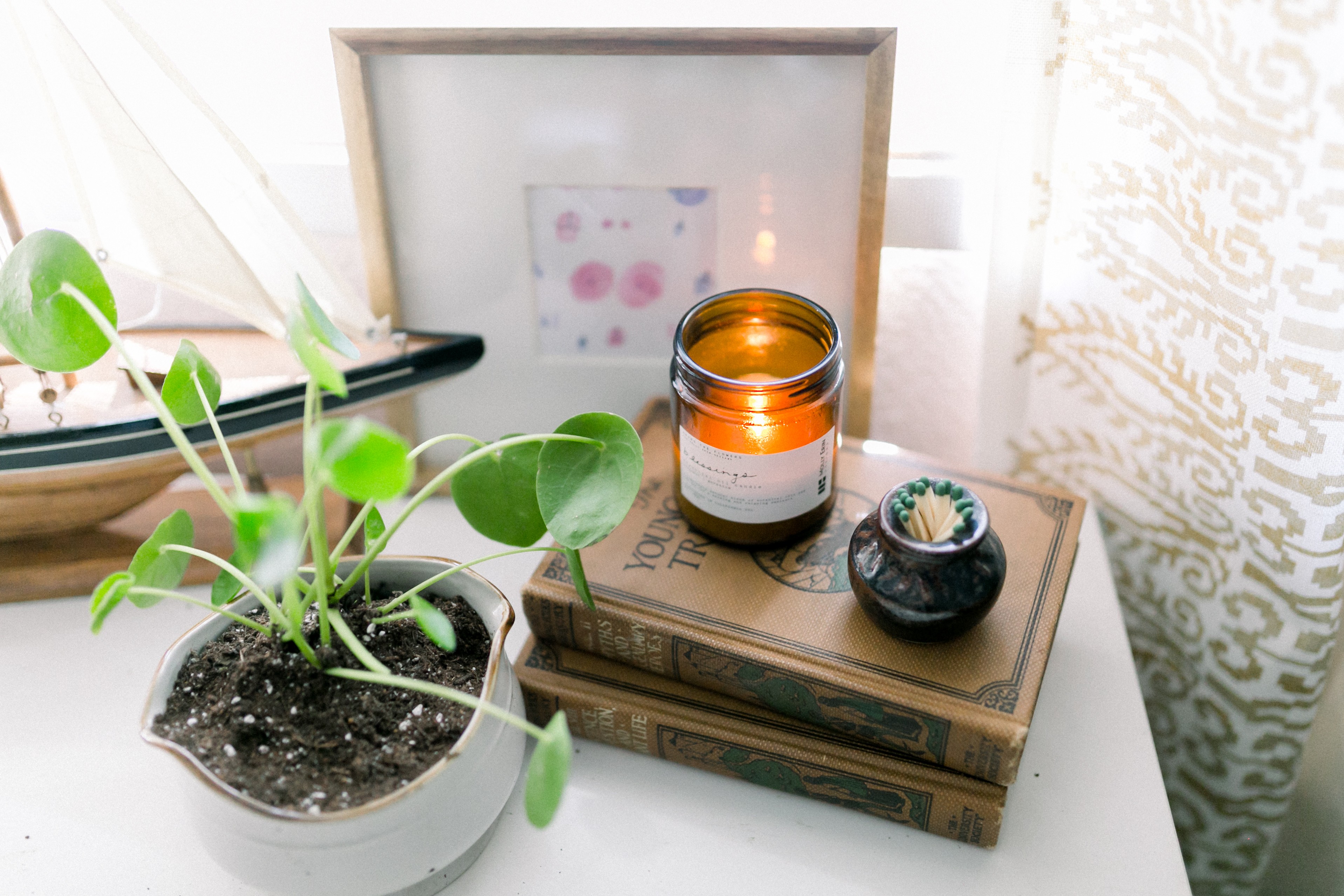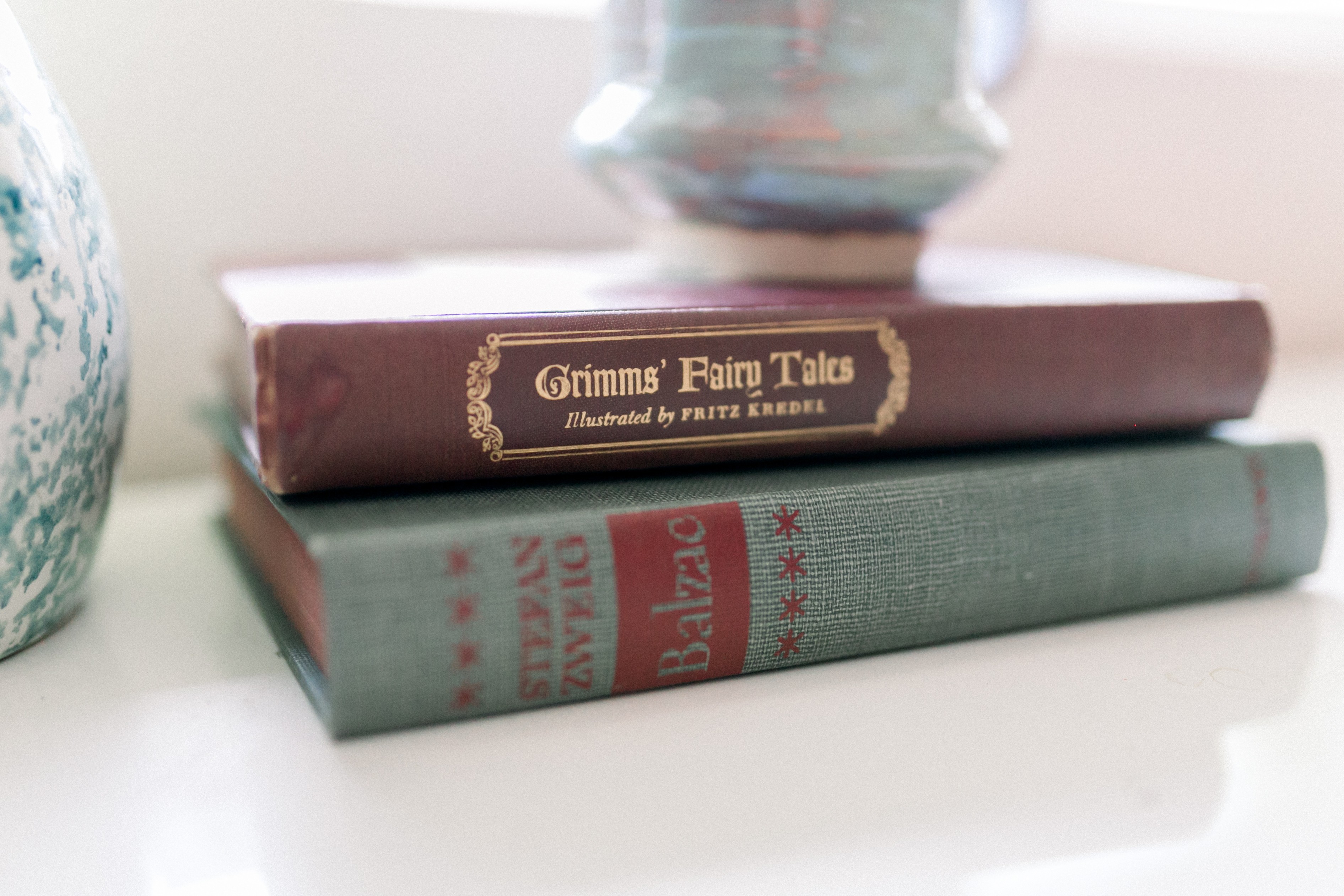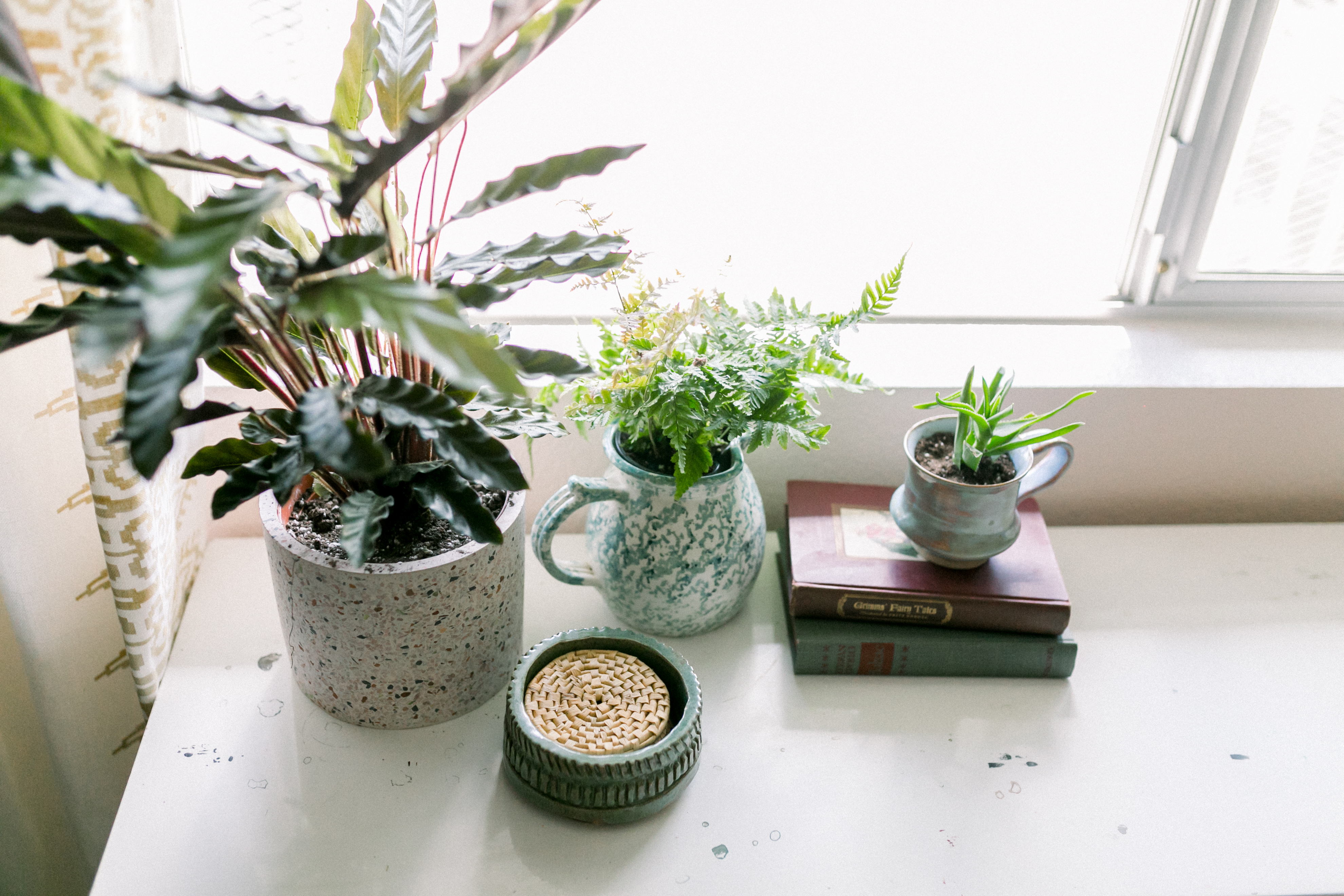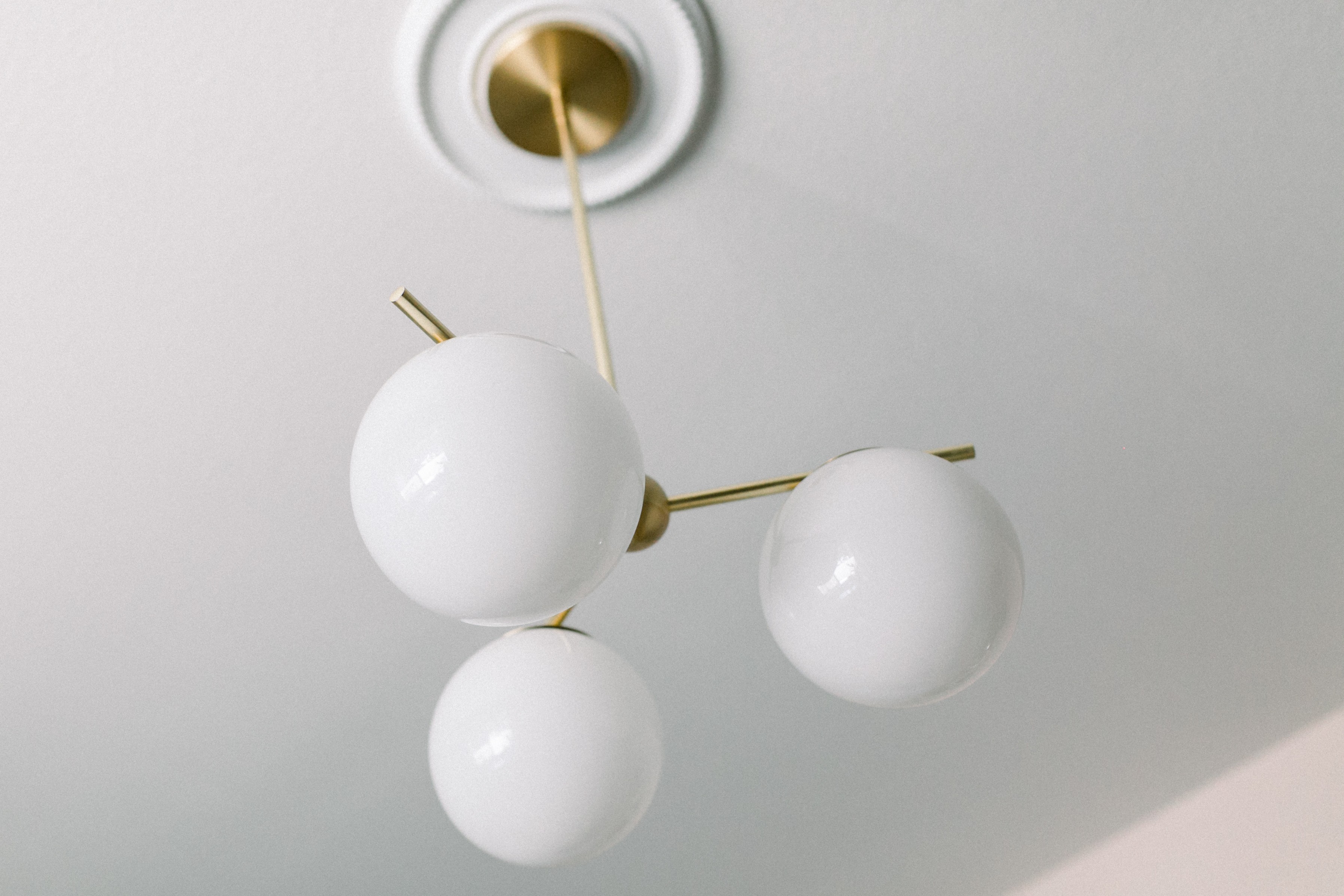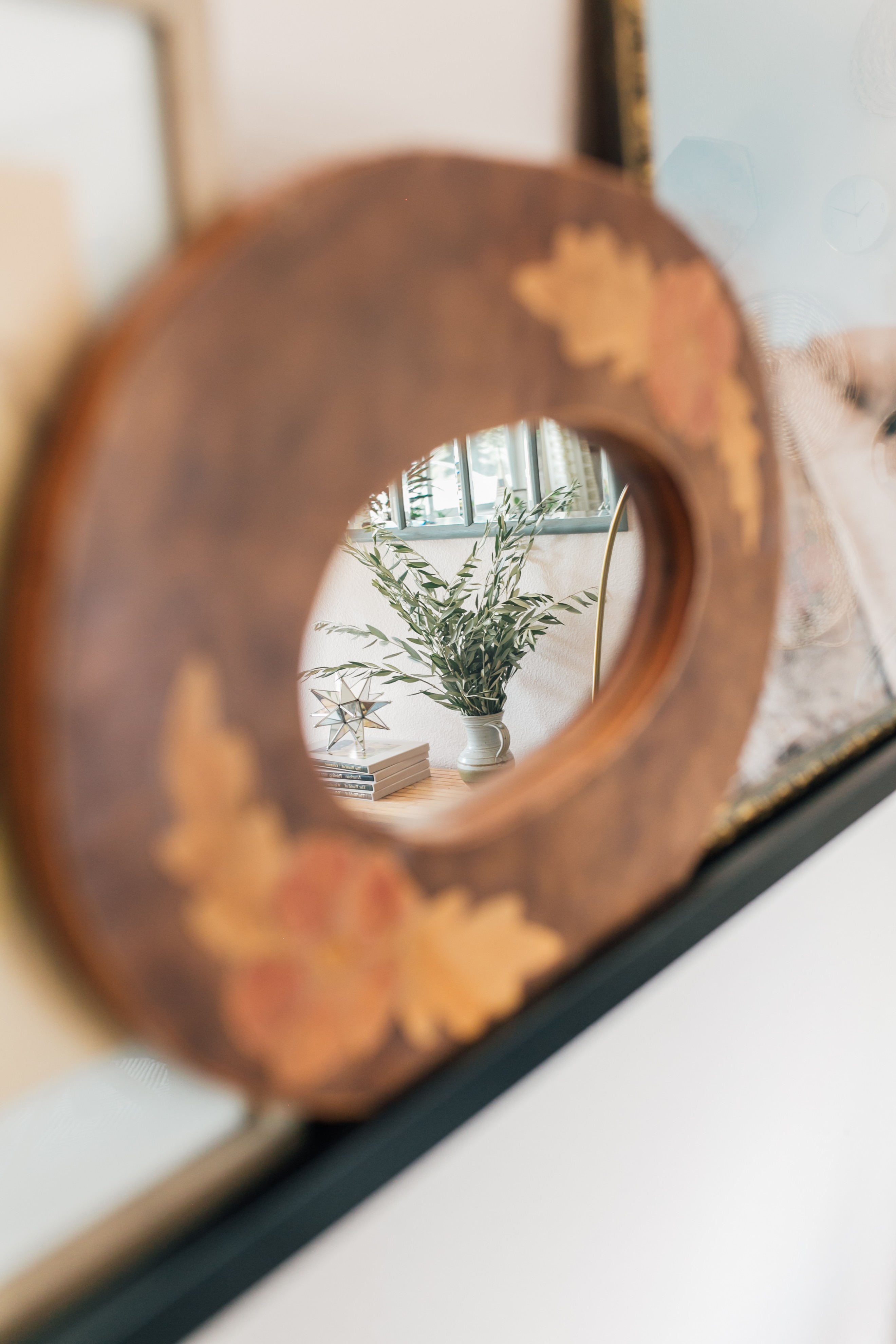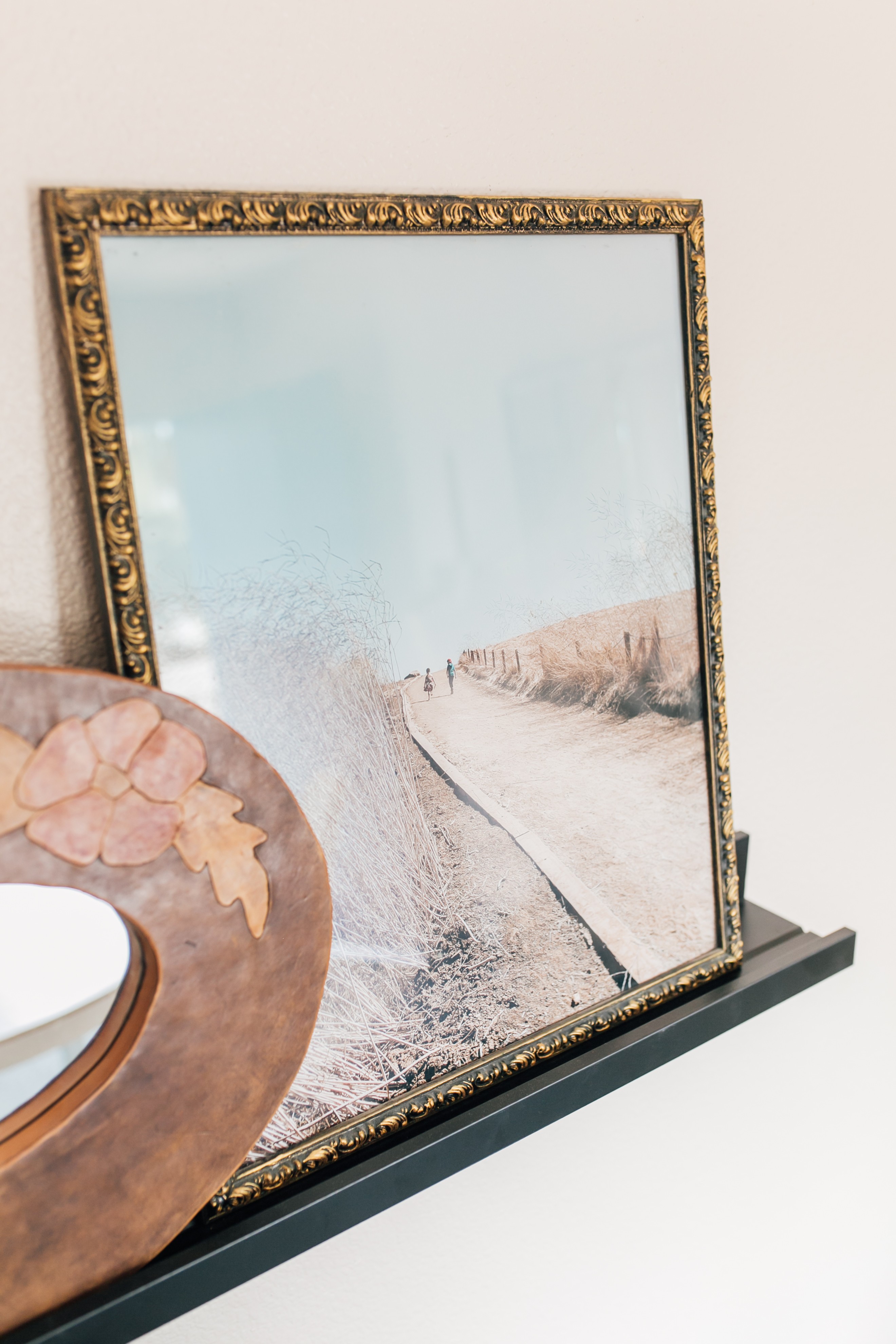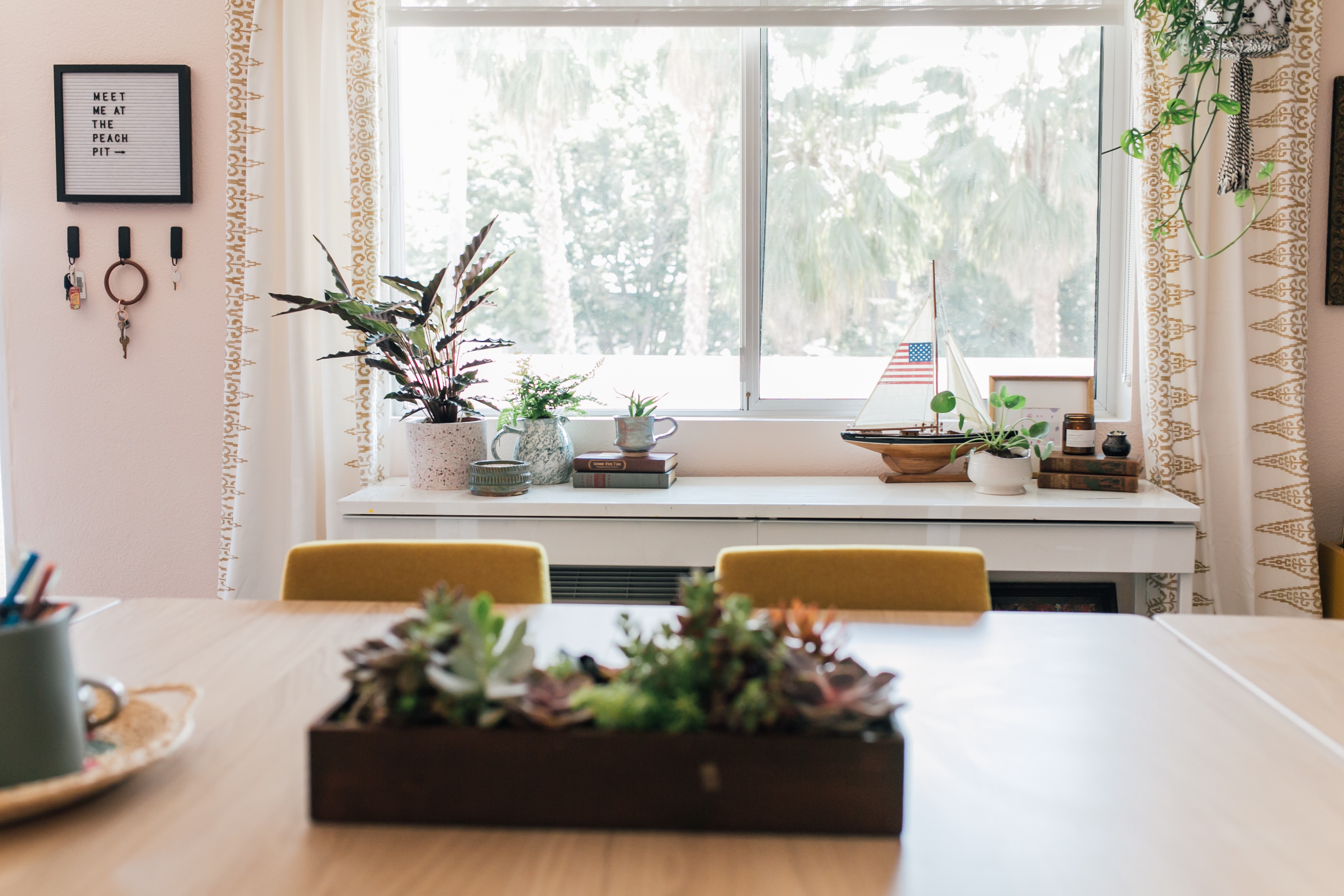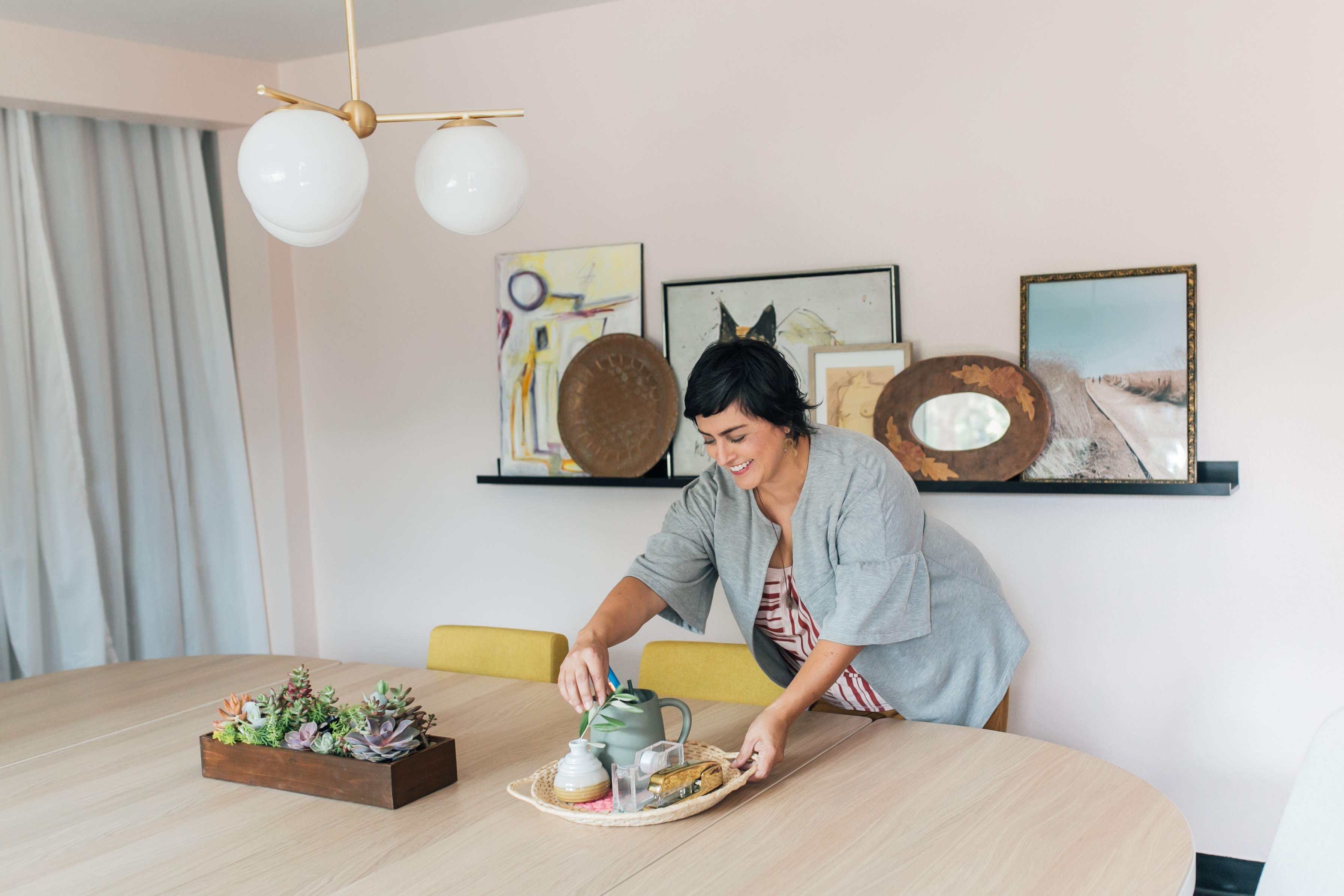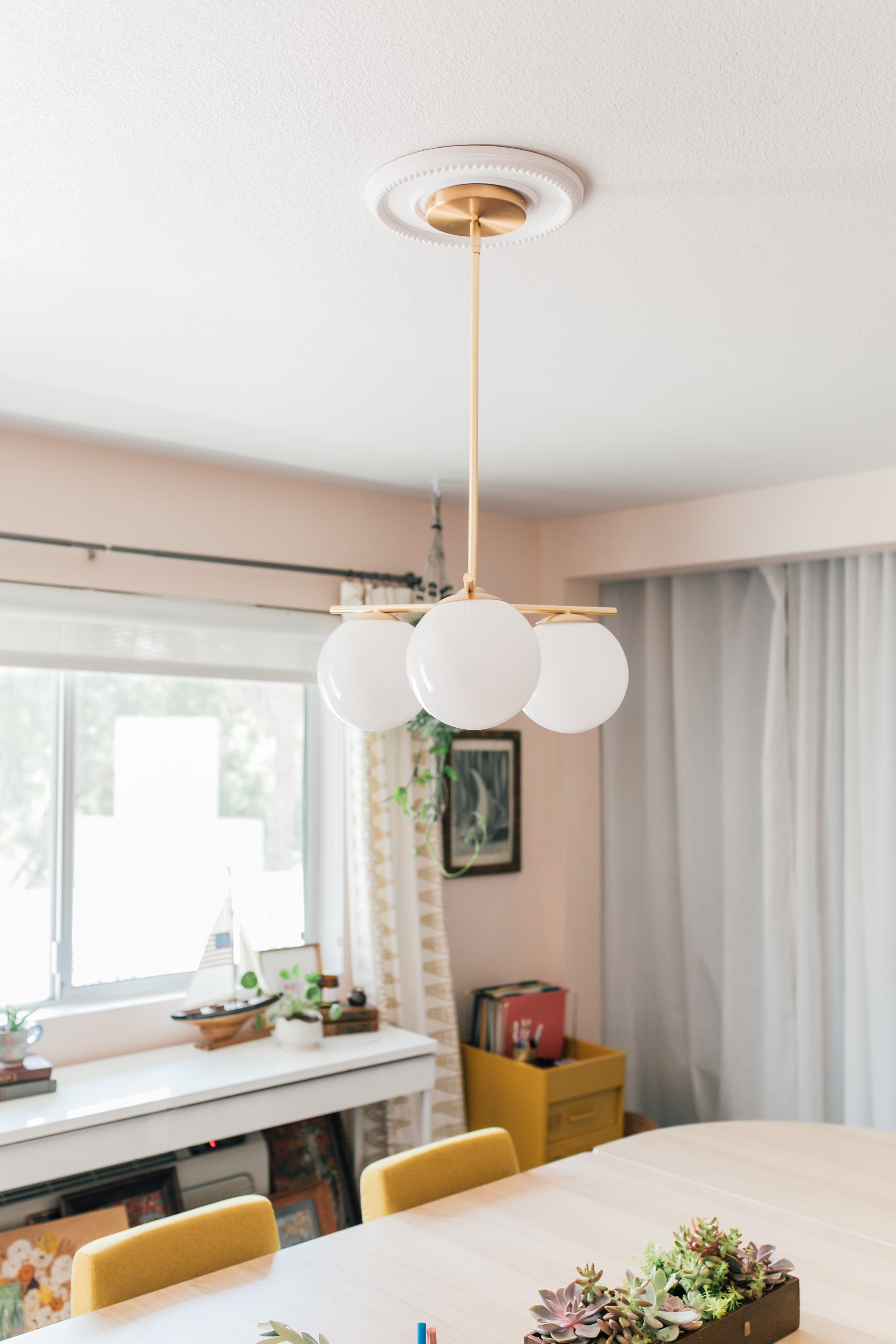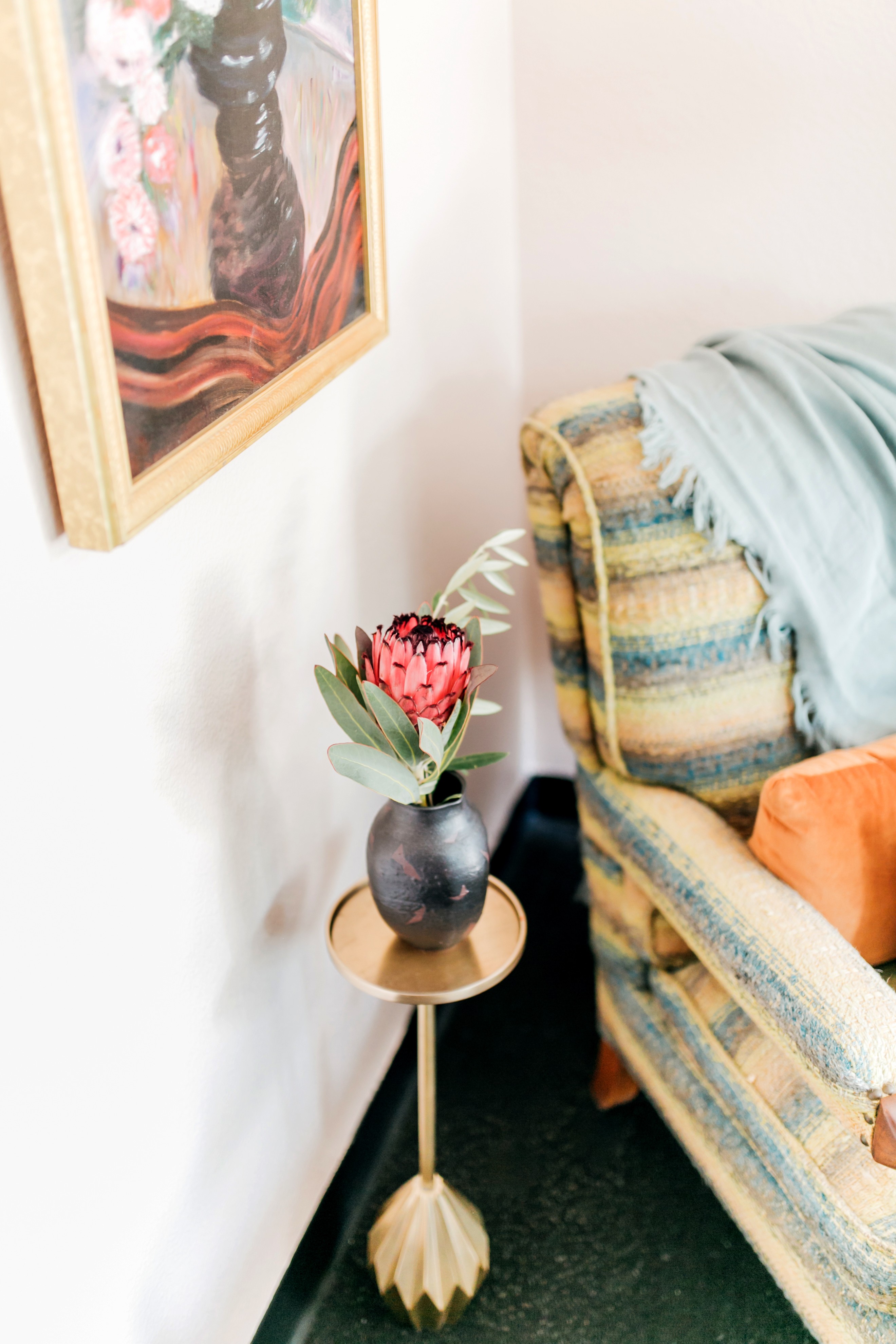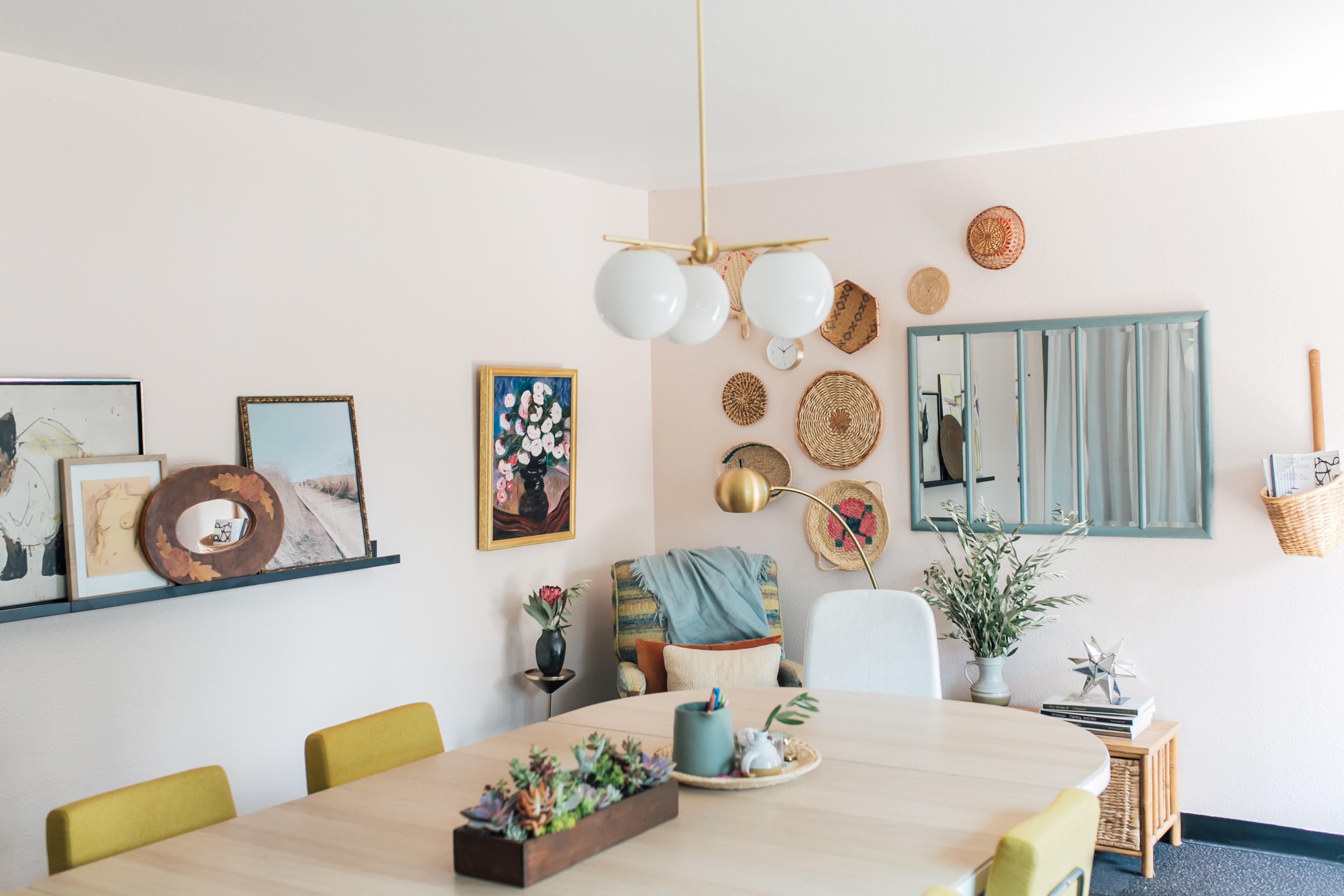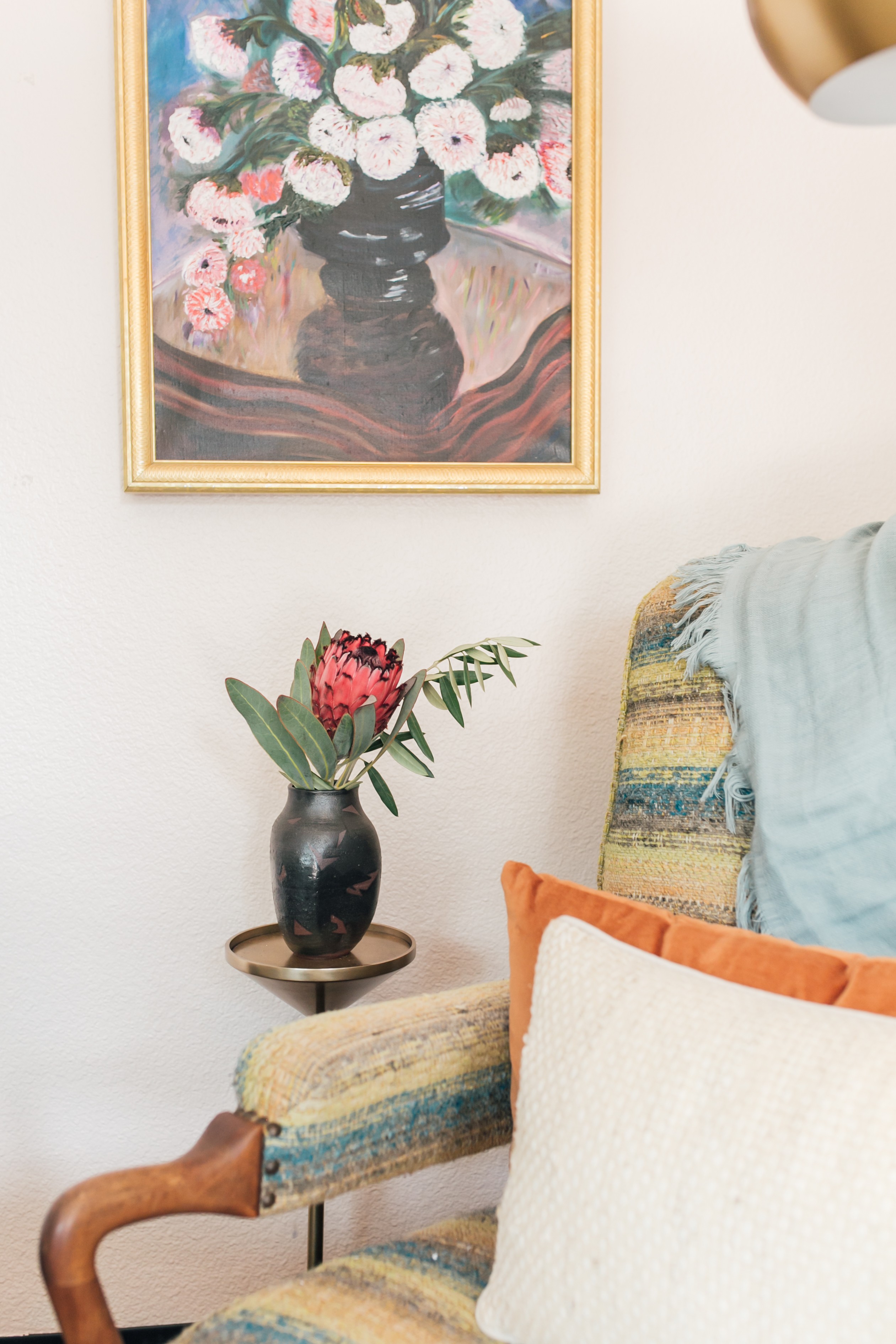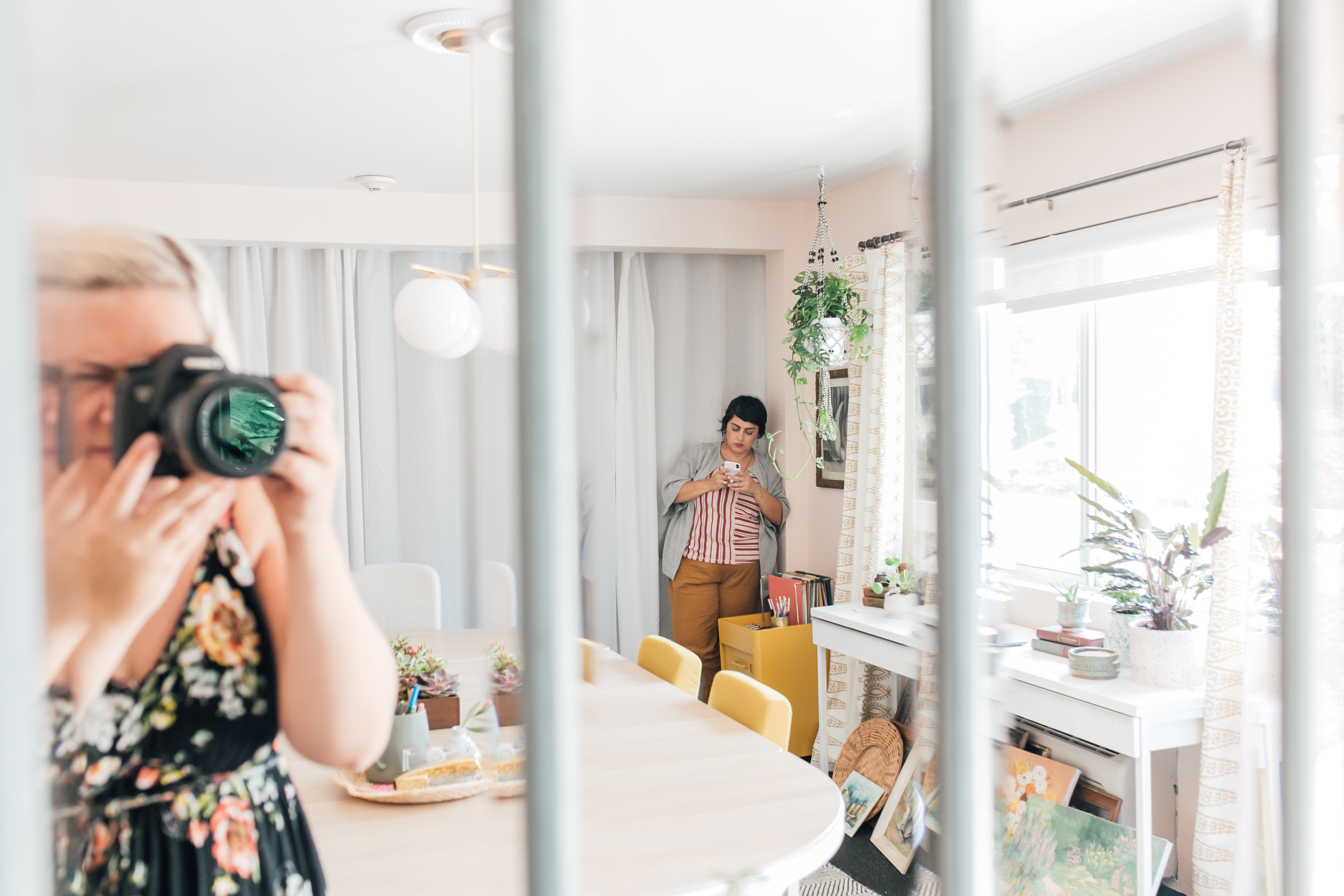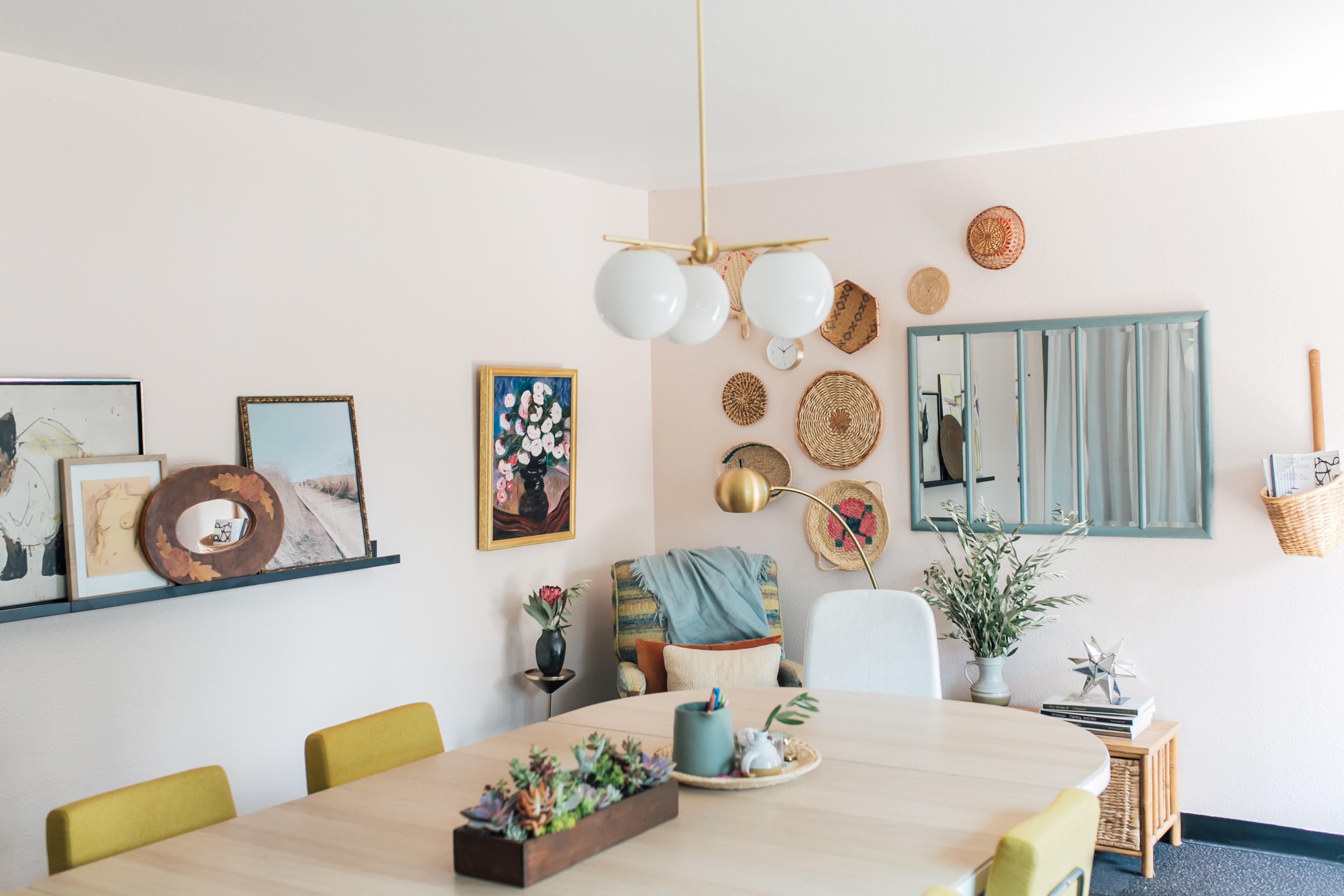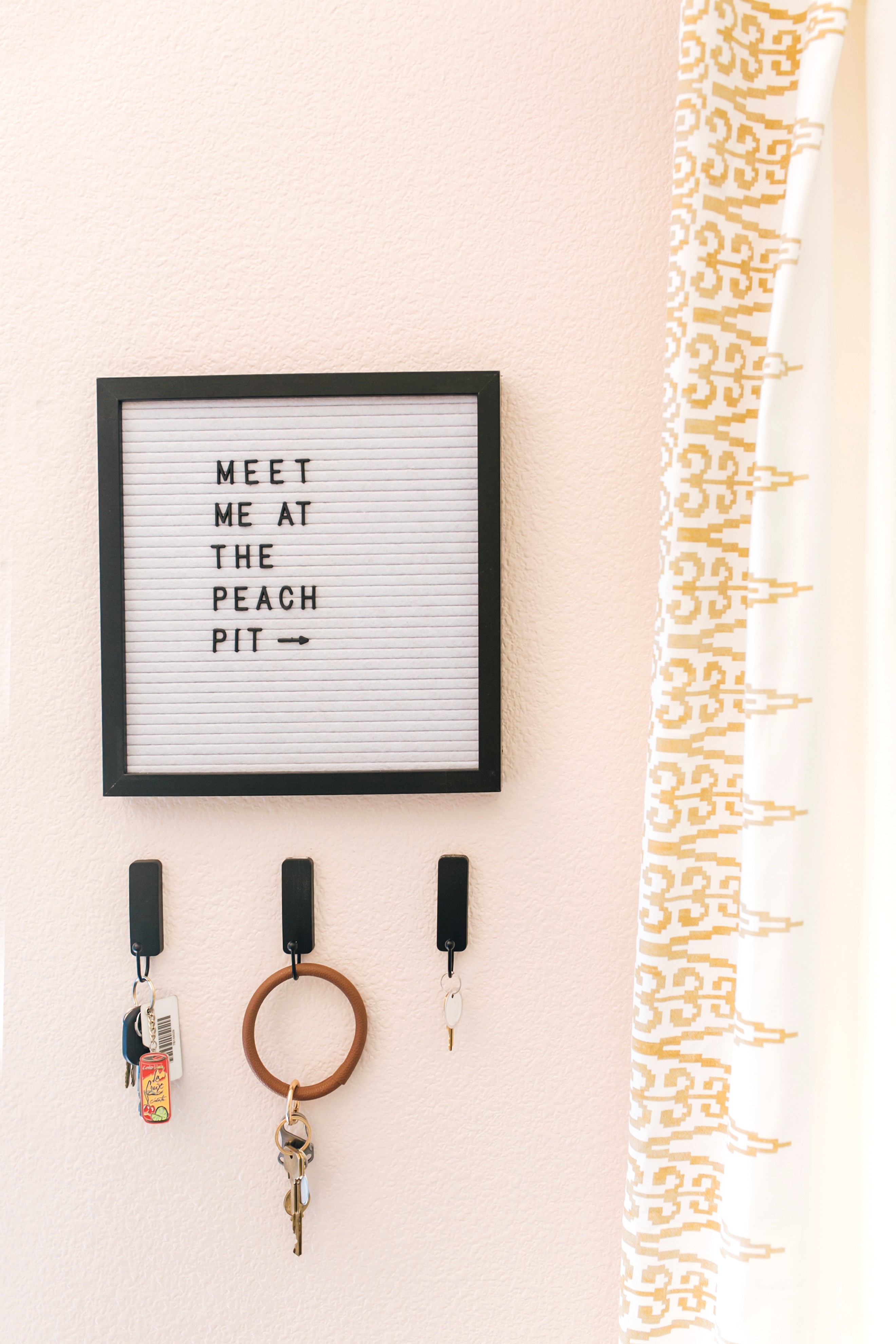 And that's a wrap on the newly christened Peach Pit! Thank you so much Clare, we absolutely love it! Now its time for maximum productivity…
Clare Paint in Wing It | Conference Table | Rolling Chairs | Side chairs (different fabric) | Ceiling light | Rug | Floor lamp | File cabinet | Curtains no longer available, similar
After photos by the talented and hilarious Christina Best Photography