This post was sponsored by VELUX who generously donated product in exchange for blog coverage. All reviews and opinions are entirely my own! 
Updated:  Keep reading to the end to see the reveal of our new door that allows the bedroom to borrow natural light from the skylight in the bathroom!
You should first of all know that I have loved everything about our en suite bathroom since we did a complete overhaul on it 3 years ago. An improved layout, tile vs carpeted floors and our incredible soaking tub was a dream. All except for one thing–we had very little natural light. The long, narrow window over the vanity was tucked under our deep covered patio and did very little to allow light into the space.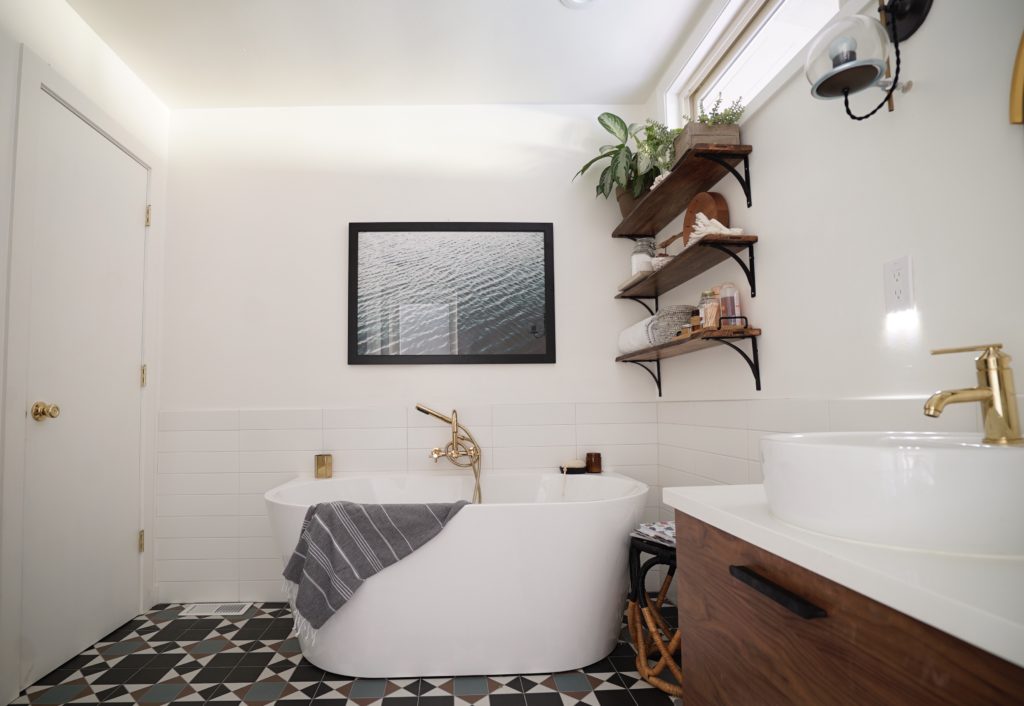 The fact that it was off centered didn't help matters because it really limited what we could do with a mirror and lighting.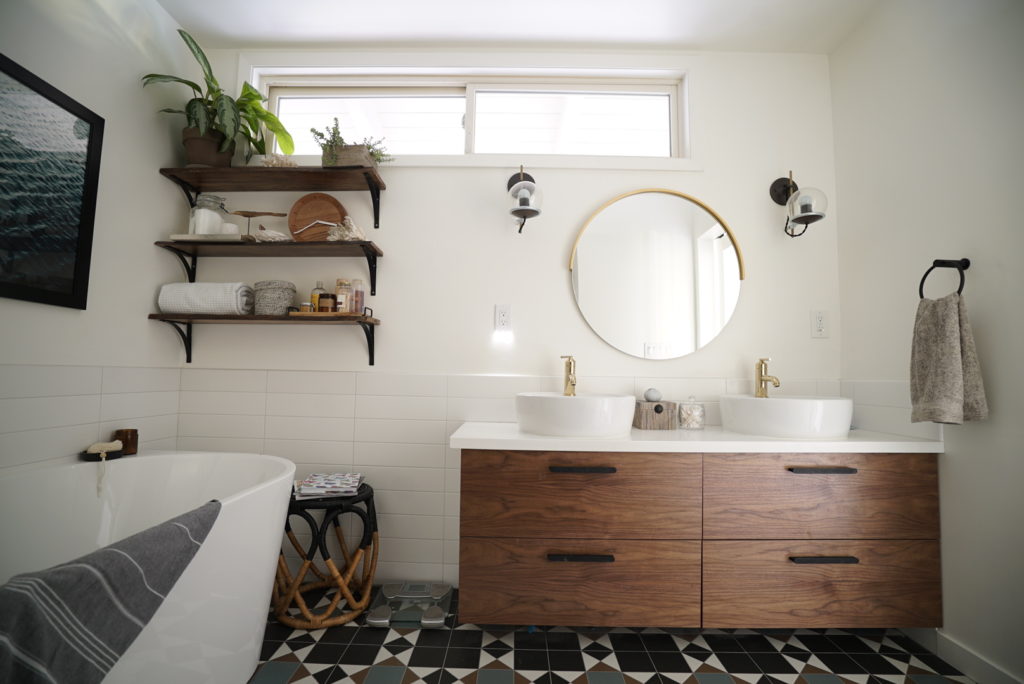 The original plans for our latest One Room Challenge  didn't include the bathroom, but when Velux offered to partner with us on the project it all came together. Popping a skylight into our bathroom has been a DREAM of mine since we bought the house, so it made perfect sense to refresh the bathroom with a huge helping of natural light.
The first step was to have a Velux installation expert over to help us determine what was possible in our room. After checking our roof structure they determined that  a 4'w x 2'w VELUX No Leak Solar Powered Fresh Air Skylight would fit the room well with minimal structural modifications. I really wanted a visual so I taped it out with painter's tape to get an idea of placement. Ultimately I decided to move it over the vanity instead of centered in the room. This allowed for a light fixture to be placed over the tub and would give us the best natural light over the sinks and mirrors where we would use it most.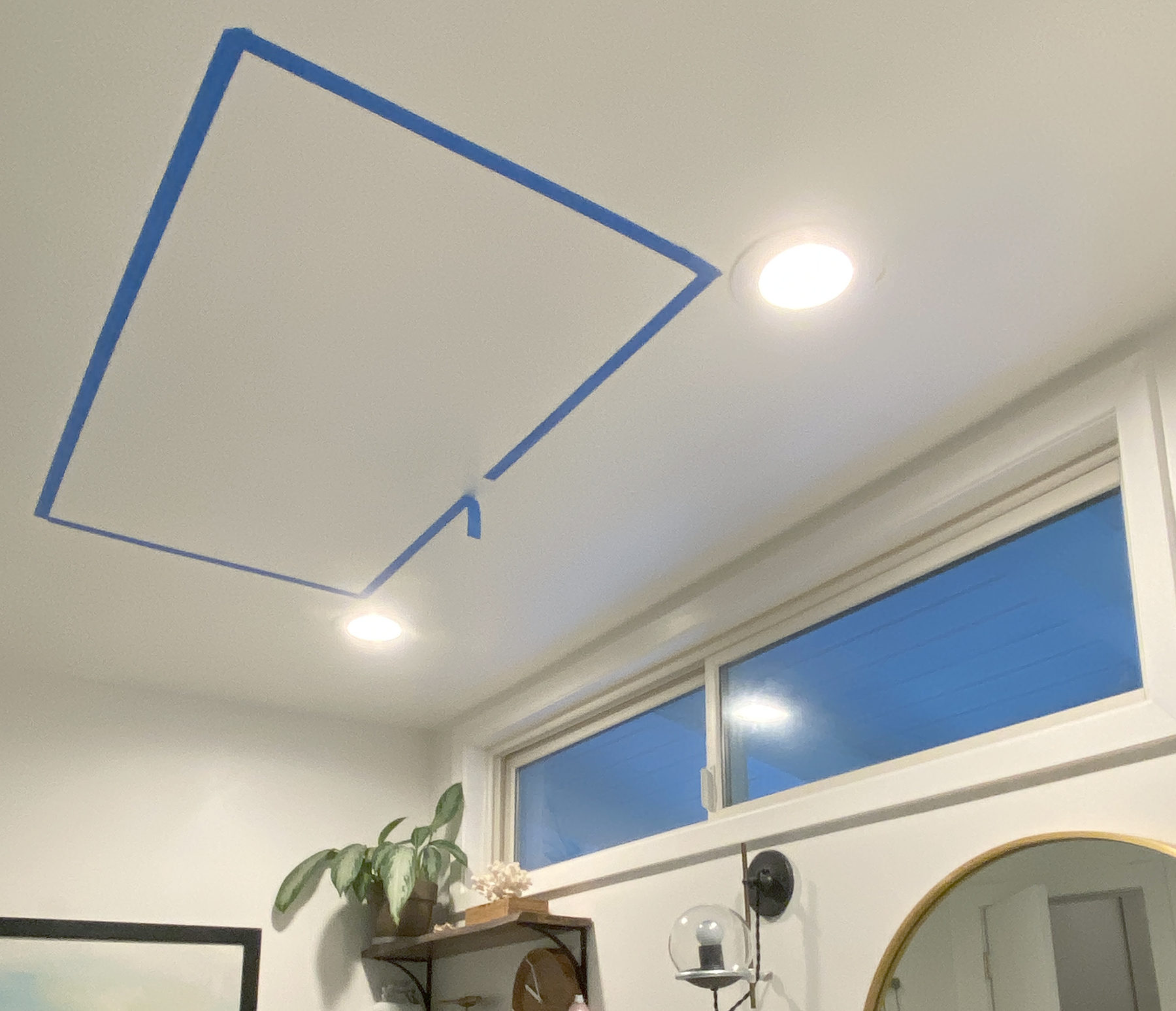 Now that we knew we would rely on the skylight for improved natural light, the next major decision was to remove the existing window entirely. It did little to light the room, it was too high to see out of and its placement was difficult to design around. So out it went with no regrets!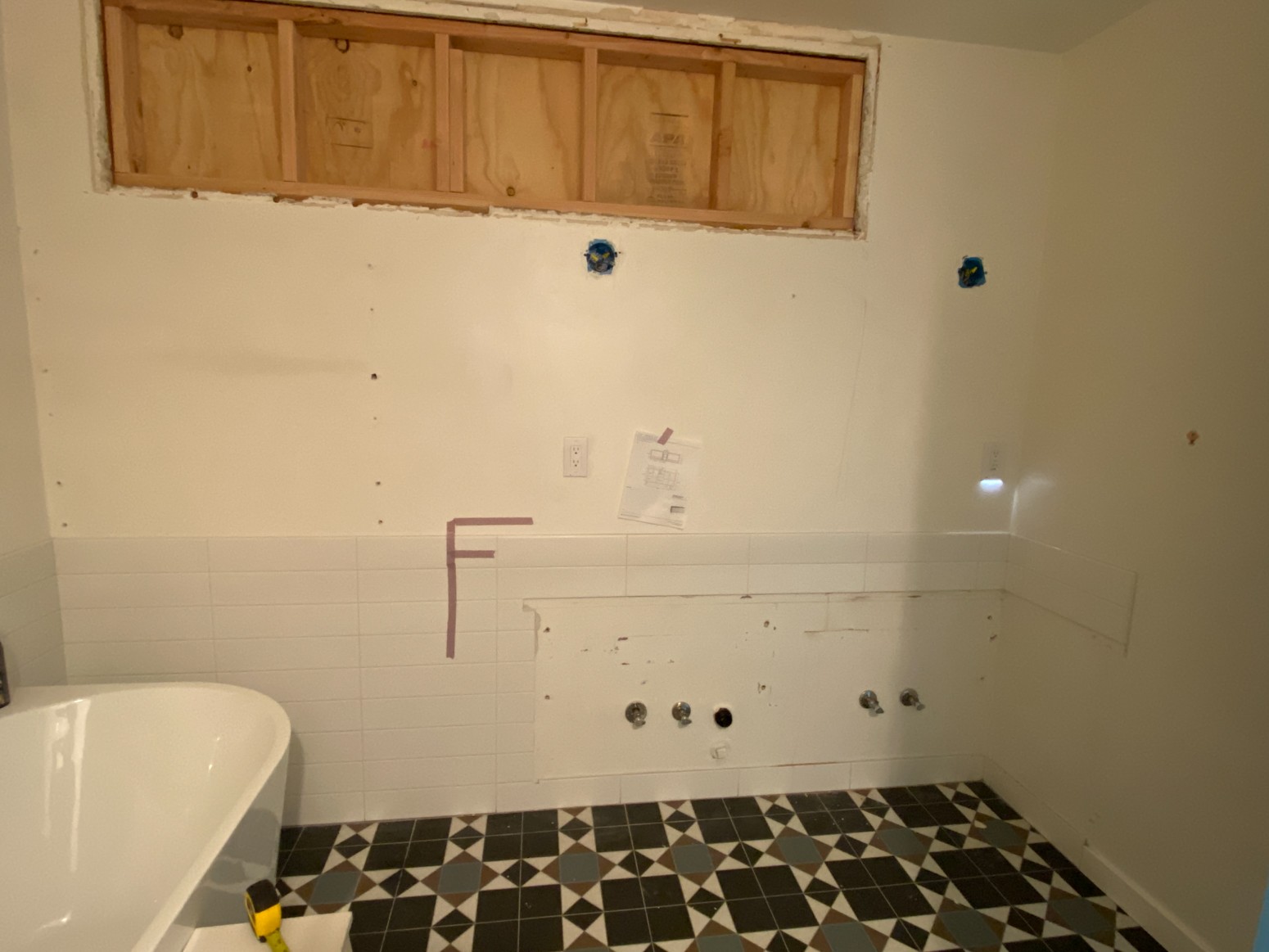 Install day was just like Christmas, except instead of Santa dropping through the chimney, he knocked a hole right in the roof and let the sun shine in. The VELUX installers were so knowledgable and took care to ensure our roof structure wasn't compromised by the addition. That first ray of light was so exciting to see! And a few hours later it was a fully realized window in our ceiling!!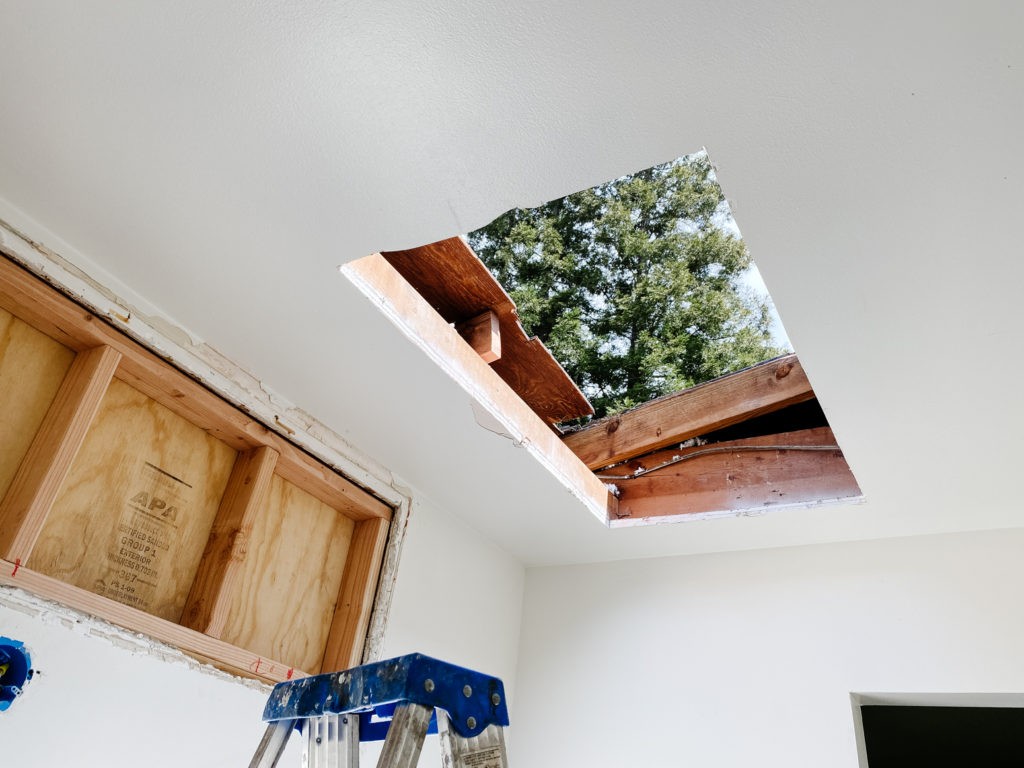 And its just WOW. I knew of course that we needed natural light in the room, but I didn't quite realize how incredible the light would be. For the first time, colors show true without shadows or cast from greenery outside. Dark corners are gone and textures can really pop. Natural light completely transforms a space and was the most important foundation for all other design elements. Look at the difference in the color of light in the photo below.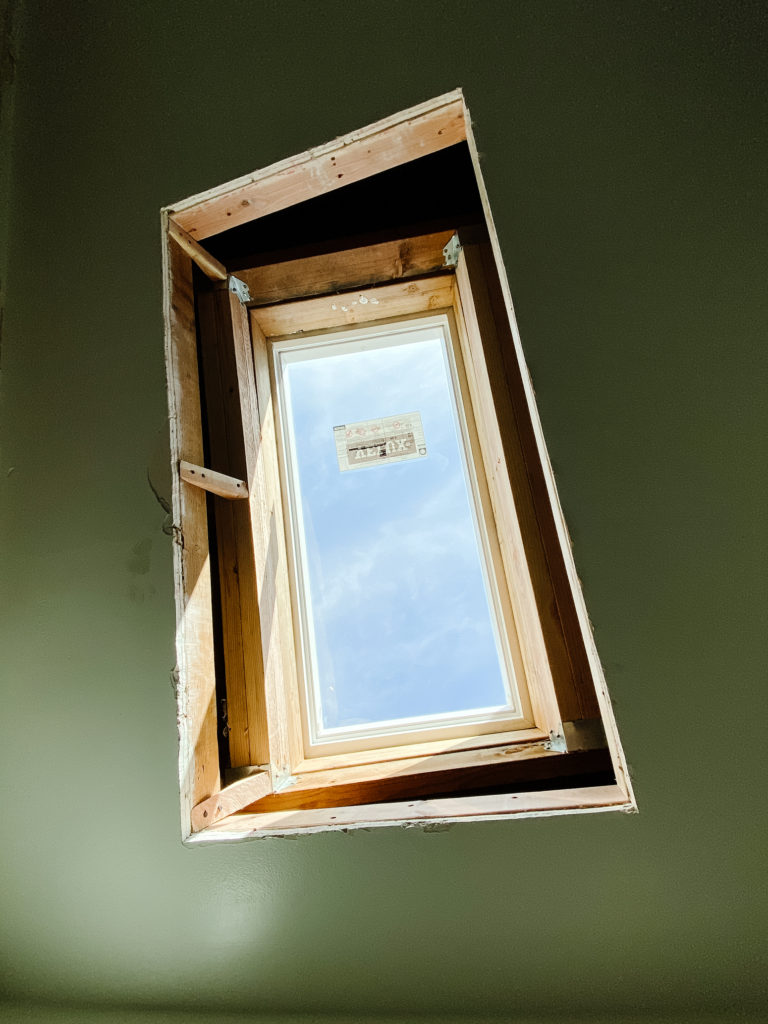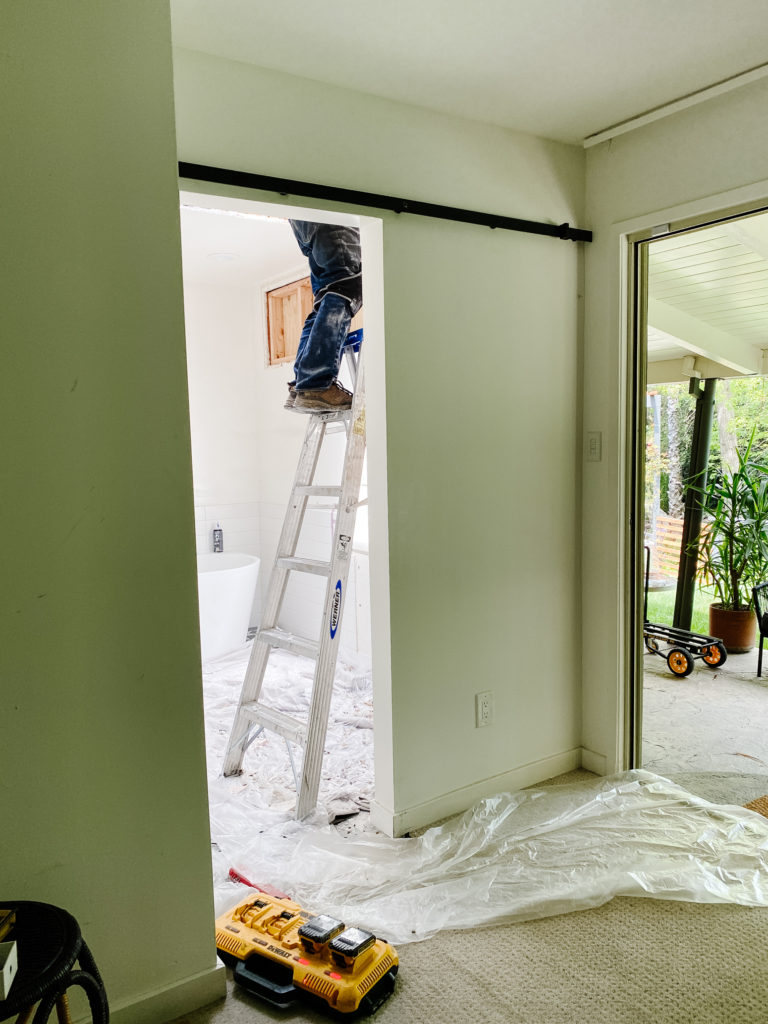 I've had conversations with friends and clients about how much I love it and commonly hear that outside water leaks are a concern. I'm happy to share that this skylight comes with a 10-year No Leak warranty on product and installation. It's called No Leak because of the installation method that includes three layers of protection: First the deck seal is nailed to the roof deck. Second, all-weather underlayment is installed around the skylight. Third, the step flashing is installed. Here's a video of the process with more information.
Fast forward a month or so and we brought the rest of the room's design up to the high bar that the skylight set. Now that we have this glorious light the rest of the details in our bathroom refresh (see the reveal here), can really sing. I think many of the details would be lost without it! To draw more attention and take advantage of that light I even hung a couple plants in the well (with a step stool I can easily unhook them for watering). Live plants is just another way skylights bring the outdoors in.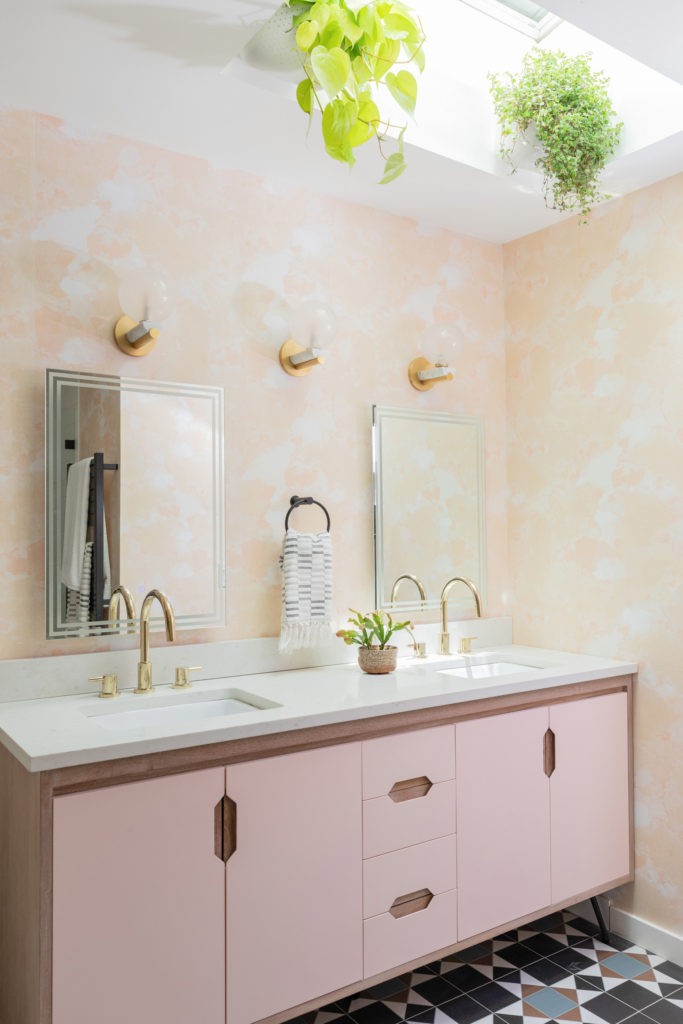 I haven't even told you about the most amazing part. Yes, it provides natural light, but our model also can be opened with a remote control or smartphone app to create air flow in the room below. The app allows you to program it to open and close during certain times of day, or when specific temperatures or humidity levels are reached. Its genius!!
And, it has a rain sensor that closes the skylight at the first sign of bad weather. We've had it during a couple unexpected showers and sure enough it closes right up automatically. On cooler nights we keep it and another window open and it draws a lovely cross-breeze through the house. The air flow makes for a more restful sleep and allows stale indoor air to escape and be refreshed with outdoor air. Bonus, they are solar powered, so no wiring required during installation.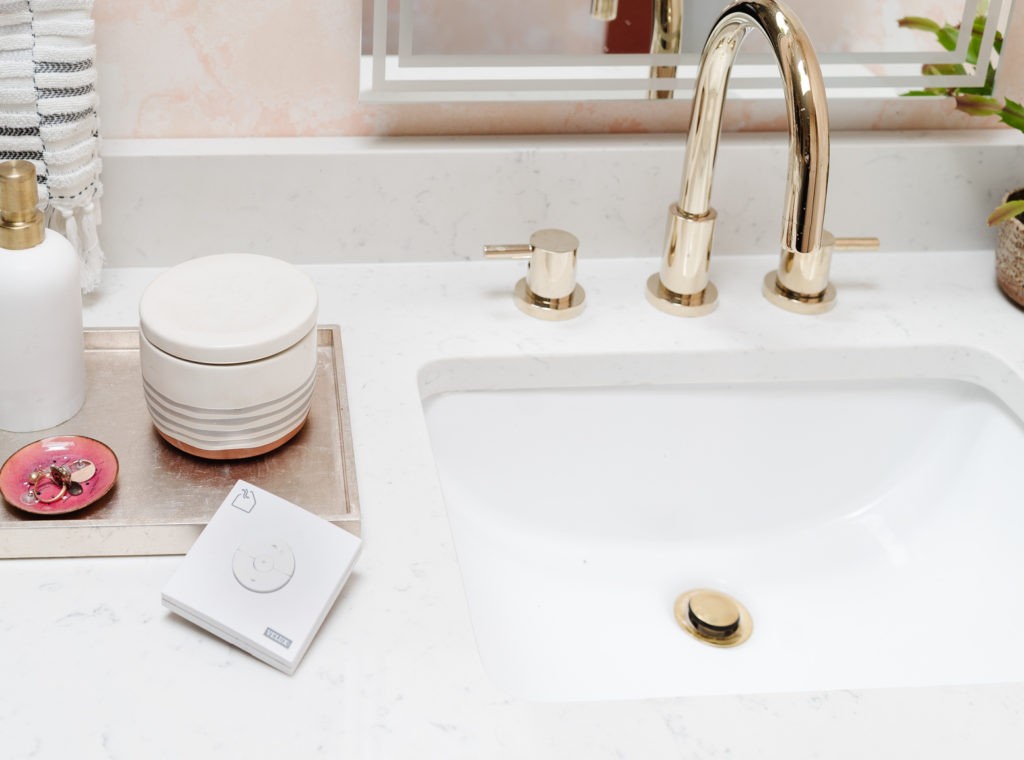 Since the direct overhead sun can be harsh during a Sacramento summer, the light filtering blinds are another huge bonus. We can keep the blinds closed to diffuse or filter sunlight coming in through the skylights to reduce heat and glare during certain times of the day, they also help control the heat during our triple digit days. Here's a fun animation to show the skylight in its various states!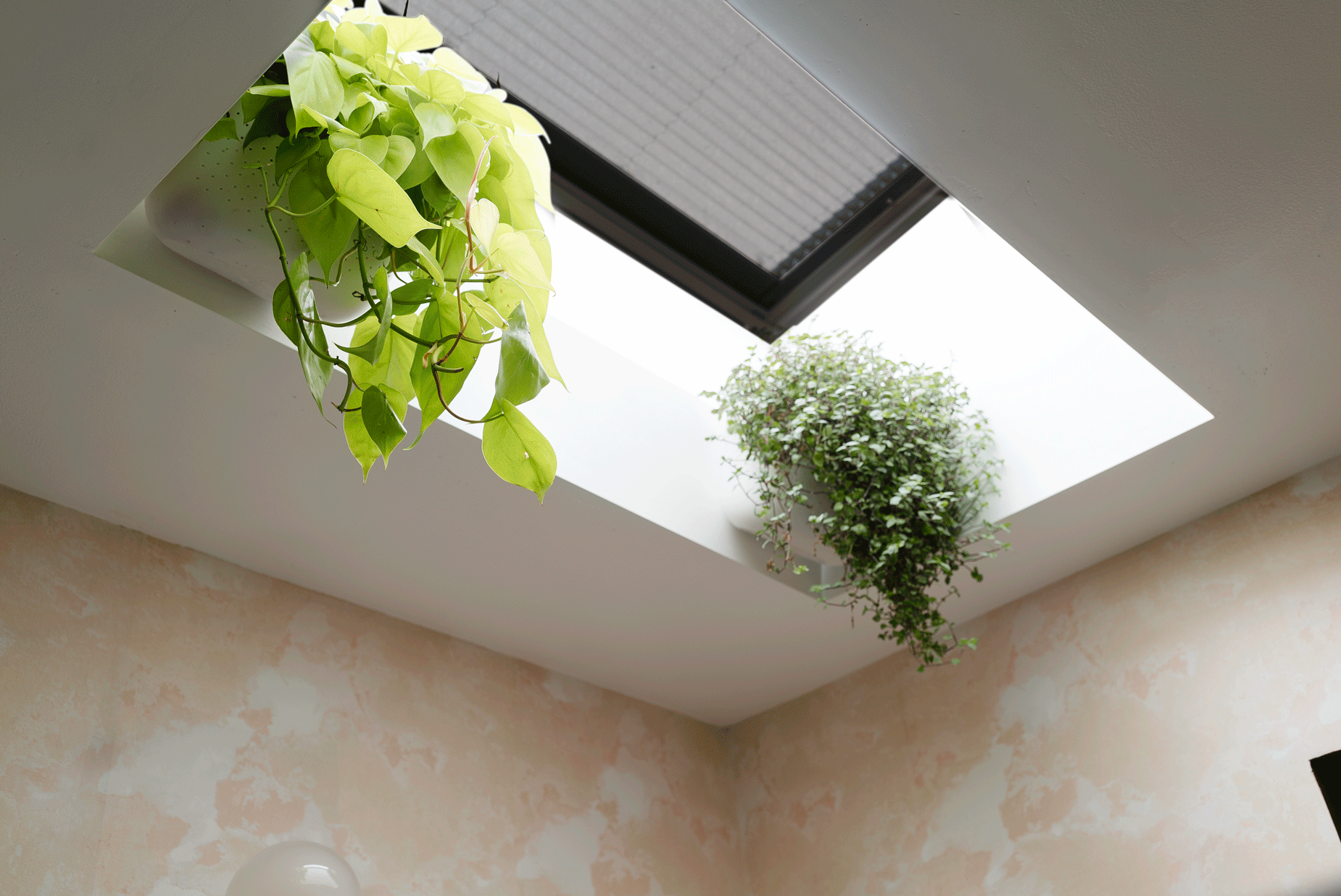 Every morning I wake up and see this beam of light shining in and it seriously makes me so happy. I love that I was able to take extra risks with color and texture knowing that everything would translate beautifully.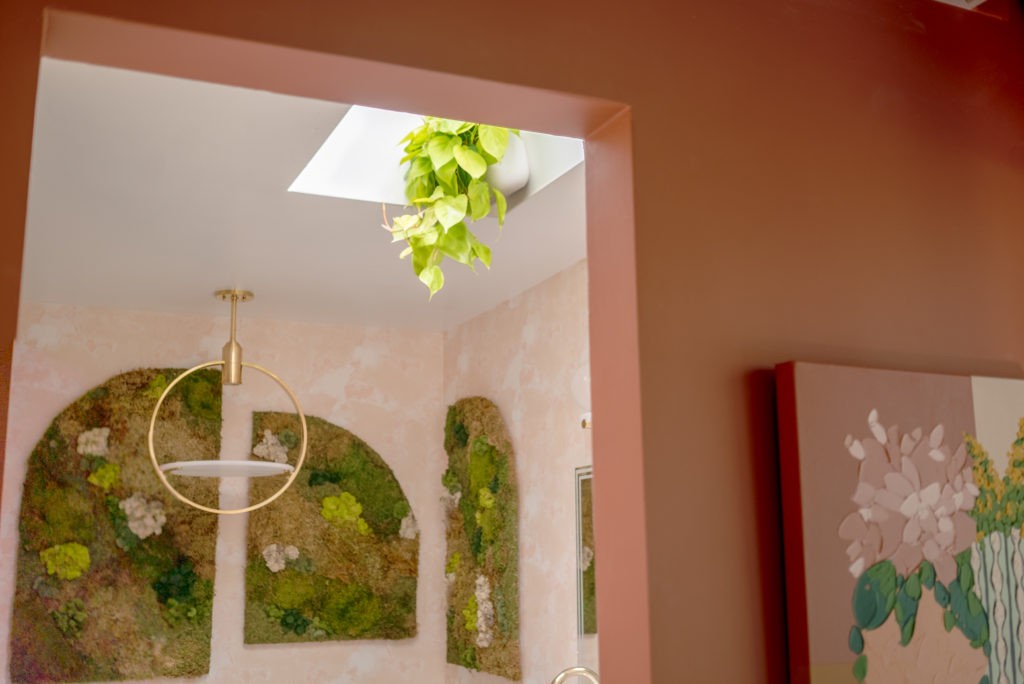 For a few months we didn't have a door into the bathroom while we were waiting for a special order, but we finally got it installed and painted and I'm in love!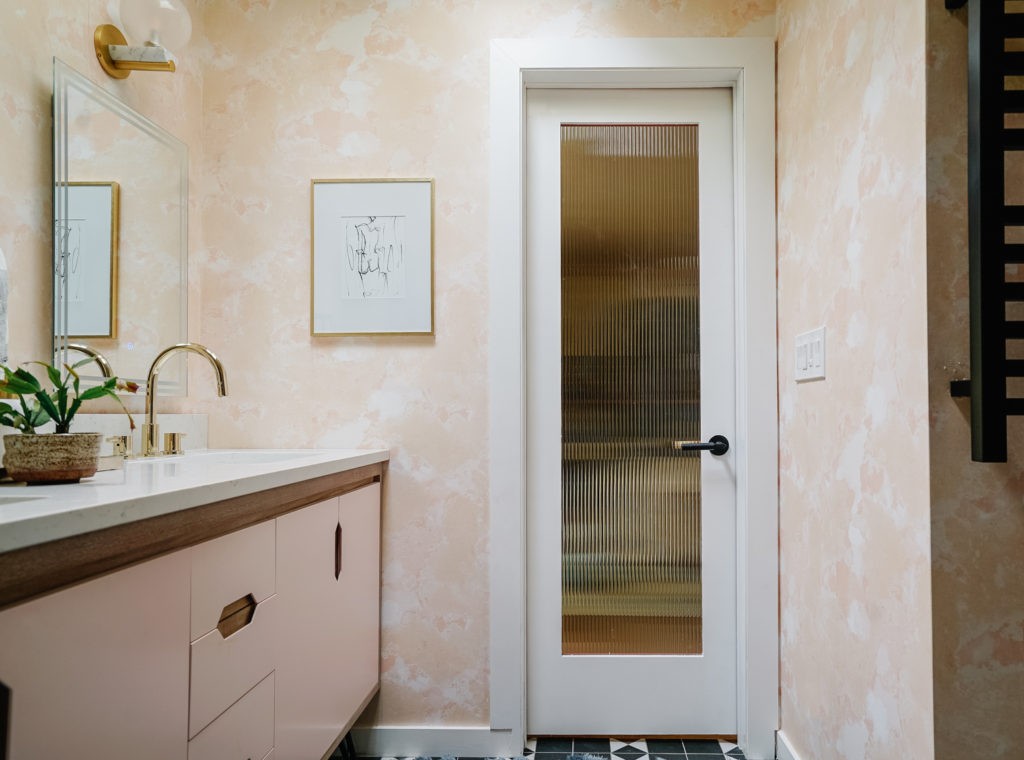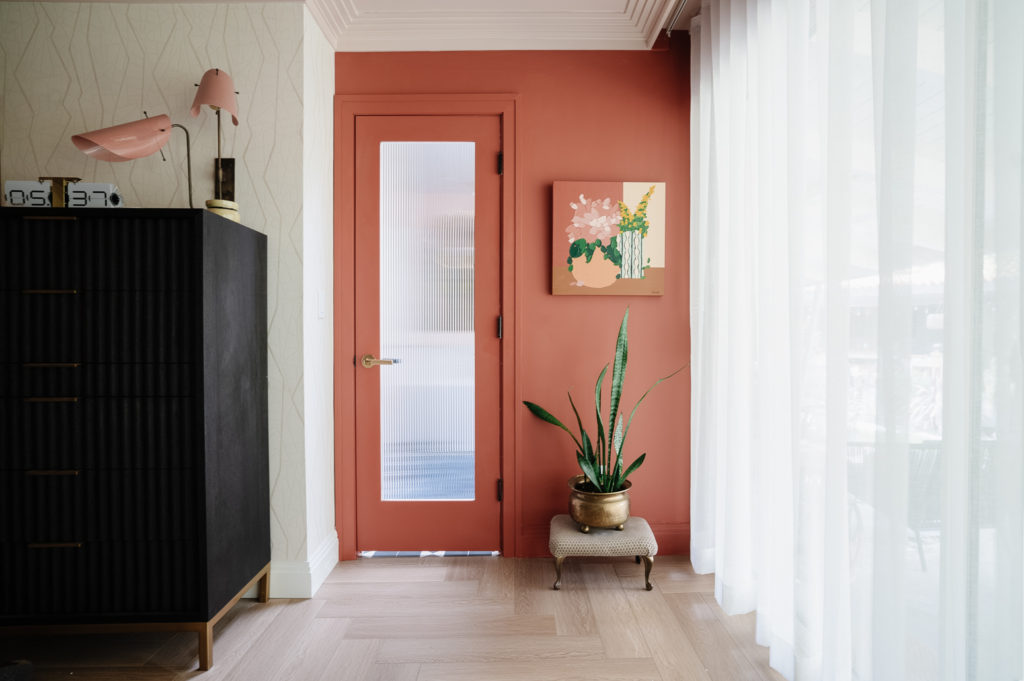 We ordered reeded glass to allow more daylight into bedroom from bathroom. You can see how little light came in during the middle of the day before (L). The photo below (R) was taken in the afternoon and I promise there are no lights turned on in the bathroom. This is a great feature of skylights – Velux calls it borrowed light: the glass door allows the bedroom to borrow some natural light from the bathroom. Its magical!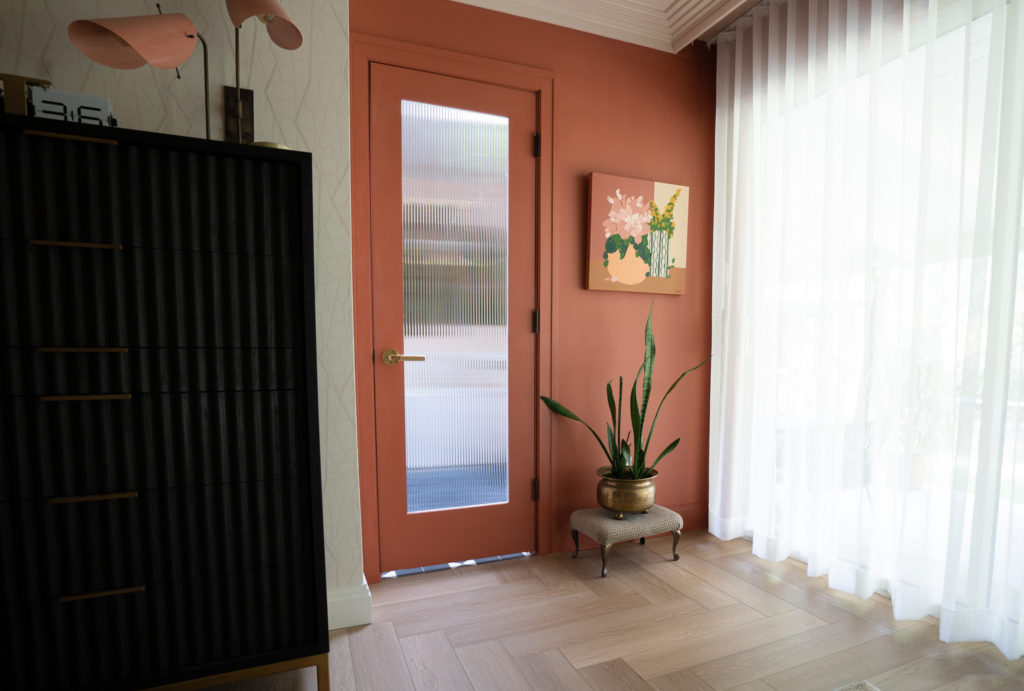 I put together an updated Before and After walkthrough video so take a look at how it all flows together now!
If you have been considering a skylight, VELUX offers virtual design consultations, so people can explore skylights and ask questions from the comfort of your own home. How it works: schedule a time online to talk with a daylight designer by either audio-only or video chat. The consultant can help you understand what rooms are good candidates for skylights, answer questions about the products and recommend an installer in your area. They can even help with replacements, if you have older skylights needing updating. Schedule your consultation with VELUX here!