Thank you to our sponsor Villa Lagoon Tile who has provided product for this project. All opinions are my own.
---
Halfway point! Week 3 is hard, man. You really want to see things get buttoned up but you're still living in a mess. This area of our home is right off the kitchen and truly our family hub, so we're feeling extremely disheveled but its all going to be worth it. Desmond's look says it all.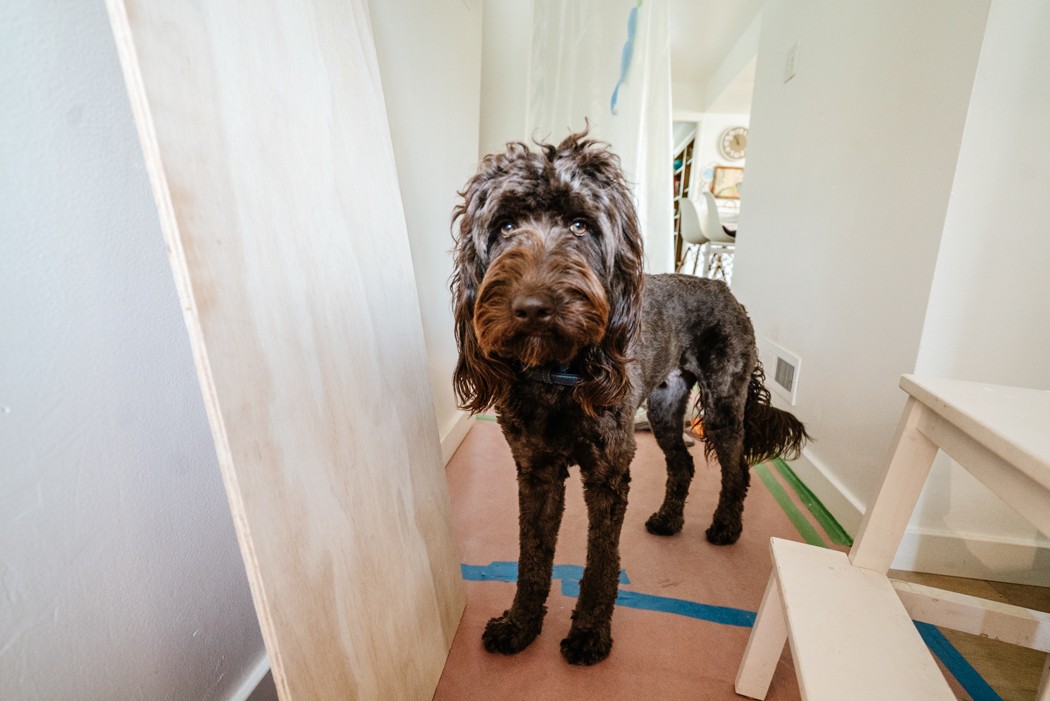 The mudroom is coming along although we had to pivot hard on the design plan. If you saw last week's post you'll notice I went from a soft blue to dark black with the cabinet fronts. I was hoping to order Ikea door/drawer fronts from a third party, but that didn't work out. In order to keep things moving I surprised myself and ordered this soft black finish directly from Ikea. It wasn't what I was expecting but I really love it, its so pretty and velvety in person.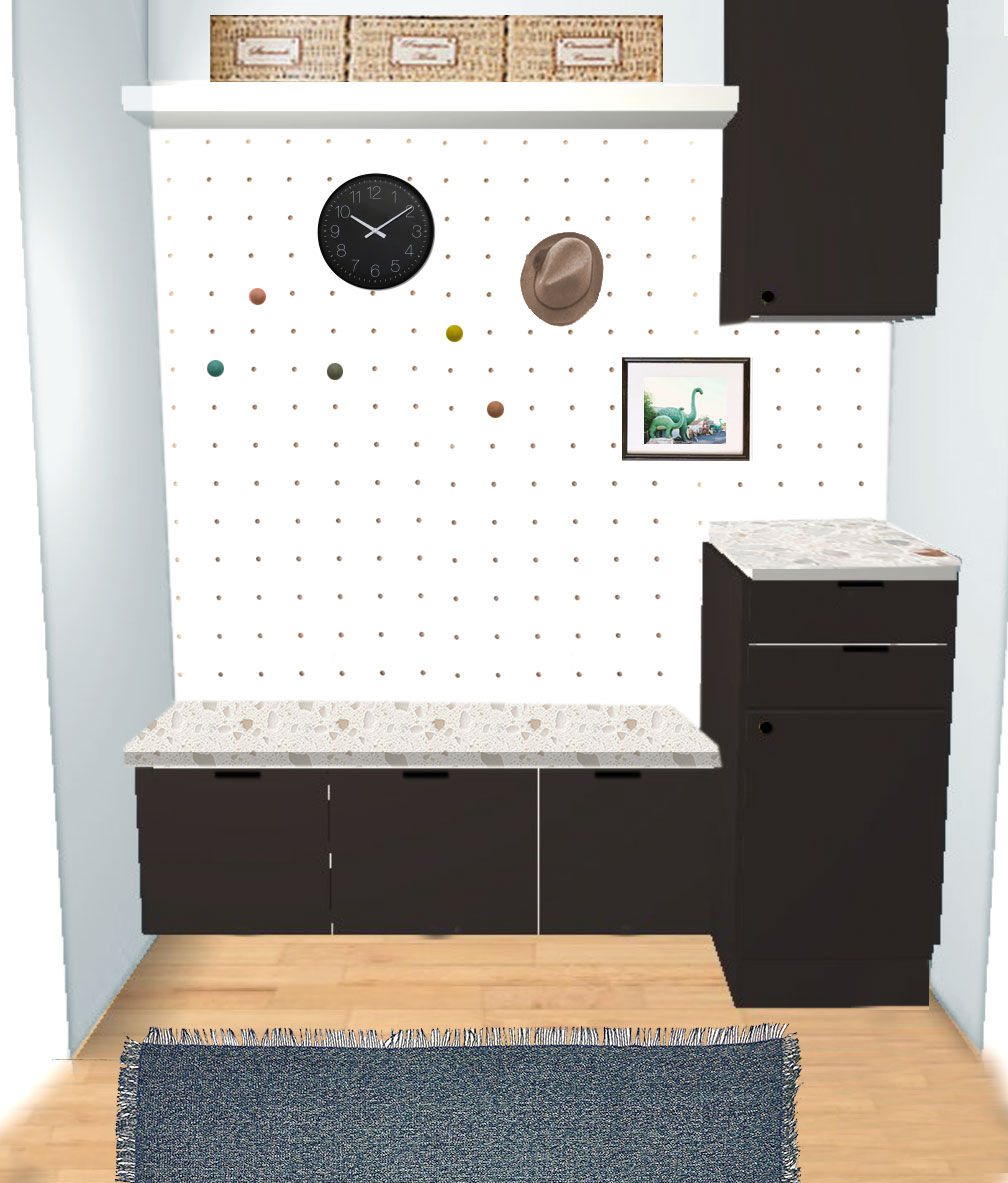 We have finished drywall up and are starting to get the cabinets in place. The cabinets are recessed back a good 10″ than they were and having a place to set a bag down when we walk in is already a game changer. We haven't made much progress on the laundry area this week but its design follows the Mudroom.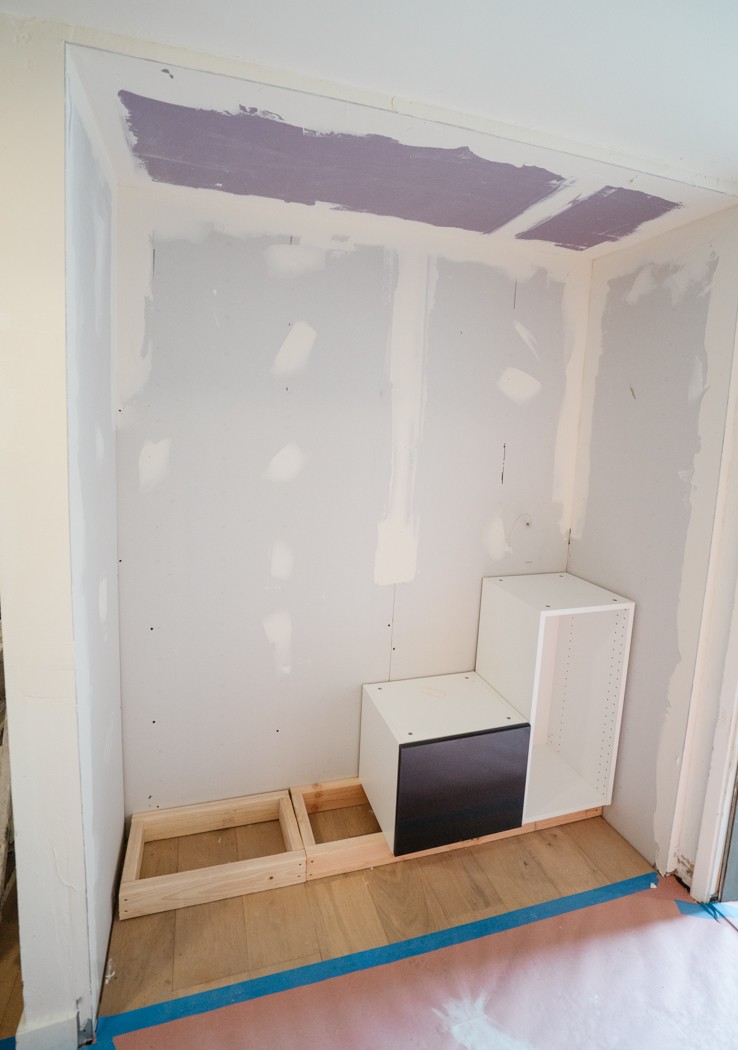 All that said, we have something big to celebrate–a bathroom floor!! I'm over the moon with our tile from Villa Lagoon and its come a long, long way from the sheet vinyl we started with.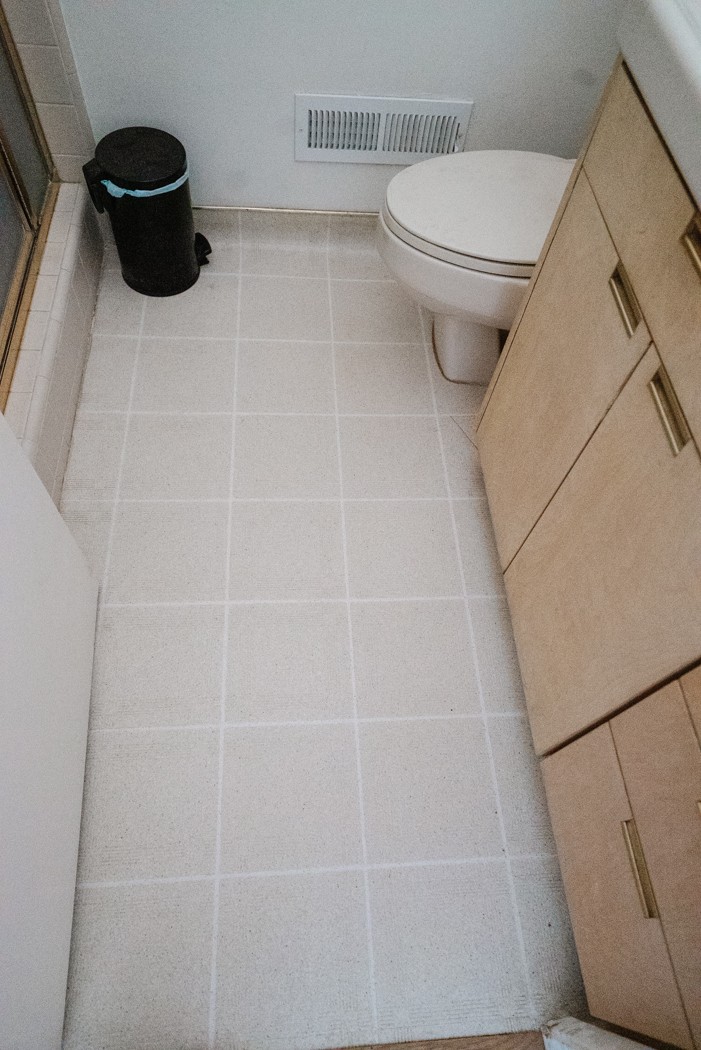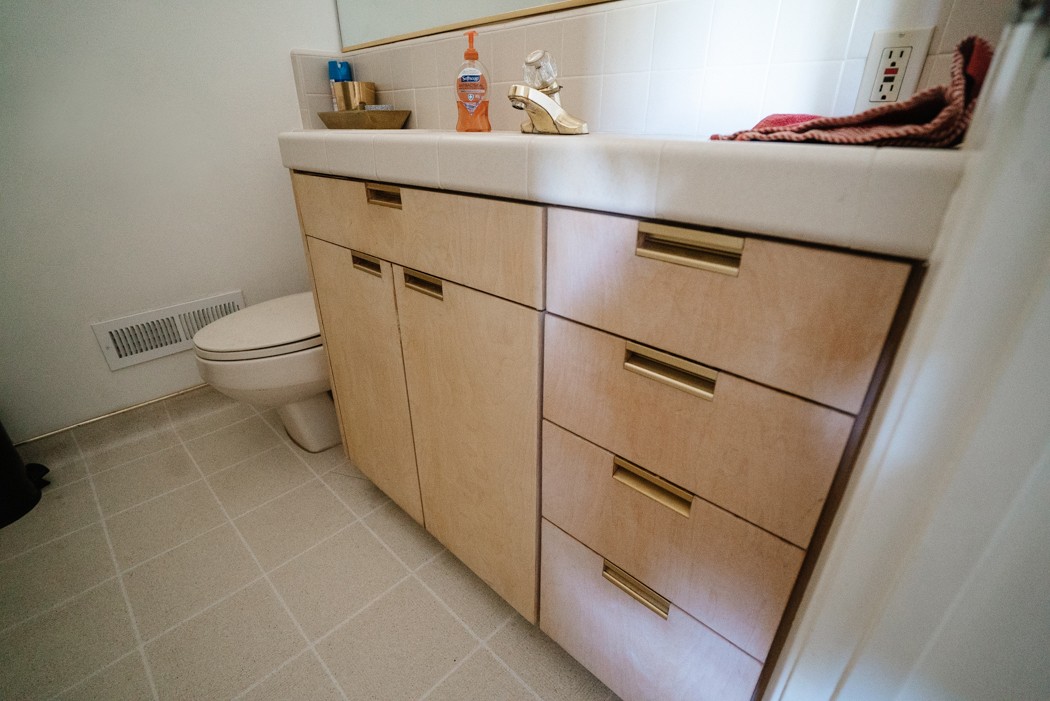 Here's what this room looks like today! I let Des be the first Plumb to step foot on the finished floor even though he was the one who chewed up that door casing (argh).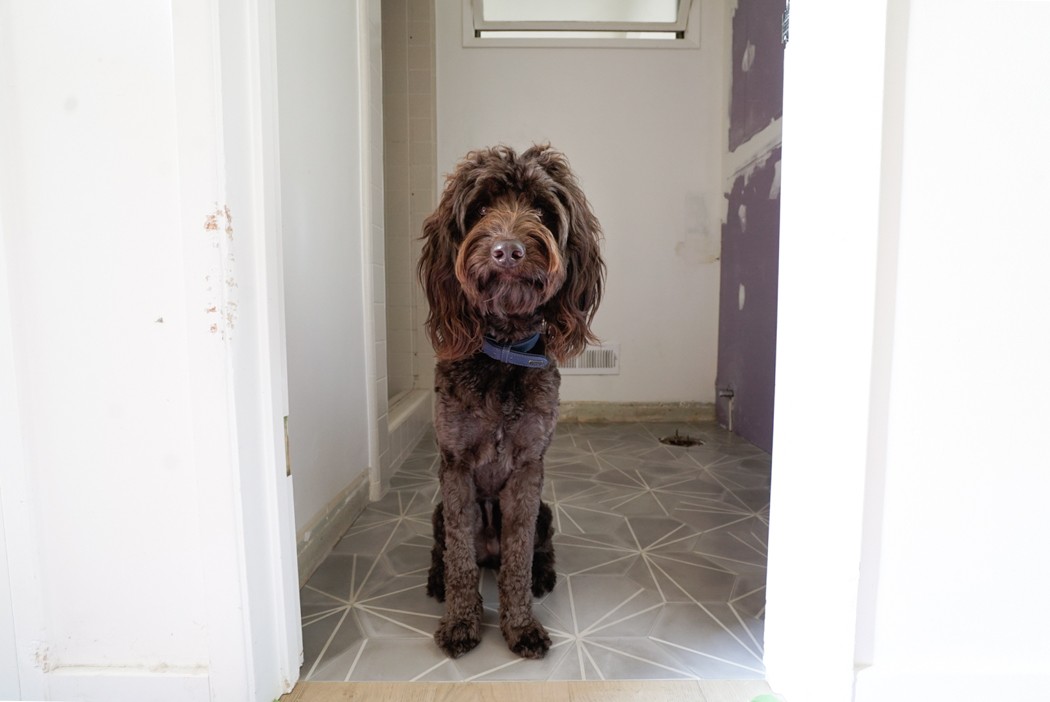 Isn't it so pretty!? And can we talk about that transition!!?? People, get yourself a good tile guy/gal who can give you a smooth flooring transition without the strips.
If you follow me on Stories you've seen some behind-the-scenes of the installation process. Cement tiles aren't for everyone (more here), especially anyone who is looking for a perfectly uniform surface. These tiles are handmade with some variation between each tile which brings a slightly rustic feel to a room. But with so much 'new' happening in our space I really love this bit of organic material to bring in soul and character. They are so soft and smooth underfoot, I love the feel of them.
I fell in love with encaustic tiles in Spain and Morocco and the way they fearlessly mix patterns while still feeling grounded in tradition. I have always wanted them in my own home so jumped at the chance to work with Villa Lagoon Tile.
Encaustic: A clay pattern was embedded into the body of the tile, the two sections fusing during firing.
What to love about Cement tiles
Built to last. Cement tiles are extremely durable, because the color saturates into the concrete. Designs are not printed on the surface color as in ceramic tiles. I find the process fascinating-you can see more in the video here.
Hand-crafted. Similar to natural stone, each tile is unique with slight color variations, the sign of an artisan-made product. Cement tile is more like natural stone than ceramic tile, it also has the natural variations one might find in stone or other artisan products.Installing cement tiles is also similar to natural stone, with tighter grout lines and use of a sealant after the tiles are set (more on this below!)
Customizable Cement tiles are available in a wide range of unique designs-including the custom one you design yourself! Tile from Villa Lagoon isn't limited to traditional colors and patterns.
My favorite thing is the Villa Lagoon Tile Design Tool that lets you start with any of their designs (over 300!) and customize your tile color palette. Its seriously so fun to play with, here are a few patterns I made with the tool.

There is nothing actually difficult about it, but cement is easily stained until sealed so proper prep work is important. Be sure your installer knows how to work with cement and closely follow installation instructions. I am not an expert, so we decided to hire this part of the project out, but here are a few tips that are somewhat unique to cement tiles.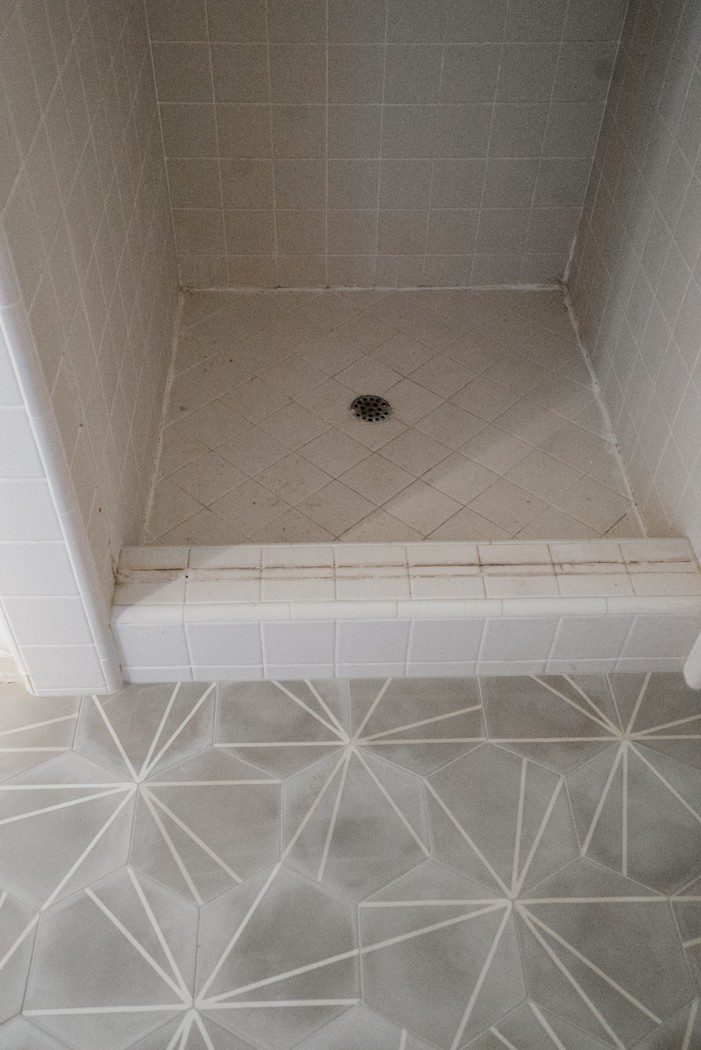 The floors looking good next to the sad, sad shower.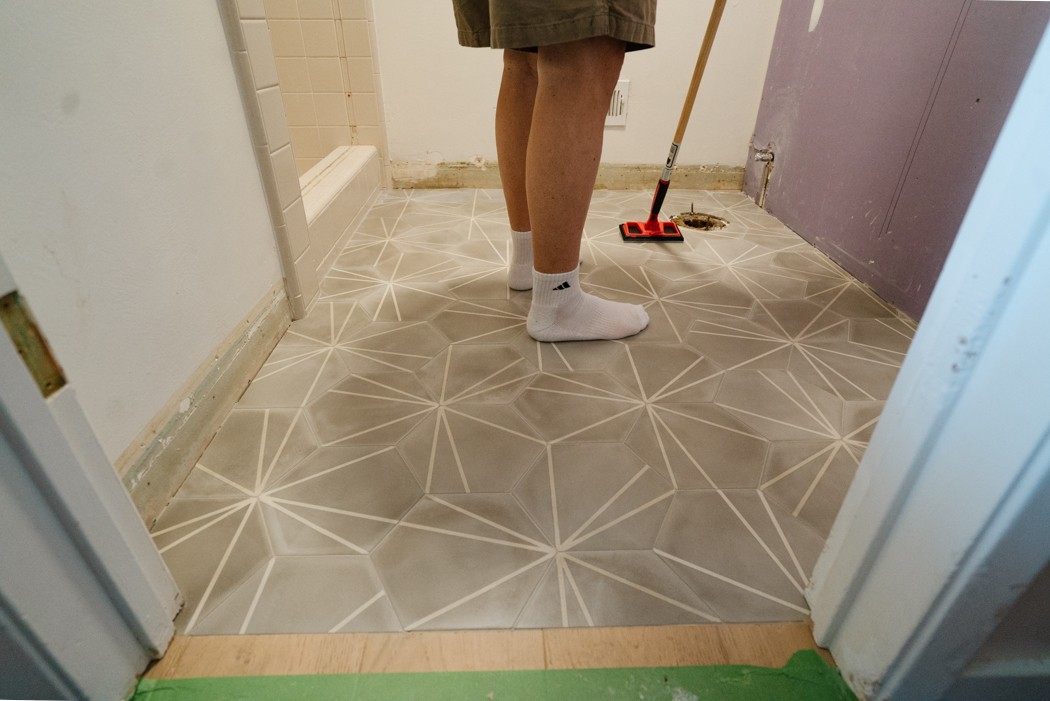 Installation Notes
Tile Layout
This pattern (Crow's Feet Gray) has a few layout options but we opted to group them into little 'starburst' clusters to keep that midmod feeling. When working with any patterned tile you want to do a lot of planning up front. Your eyes start playing tricks on you when you stare at them too long and you don't want your installer to make any assumptions. Prior to installing, do a dry lay with your installer to establish orientation, grout thickness and see if any adjustments need to be made. We also mixed tiles form different boxes to spread out any color variations.
Apply Sealant
Always use the manufacturer-recommended sealant for your application. Because these tiles are porous, they can be stained by dirt, thinset, chalk, pencil marks and greasy hands we recommend. Based on our installers recommendation we applied the sealant prior to installation to help protect the tiles from staining.
Tile Setting
Examine all the tiles for damage. There is some color variation between tiles. It is the nature of the hand-made tiles, not a flaw in the tile. Unsealed cement tile is very absorbent so pre-wetting the back side of the tiles is required. This way the tile doesn't soak up the moisture in the thin set. Our installers briefly dipped each tile in a bucket before cutting and placing.Avoid getting the thinset on the surface of the tile to avoid staining
Cleaning and Drying
Once the tiles are set, let stand/cure 24 hours until dry. If tiles are sealed and/or waxed when wet, it can impede evaporation and result in ghosting under the sealant and/or discoloration.
Grouting
Villa Lagoon recommends not using dark tinted grout unless it matches the color of your tile so as not to stain your tiles in light areas. Grout color can largely affect the finished look of your installed pattern. I chose Oyster Gray, a grout that was similar to the background of the tile color.
Application of Sealant
Surface must be clean, dry and free from dust and oil. Any debris left on the floor will be there permanently after sealing, so I went through and wiped it clean with a lint cloth. We used a pad paint applicator to carefully apply an even, thin coat.
Now we wait! We won't step on the floor for 48 hours to make sure the sealant is completely dry and hardened. From there we'll put down a couple layers of protective paper and water barrier while we complete the rest of the work.
So yes, the sealing process is a couple extra steps that you don't have with ceramic or porcelain tiles. It was pretty easy to do that part ourselves and we hired a professional to set and grout the tile to get the best results. I am so happy with how it came out, and the floors are DONE!
Friday the shower is getting resurfaced and next week we'll begin installing the wall treatments. Lots to do still, the countdown is on!!
What's left
Shower resurfacing (starts Friday!)
Sand joint compound on walls smooth
Paint the mudroom and laundry room. Also decide on a color first.
Install all the Ikea cabinetry
Decide on stain or paint for pegboard and open shelving
Build and install pegboard in mudroom
Fabricate and install counter tops in mudroom, bathroom and laundry (wish us luck on this DIY).
Build and install open shelving in mudroom and laundry
Install light fixtures and patch/repair ceilings in hallway
Install wallpaper in bathroom
Install and paint wainscot in bathroom
Swap old door hinges and hardware for hall doors
Hook up plumbing fixtures
Hang all the things
Style and photoshoot prep!
---
Thank you so much Villa Lagoon Tile for partnering with us on this. To learn more about the benefits of using cement tile, please visit villalagoontile.com.
My One Room Challenge Sponsors

Milton & King  //  Lumens  // Villa Lagoon Tile  //  Miracle Method  //  Tidy Revival  // Juniper Print Shop

Other One Room Challenge Posts
Catch up on the whole project
Week 1  //  Week 2  //  Week 3 (you're here!)  // Week 4  //  Week 5  //  Week 6
Links to my previous One Room Challenges
Fall 2018: Kitchen Refresh | Spring 2019: Midmod Patio Reveal
Don't forget to see what all the other Guest Participants and Featured Designers are up to this week, everyone is working so hard and things are shaping up out there!