Oh… the kitchen. I've literally been writing this post for a month because the whole project is a point of frustration for me, but since its Thanksgiving week and everyone is spending a lot of time cooking, I thought it was appropos to finally finish it. I'm also hoping this motivates me to start putting an actual plan into action (or gets me to finalize a plan). 
When we were searching for our last house, I was pregnant and set on having an open floorplan with a kitchen that was open to the family room. We tore down a wall at our old house and the room looked great, but I started being annoyed at the noise and kitchen smells taking over the house. It was hard for one person to watch TV or have a conversation while another cooked or washed dishes. I did love having sight lines to our daughter's play area and being able to hang as a family, but when we were looking for our next home, I was open to other layout possibilities. 
I have a love-hate relationship with the space itself and can't wait until we can transform it to its full potential. I love the size, its large and open and although its closed-off from the rest of the house its still a welcoming hub that everyone hangs out in without getting in the cooks' way.
Here are some photos from before we moved in: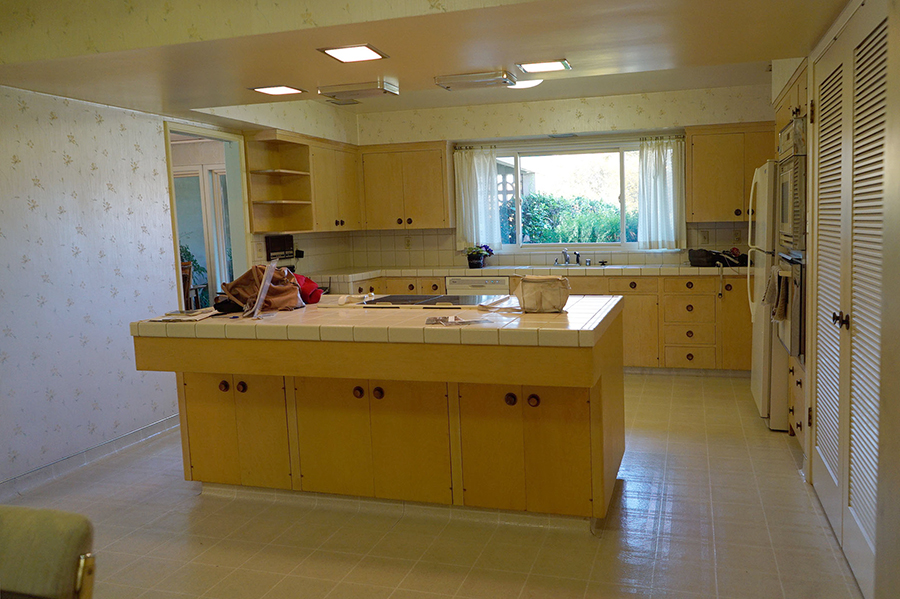 The room is basically a large rectangle that has separate entrances to the dining room/playroom (pictured above), the family room, and a hallway that leads to the back bedroom/office, driveway, laundry and garage. There is a huge pantry with an insane amount of storage (we literally had 2 cupboard at our last house). If down the road we have the means to consider a complete reconstruction of this space, I'd consider opening it up, but it would be pretty major. For now, I actually love that it has pocket doors that close it off from the rest of the house, keeping pets corralled, and noise and mess isolated.
The appliances got a state-of-the-art upgrade in the 90's but the oven and microwave were not working well anymore and the island glass stovetop was cracked and barely boiled water. Not ideal. The refrigerator niche was built for a 1960 sized fridge, and that just wasn't going to work for us. In order to fit our year-old American family refrigerator we had to rework some cabinetry without destroying the rest of the kitchen and getting into a big renovation ($$$$).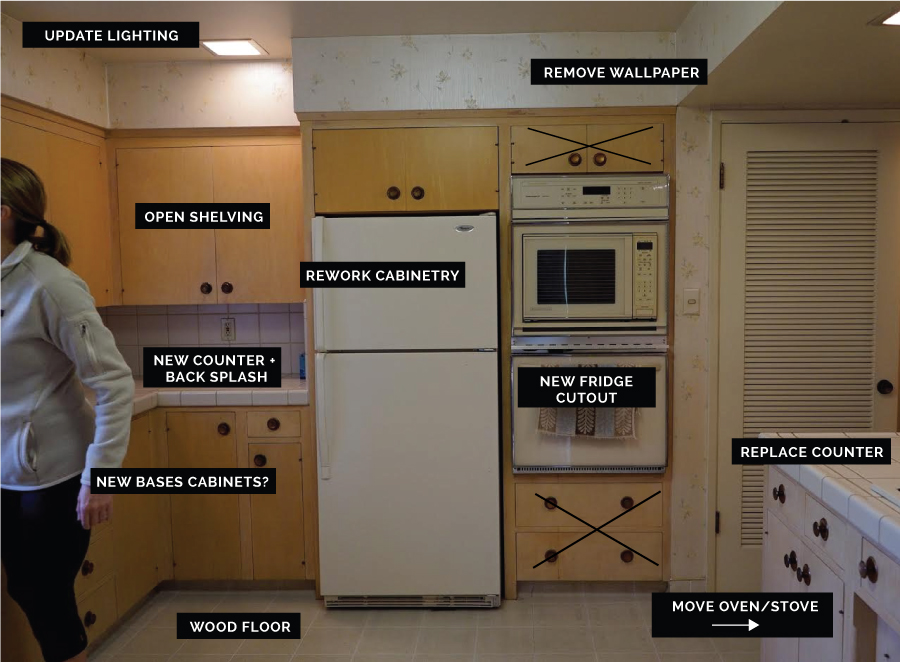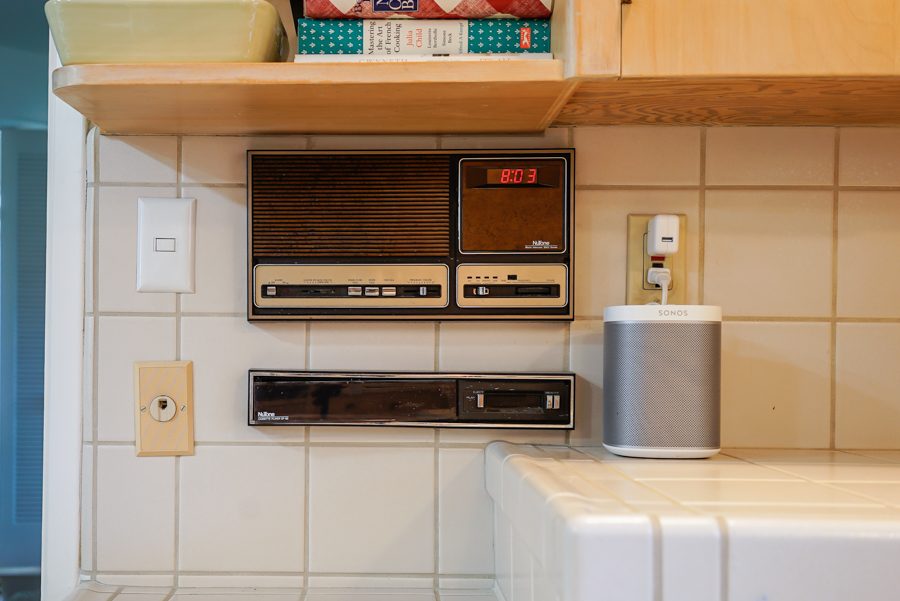 My Wishlist:
Paint cabinetry The cabinetry is original 1960 wood veneered plywood inset doors/hardware, and the counters, backsplash, appliances and flooring seem to have gotten a makeover in the early 90's. I absolutely love the style of the cabinets, but after decades of sun damage, repairs and heavy use they are super worn, filthy-looking and discolored. My preference would be to refinish the veneer back to their blonde glory, but after a few professional opinions, it will be a tricky and expensive process. So, we're going to have to paint them, which I am considering doing myself to save money.
Replace countertops and backsplash This is one of the areas that has me stuck. I think we'll do basic white quartz for the back counters, but I need to do more research on the backsplash. Although I still think subway tile looks great, I really want to do something different and with a little mid-century feel but still current. I'm not completely against subways though and it may be the best budget solution.
Remove upper cabinets, add open shelving Since we have a huge pantry and awesome storage in other parts of the room I want to remove the uppers and do open shelving. I also think it might brighten up the room without the heavy overheads.
Replace lower cabinets on sink wall? This one is a total maybe and also what's got me stymied. The cabinets on this side of the room are inefficient with giant dead corners, and some water damage, so I'm considering replacing this section with new Ikea lowers. If we can paint everything the same color I think the new cabinets can blend in with the old.
Remove wallpaper/paint We hired some folks off of Craigslist to remove about a million square feet of wallpaper from the house before we moved in and painted the entire house a fresh coat of Benjamin Moore's Simply White. I love how clean it all looks but my color craving is kicking in. I painted a chalkboard wall on a boring section for the time being, although I'm not committed to it longterm (don't tell my husband).
Update hardware This is a must and will go a long way in refreshing the look of the space. I'm looking for something modern but midcentury-ish.
Replace light fixtures We've already updated the fixture in the breakfast nook but I need a lighting plan for over the sink and island.
Remove old 'tech' The previous owners installed some previously 'state-of-the-art' technology in this house with short-circuit push button light switches and intercoms in every room. The kitchen wall has the main controls which also include a radio and tape deck. It actually has worked great as background noise to keep our puppy company, but its gotta go.
New fridge cutout  This step has some progress! We removed the built-in oven and microwave and created a larger opening for our refrigerator. With the leftover space we had room for a microwave niche, storage cabinet, wine rack, and pull out trash. The area is still completely unfinished but its been functional which is a win.
Move oven + range to island Since we removed the oven from the wall we got a new stove/oven unit to put into the island. This meant losing some cabinets to cut out a spot for it and replacing the island countertop. I went with an inexpensive quartz that's a pretty good Calacatta marble knock off and I love the warm and green veining in it.
Flooring The floors needed updating throughout the house and the rolled vinyl in the kitchen was no exception. Since I knew this project would be phased, I wasn't ready to commit to tile so opted to continue the engineered wood flooring from rest of house. I know its not always practical for kitchens but its holding up fine and I love the way it helps the house flow.
Once again my handy-dandy dad helped us come up with a plan and he and T did a quick mini-reno purely for functionality a couple months after we moved in. They demo'd the old appliances, reworked the fridge niche. This is where the plywood cabinets were a lifesaver since they are so easy to replicate.
Six months later, this is how the kitchen still stands and its basically a construction zone that we've learned to ignore. I love the new range and the layout works much better so we're comfortable for the most part. But looking at these photos I'm reminded how gross the cabinets and hardware are, and the sink is another story and drives us crazy. Since I am in career limbo, we're not comfortable investing a lot right now so I need to figure out a way to finish the space on a budget. Its annoying living in a half renovated space, but having functional appliances is waaaaaayyyy better in the day-to-day and worth the half-assed reno. But I do daydream of what it could be one day…
My inspiration
Fresh, MCM inspired

Add some color

Keep it clean and bright
A few months ago I started messing around in Photoshop and playing around with finishes and paint colors. This was before I decided on the open shelving so that will change the look quite a bit. I'm not sure this is the direction I'll go but you can see what an insane transformation paint will make! Wish us luck, we're hosting our first Thanksgiving here so hopefully everything goes smoothly! Hope everyone enjoys the holiday and has a relaxing weekend!
SaveSave
SaveSave
SaveSaveSaveSaveSaveSave
SaveSave