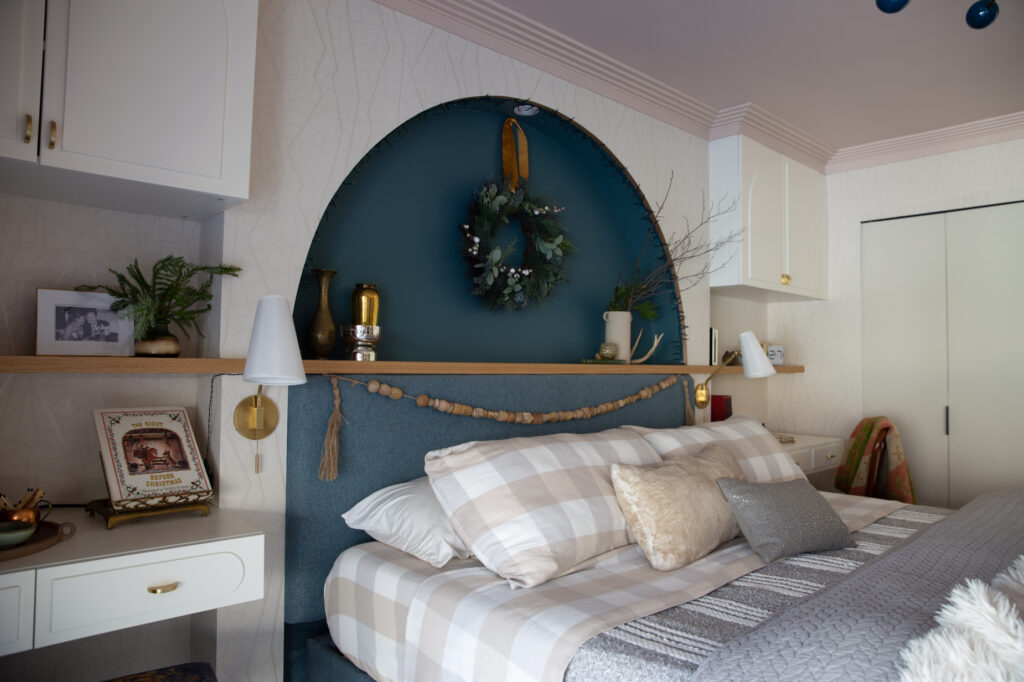 I've never done much seasonal decorating in our bedroom but maybe that's because its never been fully decorated. But since we gave it a major makeover this summer, I was excited to see how to mix things up with a little winterizing. We celebrate Christmas, but I don't want to decorate the entire house for just a few weeks with holiday-specific decor.
Since there is already rich color in the room I wanted to keep things simple but cozy with organic textures that will have a longer life past December.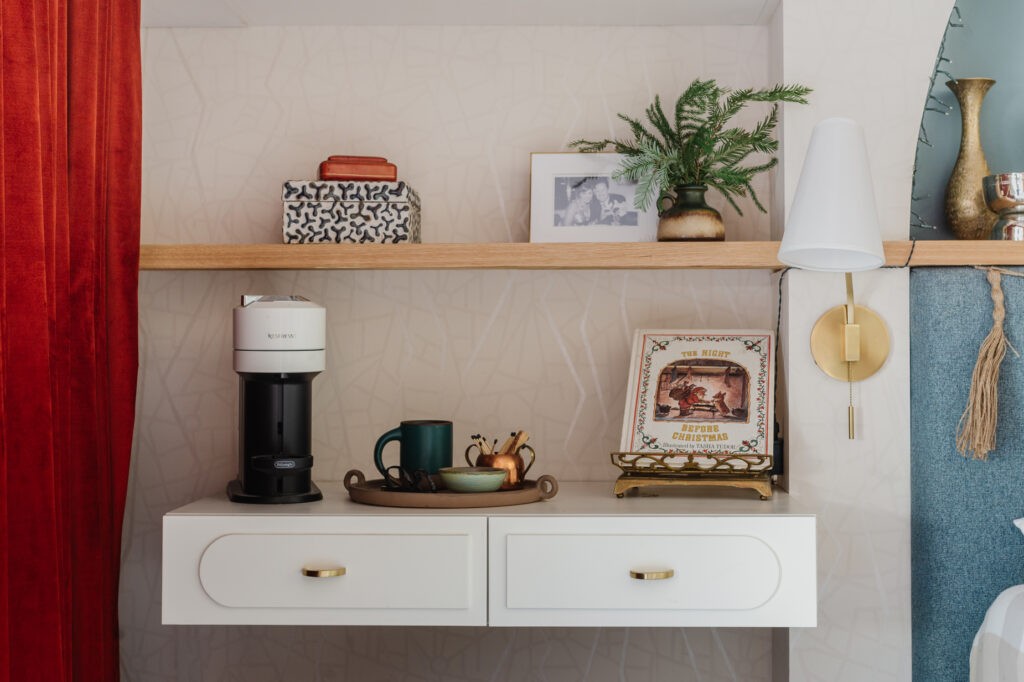 Bedding
The one thing we always do once the temps drop is switch out the bedding to flannel. Our old set was pilled and missing a pillow case so we were due for an upgrade. I'm in love with this Boll & Branch sheet set. They are so heavy and thick and really do feel like velvet. I went with this Buffalo Check to add a soft pattern that wouldn't compete and the neutral colors will feel relevant all the way until spring.
I added a matelasse duvet cover we already had from West Elm a few seasons ago (similar) to give it some weight, and found this furry pillow and stripey knit quilt at Home Goods. Its easy to mix patterns if you keep everything in the same color family and add layers with texture.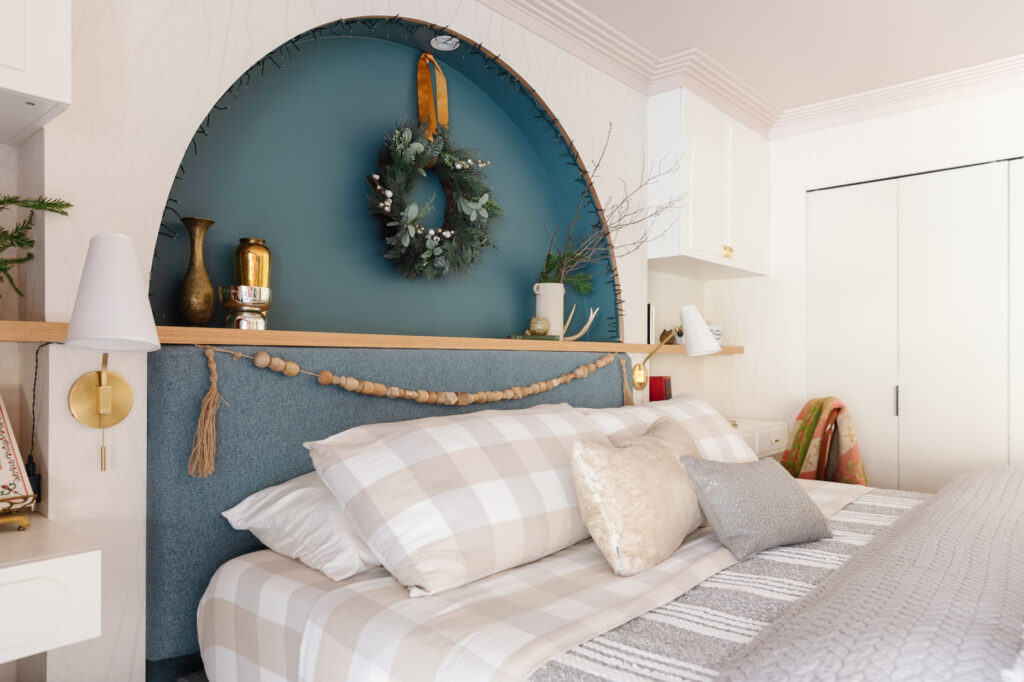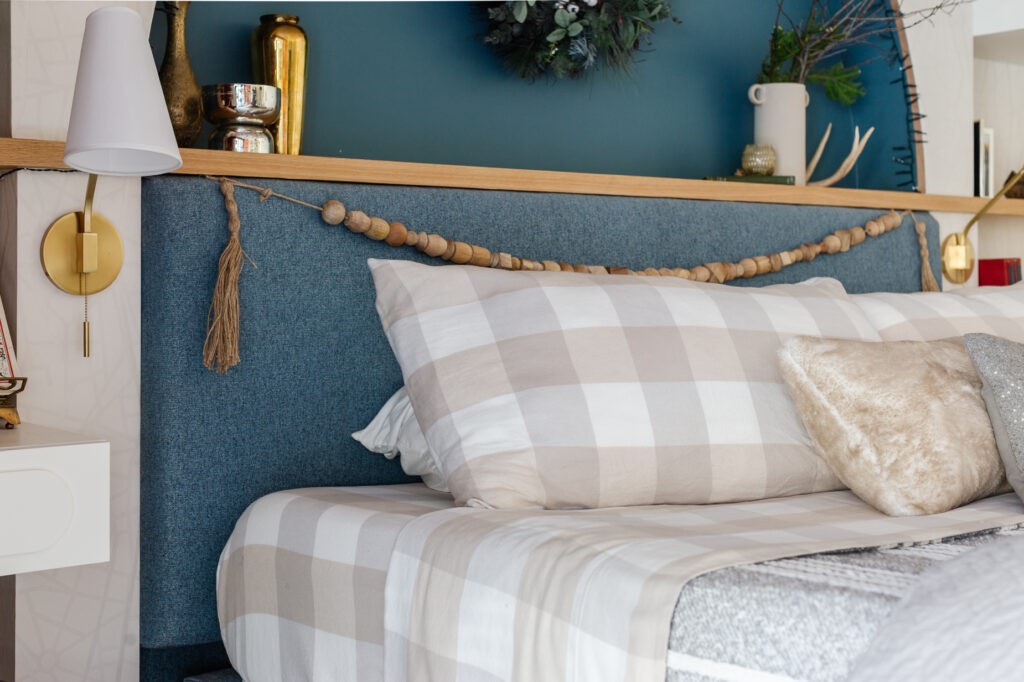 Greenery
One can't have. winter decor without some evergreen foliage. The wreath is faux, but I elevated the look by adding a gold satin ribbon to hang it from the top of the arch. The rest of the greenery is the real thing––I I brought the Norfolk pine in from the dining room and she might just be here to stay. I love the way it looks under the art from Erica Avila we commissioned for the room renovation.
I clipped some branches and redwood sprigs from our yard which is the easiest thing in the world to do to bring some life into a room. I propped up an original sketch I picked up at the Antique Faire a few months ago on top of our dresser from Apartment 2B. This little vignette is a happy little holiday scene to wake up to. And yes, that sconce is from Blueprint Lighting and its still incredible.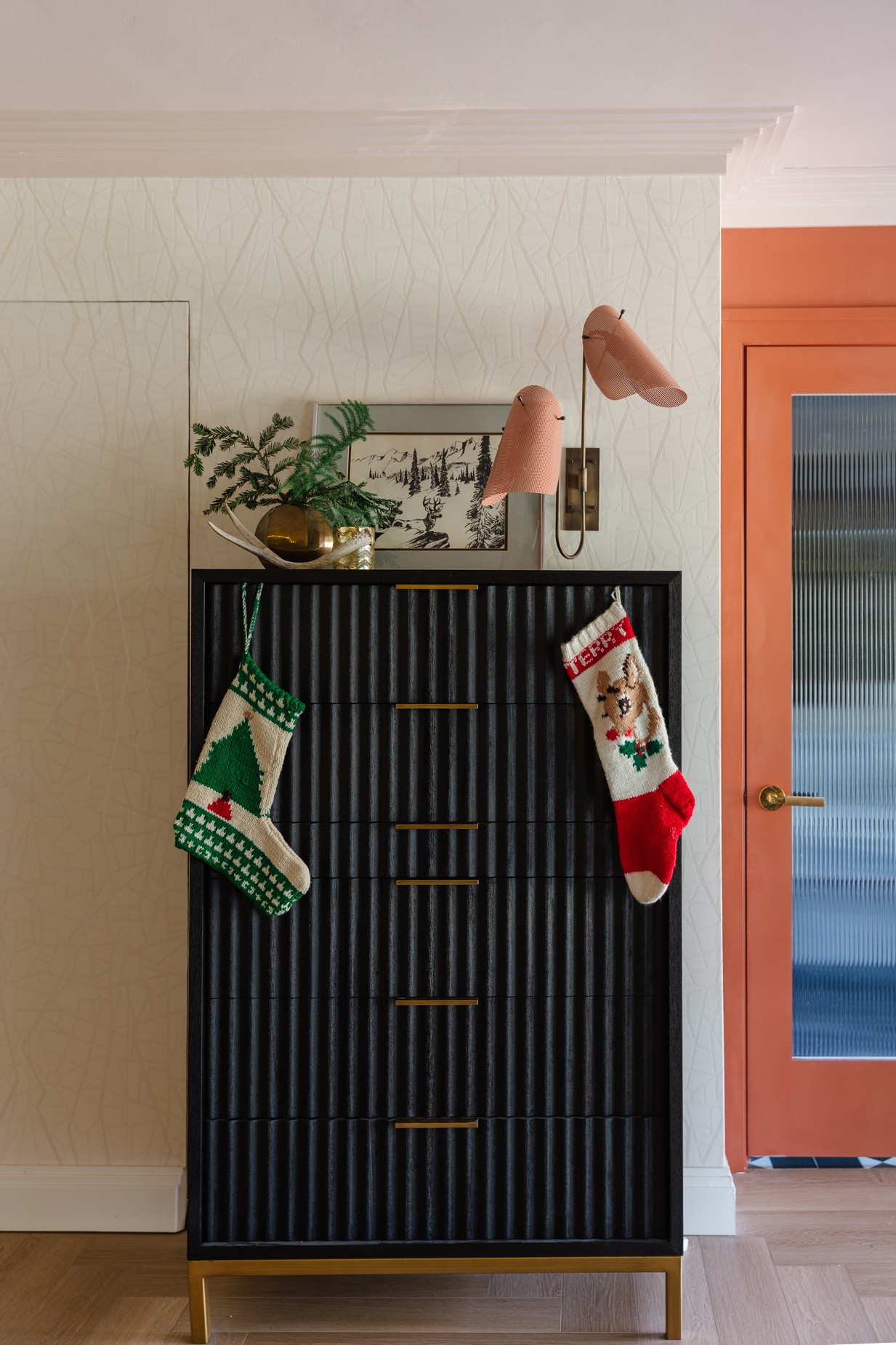 LIGHTING
When the days are so short, adding extra lighting makes me look forward to the longer nights. I'm not sure I'm going to be able to take dow these twinkle lights because they bring such a cozy glow to bedtime. Candles, brass elements and reflective surfaces add a warm sparkle to balance out all the organic, natural elements.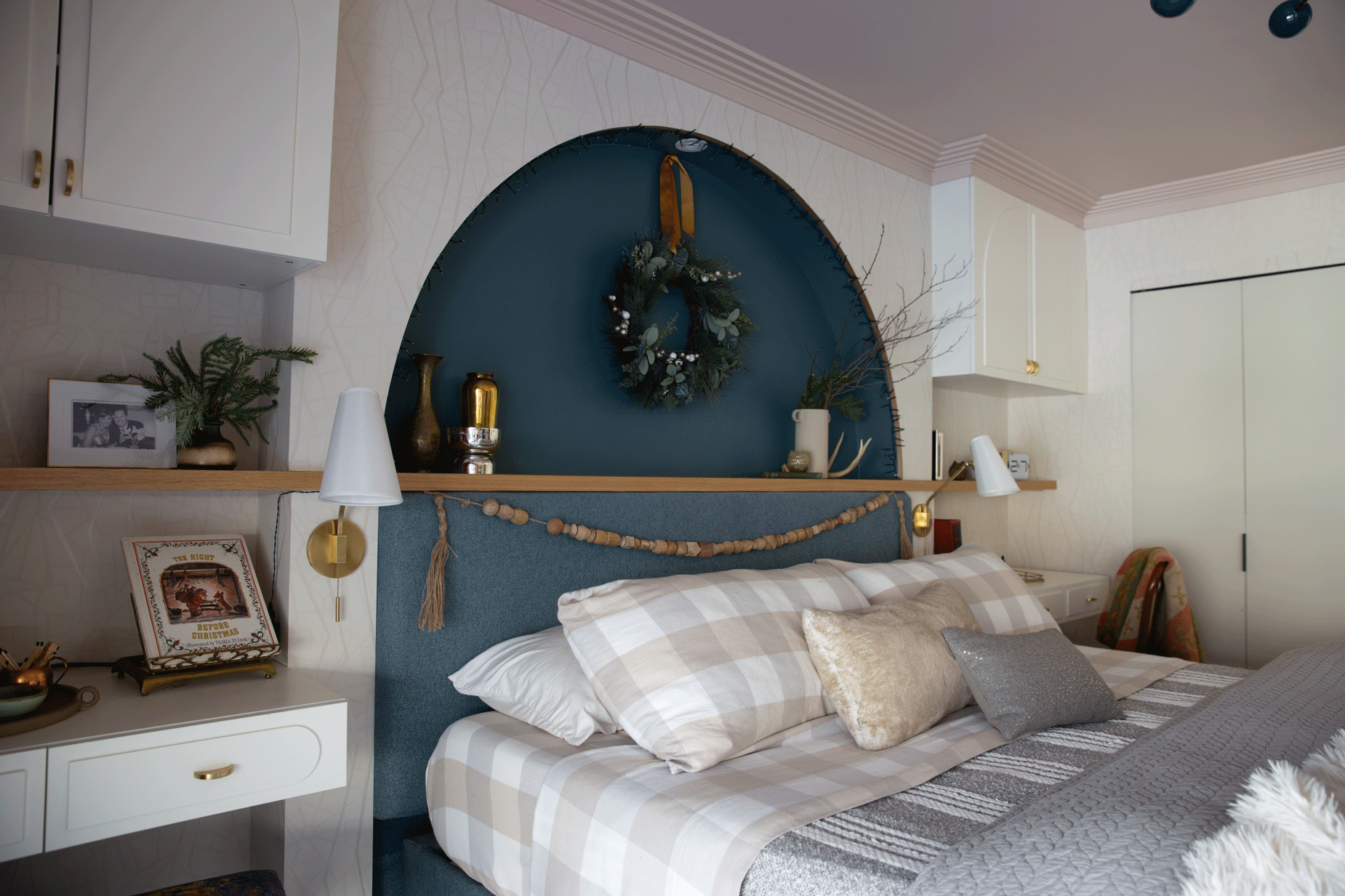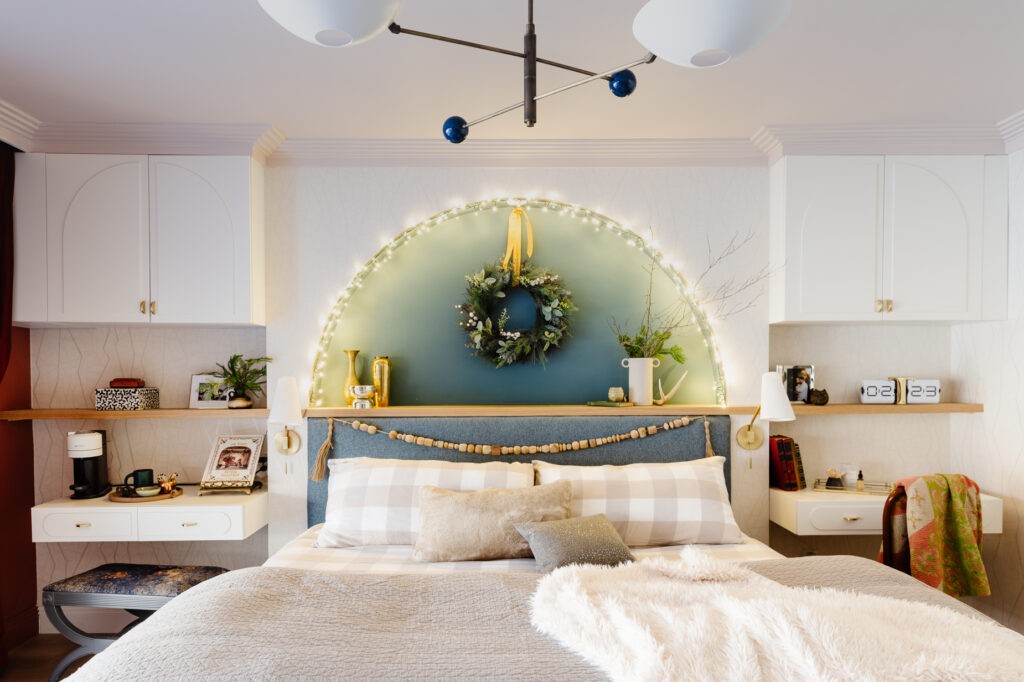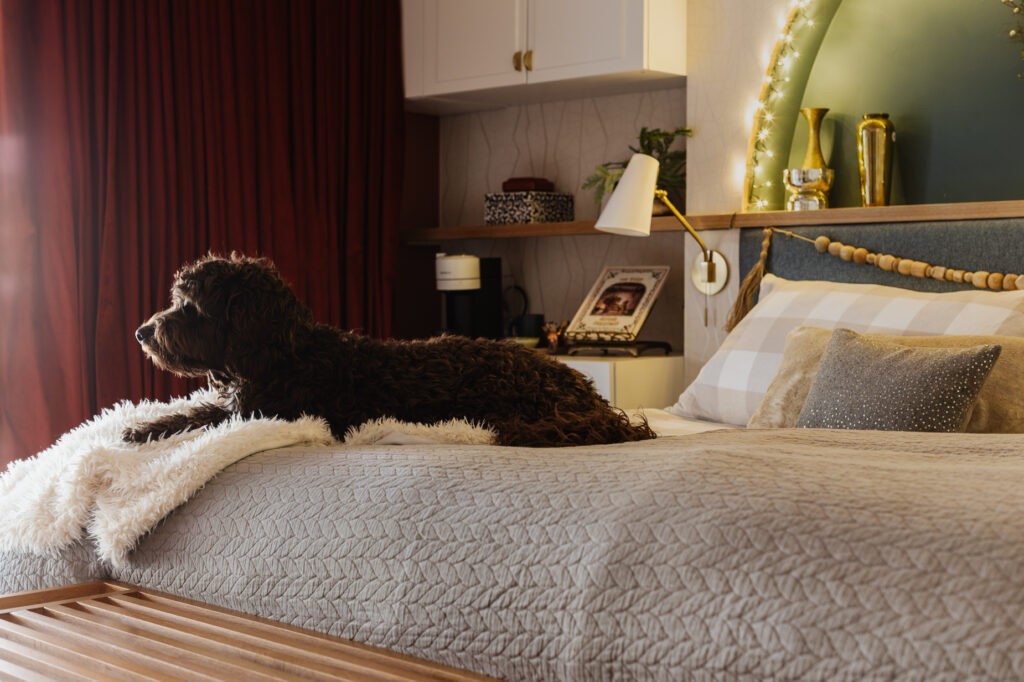 Of course this is really Desmond's bed and he just lets us share it with him, so he gives it his full approval. I hope you all are bringing some seasonal coziness to your spaces!