Happy Monday friends! Living in an older home that needs a lot of work (read: $$$$) its easy to get overwhelmed and frustrated when your beer budget isn't aligned with your champagne dreams (and I like expensive bubbly). So, instead of dwelling in that space I've been working on some quick and easy little projects that are refreshing my home and mood and I'm here to share what I've learned. This post turned out longer than I expected so will be breaking it into a few posts!

Re-style your TV area
I've noticed a trend in home decor blogging that designers like to hide (or not photograph) the big black box in the middle of most of our homes. As much as I'd love to have a nice, dainty screen, its just not going to happen with my husband and he'd actually prefer if this one took up the whole wall. Someday, I'd love to have this brilliant thing of beauty, but unless Samsung wants to sponsor me (I'm available! haha) its not going to happen for awhile since ours is perfectly functional.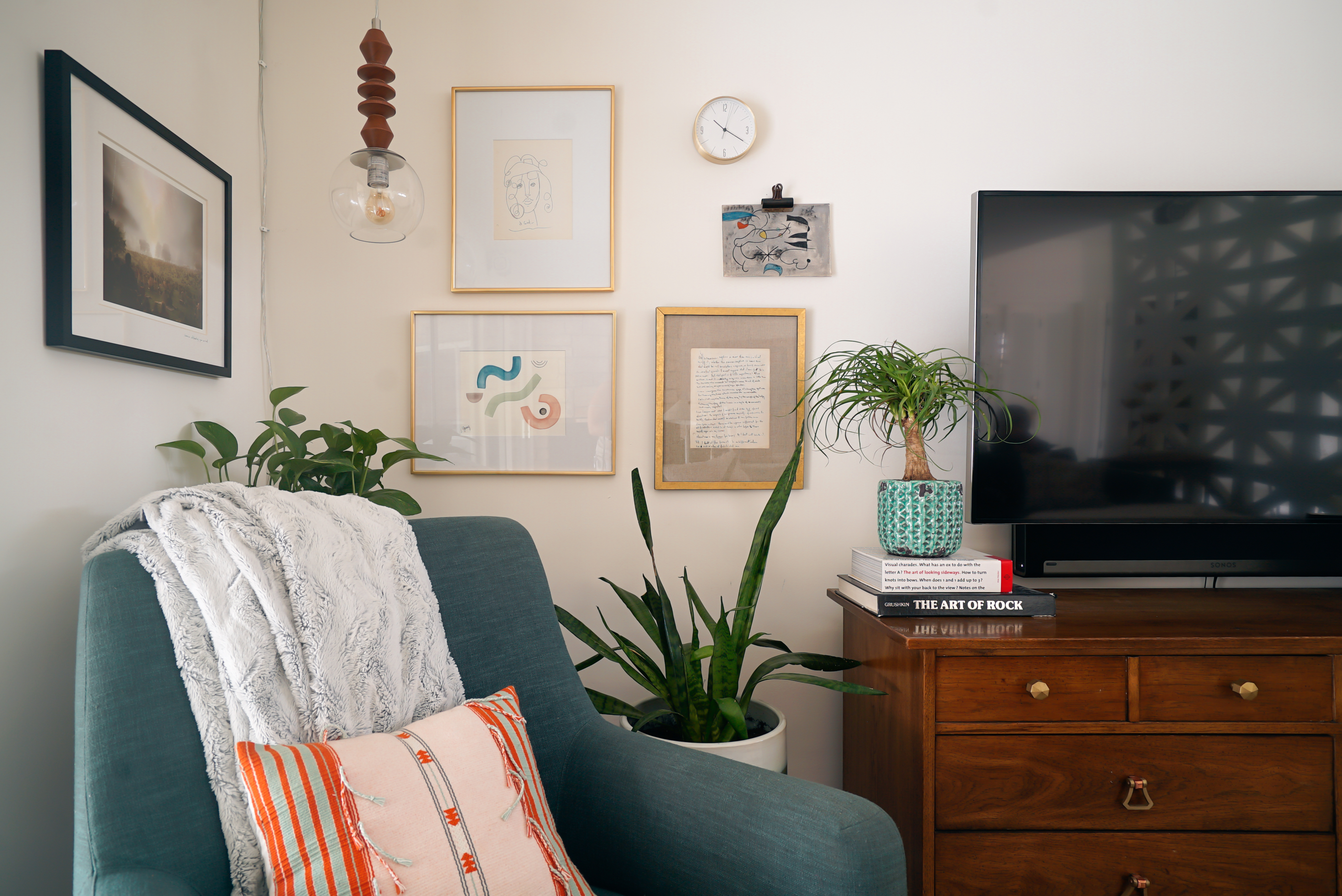 The wall behind the TV  has been bugging me on the daily, especially since its a wall that we literally sit and stare at. Its wide and blank and although I still love a good gallery wall, I prefer a collected look and hadn't been doing the actual collecting. So I thought. When saw I saw Holly Young post this little abstract piece (bottom left) on Instagram I snapped it right up. I love the colors, the softness and texture and knew it would look great with the armchair. As soon as it arrived I bought a pretty brass frame for it and used that as my jumping off point. Now it needed some friends so I remembered I had a box of sketches my grandfather had drawn and went around my house robbing frames from other spots that weren't living up to their full potential. I won't tell you how sad the master bedroom looks now. 🙁 Apparently I own a lot of brass accents including the huge floor mirror so I just leaned into it and hung my beloved mobile from Electric Sun Creatives, along with a couple little accents from Target to balance it all out.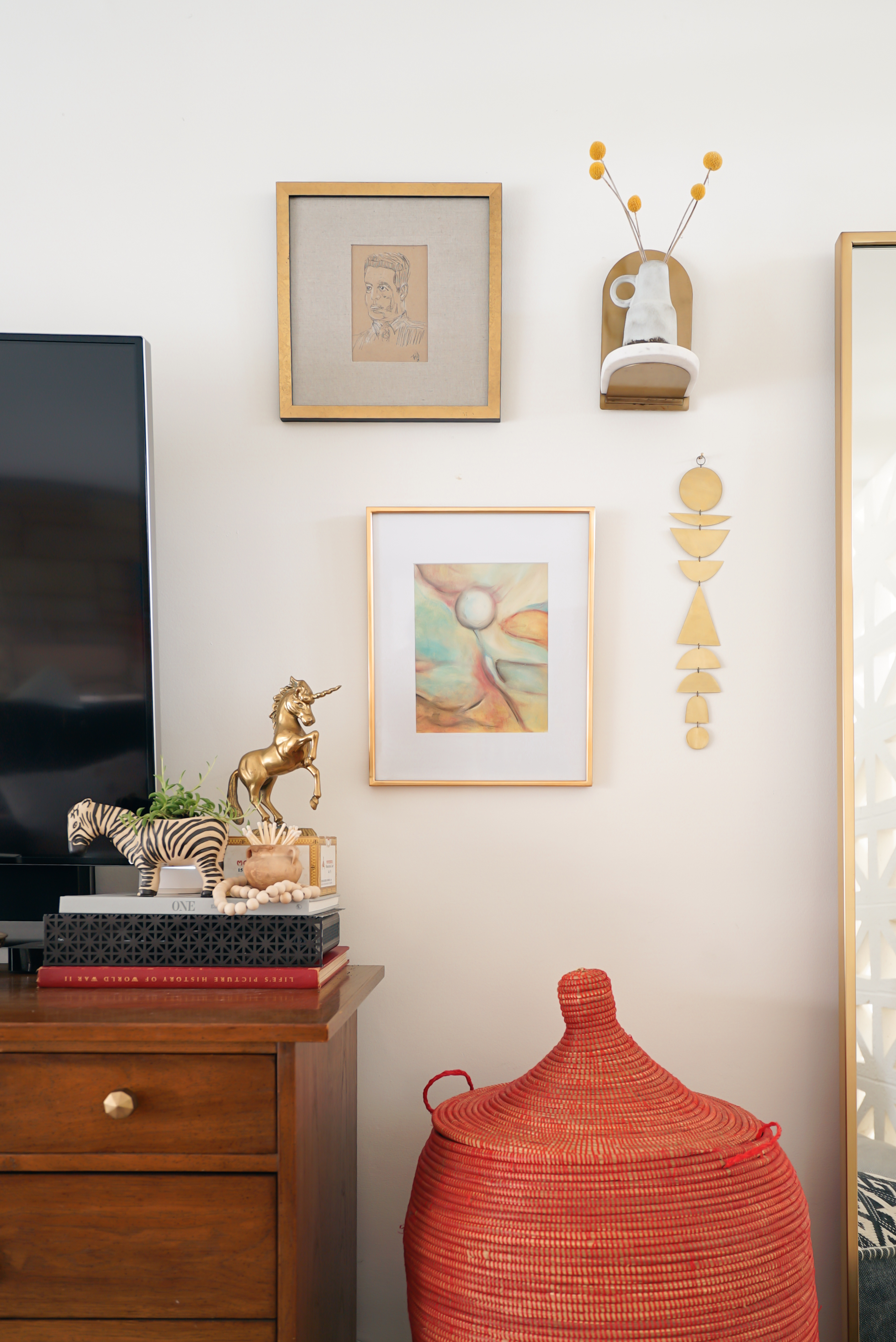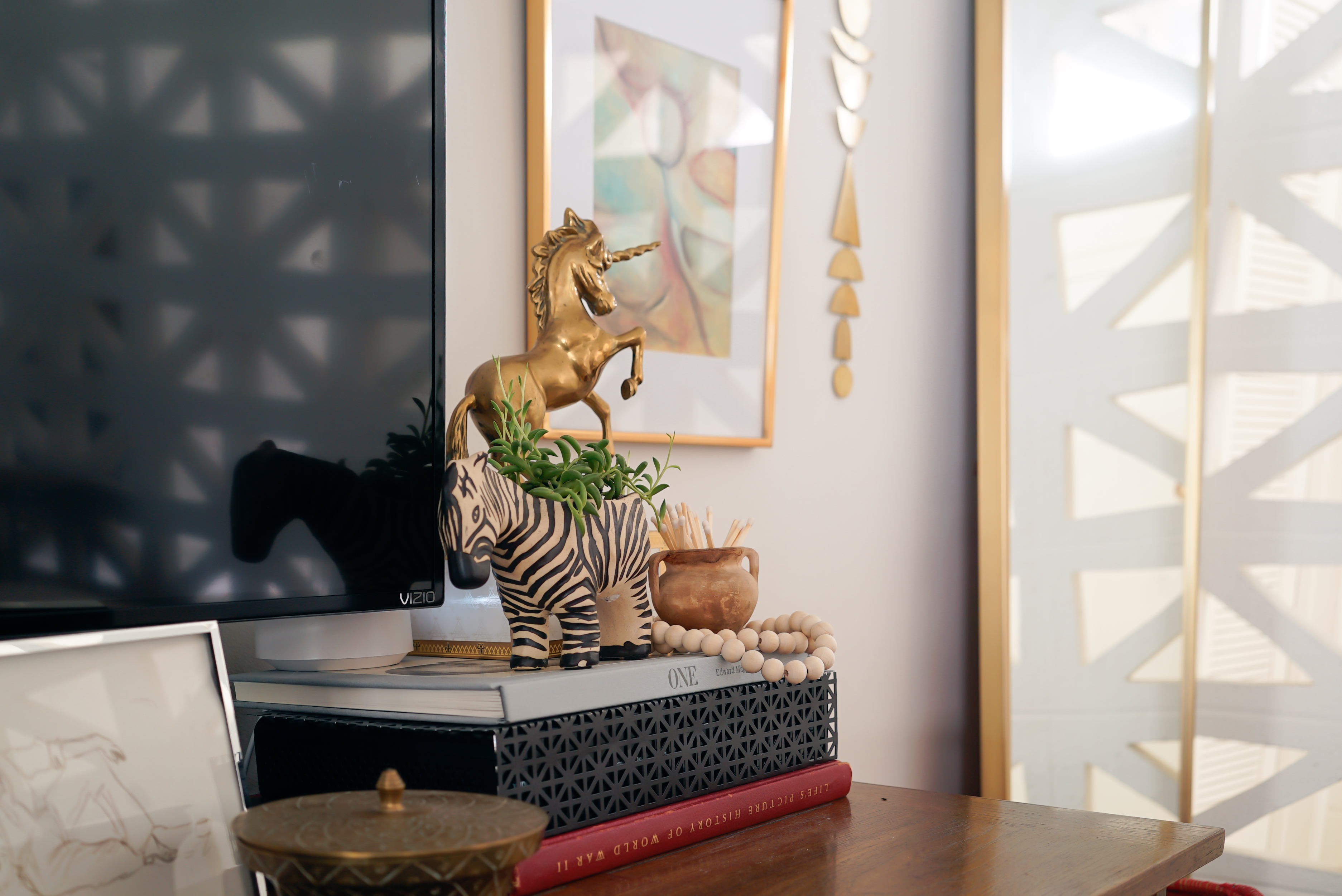 Now that the wall was looking good it was time to deal with the mess of electronics on the console. There are tons of posts on Pinterest on how to hide a cable box but I wanted quick and easy. I wanted it to just recede and go away so I picked up this decorative aluminum sheet at Home Depot. There are several patterns available but I liked that this one worked with the midmod vibes of our house and echoed the breeze wall in the room. Since this meant to hide the box I wanted low contrast and sprayed-painted it with a matte oil rubbed bronze, and then just trimmed and bent the metal to cover the front of the box. So its not 100% hidden, but still operable, ventilated and just blends in with the books I styled it with. The other trick is to turn off the button and clock lights so it doesn't draw the eye. Easy!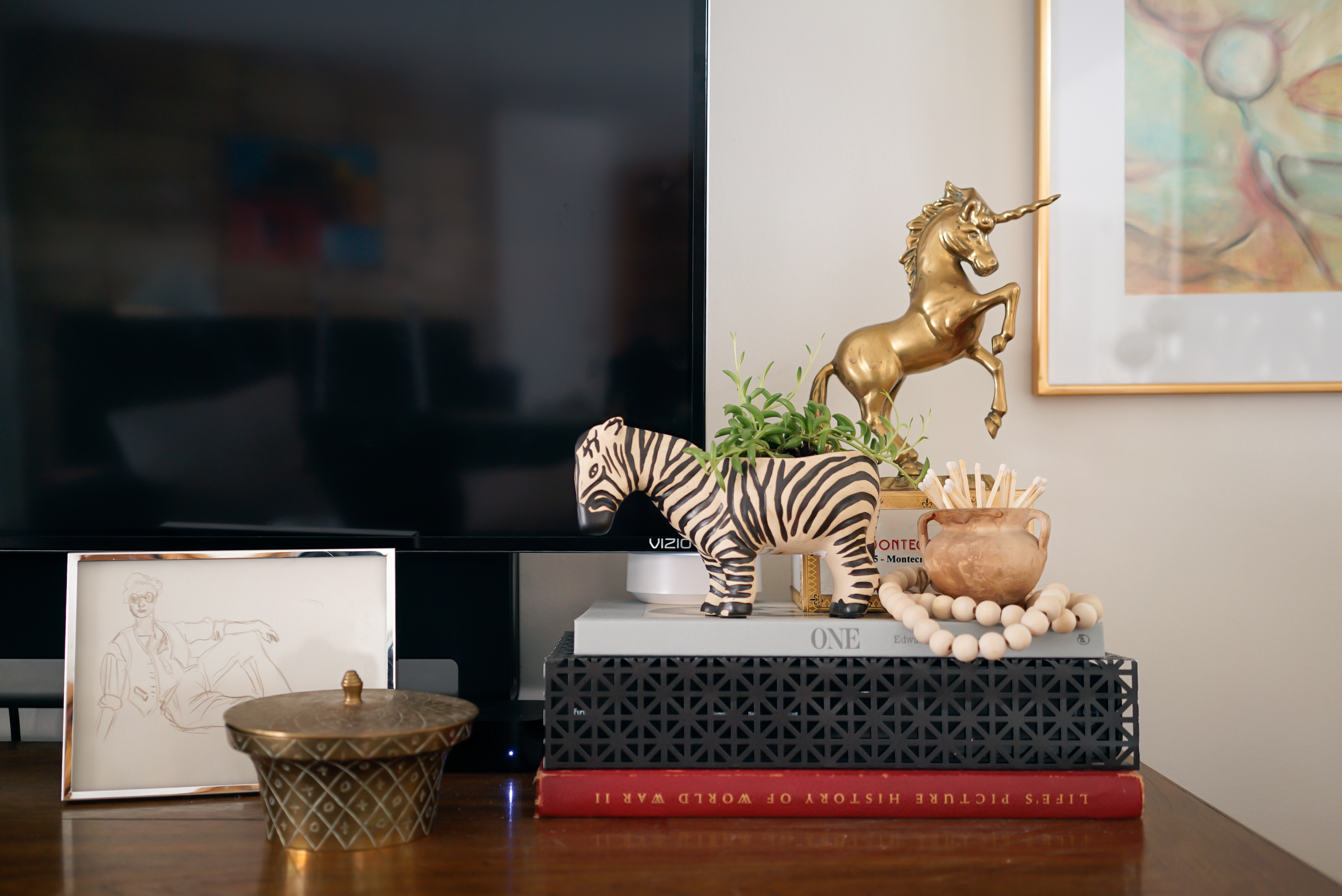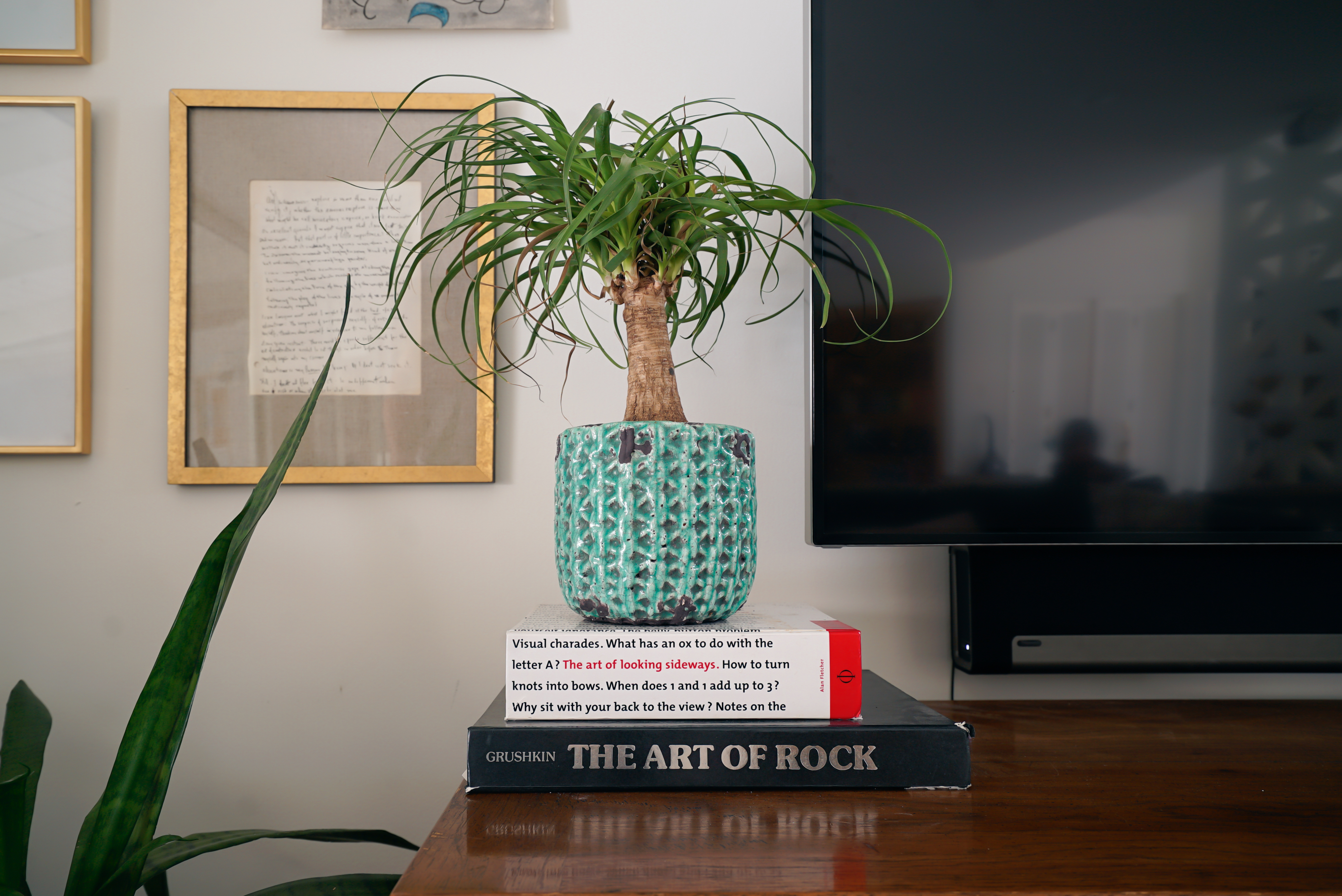 I brought in a couple little plants aI had to add some greenery and life and varied the heights with some coffee table books I already owned. All in all it cost about $100 and an afternoon to completely makeover this side of the room. I realize I was lucky to have original art hiding in a closet so here are my recommendations anyone can do:
Frame old letters or hand-written cards from a loved one.
Bring in a little nature and add some plants!
Reframe a piece of art/photo you already have somewhere
Hit up estate sales and thrift stores for unique objects and original art
Mix in store-bought inexpensive accessories (best if balanced with meaningful items)
Stay tuned for Part 2!
Sources
L to R: Hanging pendant from Target (no longer available), similar // Abstract art by Holly Young // Brass frames from West Elm // Small clock from Target // Zebra planter from Anthropologie (no longer available) // Wooden beads from Amazon // Brass and marble wall shelf from Target // Mobile by Electric Sun Creatives // Floor mirror from West Elm
SaveSave
SaveSave
SaveSave
SaveSave
SaveSave
SaveSave
SaveSave
SaveSave
SaveSave
SaveSave
SaveSave
SaveSave
SaveSave
SaveSave