Hi friends, this week was a big one but we are still down to the wire. We have a really great team of people literally rolling up their sleeves and doing what they can to get this One Room Challenge done on time and with our measly budget. But my nerves are shot!
Hi! If you're new here, I'm Rebecca, a designer located in Sacramento, CA. I'm currently renovating our 1960 ranch also known as the #plumbmidmod. 
Charles Shipman, from ShipShape Landscape (best name, right?) has been here all week and I don't know what we'd do without him. He helped me figure out the best way to lay our concrete pavers, he repaired our super old irrigation, dug new trenches and is overseeing this part of the project. Along with my dad,  #robertthehandyman and a couple other workers we are slowly (but surely!?) making progress.
The Plan, Updated
Lawn/Misc Yard 
4′ fence to keep dog from escaping yard through the creek.
New grass  Green Acres Nursery & Supply generously donated sod and its currently sitting in the driveway
Create a path to concrete walkway that leads to lower yard Made concrete pavers
Demo planter curb along patio and continue lawn to meet concrete pad
Redesign and plant corner planters to soften deck and hammock corner
Paint back of gate to match framing to gray boards I decided against doing this. I want to add more boards to backside eventually instead.
Remove old scraggly rose bushes on side yard
Clean up trees and hedges
Add metal edging to planters
Add concrete pavers to back gate
Replace irrigation system
Add landscape lighting Electrical is in the ground. Thank you Lumens.com!
Dining area 
New table and chairs
Modern pergola
Statement lighting Thank you Lumens.com!
Soft seating area
BBQ dock(?)
Bar/Console under bath window?  Nixed
Lots of potted plants
Covered Breezeway
Statement art piece on the dining side of house Custom mural designed, needs to be painted this weekend.
Steamline/modernize doorway landings (x3) Nixed
Create a cohesive conversation seating area
Replace wall sconces
Make hammock lounge cozier
It's Thursday as I write this and we have photography happening Monday. As you can see there are still quite a few items left on the list and I haven't even started styling anything yet. I asked on Instagram yesterday for ideas on what to write about and one suggestion was how to survive a remodel, which I thought I was in the best headspace for. This is a little more DIY/One Room Challenge focused but hopefully it helps anyone who's going to embark on a similar project!
5 Tips on Surviving a Home Remodel
Pretend you're camping. Living on a job site is excruciatingly painful. Its dirty, dusty, and 1000x worse than the old space you were dealing with before. Its a lot like camping so it helps to put your mindset along those lines. Its an adventure! We're lucky we survived! We'll all enjoy a nice hot shower at the end of the day! The backyard project is a LOT less intrusive than the kitchen remodel, and a kitchen reno needs its own survival plan. But work happening outside our house means there is dirt getting tracked in, our kid is basically raising herself, and many routines have fallen by the wayside. Next time, before we start one of these I will get some freezer meals made in advance, and have some quick options on hand. Since anything and everything tastes good after a long day of 'camping' and you can't.make.one.more.decision, have something healthy you can heat up and eat.
Be a good human. I'm a strong proponent of being a good human in general, but especially folks working in service and trade industries that basically make our world function properly and often get overlooked. When we have people spending their day working hard at our house, I try to be as accommodating as I can and make sure they want to come work for me everyday. Have water available, offer to buy lunch, and be understanding when problems arise. One of the guys (Wonder Pat!) didn't have a way of getting to our house one morning so I drove across town and picked him up. Maybe that's above and beyond but he needed help and we needed him to work that day, lol! The construction trade is notorious for being flaky, no-showing and undependable so when I'm working with someone who is getting the job done, I treat them right.
Stay close. I limit any extraneous social plans and stick close to home on big days when there are a lot of moving parts. I'm basically the general contractor on this job and if there is any kind of design or budget question I want to be there to answer it. Its too easy for the wrong decision to get made on the fly and I've found that if a decision gets made without me its not how I would have chosen. I realize this isn't possible for everyone so that's why its critical to have a designer or trusted GC around who can make those calls as they come up.
Lower your expectations. This is really only if you're pushing your team to get things done on a crazy timeline of budget. We've made adjustments along the way to make things easier as long as it doesn't affect safety or the integrity of our home. My motto with these kind of projects, especially ORC, is 'done is better than perfect.'
Find the pretty. So ya, for most of these projects, everything is awful. Ha! I do however try to hold on to tiny moments and glimpses of the pretty that will come. When new products or materials are delivered I soak them up and imagine what they'll be like in place. I find tiny angles of "complete" to look at and focus my attention on them. Since the pergola went up I've been dreaming of bougainvillea climbing up the posts so it feels like we're on a tropical vacation when we're out there. So yesterday I finally found the color I was looking for and propped it up.
If you squint your eyes and ignore the tools you might just get that feeling I was after…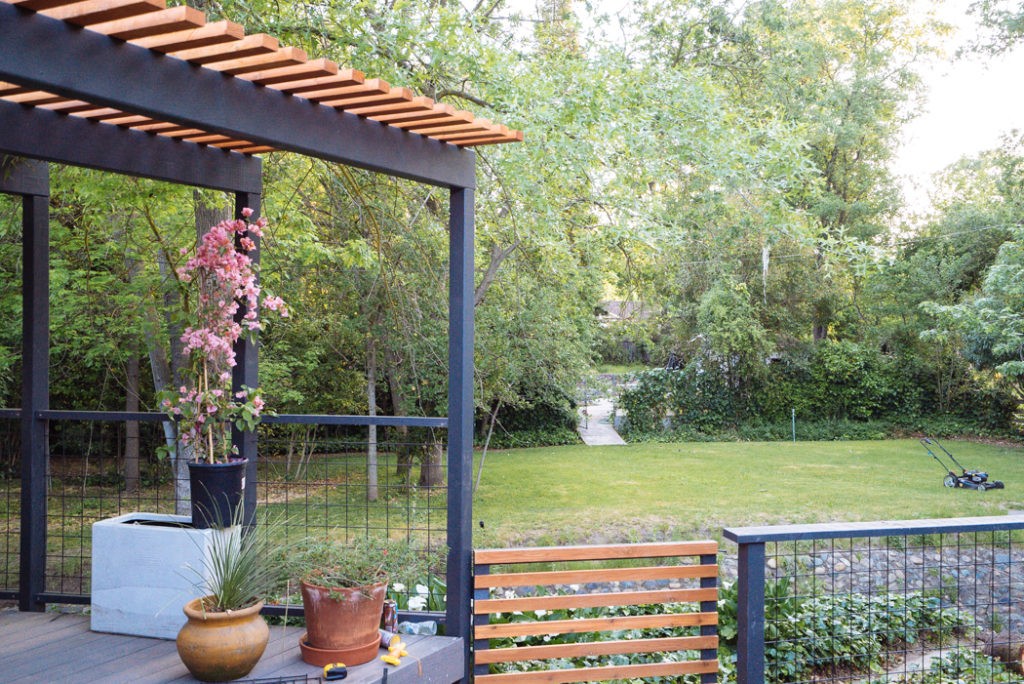 Don't forget to see what the Featured Designers and other Guest Participants did this week!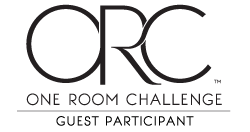 In case you missed where we've been catch up here: Week 1 (before photos, inspo and the design plan), Week 2 (surprise elements), Week 3 (pergola progress), Week 4 (landscaping)