Hey! I'm home from vacation and progress was made on our One Room Challenge while we were away! My dad and handyman Robert did some literal heavy lifting and we now can get a feel for how its going to be. It also went from rainy spring to full blown summer so I am dreaming about evenings hanging in our new yard and outdoor dining pergola.
Hi! If you're new here, I'm Rebecca, a designer located in Sacramento, CA. I'm currently renovating our 1960 ranch also known as the #plumbmidmod. 
Ok, so progress report! Keep reading to the end, I have some exciting announcements!
The finished the building the fence across the yard and connected it to our neighbors' fence. . It just needs the header rail and the gate, and I also decided I hate this paint color. I'm not sure what I was thinking-we have 4 gray paint colors out here now between the house and the deck boards and this one is blue and not in a good way. I tried to find a way to tie it in and not have it be an eyesore but I know myself and I'm going to always hate it so we need to fix it before its too late. Luckily the hog wire panels still slide out so we'll correct that this weekend. I hate inefficiencies like this but better have it be right.
One the subject of changes, when we got home this afternoon we had a meeting of the minds with my dad and decided not to add the fence along side of dining deck. See pink line below.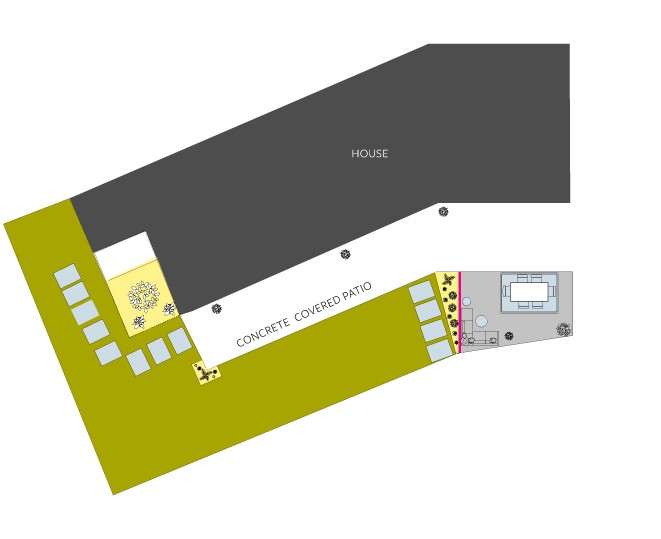 Looking at it there are too many vertical lines everywhere, and although I want to limit kids and dogs walking through the planter we can do that with containers, and deck furniture as well as poky plants in the planter.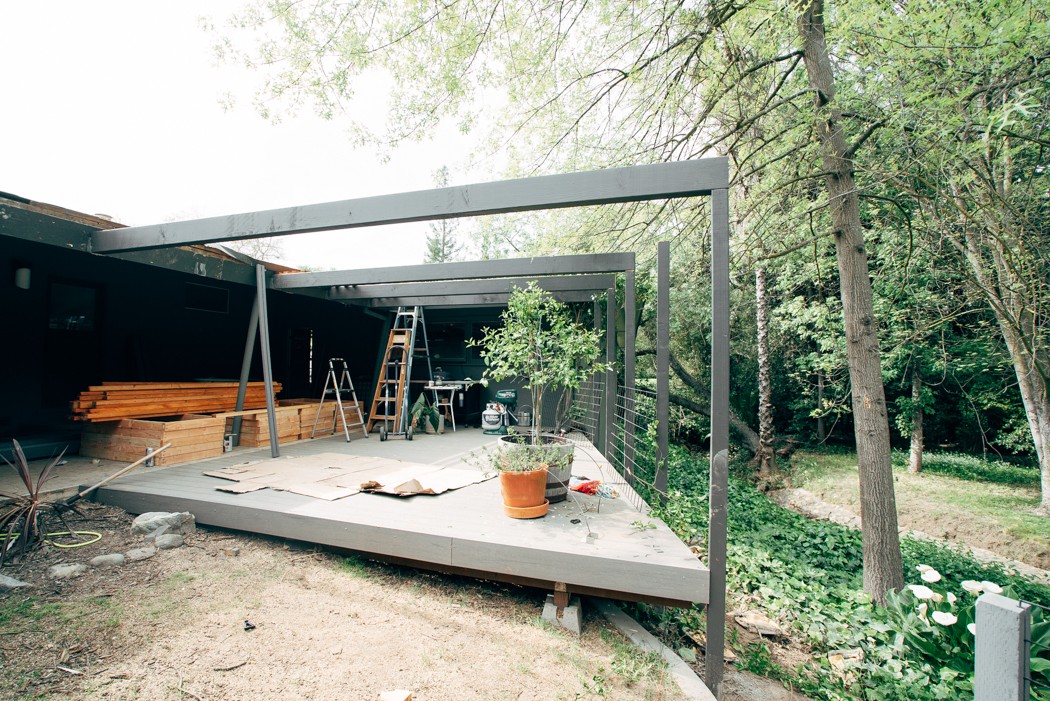 The next issue we have is with the angles on the back deck and adding adding the hog fence. I wish we could leave it open but something needs to be there for code as well as a leaping labradoodle. You can kind of see below that in order for the beams to meet the house the vertical posts aren't flush with the angled deck.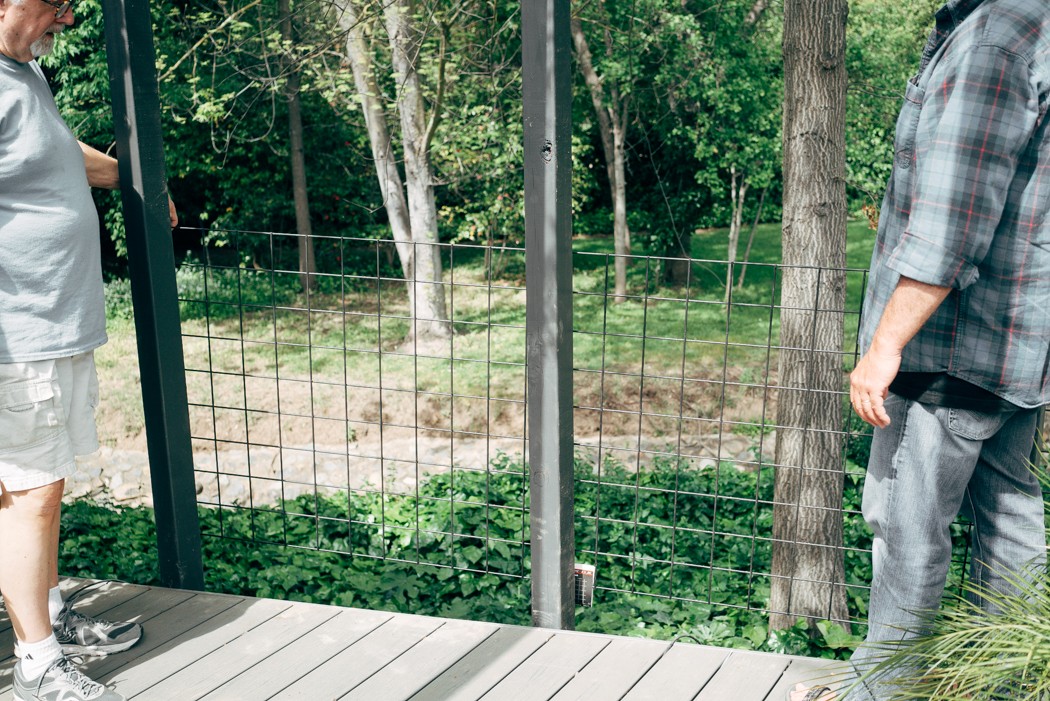 We decided that we're going to cut the wire and drill holes in the sides of the post to hold the hog wire. Then we'll add a top and bottom rails in between the vertical posts. It will look a little different than the rest of the fence across the yard but once its all painted the same color it should be ok.
We have one more beam coming tomorrow and then the lattice will go up! We stained it a natural wood and I'm loving that hit of warm wood coming in already.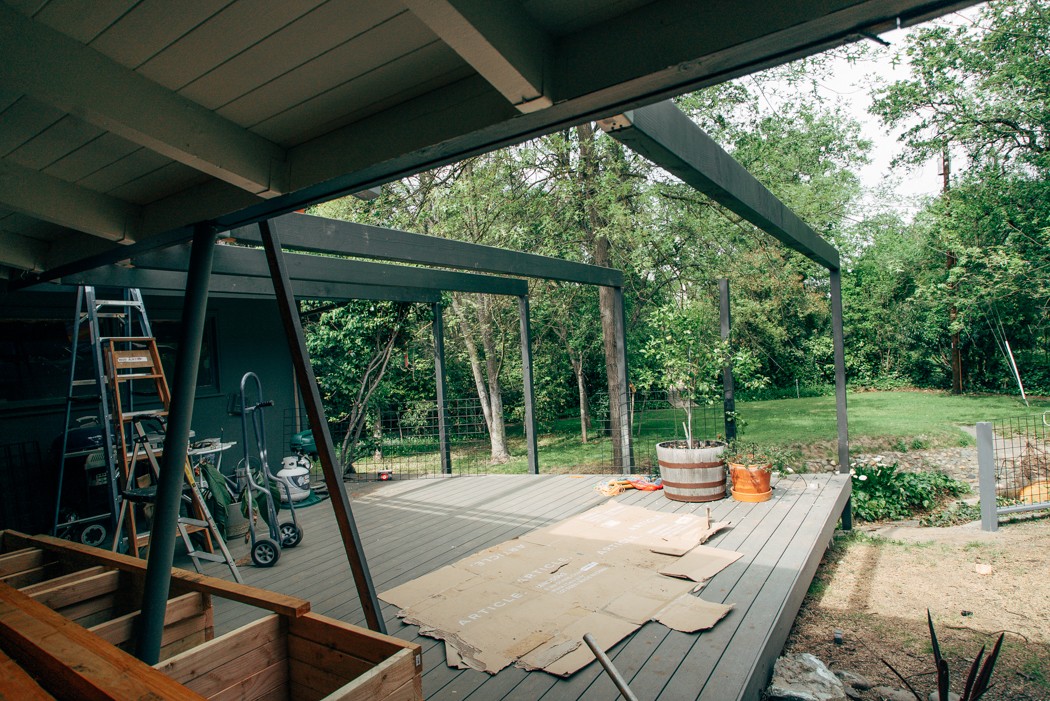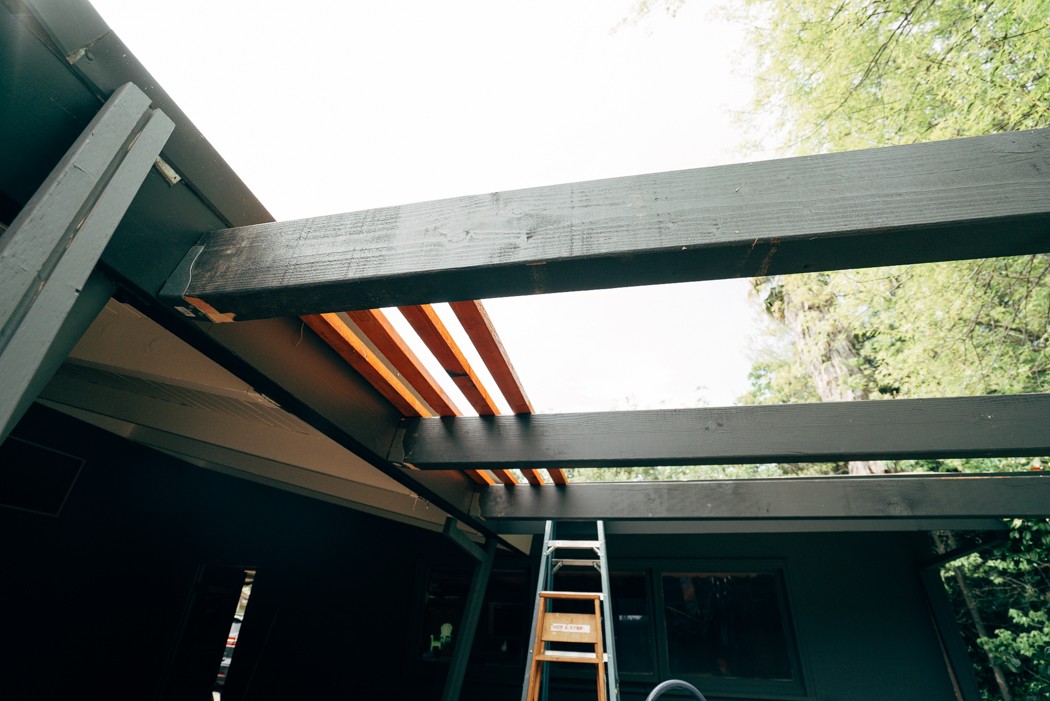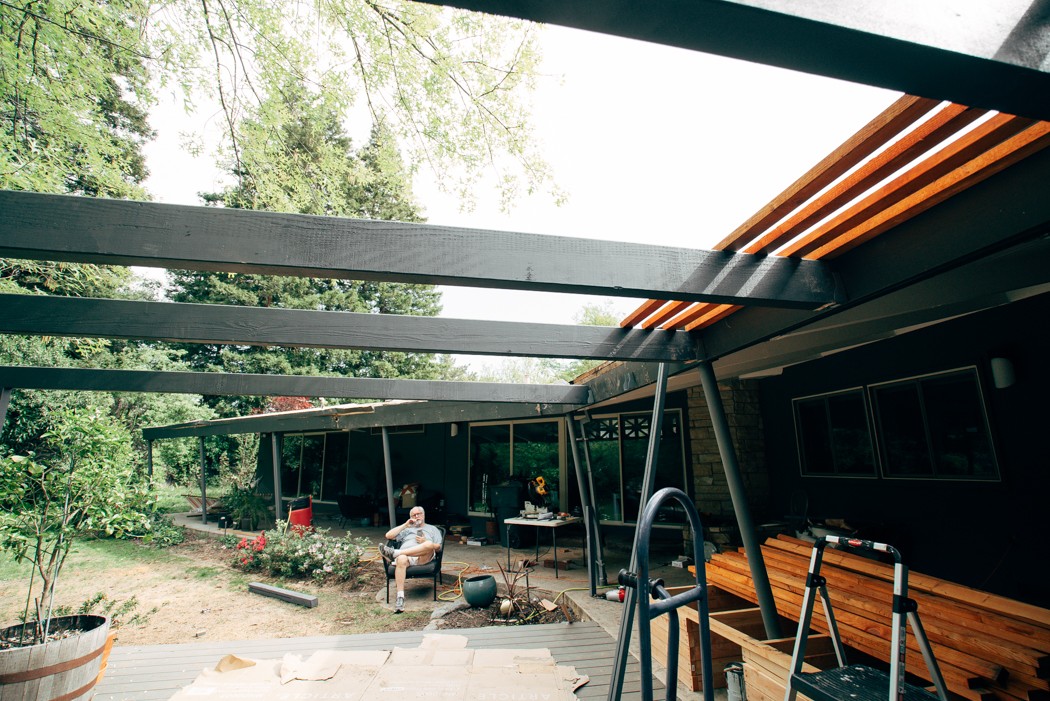 Which brings me to the first of my two big announcements.
One of the biggest things we've never gotten right in any of our backyard spaces is lighting. My vision for the dining pergola is for it to feel like a room so I want both statement and mood lighting out there. One of the main ways to do that is to anchor the dining table with a large pendant that will suspend from the trellis. I can't even tell you how excited to say that Lumens is partnering with us! As a designer I already use their Trade Program because they have the best selection and a huge range of styles and price points including well-designed modern which isn't always easy to find. I have so much more to share about our lighting plan but that deserves a dedicated post. We're also super lucky because they are a national company but are based out of Sacramento so we have a local showroom that we can pop into and see things in person and get help from their talented staff. I've never done this before so we will learn about landscape lighting, deck lighting and what's involved together. The Lumens team has been beyond helpful already so its going to be crazy good. All I can say is that this is a dream come true for me and it will take our evenings outside from kinda creepy to totally magical.
And what's landscape lighting without proper landscaping. In order to take this current disaster zone into my dream, modern retreat we need some to fix up these planters and do something about that sad, sad lawn. So, we are partnering with Green Acres Nursery & Supply on sod and plants! Green Acres is a Sacramento-local, family-owned business that we have been customers of since we became homeowners. They have the best service, standby their products and you know their plants are going to last. We even get our Christmas trees from them. I'm going to start dialing in my plant selections next week and will be taking you along through the process. I know enough to get myself in trouble so am really thrilled to be able to work with the experts.
Thank you to everyone who's been supporting us this week, things are going to be picking up a lot of speed as we head into the final half of this challenge!
Don't forget to see what the Featured Designers and other Guest Participants did this week!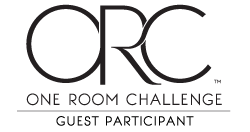 In case you missed where we've been catch up here: Week 1 (before photos, inspo and the design plan), Week 2 (surprise elements)