Hi friends! Ok, it was a big week here at the Plumb Mid Mod for our One Room Challenge and there are actual finished materials going in! If I squint my eyes past the mess I can almost visualize a finished kitchen. Hurray, this may actually happen!
Hi! If you're new here, I'm Rebecca, a designer located in Sacramento, CA. I'm currently renovating the kitchen in my 1960 ranch also known as the #plumbmidmod. 
We had lots of wins this week, including counters going in (see below), which meant the sink could get hooked up, which meant the dishwasher and garbage disposal could be installed too. Electrical is still getting sorted out but for now we have a functioning sink!! HUGE win. I love this sink and faucet combo so much I can't stand it.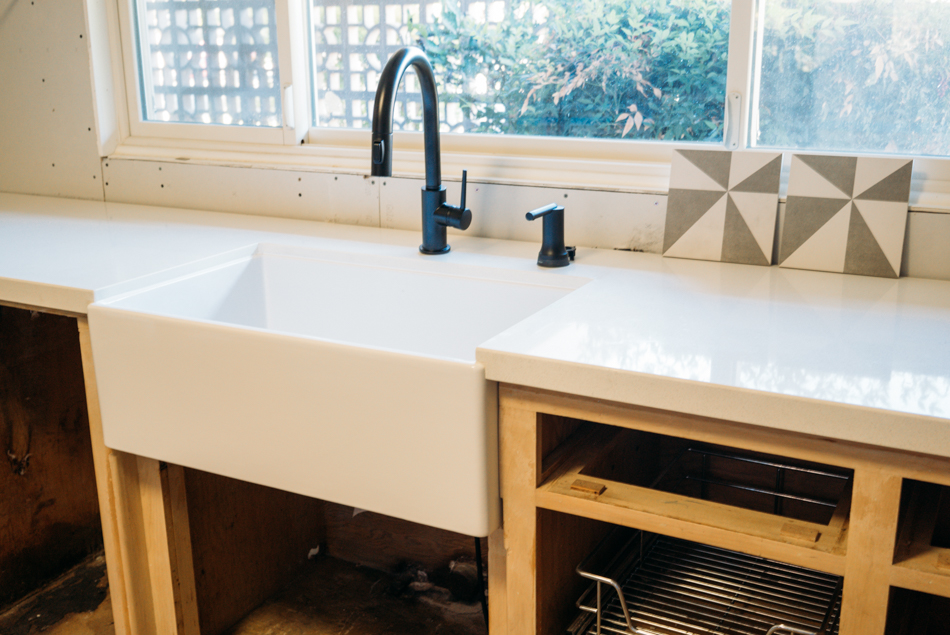 Here's a reminder of how this room started before we moved in. Ummmm, ya.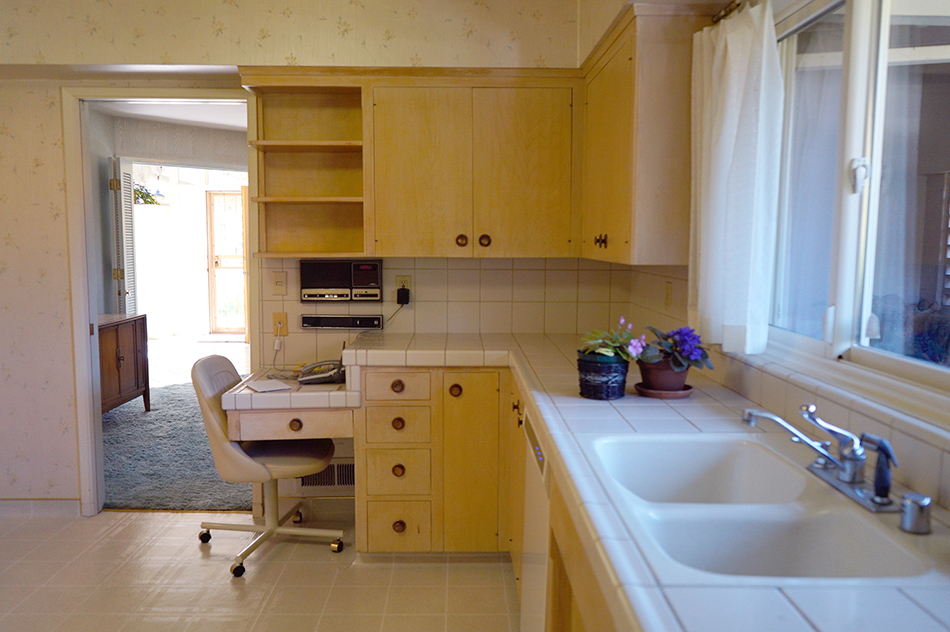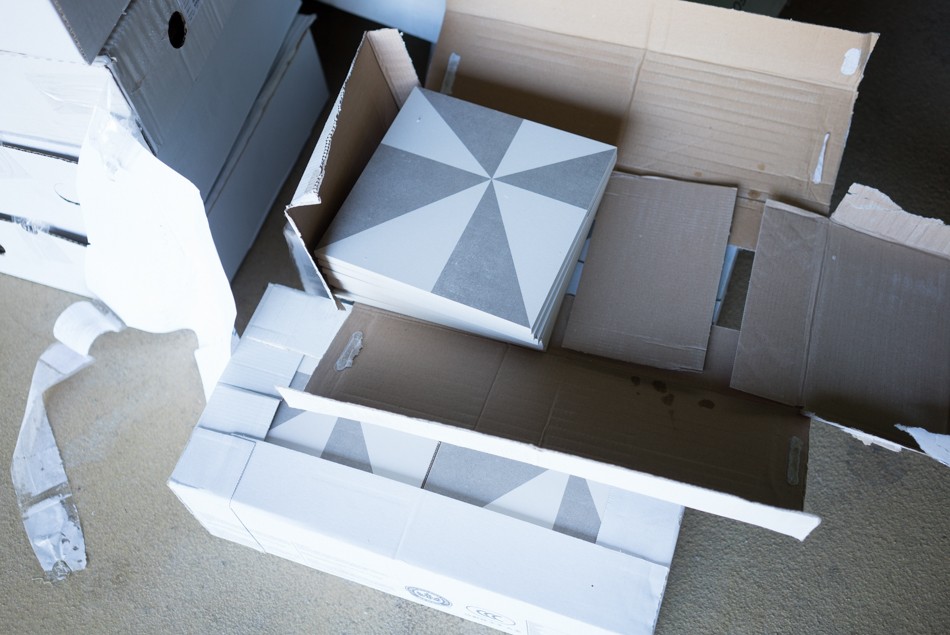 Of course the next major milestone was getting the tile installed. Our handyman Robert, who's supporting quite a few projects around here (electrical, drywall, patching), brought his brother in for this and we're so happy with how it all turned out. We had some close calls running out of tile about 4 times and miraculously finding exactly the right piece under a pile of drywall or ceiling refuse. We underestimated the overages we would need since the pattern can only go one direction, and the way we ended up cutting them to fit under the shelves was enough math to give me a headache.
Tile generously sponsored by Natural Stone Design Gallery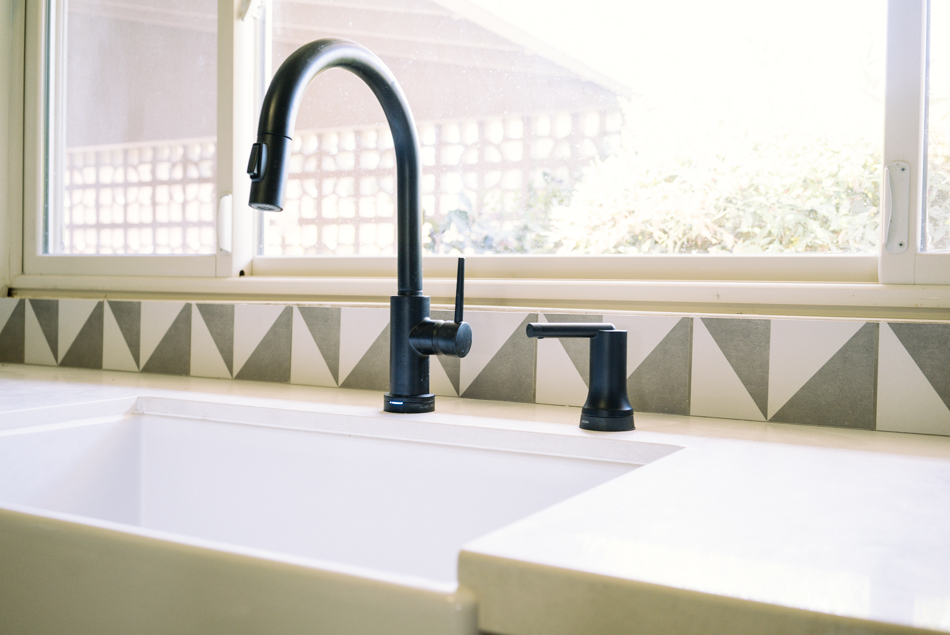 But we did it!! I love the pattern and cannot thank Natural Stone Design Gallery enough for partnering with me on this project. I will have a whole post about the inspiration and process choosing the pattern with them, but for now I just want to give Angela and the team there a HUGE thank you for their help. They've been so supportive getting us what we needed and they truly have the best selection of tile and showroom in the area. The week wasn't without its share of issues–the counters were installed but due to a miscommunication between my dad and the fabricator, we were about 1/4″ short from the wall. To fix it we had to build out 2 walls a little thicker leaving a ridge on one side which caused a transition problem at the doorway, see below.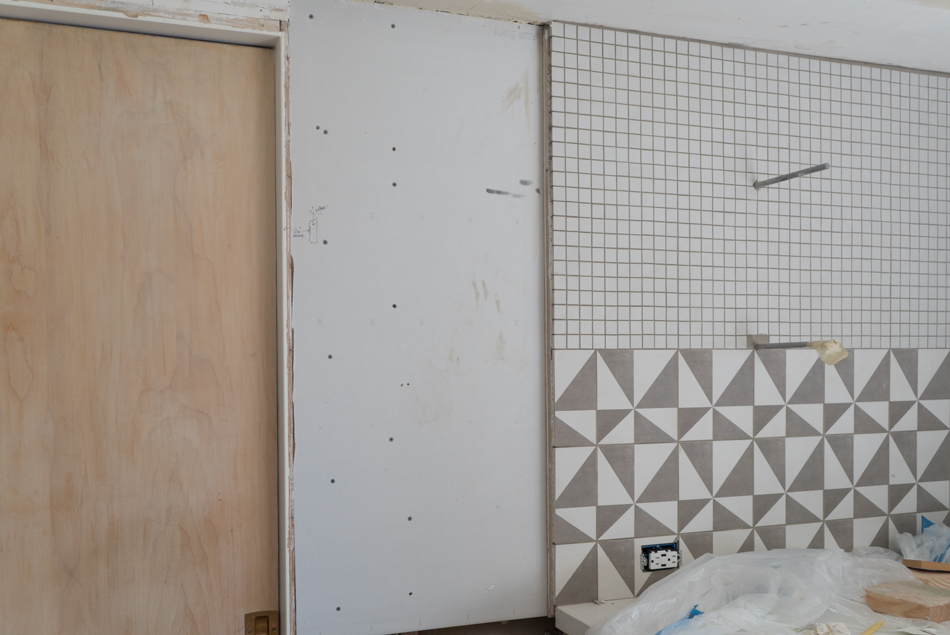 Instead of moving the door and heading down a slippery slope I came up with the idea of building in a little shallow spice rack that will fit perfectly in that space. Its one of those mistakes that pop up and the solution is actually better than the original plan. Here's a quick elevation of what we're planning. I think I'm going to remove some of the bottom shelves and leave space for taller oil bottles. I ordered a bunch of adorable Weck jars and its going to be super functional and add gorgeous color.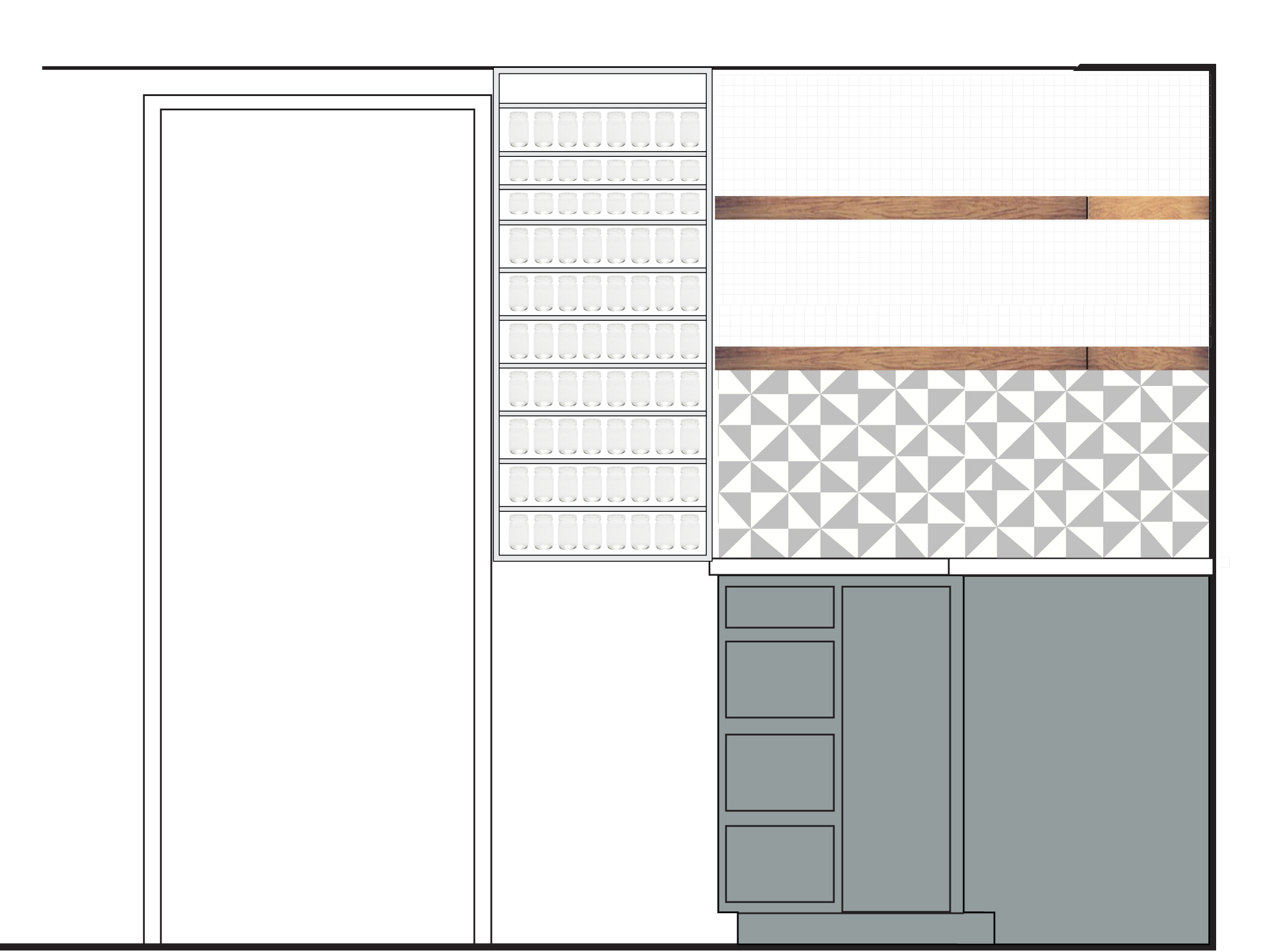 I've barely even touched upon it, but the other side of the kitchen is under construction too. I've always wanted a builtin bench, to fill this large nook area. Its always just felt big and blah, so I'm pretty excited to add colorful textiles with cushions and pillows. My mom is sewing a faux roman shade to go across the massive window and the bench cushions themselves. Yes, I've basically recruited everyone to make this happen. Here's how the nook looked about a year and a half ago (below).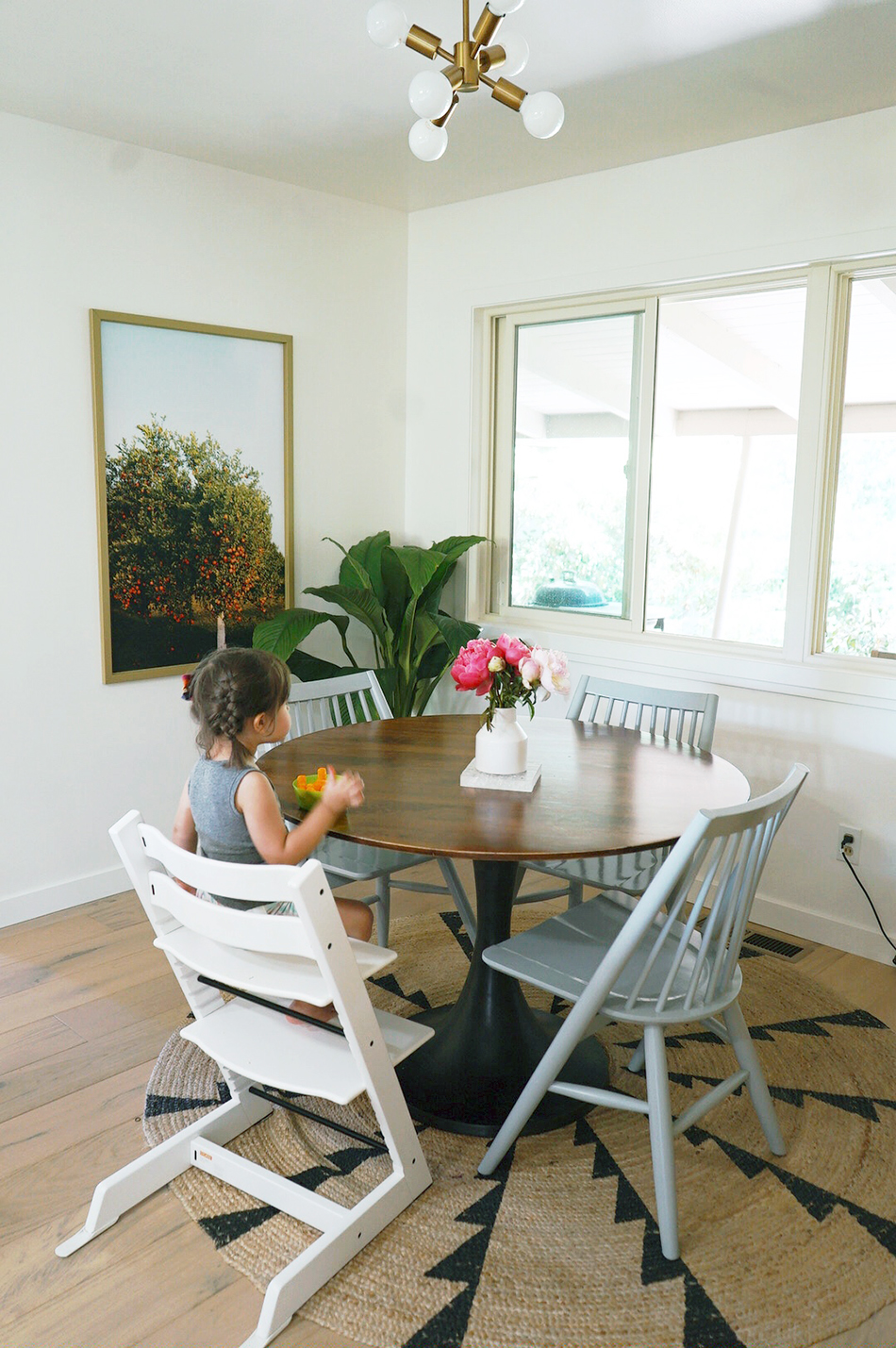 Of course I had to be difficult and wanted a floating bench without visible brackets to keep things modern and open. We ordered some heavy duty brackets, my dad cut another million holes into the wall and got them mounted directly on the studs. Supposedly they will pull the house down before falling off the wall so hopefully they hold up to a squirrely 4 year old. The bench itself is built and getting spray-painted with the rest of the cabinets and should deliver tomorrow!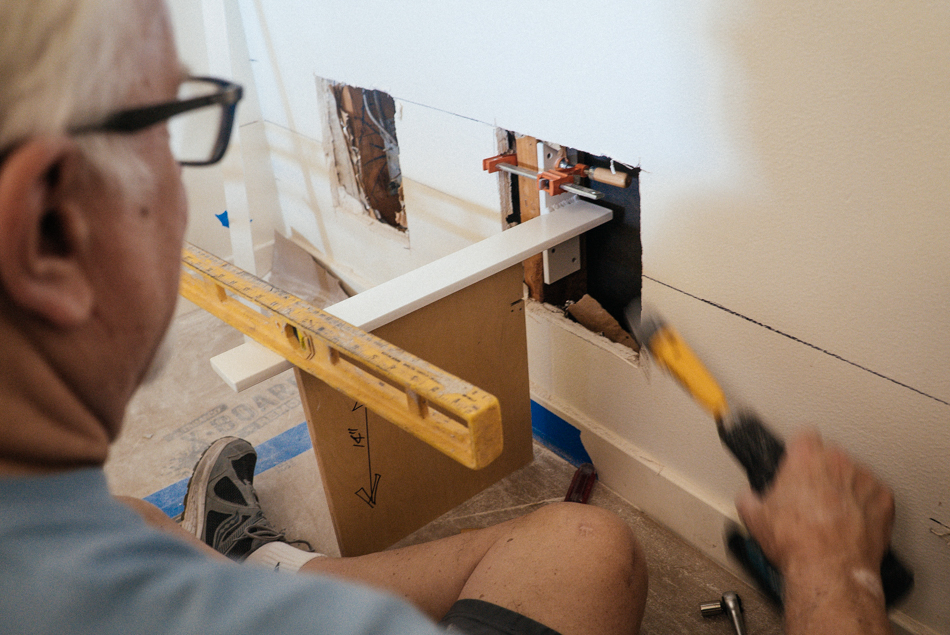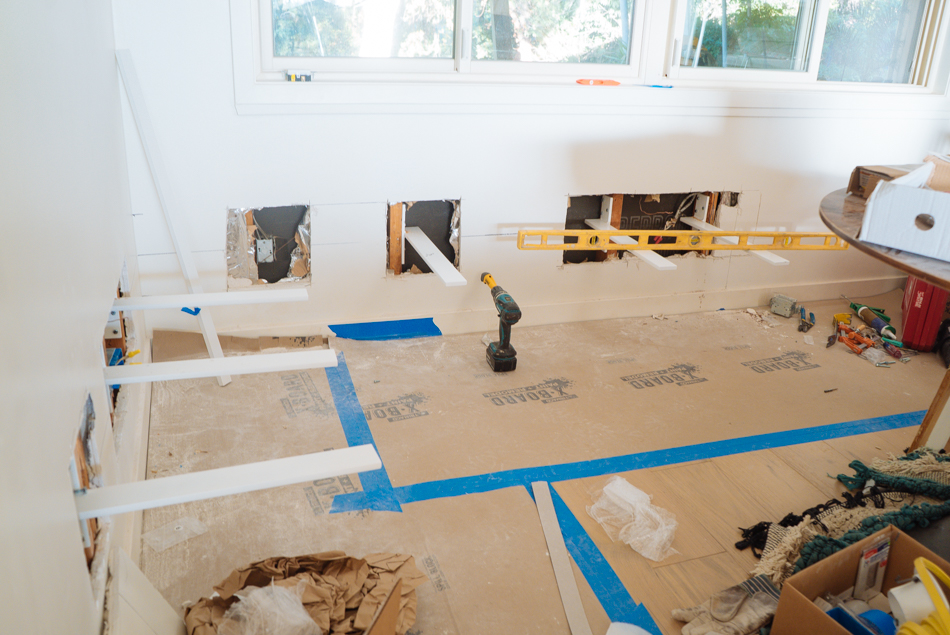 Speaking of cabinets, we had a friend's uncle professionally spray paint them in his cabinet shop and the drawers are all complete and delivered!! This photo is showing all the dust on them but they are SOOOO smooth and look brand new. I'm so impressed and now have big shoes to fill when I paint the bases myself (ugh).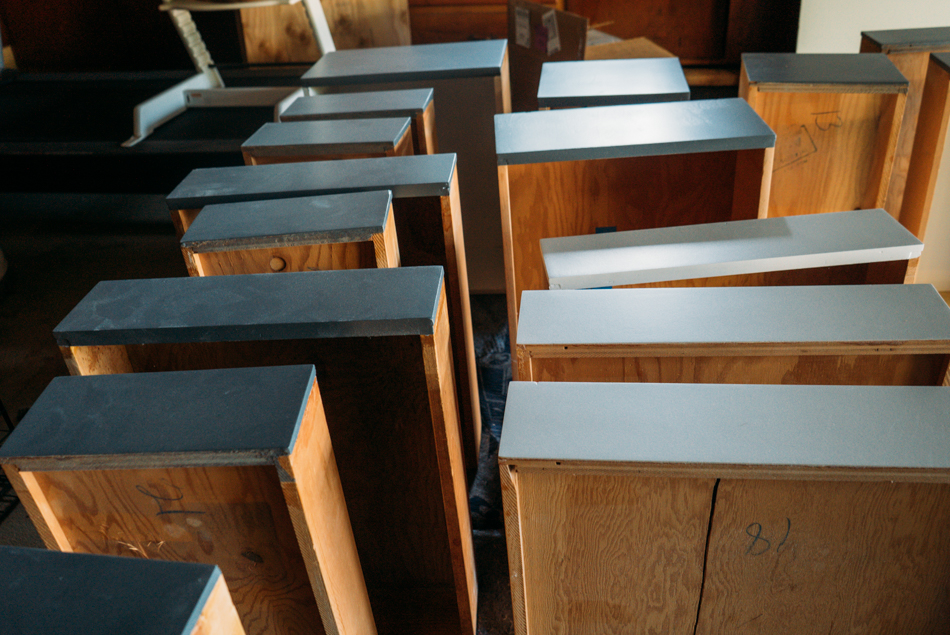 I should have done this Week 1, but I'm starting now because its so satisfying seeing things get crossed off! Last but not least, lighting! I think I feel this way about everything in this project, but the lighting might be my favorite part. Ok, they're all my favorite parts but the lighting is going to change SO much. Our old square lights were utilitarian in a  bad way, old and added a yellow cast to the room.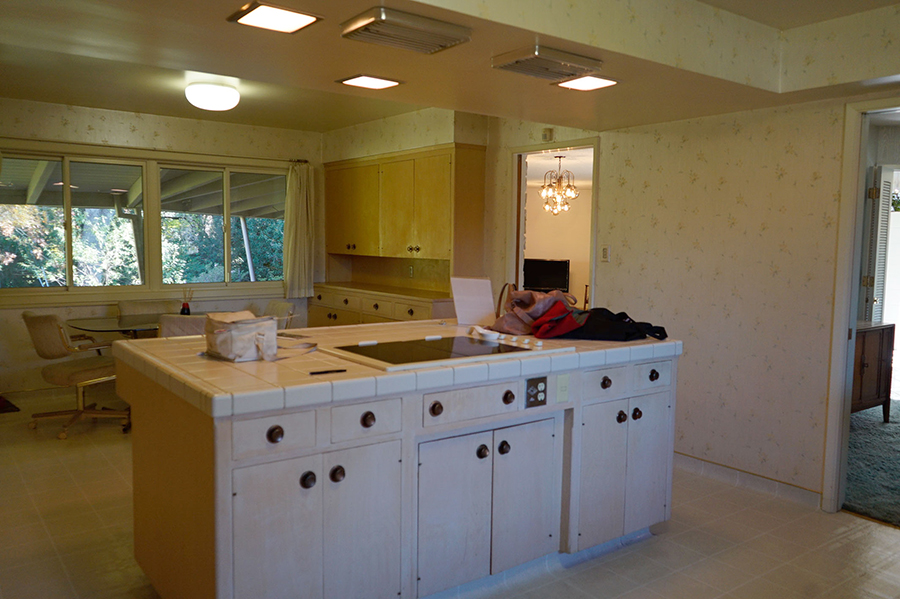 We have this crazy soffit that drops around the room. Its actually working great over the open shelves, but its a little pointless over the island. We weren't going to get all into reworking that though but I wanted pendants on the island. I turned to Etsy to find a maker who could customize something for me and I'm obsessed!!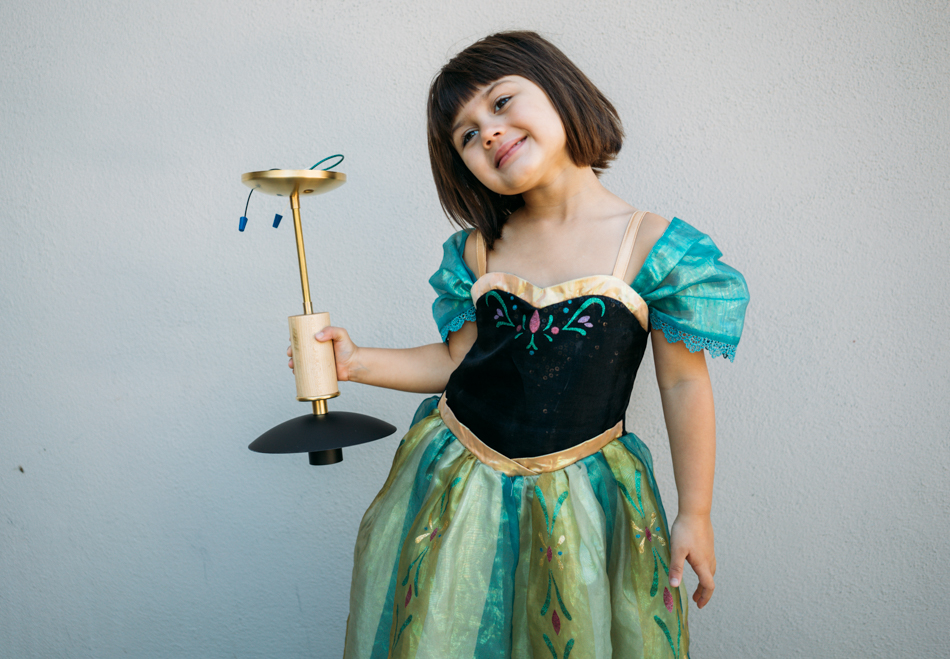 There are actually a ton of great options to choose from on Etsy, but I knew I wanted to mix metals to tie all my finishes together, and they had to be small but interesting. When I found these pendants at DL Designworks I stopped in my tracks. I emailed them immediately and he was able to turn the hanging pendants into fixed rods, changed the gloss black to matte, and increased the size of the shade for me. AND he got them shipped within 2 weeks. I'm so happy with them and love everything in the shop.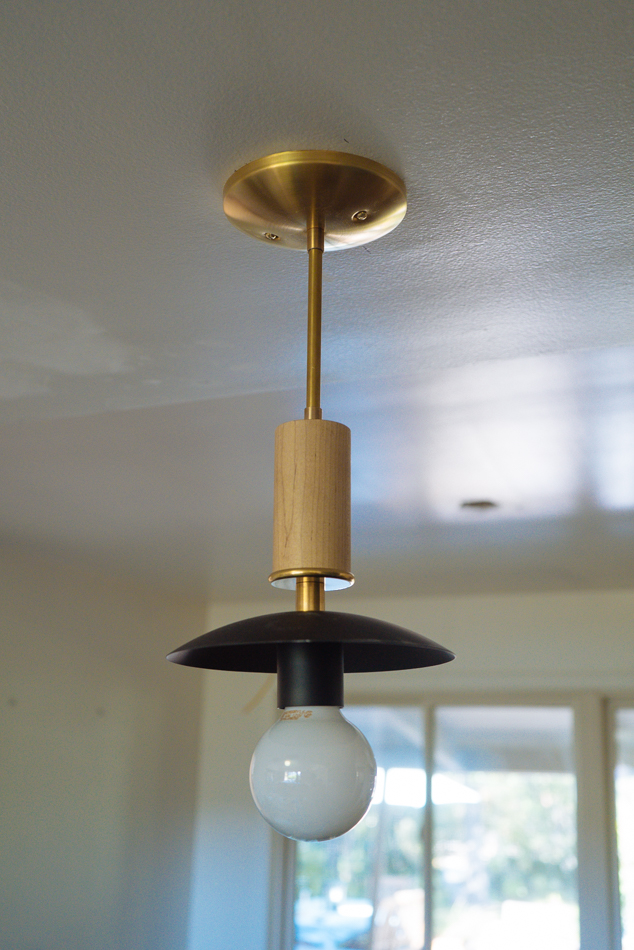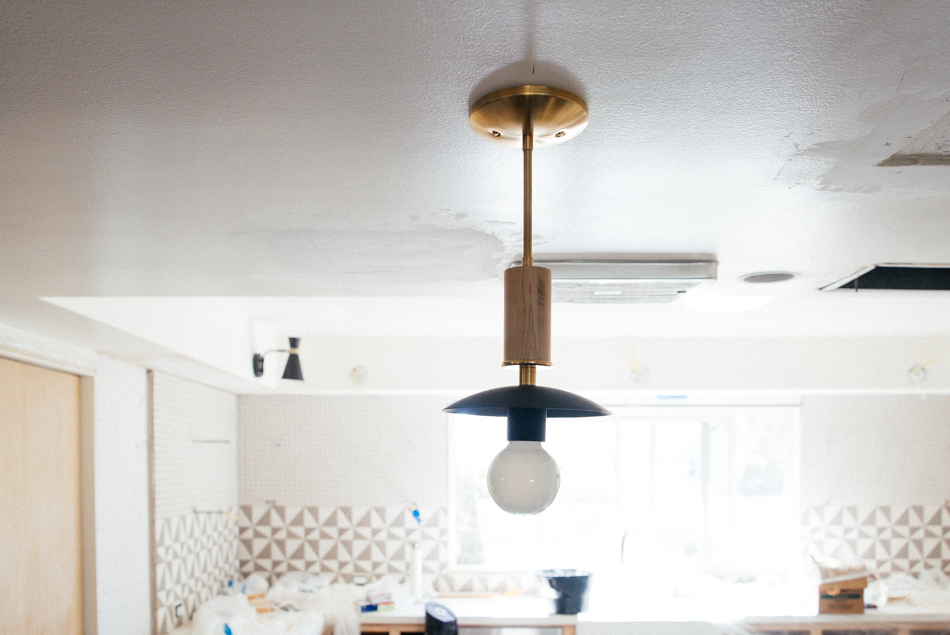 You can see in the back we also put up one sconce to check it out, but will wait until we finish painting to get the rest up. Robert wanted to pose for this one, but you can see the placement of all the other sconces ready to go! Yes, we'll also be replacing the overhead bubble light with the West Elm Small Mobile Chandelier I already own (you can see it in the old dining table photo up above).
Hi, Robert!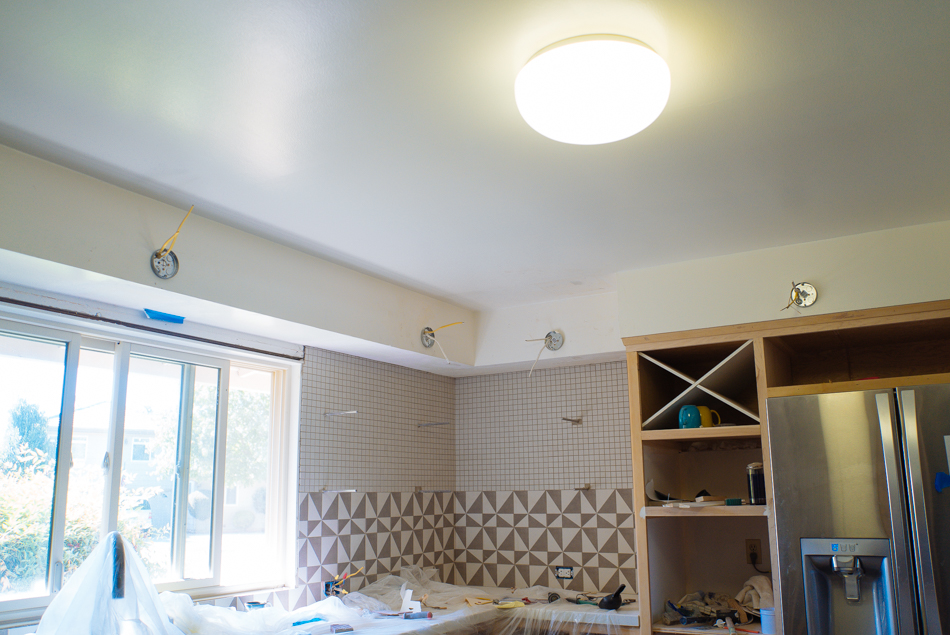 Tomorrow Robert is going to finish skimming and sanding the walls, I'm going to sand all the cabinet bases and I think we'll be able to clean the major mess out of here by the weekend. Halle-freaking-lujah. We're not out of the woods because paint is next, but anything is better than the dust. I should have done this laundry list Week 1, but I'm adding it to all my posts going forward because its starting to get satisfying! Hit List
Demo counter top, small desk, backsplash, sink overhead lighting Remove upper cabinets over sink area Install new counter tops on sink wall and buffet Install new sink, faucet, disposal, dishwasher Lower outlets on backsplash wall Abandon old switch by backsplash Install new pendants over island Repair all ceiling holes from square lights Move table light. Patch/repair Install rough electrical for soffit sconces Install sconces Add can light over stove< Paint pocket door Build spice rack Push back refrigerator Build floating bench top Mount floating bench brackets Repair wall around bench (will be done today!) Build floating shelves Sew bench cushions Sew faux roman shades for 2 windows (My mom is halfway done!) Refinish table Tile backsplash Paint over chalkboard wall Paint doors and drawers (outsourced) Paint bench  (outsourced) Paint cabinet bases Repair trim around windows, doors, bases Paint pantry Touch up LOTS of paint Clean old hinges Reinstall doors and drawers Install cabinet hardware Install new trash can Figure out final artwork layout on old chalkboard wall Replace pocket door hardware Reorganize pantry with Tidy Revival Hang artwork Decorate and style!
Don't forget to see what the Featured Designers and other Guest Participants did this week!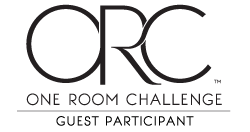 Catch up with our entire One Room Challenge kitchen reno