Welp, this last week had its share of The Good, The Bad and The Ugly for our One Room Challenge. We've been tearing it all down before it can be built back up, but it definitely got worse before it can get better. If you're new to the project, you can see where we started and some of the pretty details in my design plan in my Week 1 post.
Hi! If you're new here, I'm Rebecca, a designer located in Sacramento, CA. I'm currently renovating the kitchen in my 1960 ranch also known as the

#plumbmidmod

. 
Here's where we were a week ago, and I thought that was bad, ha!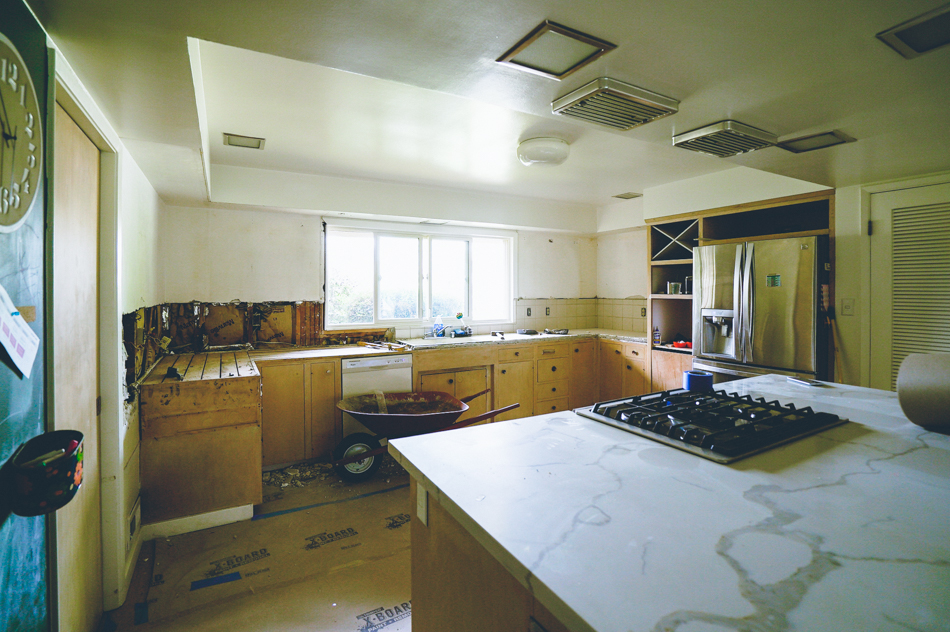 THE GOOD
Let's start on a positive note, shall we?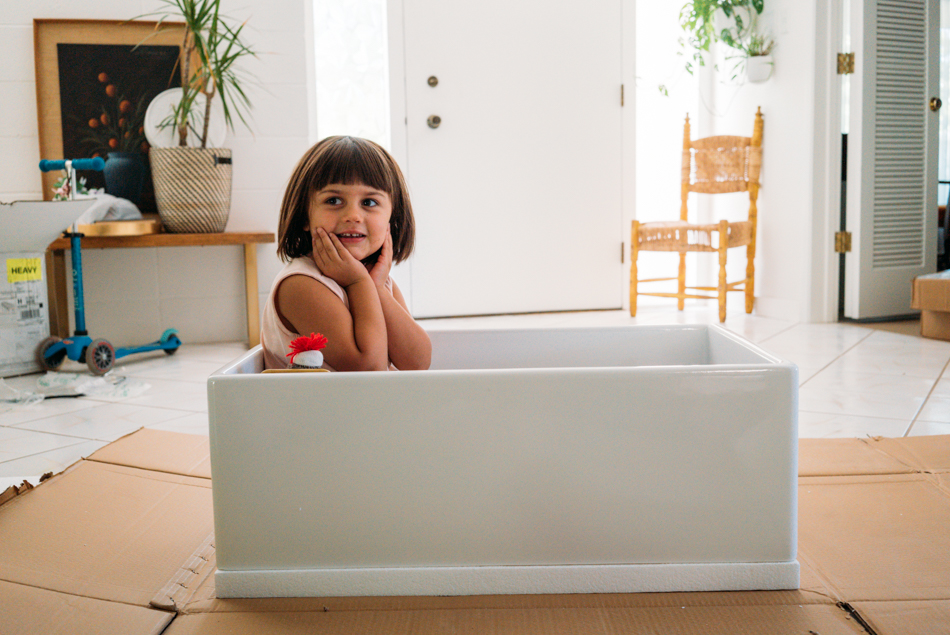 Hands down the best part of this process has been all of the support i'm getting from you guys! New readers, fellow ORC participants, and people I've run into in real life all seem to be watching. I've never chronicled a room design in this much detail and its been really, really fun getting feedback from everyone. Keep it coming, I can't tell you how much it helps!
We were able to get all the electrical moved around so our outlets are lower on the backsplash so its not smack dab in the middle of our pretty tiles.
Wiring for the sconces is in and ready to go and we removed those commercial looking square ceiling lights.
We got our heavy-duty floating shelf brackets in and now have backer board up. If I squint my eyes its almost like we have walls again.
Cabinet doors and drawers are off and ready to be sprayed professionally!
We hit a snag with the sink going MIA on Friday but UPS came through and we got it Monday. Spoiler alert, its partially installed!
I think we've purchased and sourced 98% of what we need so everything should be trickling in and I'll be sharing as they do!
THE BAD
Our handyman Robert discovered a mummified (GIANT) rat in attic just in time for Halloween. I just hope he doesn't have friends and family nearby. You can see it in my Stories highlights on Instagram if you're into that kind of thing. Ha!
We hit a snag with our counters, so as my fellow ORCer and local friend Shavonda would say, time to pivot! We are working on a super slim budget so we had purchased pre-fab counter tops to keep things simple. But once the plaster walls were removed we realized one side wasn't standard depth. Sooo, we pivoted and found a full quartz slab from our fabricator that will work just fine and will be better quality with a mitered edge. Fingers crossed its installed ASAP.
THE UGLY
Currently there is just a lot of ugly. We are living in a construction zone, eating out every meal and dust is covering every.single.surface of our home. Any semblance of home organization has slipped away as we empty the kitchen onto every available surface, large boxes arrive and become play forts, and tools are literally everywhere. And forget about pride in personal appearance. Someone told me today (about her own experience), I look like I'm having a garage sale for a month straight. 😂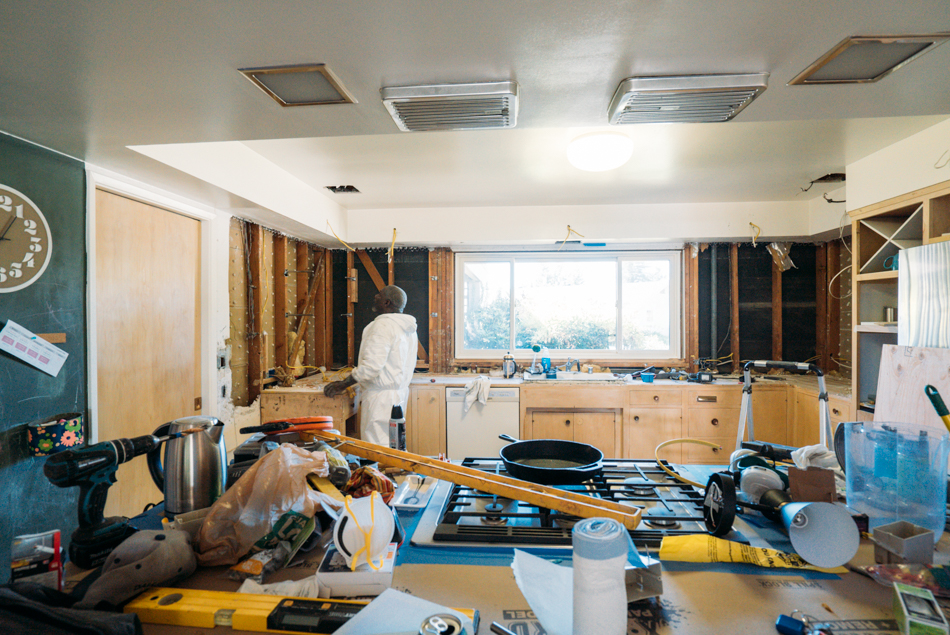 Fingers crossed this time next week we will have a counter, working sink, tile installed, paint started and floating shelves! I think we'll see some dramatic changes and I literally can't wait. For now, I'll just stare at the sink and imagine all the dishes my husband will enjoy washing in it…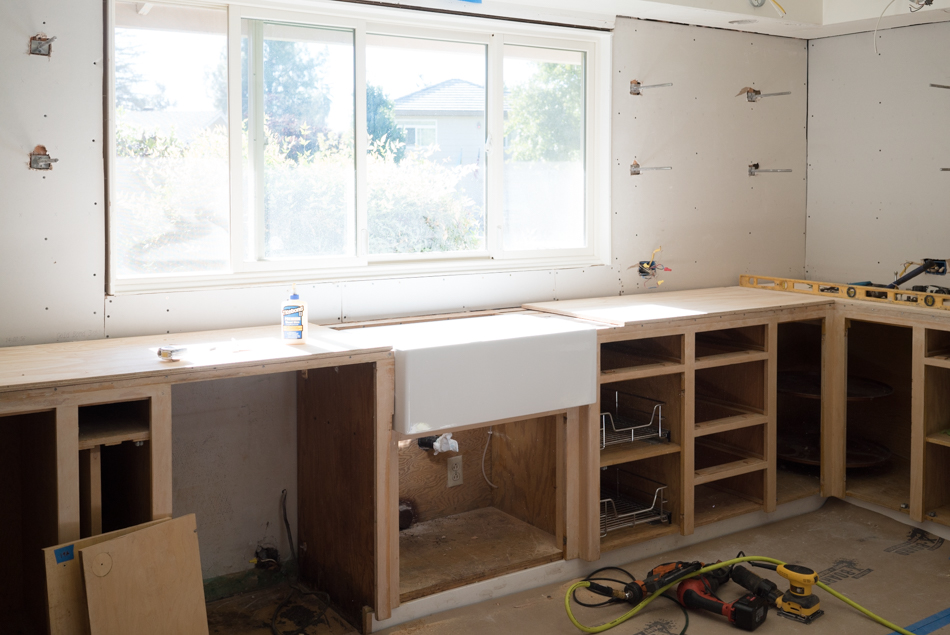 Don't forget to see what the Featured Designers and other Guest Participants did this week!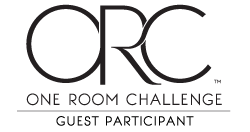 Catch up with our entire One Room Challenge kitchen reno
Week 1  // Week 2 // Week 3  // Week 4 // Week 5 // Week 6